The Gamo Urban PCP air rifle is perfect for those looking for an entry level pre-charged pneumatic rifle. With its 10rd removable rotary magazine, 11mm dovetail grooves (no open sights), European hammer-forged rifled steel barrel with integrated Whisper Maxim technology, built-in manometer (air pressure gauge) with quick-fill port 232 bar (3,365 psi), and 2-stage CAT (Custom Action Trigger) adjustable trigger on an ambidextrous synthetic stock, this rifle has all the features of a high end PCP, without the costs. One can expect up to 30 shots per fill and velocities of up to 800 fps using a PBA pellet, or around 700 fps with a lead hunting pellet. The Whisper Maxxim Technology delivers a very quiet shot, which will aid in not scaring away game in those off chances the first shot is a miss. The Urban also features Gamo's Shock Wave Absorber (SWA) recoil pad, which reduces the recoil by approximately 70%, which in turn assists with keeping your cross hairs on the target after every shot. You'll love the comfort and stealth of this PCP hunting air rifle.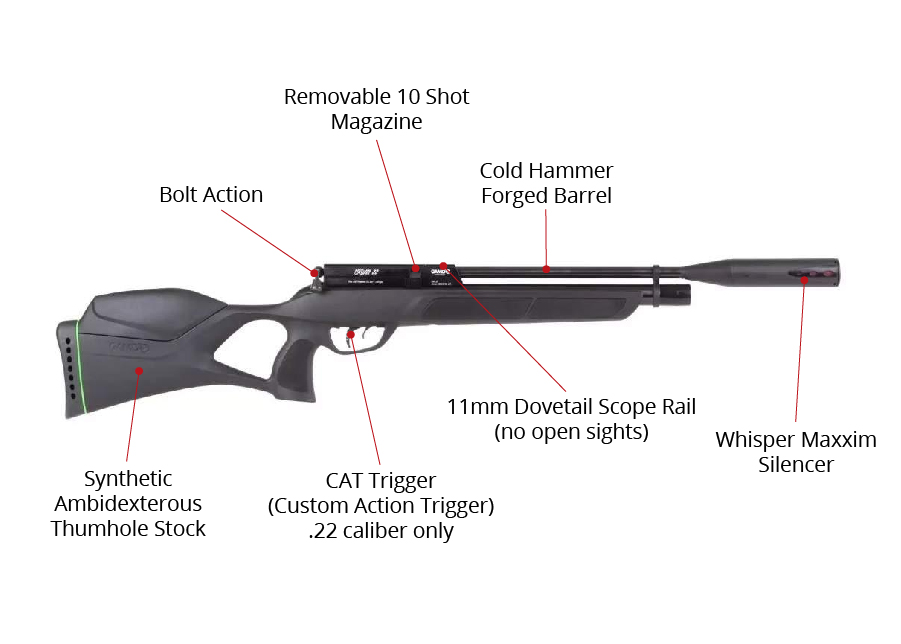 Gamo Urban PCP Air Rifle Features
Precharged pneumatic (PCP)
Bolt-action
Multi-shot mechanism
10rd removable rotary magazine
11mm dovetail grooves (no open sights)
Hammer-forged rifled steel barrel
Built-in manometer (air pressure gauge) with quick-fill port
232 bar (3,365 psi)
2-stage adjustable trigger (CAT=Custom Action Trigger)
Ambidextrous thumbhole, synthetic stock
Integrated Whisper Maxxim silencer
Manual safety
6.60 lbs.
SWA (Shock Wave Absorber) rubber recoil pad reduces felt recoil by up to 74%
Specs
Manufacturer

Gamo

Caliber

.22

Velocity

800 fps

Condition

New

Ammo Type

Pellets

Action

Bolt-action

Barrel Style

Rifled

Fire Mode

Repeater

Gun Weight

6.70

Overall Length

42.00

Loudness

3-Medium

Magazine Capacity

10

Mechanism

Pre-charged pneumatic

Rail

11mm dovetail

Safety

Manual

Front Sights

none

Rear Sights

none

Shots per Fill

30

Trigger Adjustability

Two-stage adjustable

Trigger Action

Single-Action

Use

Small game hunting/plinking

Warranty

5-year limited warranty
Reviews
Average Customer Review
4.9
5.0
28 Reviews
5.0
By Tom
USA
September 7, 2023
I put a good powerful scope on it, shot a bunch of different pellets and slugs till I found the best shooters. Rifle is stock no mods done. Will shoots slugs. The FX slugs function flawlessly, they are longer than the other brand. The shorter slugs in picture work but you must wiggle the magazine a little as you push the bolt forward. FX requires no hold over from 40 to 80 feet but shoots high closer.The shorter pellet with the same 40 foot zero require a lot of hold over out to 80 feet. I use the slugs for me and let visitors shoot all the experiential pellets I bought to test the rifle with. I have used the FX out to 80 feet in light wind without corrections to dispatch small critters in the fruit trees and the garden. 300 rounds of FX slugs, 250 of the H&N slugs and over 700 pellets in 29 months without a problem. I use a 3250 PSI N2 tank to charge.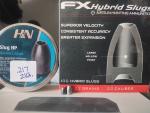 Pros
About 25 full power shots. Accurate out of the box.
Cons
Heavy but not a deal breaker. Have had the barrel move left or right when I have accidentally bumped it knocking it off zero. I was able to correct it easily enough by loosening the barrel clamp at the front and letting the barrel move back . Magazines are to expensive.
5.0
By Easton
July 28, 2021
Pros
Things I like about the Urban would be that it's light, compact, quiet, has a hammer-forged barrel by BSA, and is hand pump friendly. It's also accurate out of the box, but I would recommend a trigger modification to make the trigger lighter. Benched with a nice scope and the trigger mod, I'm getting dime-sized groups at 20yds. To really make it a top-notch rifle installing a regulator can be done to get tighter groups. At this price point, I think it's a great value for an entry-level air rifle, I'm satisfied with the purchase.
Cons
Lower the cost of a magazine, $50 plus dollars is ridiculous.
4.0
By William
USA
March 5, 2021
Be sure to Pull Bolt All the Way Back to Cock, Care must be Taken to Not Double Load Pellets, Keep a Push Rod Handy.
Pros
My First PCP. This Rifle is a Blast to Shoot. Blows Through 3/4" Press Board at 30 yrds. I get Between 30-38 Accurate Shots on One Fill to 232 Bar. Mainly Using Crosman 14.3g Pellets. The Rifle did Develop a Slow leak after a Few Hundred Shots, Easily Tightened at the Pressure Gauge Bezel.
Cons
Bolt is a little stiff, Mags are Very expensive. Should Have Come With the Probe Adaptor.
5.0
By Binh
USA
August 4, 2020
Pros
I bought this gun,I love it too muc, bút one day it was jammed, I returned it to Airguns depot , but 2 month we haven;t received the answer where is my gun???
Cons
I bought this gun, it was jammed, I returned this gun to the airguns depot via Fex-ex. But now it's been 2 months and I don't know where the gun is going .. I emailed the Airguns depot and was told that I would answer the fastest. But so far there was no news. So what can I do ?? Please help me, thank you /
5.0
By Joe
January 25, 2020
My first PCP after shooting springers for years. Wow what a difference. Even though my RWS's were very accurate and fun to shoot, they are nowhere near as tack driving and consistent as the Urban (at least for me anyway). Shoots a variety of ammo well, but for me shoots JSB,s 15's and H&N terminators the best. Easily dime groups out to 50 yards. Squirrels have no chance with this rifle. Would highly recommend this to anyone thinking of getting in to PCP's.
Pros
Tack driving consistency Shoulders well Light weight
Cons
Trigger could use some adjustment to reduce creep
5.0
By Darnellwri714@gmail c.
December 2, 2019
I have shot about 100 rounds so far .it only took about 5rounds to sight in as others have said the magazines are to expensive if you purchase this rifle you will not be disappointed it's light weight And pump friendly get starter PCP.
Pros
None
Cons
Magazine to expensive
5.0
By Mark
USA
November 9, 2019
The Gamo Urban PCP 22cal is my first rifle. I also purchased the Hill MK4 pump and the Hawke Vantage 3-9x40 scope. Mounted the scope with cheap UTG rings 1" high. The scope sighted in 6 shots for 25 yards. The next 14 were bullseyes! I'm using Crossman Premier domed ultra magnum 14.3 gr. And it was 30 degrees outside. So first time out this rifle was extremely accurate and consistent from 3,000 psi to 2,000 psi. I didn't take it any further because I only have 2 mags and ran out of time. The trigger is very smooth and easy to pull. The bolt is a bit stiff to load. I'm hoping that will smooth out. It took about 65 pumps to get back up to 3,000 after 24 shots.
Pros
Accurate Smooth trigger Quiet Easy to charge Good price
Cons
Bolt is a little stiff to return Spare mags are way too expensive!
5.0
By Daniel
USA
November 6, 2019
I just received my Gammo Urban and it is larger and heavier than I imagined. This is not a detraction from the airgun, just my observation. Overall the quality is great. The first 50 or so pellets were a dream to shoot and a testimony to the guns accuracy. I recommend this as a excellent entry level PCP for the price. The gun is back yard friendly and a perfect gun for ratting. I highly recommend it.
Pros
Easy to master. Well made and accurate at a an affordable price.
Cons
None noted.
5.0
By Joe
USA
April 30, 2019
I aqiured one of these and have to say its a great quality rifle made in The UK and Spain. I slapped a UTG Hunter sight on it and it was easy sight. I have been knocking cans and thing around in my yard with it. I use a Handhill Pump and it only take a few minutes to bring to 3000 PSI.
Pros
Great Barrel and work manship in this gun. More power I expected
Cons
The silencer is not as quite as gamo break barrel guns. Its a little loud
4.0
By Bryan
USA
April 2, 2019
Had about 500 rounds through the first Urban when the air gauge started leaking at its base. Called for a replacement o-ring but was told I could have the rifle replaced! Thanks Airgun Depot!!!! Second has so far been very good. The pump has been very good as well. I'm 60-ish and have zero difficulty with it. Around 50-55 pumps from empty hose to bring it from 1500 to 2600 (pump gauge). That's after 20 shots. I installed the Dry-Pac just in case. The rifle is more accurate than I expected. JSB heavies chronied at 743 and JSB 15.89s at 796. Both for 5 shots from about 2600psi, about 22ftlbs. I have no shot group measurements since it has really been too windy, (Plains of Texas just under the Panhandle). But pest birds and a rabbit have paid the price for underestimating it's potential. I have shot both pellets at 60 yards at 2" knockdowns (4 in the unit). Each time wind caused the first to miss then a correction and 4 in a row. (I've seen zero wind like some of y'all but can't remember when, ha ha). I've learned to manipulate the bolt forward with the barrel up with the JSBs. Not sure why but they feed great that way as opposed to flat or barrel down. I chronied the first rifle with Crosman premier domes in the cheapie tin. 849. I haven't wasted my time with them on this one since they produce flyers. The rifle is fairly quiet. Very quiet for the price! There are a couple of things, however, that could be improved upon. The barrel band being the most important. Don't bump the barrel or it WILL move. It seems to "self center" though easily upon moving it back and forth. (But I'm used to rifles you can throw around like Ruger Americans, 10-22s and ARs). Though the trigger is easily fixed with a longer adjustment screw for a few cents, out of the box it has the longest 2nd stage I've ever felt on a rifle or pistol of any type, firearm or air rifle. That screw takes it to one of the best triggers you'll find on a cheap gun (10mm length required for mine. 8 was too short). In all a great buy!!! Especially for someone new to PCPs like me.
Pros
Accurate. Flat shot curve, (very flat from 2600psi). Easy to fill. Good shots per fill. Inexpensive. GREAT starter PCP! Scope mounts extremely easily. Fairly quiet. Decent velocity, great for me! 10 round mag.
Cons
Barrel band needs improvement. Needs to come with a longer 2nd stage trigger adjustment screw. Silencer is quite large. Mags are expensive (though not much worse than some simple firearm mags).
Q&A
Question?
Login to ask someone who bought this product.
What kind of magazine does this gun use?
asked Binh from USA
What is the volume of the pressure tank? I'm guessing 250 cc.
asked John D from USA
What is preferred for air pumps for this air rifle? Any suggestion would be helpful, thank you.
asked David from USA
I bought this gun, it was jammed, I returned this gun to the airguns depot via Fex-ex. But now it's been 2 months and I don't know where the gun is going .. I emailed the Airguns depot and was told that I would answer the fastest. But so far there was no news. So what can I do ? Please help me, thank you /
asked Binh from USA
The Urban will hopefully be back in stock by mid to late Aug.
Mark from USA
scopes
asked kerry from USA
You can mount any scope on the PCP Urban. Get an AO scope that can focus down to 10 yards.
Mark from USA
How do you Fill the air cylinder?
asked Michael from USA
You fill the aircylinder from a 300-4500 PSI handpump.air tank or compressor. There are examples on our website.
Mark from USA
Can you squirell hunt with this?
asked Brayden
I have had good luck out to 100 feet with FX hybrid 22 grain slugs. H&N slugs work but are not as long and require a little wiggle of the mag while pushing the bolt forward. The FX are super accurate with my 10X scope.
Tom from USA
Hi you lose some accuracy withthe power adjustment ? With the jsb 18.3 at about 850fps? For hunting at the field only doves,thanks!
asked Matias
What size is the air cylinder? Just wondering how many times I can fill with my tank of 20 oz.
asked Randy Lydic
any thing special you need to buy to fill or does a hand pump attach to fill from factory
asked mitch
You might need an adapter for a hand pump.
Cristian from USA
How loud/quiet is this Urban Just getting into pcp world.
asked Art
Does it have sling studs?
asked Aldo Fraijo
I saw the video of the tripod scope etc. for $300 is that still workable.
asked David Smikle
Can you fill air cylinder with air compressor
asked Kelvin
Can you shipped to Canada?
asked Jed Dizon
What is your total cost to own this gun the "right way". How much for the additional equipment not using an inadequate "hand pump" 3000 psi?really?
asked Jonathan from USA
is there a hand pump to fill the tank ?
asked Steven peterson
Where is this rifle made ? Please don't tell me in China,or some foreign country.are any medium priced air rifles made in America! Thanx
asked D J G
im planning on buying one, how do you fill them with air ?
asked Jeffrey L La Croix
I HAVE A NOMAD II COMPRESSOR. CAN IT BE USED TO CHARGE THE GAMO URBAN , 22 CAL ?
asked Randall Wachman from USA
What could be the reason for my Urban for not taking in air? I've recently purchased this gun from Cabela's and have fought for two months to get all the adapters and hand pump in the mail, it has really been a mess! I can't wait to unload a mag or two on the mass of squirrels this year!
asked Shane
What is the length-of-pull (distance from trigger to end of butt pad)?
asked David
can an air compressor be used?
asked John
Im looking at buying this gun and a hand pump for it. The only question i have is what kind of quick fill adapter does it use. The pump im looking at notes it includes a foster adapter with 1/8 inch threads for other adapters, not sure what im looking for!
asked Hunter
What can you typically kill.. or have killed, small game or larger, with this rifle?
asked Frank Mohedano
Can you change the bolt for left-handers?
asked Lance from Cayman Islands
Can the bolt be reversed
asked Sheldon scott
How many shots can you get from one full air tank
asked Tommy from USA
Is it possible that you sent the rifle without invoice? this will be a gift.- Best Regards.-
asked Sergio from USA
Does this combo come with the air Venturi adapter?
asked William
How many times will the 90 cu in Air Venturi tank fill the Gamo Urban .22?
asked Steve
Looks a lot like the Diana Stormrider! What am I missing?
asked Dervesh
Are there swivel mount holes in the stock? If not, is the stock sturdy enough to have them mounted?
asked Matthew from USA
I want to buy this gun, I am from Indonesia, How to buy this gun
asked PANCA from Indonesia
What type if fill connector does this rifle have?
asked Jim from USA
hi. how what would be the best method to put a sling on the Urban 22 ? can sling studs be mounted in the stock ? thanks
asked andy from USA
What is the barrel length of the Urban model ?
asked Dean
IS THIS RIFLE WORTH THE MONEY AND DOES IT SHOOT GOOD, WILL IT SHOOT 50 YARDS.
asked RON
Does this package include the male adapter to fill the gun?
asked Dave
Does the Urban bundle have the air connection needed or is a special connection necessary to purchase? Thanks KC
asked Kelly
Is this silencer removable ( Integrated Whisper Maxxim silencer)?
asked Alex from USA
Just how accurate is this gun and what is the range. I would also like to know how loud it is?
asked Dallas from USA