The Hatsan Gladius Long takes everything that?s great about the regular Gladius PCP air rifle, and adds an additional 3.5? of barrel length to the bullpup. The result is higher velocities and energy! On average you?ll get 100 fps more velocity resulting in up to 8 ft-lbs more energy. The Hatsan Gladius PCP bullpup combines Hatsans reputation for reliability with a compact bullpup package. The Gladius bullpup features a synthetic stock with all the right options that really makes this bullpup standout including adjustable comb & butt pad, onboard storage for up to 3 extra magazines (which are included), a side lever for smooth cocking action, ambidextrous thumbhole stock, scope rail and three accessory rails on forend, the excellent Quattro trigger and a fully shrouded QuietEnergy barrel to keeps things extra quiet. The Gladius also includes a brand new feature not seen before on a Hatsan PCP air rifle, Adjustable power settings. With a dial located next to the magazine, you can select one of 6 power settings to fine tune your rifles velocity and energy output based on your situation. Raise it to full power for hunting medium game, or dial it low for backyard blinking so you don't blow through your backstop (and to increase the amount of shots per fill).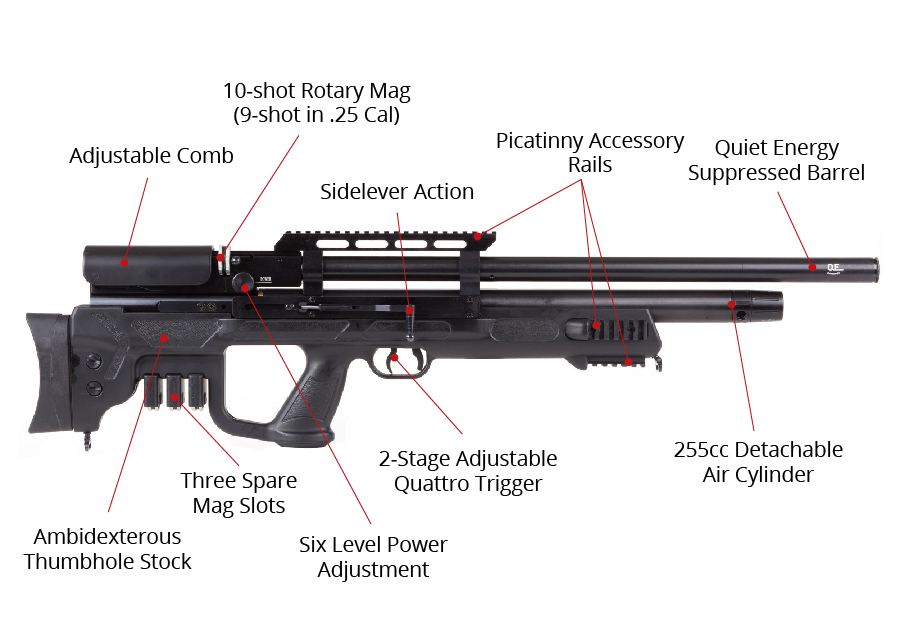 Hatsan Gladius Bullpup Long Features
3.5? longer barrel results in 100fps more muzzle velocity
Detachable 10-shot magazine in .177 & ,22 cal (9-shot magazine in .25 cal)
Sidelever bolt-action
Extremely powerful
Anti-double-feed mechanism prevents more than one pellet from loading when gun has been fully cocked
Fill reservoir up to 200 bar (2,900 psi)
Ambidextrous thumbhole synthetic stock with checkering on grip and forearm
Integrated rail accepts Weaver* or 11mm mounts (no open sights)
Additional three accessory rails on forearm
2-stage adjustable Quattro trigger
Manual & Automatic safety
?EasyAdjust? Elevation Comb
Rubber recoil pad adjusts vertically and angularly
Stock equipped with 3 spare magazine carrying slots
Includes 4 magaines
Fitted sling swivels
255cc air reservoir volume
Anti-knock system prevents gas waste if rifle is knocked or bounced
QuietEnergy fully shrouded barrel and Integrated Sound Moderator
6 level power adjustment to adjust energy & velocity
Up to 48 optimal shots per fill at full power(38 -48 in .177 cal / 28-38 in .22 cal / 25-35 in .25 cal)
Up to 42 ft-lbs. of energy (27 in .177 cal / 38 in .22 cal / 42 in .25 cal)
Ideal for hunting up to medium-size quarry
Includes various o-rings, reservoir bleed valve, 1/8? BSPP probe with male threads, 4 rotary clips, sling, hard case, and owner's manual
*Weaver mounts are not standard. We do not recommend using them.
Specs
Manufacturer

Hatsan

Caliber

.25

Velocity

970 fps

Condition

New

Ammo Type

Pellets

Action

Sidelever

Barrel Style

Rifled

Fire Mode

Repeater

Gun Weight

10.20

Loudness

3-Medium

Magazine Capacity

9

Mechanism

Pre-charged pneumatic

Rail

Weaver/Picatinny

Safety

0

Front Sights

none

Rear Sights

none

Shots per Fill

35

Trigger Adjustability

Two-stage adjustable

Trigger Action

0

Use

Small game hunting/target practice

Warranty

1-year limited warranty
Reviews
Average Customer Review
4.4
4.5
21 Reviews
1.0
By William M
USA
October 30, 2023
Verified Purchase
AGD: Telephone support was exceptional (Stacey & Patrick). My complaint was trouble shoot & addressed. The FREE-Return process was smooth and efficient... THANK YOU AGD !!! I moved on to an Air Venturi offering. HATSUN: This was my first (and will be my last) experience with Hatsun. Owner instructions on paper and online illustrate problems with a vendor who does NOT adequately assist new PCP airgun users and QC their products before being shipped. How much time does it take to fire a few rounds at a target and make sure the trigger, etc. meets performance specs??? I shouldn't have to pay AGD to do it for Hatsun. Additionally, known AGD customer issues should be inspected & fixed at the factory and addressed for products already in the purchase conduit (ergo product Notice Sheets). With a problematic vendor like Hatsun... its "Trick or Treat"
Pros
AGD: CSR's were outstanding. SORRY... more Con's to report. HATSUN's Gladius looked very nice online, but like the dirtiest word in athletics... unrealized "potential" can lead to a lot of customer frustration. I wish Hatsun hadn't shipped an airgun with a trigger that didn't work (travel was jammed against back of guard). AND... the adjustment screws were ridiculously difficult to get to and blind (not visible). I spent over an hour trying to get the screwdiver into position and was successful only once. Adjustments didn't fix the problem...ergo I returned this product for refund.
Cons
HATSUN: Didn't put the O-rings onto the PCP cylinder. Therefore I spent four days F-M trying to ID why my new PDP compressor and/or Gladius wouldn't work/fill. In reviewing Hatsun products during pre-purchase, I noticed a number of Hatsun quality problem issues...but I tried Hatsun. When things like this happen, I would expect AGD to ADD customer notice sheets inside the box so the buyer can inspect and correct anything within their ability. Six-Sigma vendors take customer input and do this (as a former CS VP). AGD CSR's say that's why they are there to answer calls. I would have saved four days of problems IF AGD had taken known and repeated Hatsun customer issues and put their solutions on an errata sheet in the box. Additionally, there were NO instructions about what the spare parts bag items were for. Hatsun product quality, customer support, & owner instructions on paper and online illustrate a vendor who does NOT do quality control inspections.
5.0
By Terrence
USA
February 25, 2019
it's a tack driver, clean the barrel when it first arrives.
4.0
By Eugenio
USA
September 3, 2018
First of all, I sighted this in for zero at 50 yards, on power settings six. I ran several pallets from several manufacturers with different weights. It seems to like the lighter pallets better. JSP 25 king 25.39gr. But I'm still looking for a better grouping pallet. Not bad 1 inch groups at 50 yards. The rifle seems a little too heavy to carry around, but makes a great bench gun. I've only had this a couple weeks so I'm still playing around with it, of course a rifle always starts shooting better after the barrel has been seasoned
Pros
The fact that it has four rotary magazines, that are real easy to load. Side loading lever Great looking gun case Lots of power Great customer service from Hatsan
Cons
The rifle is a little too heavy Can't tell when you're out of pellets unless you're counting Not regulated It would have been nice if they had included a single pallet adapter.
5.0
By Ralph
USA
February 2, 2018
So that this review is not just a repetition of everything else you can find on the web, I am going to try to cover what I have found that seems to be missing. I have lived with this gun so hopefully you'll find some of this useful. Why would you want to buy a Gladius Long? The short answer is versatility, accuracy at a reasonable price. With the adjustable power levels, and the extensive range of pellets available in 22cal, you cover a tremendous range of energies and pellet speeds. On the high end, JSB Ultra Shocks, 25.4gr, I get 880fps, 44fpe which will compete with most 25cal guns, and you can dial it back to launch a 14gr as low as 435fps. You can even shoot alloy pellets at reasonable velocities. Basically, you have something that can marginally take down a coyote (depending on who you ask), yet do lightest plinking with the lightest pellets. In most cases, you can shoot any, quality pellet, and keep it under 900 fps, where you start to have to worry about lead fouling and launch even the heaviest ones fast enough and accurately. You can adjust most pellet weighs within a 850-900fps velocity range with a turn of the power knob, and it seems to shoot just about any quality pellet well and with a similar sight zero, at least at shorter distances before drag coefficients matter much. The hammer spring can also be adjusted to fine tune for a specific pellet, as show in a You Tube video, ALMOST. In the video they guy cocks the hammer to do the adjustment. I tried this numerous times and turned and turned the screw without any apparent effect on the chrono. I noticed the hammer body rotating through the cocking slot and realized that the screw itself was not turning in the hammer. I decided to try again without cocking, just pulling the lever half way back. It worked like a charm, fractional rotation make measurable velocity changes. The guns inherent accuracy seems to be .1 to .2 mRads with just about any unsorted JSBs or HN pellet, at 20 yards. That is near .1-inch radius from the aiming point. Off a tripod I am a little worse than off the sled, but it is rare that a dime wont completely cover the hole of 10 shot group at 20 yards. I use this gun a lot to dispatch pocket gophers trying to break into my wifes garden planters, and can reliably take out yellow jackets who are examining the holes in the target at that distance. Shot strings are very consistent from 3000psi to 2000psi and drop slowly after that. You DO NOT want to buy a regulator on this gun! I made that mistake and found that I had virtually no improvement in velocity regulation and that I lost all the adjustability and most of the power that the gun is capable of. This is because of the fixed volume of the regulation chamber. Huma regulators are designed to shoot a specific pellet at a specific velocity and that is not what this gun is about. Since the performance without a regulator is so consistent, it was a complete waste of money. The Bullpup design means I need about 3 inches, barrel to optics on the scope. Sighting in at 20 means it is zeroed again at 60 yards with JSB 18s at 890fps and not too much rise in between. A closer barrel to bore arrangement would be simpler to learn and require less attention to hold over but this is what you get with a bullpup. The adjustable cheek riser is nice, but in practice I have it nearly bottomed. Also I shoot lefty, and the mechanism bulges to the left and would mean I'd need more than the 3 inches if I were shooting right handed, so you will probably find the adjustment of limited value. I really like the magazine arrangement. It is simple, fool-proof and almost indestructible. Most of all, it is fast and easy to load. Get a pinch of pellets, set the disk flat face down in the tin. Drop the pellets onto the back of it and agitate a little. With classic diabolo pellets, usually 7 to 9 of them with fall nose down into the holes due to the shape of the back face. Then knock off the excess, insert the missing one or 2, and just press them into the holes. I can load a magazine easily in less than 30 seconds. If I get something fancy, like an FX or a Daystate, I know I am going to be annoyed every time I reload, pissed when they break. Lastly, it comes with 4 of them total. It has holders for 3 built in, so you have 40 pellets on the gun and ready to go. If you don't know what you are going to find to shoot. You can load different pellets in different cassettes. Grab the one you need set the power dial and your good to go. There is anti-double feed, but because the cassette has no moving parts, it is built into the cocking mechanism. It is less than foolproof, since partial cocking can advance cassette but not latch the hammer. Pro tip: If you mis-cock, unlatch the cassette retaining pin, and then re-cock it. Slide the bolt forward and re-latch the cassette. This will prevent the cassette from indexing allow you to get the gun properly cocked without a double feed. This also allows you to uncock without double feeding. Being a PCP, you dont need a pellet gun scope. The scope rail with accept pretty much any scope, picatinny, weaver or dovetail. I am using a FFP mildot 4-14X that I highly recommend. The FFP means the holdover is the same on the reticle regardless of the mag. The 4X though a little high, is okay for rapid target acquisition, while the 14 is great for precise work which the gun is capable of. Point is, there is basically not a problem to put any optic you want on the gun, and that FFP scopes rule. The gun comes with a strap and swivels, but they are not very useable. I replaced it with an STI 2 point sling, and standard 1.25-inch swivels. I moved the front swivel to the back of the lower rail so strap is not in the way of a tripod. I think Hatsan should do the same. I also put an extra set of swivel posts, one on the side, front rail and the other near the top of the butt sock so that it was easy to carry across the body and shouldered quickly. Very satisfied with the arrangement. I had problems with several things on the gun. These were mostly due to poor manufacturing process. If you get one of these, I would recommend the following be done right away. First, unscrew the moderator cap and the shroud and apply some molly or Teflon grease to the thread. You will want to pull the barrel from time to time to clean this gun when accuracy drops. The length of the barrel, and the moderator, combined with the short breach makes most assembled cleaning methods suspect to impossible. On mine, I could not unscrew the shroud and had to send it to the factory and this is better found out before the warrantee is up. I have also seen other people have trouble with the moderator cap on Hatsan QEs. Next, use the de-airing tool to drain the cylinder. Remove both the valve and regulator and use silicone or Teflon grease to coat the o-rings and the threads. Screw them back in but leave a small gap. Do not tighten them. The seal is radial so it does not care, and the air pressure will absolutely keep the threads form moving. This will ensure that you can repair a worn valve seal or replace a damaged valve. You can also disassemble it to remove moisture and crud that will inevitably build up in the cylinder. The lube will keep bi-metallic corrosion from seizing the threads. You can also use the gap to adjust the probe port angle to work with your inflation method. The Gladius is an excellent, functional gun. It looks very tactical, but it is a work of cost engineering in a good way. Cost are so far as I can tell, kept to a minimum without sacrificing performance or reliability. They strictly follow the KISS rule (keep it simple stupid). It is a working gun, not a high tech, elaborate, polished work of art. Still today I do not see anything as versatile anywhere near the price, and other than a big bore, it pretty much covers anything I need to do. Then, throw into the mix the 4 cassettes, the fitted hard case, the tools, and the spare seals, and you have a serious deal. I did a lot of research going in, and being my first PCP, it has been a better choice than I expected. I do not see anything under 2x the price that I would consider even now, and once have the ability to shoot nearly any type well with a turn of a knob everything else seems limited. Pictures: 1: 10 Shot groups, various JSB and H&N Pellets, no sorting, each group different pellet. 20 yards on tripod. 2: Case, tools some of the spare seals, Monstrum 4-14 FFP scope, STI sling with relocated swivels 3: At my private range :)
5.0
By Brad
December 19, 2017
Bought this gun for our son, our other guns are FX400, Daystate so it has a lot to live up to. First of all Air Gun Depot was great to deal with and shipped the merchandise as ordered. Out of the box first impression was good, Stock was rigid and finish was fair. Installed the scope charged the gun, put on the bench and had it driving nails in less than 15 shots. The trigger has a little bit of a long pull for my liking but after a few rounds you learn the trigger pretty quick. Seems like it hits it sweet spot about 160 bar and has no problem grouping shots in a dime size bulls eye. Keep in mind we are comparing against $1600 guns and to be honest this gun will shoot with them all day long. After 30 shots accuracy wanders and it is ready for a charge, but it is rated for 30 shots so who can complain. Final review.....you will not be disappointed with this air rifle!
Pros
Easy to load clips, sturdy build, very functional safety Very Balanced, can pull off some very accurate free hand shots in the bullpup design.
Cons
Really don't have one, but things that could make this an outstanding gun would be a lighter trigger and Offered with a larger air resevoir
5.0
By Harry L.
July 6, 2017
like the gun very much am still getting use to it though
Pros
shoots great
Cons
little heavy
This is my first PCP rifle and really like it. You get a lot of value for the money - it's accurate and I have no problem taking care of tree squirrels and rabbits with it. There is a ton of power. I never used to worry about over-penetration with my old airguns but do with this one because it is so strong. I'm shooting 18.13 grain JSB Match Diablo Heavy pellets and they work great - about a 1/2" at 30 feet and they are what I use for pest control. I did run mops through the barrel with WD40 on them to clean the barrel and got a ton of dirt/old oil out of the barrel. I would recommend doing that to others as well. By the way, the removable air cylinder is a nice feature.
Pros
Very powerful and has a number of things you can adjust to your liking: The trigger, power, recoil pad position, length of pull and cheekpiece. The trigger out of the box was pretty good. I like the safety lever being in front of the trigger. It's very cool having a repeater vs. a springer when it comes to pests. The removable cylinder is cool because you can carry around a spare cylinder for a quick change vs. needing a tank or a pump.
Cons
The scope rail is odd - I wish it was a normal picatinny rail. I did install real picatinny rings, torqued them down and have not had a problem. It is not regulated so I bought a Huma regulator for the cylinder. It is very easy to install and people review it well but I don't have enough experience to report on that part yet.
Other than being a very gun, like the Hercules 357 that I purchased, I very satisfied and will purchase again. anxiously awaiting the airmax.
Pros
All good
4.0
By Scott
USA
April 8, 2017
Nice design, powerful and accurate,reasonable shot count.
Pros
Good price for all the design
Cons
A little bit heavy but well balanced
4.0
By James
USA
March 3, 2017
I am very impressed with the Gladius, very quiet, adjustable power settings nice pistol grip. Solidly built and accurate with JSB Exact Diablo 8.44 gr. All around fun 177. Thinking of buying another one in 25 cal in the near future.
Pros
Bullpup design, very grippy stock. The mag holders on the underside of buttstock is outstanding
Q&A
Question?
Login to ask someone who bought this product.
Anytime soon are you going to get the .177 version of this model? wingsupply.com has it a lot cheaper in the .22 and .25 ?
asked Tom from USA
The .177 version of this rifle has been discontinued.
Adam from USA
Can I fill The Airgun with the hand pump
asked Jerry from Canada
I never let mine go completely empty , refilling after an outing. It just that much means less pumping to do. Just me.
Stanley from USA
Where can I buy more magazines?
asked Allan from USA
From Hatsan or this website?
Stanley from USA
Couple days ago a plate from my Hatsan .22 pcp air rifle broke. I dont understand why but it did. I've provided pictures of the broken plate here. I want it repaired so...need address where i can send it for repair. So if there's anyone out there who can help, i would appreciate it very much. I am halfway across the globe, western pacific.
asked Lee R. from Palau
I would contact Hatsan . I had a good experience with them concerning my 125 Sniper break barrel.
Stanley from USA
What kind of tank should I get to fill the Hatsan Gladius?
asked David from USA
Can you ship to Illinois?
asked Cabelas from USA
I would check with the powers that be . That state seems very anti anything .
Stanley from USA
Is it possible to unscrew and remove the top (12 o'clock) Picatinny accessory rail?
asked John
Unsure but i don't think its removable ? Ask Hatsan I'm sure they could help you.
Stanley from USA
Is it possible to refill with hand pump ? like Air Venturi G6 Hand Pump ?
asked romain
I have the Hill pump so for me it works fine.
Stanley from USA
How quiet is it compared to the Benjamin Marauder I would really like to see a video comparing the marauder from Benjamin and the hatsan gladius
asked Travis Yager
Never shot a Marauder so i couldn't say ? Im sure they are about equal . The only real sound my Gladius makes is when it hits a target , mostly hearing the hammer hit the valve . Like a spring noise ? Also have a moderator attachment (Donny FL).
Stanley from USA
Would it be possible to get the Gladius in .177 smooth bore?
asked Curtis Daniel
Doubt it ? Most pellet guns have a rifled barrel for accuracy .
Stanley from USA
How many people who own this Gladius would trade it for a BullMaster now? I'm trying to decide which will be better value and more fun to shoot.
asked Rojohn from USA
A choice only you can make ? They both weigh about the same ( 10 pounds ) . Upscoped.
Stanley from USA