The Hatsan Sortie is a handy, fast firing Semi-Automatic PCP pistol that is ready for any mission. The Sortie features the same blow back, true semi-auto system as the Barrage and Bullmaster, and even uses the same magazines. This unique semi auto design is one of the first semi-auto PCP systems that is both reliable and economic, making these guns some of the first to bring semi-auto PCP's to the masses.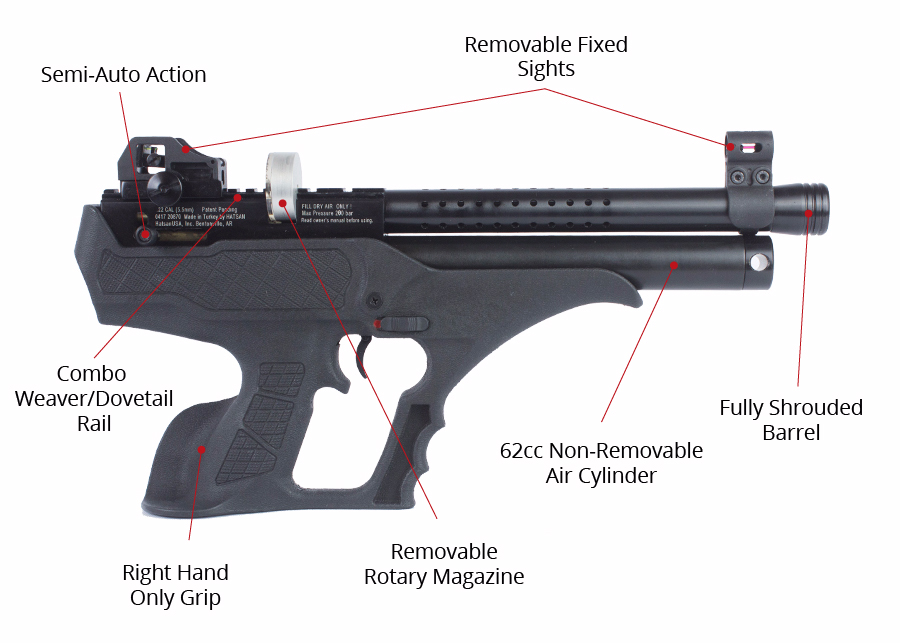 This little gun looks like it's straight out of a sci-fi film with its futuristic ergonomic looks which molds perfectly to your hand. Available in a right hand only pistol grip, the grips are made out of high impact polymer that stands the test of time. The Sortie comes equipped with a set of fully adjustable and removable iron sights. The Sortie also features a generous combination optics rail that allows you to attach both 11mm dovetail accessories as well as weaver accessories.
The Sortie features a 62 cc air cylinder, good for about 30 full power shots, that is filled by a standard Hatsan air probe (included). The pistol will make about 12 ft/lbs in .177 and 16 ft/lbs in .22 which allows these guns to be used on small game at close ranges or for just plinking in the backyard or on the trail (since the Sortie fits easily into a pack). Whatever your use for the Hatsan Sortie, we can guarantee you'll have a great time with this fast firing semi-auto PCP pistol.
Hatsan Sortie Features
Semi-auto PCP pistol
Detachable 14-shot magazine (12-shot in .22 cal)
Comes with x3 magazines
Fully shrouded and choked barrel
Ergonomic designed right hand only synthetic grip with checkering
Detachable & adjustable rear Truglo fiber optic sight
Detachable hooded front Truglo fiber optic sight
Hard case is included
Specs
Manufacturer

Hatsan

Caliber

.22

Velocity

700 fps

Condition

New

Ammo Type

Pellets

Action

Semiautomatic

Barrel Style

Rifled

Fire Mode

Repeater

Gun Weight

4.40

Overall Length

15.50

Barrel Length

7.90

Loudness

3-Medium

Magazine Capacity

12

Mechanism

Pre-charged pneumatic

Rail

Weaver & 11mm dovetails

Safety

Manual

Front Sights

Fiber Optic

Rear Sights

Adjustable for windage & elevation

Shots per Fill

36

Trigger Adjustability

Two-stage non-adjustable

Trigger Action

0

Use

Plinking & target practice

Warranty

1-year limited warranty
Reviews
Average Customer Review
4.3
4.5
10 Reviews
5.0
By David
USA
July 16, 2019
I hesitated buying this because I had read a lot of reviews and many said they had issues with the magazines cycling correctly. I finally took the plunge and happy that I did! This thing is so much fun, shoots as fast as you can pull the trigger and I am hitting the bullseye with it on every shot from 25 yards. The magazines cycle perfectly as long as you load them right, read the instructions carefully. Hits pretty hard and not loud at all. It fits in your hand nicely and is not too heavy. I have a high pressure pump and only takes about 30 seconds to refill after two magazines have been fired. Grab this gun, you will not be sorry. Great fun to be had in a pellet pistol!
Pros
Multi shot rapid fire. 12 shots per magazine in .22 and cycles each round perfectly. Accuracy is superb! It is just too darn much fun to shoot!
Cons
None
2.0
By Larry
USA
December 19, 2018
I am a big fan of semi automatic air guns, and this thing has everything that I want, except for one thing, I can't use it because they don't have a left hand model.......
Pros
Couldn't tell you
Cons
Same
5.0
By Ty
November 30, 2018
I purchased the Sortie .177 put a red/green dot reflex sight and laser on it and every shot is on target. I like the 14 pellet capacity magazines and the gun is well made. Shoots as fast as I can pull the trigger.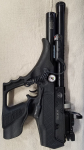 Pros
Good power, accuracy, grips and sights in well. Well constructed and comes with 3 magazines.
Cons
Non adjustable trigger.
5.0
By Rodney
USA
June 11, 2018
I've had my sortie for about a year--when I first got it it did mess up halfway through a full magazine--but after getting it broke in and everything working smoothly--it now fires as fast as I can pull the trigger--I would just like an aftermarket wooden stock--and an after market lazer that would fit the rails--I am happy with the pistol.
Pros
I wanted a semi auto--and as I said--as fast as I can pull the trigger it performs well for me.
Cons
Maybe just a little more air capacity--and optional lazer sight especially for the sortie
5.0
By Bernhard B.
December 12, 2017
Some people are too stupid for loading the magazin, Its just a 50/50 chance to pull the cover in the right direction to fix a Pellet and move again to fill the rest of the magazin...great weapon.. maybe later a version with more power please...hatsan...
Pros
There is no other one like this....
1.0
By Robert
USA
November 2, 2017
Hello, Well, sorry to say it but after try two guns (.22 cal.) I had to return both because of jamming with the magazines. I am waiting on a refund for the purchase as I type this. Both guns I tried jammed or would not load the next pellet, I wish it would have worked because I liked the gun.
Pros
Typical Hatsan gun, same build....some good some bad. Nice weight, looks great and has a find FPS. Customer service was great.
Cons
Both guns jammed.
5.0
By Larry
USA
September 9, 2017
I've been waiting for a long time for a gun like this. The only .22 Cal semi//Auto. pistol on the market that I can find. The gun is made well made. I picked up a hand pump from Airgun Depot and works great. Pumped air into the gun. Wow. I thought I was shooting a 22 rim fire. Hope some day there will be a .25cal. I would buy it for sure.

Pros
Very Accurate
Cons
The case should be made with heavyer material. Or come with a hostler.
5.0
By Michael
USA
August 18, 2017
Love everything about this pistol.
5.0
By Geremy
USA
July 15, 2017
Looks and works amazing, but the semi auto should make it obvious that it will run out of air with ease
5.0
By Martin g.
June 26, 2017
Looking forward to purchase but will wait for reviews on dependability. Also actual fps over a shot string. Hey pros get some answers out there so I can get serious about purchase.
Pros
Good idea, for what it is design is ok. Function over beauty is a good thing. This is not for the cowboy crowd. I like old designs and the cowboy stuff too. I'm 81 and still a kid at heart. Go air gun designers!
Cons
Maybe a little high for lots of folks... if you really enjoy this hobby, get a second job and buy one!!!!!!!
Q&A
Question?
Login to ask someone who bought this product.
Will a benjamin hand pump work on this gun?
asked Andrew from USA
I see that they have .177,.22, and .25 caliber magazines that fit this gun. Has anyone tried. 25 caliber pellets in this gun? I want to order some .25 magazines and try it with this gun. Please advise. Thanks. Clyde from Hawaii.
asked Clyde from USA
You need the specific caliber Sortie. You can not shoot multiple calibers from a single caliber gun.
Mark from USA