Want to own the most rugged, weather resistant bullpup on the market? Are you looking for a gun that will hold up to hard use in any condition? The nickel and synthetic version of the Puncher Breaker by Kral Arms is where its at. This unique rifle is both practical and attractive and is sure to turn a few heads at the range. The Breaker retains the same barrel, shroud and action as the standard rifle Puncher however the air tank has been shortened to 280 cc's in order to decrease size and weight. The Breaker also features a 2 stage fully adjustable trigger as well as rotary magazines and includes a single shot tray for hand loading. The synthetic stock of the Breaker is durable and weather resistant, perfect for you airgun hunters out there. Kral had built a serious rifle for serious use, if you need an airgun that will go with you wherever you take it, the Puncher Breaker is the gun for you!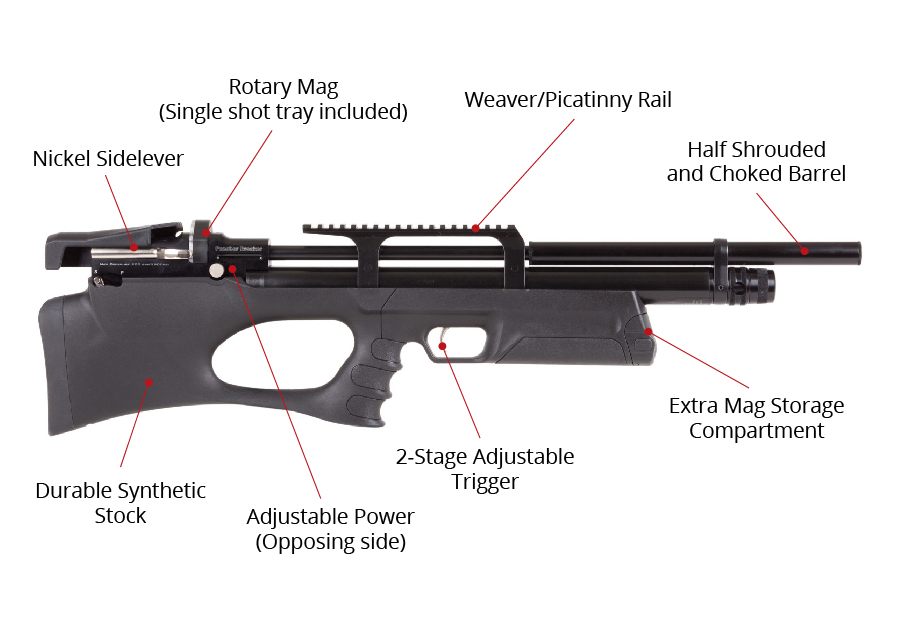 Kral Arms Puncher Breaker Silent Marine Sidelever Air Rifle
Precharged pneumatic
Snag-free nickel sidelever
Multi shot
.177 cal=14 rds, .22 cal=12 rds, .25 cal=10 rds
2-stage adjustable trigger
Adjustable power
Weaver/Picatinny rail for optics (no open sights)
2900 psi fill pressure (200 BAR)
Built-in manometer (air pressure gauge)
280cc air tank
Kral built choked, rifled barrel
Half Shrouded barrel for extra-quiet shooting
Synthetic stock
Forearm mounted weaver/picatinny rail for accessories
Compartment in stock forearm to store spare magazine
1/8" BSPP fill probe
Includes
: 2 magazines, single shot tray (in the .177 and .22 only.), and fill probe.
Specs
Manufacturer

Kral Arms

Caliber

.22

Velocity

975 fps

Condition

New

Ammo Type

Pellets

Action

Sidelever

Barrel Style

Rifled

Fire Mode

Repeater

Gun Weight

7.40

Overall Length

29.00

Barrel Length

21.00

Loudness

3-Medium

Magazine Capacity

12

Mechanism

Pre-charged pneumatic

Rail

Weaver/Picatinny

Safety

Manual

Front Sights

none

Rear Sights

none

Shots per Fill

40

Trigger Adjustability

Two-stage adjustable

Trigger Action

0

Use

Small game hunting/target practice

Warranty

1-year limited warranty
Reviews
Average Customer Review
4.1
4.0
16 Reviews
1.0
By Chris
USA
December 30, 2022
Verified Purchase
Looking for price use AGD. Looking for service, go somewhere else.
Pros
I have this gun in the black and hoped the Marine would be as good as the one I have. Wrong
Cons
Received this gun with no air in it. Would not fill. Air coming out of the muzzle. Returned to AGD and it came back with the same problem. Returned it again and asked that they check it before returning to me. Got it back and again this same problem. I have spent over $7000 with AGD but I am done with them. Worst customer service ever.
5.0
By Ed da snipper
August 9, 2022
One of the all greatest pcp's available with quality at the price line on the market! One suggestions...if you're shooting in your back yard you will need..1/2 by 20 adapter and a suppressor 3d or good aluminum one. If your by yourself no neighbors or a farm, don't worry about it. This is a simple fix for all you folks worried about sound. Its NOT that loud and shouldn't have to shoot it on highest power level. Tone it down to half setting or #2. Fixed! Shoots properly. Laser beam air rifle! Don't miss out! Mine was a gift. But I bought 3 more!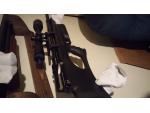 Pros
Balance,length, power, ajustable, weight, SHOT Count! Price.All superior.
Cons
Better fill probe design, but works.
1.0
By Joseph
USA
July 20, 2021
Buy a different brand, part support is absolutely horrible with Kral Arms.
Pros
Perfect length but that's about it..
Cons
Leaking problems right from the get go, completely disassembled and found the air valve wasn't seating proper. Have had 2 new valve assembles P/N: AT-28 on order for 3 months. 7$ part but due to unavailability it leaves my sons 500$ rifle a boat achieves.
5.0
By Logan
October 25, 2019
been using this gun for a couple of weeks now and it is great, hole on hole accuracy functions flawlessly and the look of it is real nice
Pros
accuracy and size hey
Cons
Cocking lever is a little sloppy
4.0
By Hector
USA
March 21, 2019
Good rifle,good balance but poor finish details. Not a quiet rifle
Pros
Easy to carry, good weight, trigger smoothly.
Cons
Some parts of the rifle are constructed with cheap materials. Poor finish details. Not a silent rifle as the name.
5.0
By Christopher
USA
March 14, 2019
Love it! This is one bada$$ airgun. My second KPB, first is in synthetic. Been using my cheap ebay hand pump on both. Fills up fine. My tricep an shoulder muscles have developed nicely from pumping up these two little beasts. Lots if power, easy to tune. Adjusted trigger weight bit under 1lb. Applying loctite to grub screw on cocking lever will save you alot of heartache. Gun is loud, really loud. Bought a set of springs and baffles made for the Benjamin Marauder fits perfectly in the Puncher Breaker, now its backyard friendly. Heavy lil beast but shoulders very nicely. Had to shorten the bolt for the piccatiny rail up front, zero play now. Lots of silicone grease needed for fill probe. Shooting 14.3 Premiers. 75 shots per fill amazing shot count!
Pros
Hand pump friendly. High shot count. Compact size. Tuneable. Accurate. Bolt action cycles very smoothly. Not pellet picky up to 30 yards. High shot count!
Cons
Loud. Marine finish is dull, should have just bought another synthetic. Need for extremely high mounts. Heavy lil sob. Mag jams occasionally if held upright to cock.
5.0
By Curtis
USA
March 11, 2019
Now that I have had this pcp a little while... over 1500 pellets down range I am very pleased with it! First groups were just ok. After a good proper barrel cleaning the groups tightened up nicely! Small clover leaf at 30 yards half inch at 50 and 3/4 inch at 75 And 100 yards around 6 inch groups while off a bench but weather was not ideal with the wind and just grabbing any ole jsb 18.13 pellet. I'm sure better conditions pellet sizing and weighing would improve groups! Clean barrel and adjust trigger and this is a great pcp for the money! I tried several other pellets and weights but jsb 18 worked great in my gun with a decent scope and really high mounts. I would definitely recommend to anyone!
3.0
By Paul
USA
August 15, 2018
I encountered one problem with this gun that spoiled the whole experience for me. I am about to give up on PCP guns. I like the gun, however, I can't refill the air. I have a good compressor that has filled other guns quickly and without a problem, but not this Puncher. The most I can get into the gun is 1700 PSI, and this is after a long refill attempt. I can only assume that this is only a problem with this particular gun. I will try to work this out with Air Venturi.
Pros
Good balance, nice gun in general.
Cons
Will not re-charge with air.
5.0
By Bernard
USA
February 28, 2018
Very high build quality love the nickel finish. Very sharp futuristic looking. Guys at the gun range all wanted to shoot it. They are mostly all powder rifles shooters and had the old b.b guns are for kids prejudices. Boy did I set them straight. I gave them the 411 on Airgun Depot. Get ready for some incoming orders. They couldn't believe the tight groups at 50 yards. LOVE THIS RIFLE
Pros
1000 dollar quality at half the price
Cons
None
3.0
By Homayoon
August 7, 2017
I received my Kral Puncher Breaker Silent Marine .22 last week and put a couple of shots through it. Its a nice looking air rifle and has enough power for pest control and hunting small to mid size animals such as rabbits and birds. So far I am satisfied with my choice and happy with it and I think its a nice rifle with that price tag.
Pros
Nice looking, plenty of power
Cons
Not good finish. The entire rifle, stock, barrel....has rough finish unlike some expensive air guns that have decent and beautiful finish. I think in terms of how this rifle works is very much the same as the $1600 air rifles but with lower quality of materials used to make it. I wont say its backyard friendly as its so loud. I have to find moderator to make it quite so I can use it in my backyard.
Q&A
Question?
Login to ask someone who bought this product.
What is the diameter of the quickfill adapter for a kral arms puncher breaker marine silent? Where cam i find spare magazines & o- rings for it?
asked George from USA
Is it a regulated airgun?
asked Mariano from USA
can this kill a deer with the .25 cal?
asked Elon from USA
Will the 22 caliber puncher breaker bull pup shoot farther distances over the 25 caliber puncher breaker bull pup for hitting targets out to 50 yards with out dropping
asked John venturino
I have a kral puncher breaker.When i shoot it, the side lever suddenly opens,how can i fix this problem?
asked Marcelo
I bought Kral Puncher Breaker Marine and since its loud I would like to know where I can buy the moderator adaptors to add to its current moderator to make it longer and more quite. Please let me know. thanks
asked Homayoon Wafaie
I just got my .22 silent marine and it has a small hole on the barrel moderator and wondering if thats a damage or standard on all. Please let me know if I should return or just keep it. Picture attached.
asked HOMAYOON WAFAIE
Its a little grub screw that holds barrel shroud in place
Gerald from USA
Can someone tell me what type of scope would be best for this gun? I have the marine so need a silver scope. thanks
asked Homayoon
what is the trigger pull like ? is the second stage crisp , or does it have a lot of take up.
asked Rodger from USA
1-SINCE IT IS NEVER LISTED How loud is this in DB? 2-Why aren't these guns ever rated by Airgun Depot with exact DB info and not just as a med #3 3-How many pumps from the hand pump does it take to fill the PNP reservoir , how much time does it take to fill? 4-Will an electric pancake air compressor fill this? 5-If so, is there an quick connect adaptor/valve available/made for this to stop overfill to plug in to fill as we shoot? AIRGUN DEPOT: PLEASE GIVE US SPECIFICS ABOUT YOUR PRODUCTS: INFO LIKE: 1 - LOUDNESS IN DB NOT 123 RATING (MOST IMPORTANT FACT FOR THOSE OF US WITH NEIGHBORS) 2 - "USEFULL FPS INFO WITH SPECIFIC WEIGHT AND TYPE OF PELLETS USED" NOT MANUFATURER HYPE SO WE DONT HAVE TO SEARCH THROUGH VIDIOS TO FIND THIS 3 - "HOW MANY PUMPS TO FILL PNP RESEVOIR WITH HAND PUMP INCLUDED IN KIT?" (23 PUMPS 5 MINS) 4 - PLEASE ADD ANOTHER CATEGORY TO SPECS "FILLING OPTIONS/TYPE" INCLUDING 1 PUMP ONLY OR 1 TO 10 PUMPS FOR PUMP GUNS, AND FOR PNP GUNS OTHER FILL OPTIONS LIKE TANKS COMPRESSORS HAND PUMPS ETC." 5 - RECOMENDED AMMO 6 - RECOMENDED ACCESSORIES
asked Scott from USA
Is this airgun threaded for a moderator?
asked Jim Bishop
Hi good day are you all shipping to Trinidad and Tobago
asked Rikki
How many rounds can you shoot at full power per charge?
asked Clifford from USA