Designed by John Browning in 1894, the Winchester Model 1894 (aka the Winchester 94) quickly became the most popular hunting rifle on the market. The Umarex Legends Cowboy Lever action CO
2
rifle is an almost near perfect replica of John Brownings original design, expect for the fact that is utilizes CO
2
and BB's, vice black powdered .32-40 / .38-55 Winchester cartridges. The Cowboy Lever-Action features a realistic loading ability with 10 BB cartridges inserted into its under barrel tube magazine and powered by two 12-gram CO
2
cartridges behind the hardwood stock's removable butt plate. With every cock of the lever each shell ejects, just like the real thing!
Umarex Legends Cowboy Lever Action Rifle Features
CO2
Eject-able cartridges
Realistic lever action
Full metal frame
Includes 10 BB cartridges
Fixed front sight
Adjustable rear sight
Faux-wood polymer stock
Compatible with Umarex Peacemaker BB cartridges
Powered by two 12 g CO2 Capsules housed in the stock
Specs
Manufacturer

Umarex

Caliber

.177

Velocity

600 fps

Condition

New

Ammo Type

Pellets

Action

Lever-action

Barrel Style

Smooth bore

Fire Mode

Repeater

Gun Weight

5.96

Overall Length

38.00

Barrel Length

19.25

Loudness

3-Medium

Magazine Capacity

0

Mechanism

CO2

Rail

No

Safety

0

Front Sights

Blade & Ramp

Rear Sights

Adjustable for elevation

Shots per Fill

0

Trigger Adjustability

0

Trigger Action

0

Use

Plinking & target practice

Warranty

90-day limited warranty
Reviews
Average Customer Review
4.9
5.0
20 Reviews
5.0
By Dennis
May 13, 2020
Verified Purchase
Make sure you order extra shells. I made the mistake of thinking after I ordered to add shells and pell oil so I wouldn't have to pay extra shipping. I couldn't get through to add them by phone or email.
Pros
Very cool looking. The plastic looks like real wood. The rest is metal. Haven't fired it yet. Can't wait. I'm going to age it when the warranty is over.
Cons
It's a little sticky when I cock it. Just a bit hard to put shells in.
5.0
By David
March 8, 2020
Verified Purchase
Pros
Very realistic. Good weight. Shipping was very quick. The price of the gun was exceptional compared to Canada and the velocity ( 600 ft/ sec) is wonderful.
Cons
Nothing yet
5.0
By Brad
USA
February 9, 2020
Verified Purchase
I like the lever action. It is just like the real rifle. Shells fly out to take the next shot. Very accurate. Good rifle weight.
5.0
By Keith
USA
January 1, 2020
Verified Purchase
Very authentic to the Winchester 3030. Beautiful wood stock and forearm very well made.
5.0
By Danny
December 28, 2019
I have the Walther loved it but this rifle takes the cake. Realistic,accurate,just a whole lot of fun.
Pros
Excellent
Cons
None
5.0
By Eddie
USA
October 27, 2019
I owned an original model 94 Winchester years ago. I loved shooting it, but found it hard to find places to shoot. Since I have started doing target practice with air guns I wanted this one when I found it was available. I like the old western style firearms and being able to purchase air guns that are made like those is something I really like.This rifle is on display on my wall and I love shooting it. It is listed as BB but will shoot pellets. It is more accurate when you do use pellets.
Pros
Like original All metal except for stock Looks great
Cons
Uses two Co2 cartridges.
5.0
By Susan Elaine
USA
September 20, 2019
Verified Purchase
I couldn't resist buying the Legends Cowboy rifle because of the ejecting shells. I already own the Walther lever action, and love it for it's accuracy, high quality and authentic looks. I began shooting the Legends with BBs, and on day one, considered returning it. I then switched to pellets and now you would have to pry it out my hands. I can easily hit a 4 inch metal disk at 75 feet every time (especially with fresh C02). Which is most accurate? At first I thought the Walther was. The more I shoot the Legends, the more accurate I get with it. Now I'm not sure. Bottom line, the Walther was twice as expensive. It does have a wood stock, which I love. The Legends stock is extremely realistic, and almost prettier to look at. The ejecting shells is much more fun than the rotary disk. Obviously, the 12 gram C02's run dry pretty fast compared to the 88 gram Walther. I do like having the extra power in the Walther. Overall, I think the Legends is a little cheaper to shoot. If wood vs. plastic, the price difference in C02 cylinders, or realistic loading doesn't matter...it may come down to price. There's not a bad choice here. They are both tons of fun. Just use pellets for either gun, and you won't be disappointed.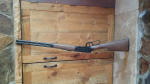 Pros
Legends- Fun to load. Can use shells from my pistols. Looks great and very authentic. Very accurate. Cheaper to buy. Walther- Real wood. Looks great and very authentic. Very accurate.
Cons
Legends- Plastic stock (but looks real). Goes through small C02s fairly quickly. Walther- Disk loader not as fun but convenient. Costs $6 per C02 cylinder (but lasts a long time).
5.0
By Ralph
Guam
August 31, 2019
Verified Purchase
A very well made rifle
Pros
A pros
Cons
No cons
5.0
By Phillip
August 12, 2019
Verified Purchase
I have a ranger model of the 1894 Winchester 30/30. The rifle has most of the look and feel but with a smoother action.
Pros
Reasonable faithful replica, accurate at close plinking ranges, smooth action
Cons
None so far
5.0
By Charles
USA
July 20, 2019
Verified Purchase
Love this rifle very much. It is very accurate and has the weight of the real rifle, and uses the same BB shells as my pistol.
Q&A
Question?
Login to ask someone who bought this product.
Are they plastic bbs or metal bbs because I've seen reviews were people use airsoft
asked Luis from USA
The gun was designed for .177 steel BB's. There are .177 cal plastic BB's available.
Mark from USA
How many bb's fit in each cartridge, and are all the bb's in any given cartridge simultaneously fired analogous to a shotgun? Or can only a single bb be loaded into a cartridge? Also, can pellets, instead of bb's be used? If so, what caliber/which ones, and same question regarding numbers fitting in each cartridge along with numbers being fired from any given cartridge. If pellets work, too, has anyone compared with bb's? Thanks!!
asked Chad from USA
The shells are single load. You can shoot pellets from the shells. Use light waddcutters 7 gr.
Mark from USA