The highly revered Colt Single Action Army .45-caliber revolver feels and handles like the firearm it looks like. Like the firearm it copies, the cylinder does not swing out. Each shell is loaded separately through a loading gate on the right side of the cylinder. To make the cylinder turn, you have to pull the hammer back to the half-cocked position. Then, rotate the cylinder to either load a full shell or remove an empty one (by pushing on the ejector rod). Since the shells are loaded singly, speedloaders cannot be used. To load pellets in the shells, insert one pellet in the bottom of each. There's an error in the owner's manual. It says you must first put the gun on safe and then pull the hammer to half-cock to load the gun. That is incorrect. Once the safety is applied, the hammer does not move. So, don't put the safety on to load the gun.
Colt Peacemaker Pellet Revolver (Single Action Army) Features
12-gram CO2 cartridge
6-rd cylinder
Fixed front sight
Notch rear sight
Synthetic black grip panels
Single-action only
Manual safety
Working ejector rod
Nickel-plated finish
2.10 lbs. (owner's manual incorrectly states a weight of 1.10 lbs.)
5.50" barrel length (owner's manual incorrectly states a 6.87" barrel length)
11" overall length (owner's manual incorrectly states an overall length of 11.50")
Includes 6 shells (each shell is loaded with one pellet)
Specs
Manufacturer

Colt

Caliber

.177

Velocity

380 fps

Condition

New

Ammo Type

Pellets

Action

Revolver

Barrel Style

Rifled

Fire Mode

Repeater

Gun Weight

2.10

Overall Length

11.00

Barrel Length

5.50

Loudness

4-Medium-High

Magazine Capacity

6

Mechanism

CO2

Rail

No

Safety

Manual

Front Sights

Blade

Rear Sights

Fixed

Shots per Fill

100

Trigger Adjustability

0

Trigger Action

Single-Action

Use

Plinking/Fun

Warranty

90-day limited warranty
Reviews
Average Customer Review
4.9
5.0
24 Reviews
4.0
By Nicklas
USA
February 21, 2021
Verified Purchase
Pros
Very fun to use. Good for cowboy action shooting
Cons
Sometimes pellets get stuck in the casing, but this is probably the type of pellets i'm using
5.0
By Benjamin
USA
May 30, 2020
Verified Purchase
This is a great revolver! The action is pretty similar to my Colt Peacemaker. The realism of the cartridges and the loading door makes this a good shooting experience similar to the real thing minus the recoil and noise. I was able to hit targets pretty consistently. I do recommend having several reloads worth of extra cartridges. Setting them up in a reload box makes it super easy to bulk pre=load the pellets.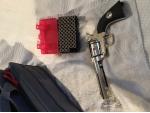 Pros
Realistic feel. Good weight. Feels solid. Realistic cartridges.
Cons
Cartridges are expensive.
4.0
By Denny D.
December 27, 2019
Verified Purchase
Good design and quite heavy for a pellet pistol feels almost like the real thing. Bought this for my grandson for Christmas gift. He really liked it and was surprised.
5.0
By Shane
USA
October 22, 2019
Verified Purchase
This is a high quality reproduction and would be great for theatre or re-enactments, except it is too much fun to shoot. Although it states in the description it is for BBs, the gun shows it uses pellets. Very accurate at 10 yds.
Pros
Quality and authentic appearance.
Cons
None
5.0
By Burt
September 13, 2019
Verified Purchase
Really superb pellet replica; size and weight are impressive, as is the accuracy, I'm knocking down cans from 50 feet and what a pleasure to fire this weapon! I own a Remington 1875 replica as well and both revolvers are more satisfying and enjoyable to shoot, than I can tell you about. I want ask UMEREX to create a 10 or 12 shoot version, possibly forgoing the cartridges and loading directly into the gate into the cylinder. I hope this gets produced, I'm good for more of these revolvers, in greater than 6 shots...
Pros
Very realistic and satisfying replica revolver. Easy on CO2, probably good for 45-50 strong aimed shots/cartridge. accurate beyond expectations, I love this gun!
Cons
If I think of any I'll let you know...
5.0
By Bob S.
April 24, 2019
Verified Purchase
I was very surprised by the weight and authentic appearance of the gun for the price. I own a Colt single action 45, and the similarity is amazing, including the smooth action of chambering a round and advancing the cylinder in the half cocked position. In addition, the gun is quite accurate. I would highly recommend this product.
4.0
By Don
September 25, 2018
well built,fun to shoot not all that powerful tho. but all in all a beautiful collector piece
Pros
a must have for a collector
Cons
none,as long as you use it for what it is
5.0
By Randall
USA
August 28, 2018
I BOUGHT THE PELLET VERSION. VERY ACCURATE, VERY WELL MADE GUN WITH A SMOOTH ACTION. I DON'T SEE HOW THEY CAN MAKE A GUN OF THIS QUALITY FOR SUCH A SMALL PRICE. IF YOU LIKE COWBOY GUNS, YOU NEED TO ADD THIS TO YOUR COLLECTION!
5.0
By Joe
USA
August 27, 2018
This gun is a nice replica. Built sturdy, solid, nickel plated and fun to shoot. I always wanted a single action gun.
Pros
You can gun sling it from a holster safely and you can fan with can fan your shots lots of fun. CO2 cartridgegoes a lomg way.
Q&A
Question?
Login to ask someone who bought this product.
I just received mine. Is the hammer always away from the back of the gun? mine won't rest against the rear, just looks odd. Is this normal?
asked Michael from USA
what is the country of Origin?
asked Gary from USA
how do i get a bottom screw as mine fell out. i need it for co2
asked Michael from USA
thinking of getting colt saa pellet revolver its rated for 380fps and was told i could expect 75--100 shots at what point will the velocity drop off and how much,is it ok to expell the remaining co2 w/o damage to the seal
asked Joseph from USA
You can loosen the CO2 cart in the pistol. The CO2 will exhaust.t does not harm the gun. There is no test of how fast the velocity falls off in a fill.
Mark from USA
if you dont use the entire co2 or find the velocity has decreased alot is it ok to expel the remaining gas. and about how many shot can you expect from ea co2.
asked Joseph from USA
You should get 45-55 good shots. You can ,and should ,remove low CO2 carts from the gun.
Mark from USA
What kind of pellets does this revolver use? The "flatnosed" ones, pointed ones, all the above?
asked Westin from USA
Any pellet will fit the shells. We suggest light pellets 8 gr or less. They will shoot best from the low power CO2 guns.
Mark from USA
The name of the product says Pellet, but the ammo description says BBs. Can someone tell me which one is correct?
asked Fer Flowers
Can you use bb or pellet bullits in this gun
asked Michael Williams
Sorry no bbs will damage the barrel
Luke from USA
I live in a neighborhood, but I do not have any houses behind mine. Is the gun loud enough to make neighbors mad?
asked Luca Newby
How do you get extra Pellet Cartridges for the Colt peacemaker? How much are they?
asked Robert from USA
does this peacemaker hopdup to the pressure of fireing fanning style?
asked Pat Orr III
Is this pellet revolver strong enough to with stand fanning style fireing?
asked Pat Orr III
i really want to get my grandpa this peacemaker. Hes a huge john Wayne/Western fan. Does it make a good collectible?????
asked Brandon from USA
new to this, what are the best pellets for this gun? will any .177 caliber type pellet work?
asked Betty
Being that this is a .17 caliber pellet gun, is the bore rifled? And will it shoot straight? I understand these tend to shoot high, that's ok, but as long as it shoots straight, that's fine.
asked P.
Do you ship to mexico?
asked Joeymenchaca
can white grips be purchased
asked Darline from USA