The highly revered Colt Single Action Army .45-caliber revolver feels and handles like the firearm it looks like. Like the firearm it copies, the cylinder does not swing out. Each shell is loaded separately through a loading gate on the right side of the cylinder. To make the cylinder turn, you have to pull the hammer back to the half-cocked position. Then, rotate the cylinder to either load a full shell or remove an empty one (by pushing on the ejector rod). Since the shells are loaded singly, speedloaders cannot be used. To load pellets in the shells, insert one pellet in the bottom of each. There's an error in the owner's manual. It says you must first put the gun on safe and then pull the hammer to half-cock to load the gun. That is incorrect. Once the safety is applied, the hammer does not move. So, don't put the safety on to load the gun.
Colt Peacemaker Pellet Revolver (Single Action Army) Features
12-gram CO2 cartridge
6-rd cylinder
Fixed front sight
Notch rear sight
Synthetic black grip panels
Single-action only
Manual safety
Working ejector rod
Nickel-plated finish
2.10 lbs. (owner's manual incorrectly states a weight of 1.10 lbs.)
5.50" barrel length (owner's manual incorrectly states a 6.87" barrel length)
11" overall length (owner's manual incorrectly states an overall length of 11.50")
Includes 6 shells (each shell is loaded with one pellet)
Specs
Manufacturer

Colt

Caliber

.177

Velocity

380 fps

Condition

New

Ammo Type

Pellets

Action

Revolver

Barrel Style

Rifled

Fire Mode

Repeater

Gun Weight

2.10

Overall Length

11.00

Barrel Length

5.50

Loudness

4-Medium-High

Magazine Capacity

6

Mechanism

CO2

Rail

No

Safety

Manual

Front Sights

Blade

Rear Sights

Fixed

Shots per Fill

100

Trigger Adjustability

0

Trigger Action

Single-Action

Use

Plinking/Fun

Warranty

90-day limited warranty
Reviews
Average Customer Review
4.9
5.0
29 Reviews
5.0
By John
June 3, 2023
Verified Purchase
Many shooters fund it hard to get excited about a mere airgun, but these are not your childhood airguns. We shot groups at 16 yards using 2 inch orange dots. The shooting experience can be compared to a .22 rim fire pistol with less recoil and noise, but the similarity is there with the crack and the feel of the action rotating. Buy two. Set up twelve aluminum cans and challenge a friend to see who can knock down their cans first.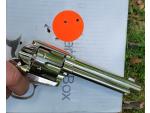 Pros
I bought two pellet versions, one for myself and another for a brother who owns a custom Colt .45 SAA. The revolver is an authentic replica in so many ways, except for a few screws and the unobtrusive safety. I'm pleased to see the the grip on the pellet version is extended to match the actual cutomized Colt that has an extended grip to make it more comfortable to shoot. The most common complaint is about the hammer not seating fully (looks like it's at half cock). That's insignificant, unless you're trying to punk someone. The action and operation is close enough to be real. The trigger is very good. One pistol shoots near very near point of aim, while the other one shoots slightly high left. Which is unfortunate because the sights are not adjustable. One advantage over the Gunpowder version is the pellet gun is more pleasant to shoot, because the trigger guards on the real thing can recoil against the middle finger. The nickel finish looks good and eliminates all the warnings.
Cons
One revolver shoots point of aim, the other shoots just a little bit left. That has to be accepted for authenticity; however, I believe it may be possible to carefully tap the blade to correct the problem. I like the durability and look of the nickel finish, but sighting can be hard in bright sunlight. For that reason alone, I want two more in 7 1/2 inch blue or weathered finish. Two to look at and two to shoot. The grips are flat black plastic, but it doesn't detract from the appearance or the solid feel when shooting. Unfortunately, the silver pellet bullets are currently back order. The other drawback is the blue versions are not available and I can't find any details for availability. Strange way to run a business. Wanting additional product and not being able to get updated info is the only negative.
5.0
By John
March 13, 2023
Verified Purchase
Airgun Depot has great sells and services. They answered all my questions and are a good company.
Pros
I like the look of the Colt Peacemaker, the Colt has a nice weight and feel like a real revolver. All the action on the Colt are very smooth and free flowing . I Love the look of the shells and how the .177 fit into them.
Cons
I have not found any con with the Colt and not sure I will.
5.0
By Elroy
USA
October 9, 2021
What a gun 10/10 (If you get extra shells) * I do downstairs plinking and this gun is amazing for: Sound wise, power wise, accurate and plinking!! * When i got my package, the weight of the package shocked me a bit. I got the gun out of the box and it felt amazing, what did shocked me though was the weight of the shells. These shells do not feel cheap at all or flimsy, the gun in it self is nice and sturdy and a lot of shine! * The sound of reloading, the pleasure of cocking the hammer and the clicks of the gun wauw! * The pellets that i used worked perfectly with this gun. +- Around 70-100 shots the CO2 cartridge needs to be swapped out. - The only "downside" of this gun is 6 shots ain't enough, i would recommend buying exta shells (what i did). With 18 shells in total this gun is 1 of my favorite guns to shoot. Beeman Wadcutter Coated .177 Cal, 7.8 gr - 250 ct Code: Beeman Wadcutter Coated .177 Cal,... · $9.99 Colt Peacemaker SAA Pellet Revolver Shells Code: AGD-6590 $12.5
Pros
Good Weight, accurate, good for plinking in the basement (noise wise), Fun to reload and shoot instead of burt shooting.
Cons
Nothing. This product is 10/10
5.0
By Vaughn
August 12, 2021
My Umarex Colt Peacemaker shipped fast! I only had one old tin of pellets lying around from years ago (Gamo Match 4.5 (.177). I screwed in a CO2 and shot about 80 rounds before noticing a drop in fps (didn't chrono them, just visual observation). Still shot relatively good up to about 100 rounds. CO2 finally quite after unloading over 120 rounds. I was expecting about 25 rounds per CO2 so was really in awe! Definitely a keeper! I'll try to be more scientifically observant and accurate tomorrow by breaking out my chrono.
Pros
Pros: How much closer can someone get to the real thing! I love loading "bullets" into the revolving chamber! Loading pellets into the shells is much easier than attempting to place a single pellet into the chamber of a single shot bolt action. It feels good in the hand, well balanced. The trigger squeezes easily, almost too easily but perfect. The nickel finish with the black grip looks good. I believe the .177 pellet version has a rifled barrel?
Cons
Wish they made it in a .22 caliber with 600-800 fps. Everything else is awesome.
4.0
By Luke
USA
April 15, 2021
Buy this if you love the old west
Pros
It's a great gun, it looks beautified and realistic
Cons
I dislike the plastic handles
4.0
By Nicklas
USA
February 21, 2021
Pros
Very fun to use. Good for cowboy action shooting
Cons
Sometimes pellets get stuck in the casing, but this is probably the type of pellets i'm using
5.0
By Benjamin
USA
May 30, 2020
This is a great revolver! The action is pretty similar to my Colt Peacemaker. The realism of the cartridges and the loading door makes this a good shooting experience similar to the real thing minus the recoil and noise. I was able to hit targets pretty consistently. I do recommend having several reloads worth of extra cartridges. Setting them up in a reload box makes it super easy to bulk pre=load the pellets.
Pros
Realistic feel. Good weight. Feels solid. Realistic cartridges.
Cons
Cartridges are expensive.
4.0
By Denny D.
December 27, 2019
Good design and quite heavy for a pellet pistol feels almost like the real thing. Bought this for my grandson for Christmas gift. He really liked it and was surprised.
5.0
By Shane
USA
October 22, 2019
This is a high quality reproduction and would be great for theatre or re-enactments, except it is too much fun to shoot. Although it states in the description it is for BBs, the gun shows it uses pellets. Very accurate at 10 yds.
Pros
Quality and authentic appearance.
Cons
None
5.0
By Burt
September 13, 2019
Really superb pellet replica; size and weight are impressive, as is the accuracy, I'm knocking down cans from 50 feet and what a pleasure to fire this weapon! I own a Remington 1875 replica as well and both revolvers are more satisfying and enjoyable to shoot, than I can tell you about. I want ask UMEREX to create a 10 or 12 shoot version, possibly forgoing the cartridges and loading directly into the gate into the cylinder. I hope this gets produced, I'm good for more of these revolvers, in greater than 6 shots...
Pros
Very realistic and satisfying replica revolver. Easy on CO2, probably good for 45-50 strong aimed shots/cartridge. accurate beyond expectations, I love this gun!
Cons
If I think of any I'll let you know...
Q&A
Question?
Login to ask someone who bought this product.
can you fan this pistol
asked Ted from USA
I just received mine. Is the hammer always away from the back of the gun? mine won't rest against the rear, just looks odd. Is this normal?
asked Michael from USA
I have a Remington 1875 , and it does the same. If you force it forward (don't do this) it releases co2. It's just a design thing, but is normal to the gun, it's not broken or anything. Mine shoots about inch up and inch to the left, but I can put 12 ( all the loads I have) on paper touching each other at 20 feet.
John from USA
I have a Remington 1875 , and it does the same. If you force it forward (don't do this) it releases co2. It's just a design thing, but is normal to the gun, it's not broken or anything. Mine shoots about inch up and inch to the left, but I can put 12 ( all the loads I have) on paper touching each other at 20 feet.
John from USA
what is the country of Origin?
asked Gary from USA
how do i get a bottom screw as mine fell out. i need it for co2
asked Michael from USA
thinking of getting colt saa pellet revolver its rated for 380fps and was told i could expect 75--100 shots at what point will the velocity drop off and how much,is it ok to expell the remaining co2 w/o damage to the seal
asked Joseph from USA
You can loosen the CO2 cart in the pistol. The CO2 will exhaust.t does not harm the gun. There is no test of how fast the velocity falls off in a fill.
Mark from USA
if you dont use the entire co2 or find the velocity has decreased alot is it ok to expel the remaining gas. and about how many shot can you expect from ea co2.
asked Joseph from USA
You should get 45-55 good shots. You can ,and should ,remove low CO2 carts from the gun.
Mark from USA
What kind of pellets does this revolver use? The "flatnosed" ones, pointed ones, all the above?
asked Westin from USA
Any pellet will fit the shells. We suggest light pellets 8 gr or less. They will shoot best from the low power CO2 guns.
Mark from USA
The name of the product says Pellet, but the ammo description says BBs. Can someone tell me which one is correct?
asked Fer Flowers
Can you use bb or pellet bullits in this gun
asked Michael Williams
Sorry no bbs will damage the barrel
Luke from USA
I live in a neighborhood, but I do not have any houses behind mine. Is the gun loud enough to make neighbors mad?
asked Luca Newby
How do you get extra Pellet Cartridges for the Colt peacemaker? How much are they?
asked Robert from USA
does this peacemaker hopdup to the pressure of fireing fanning style?
asked Pat Orr III
Is this pellet revolver strong enough to with stand fanning style fireing?
asked Pat Orr III
i really want to get my grandpa this peacemaker. Hes a huge john Wayne/Western fan. Does it make a good collectible?
asked Brandon from USA
new to this, what are the best pellets for this gun? will any .177 caliber type pellet work?
asked Betty
Being that this is a .17 caliber pellet gun, is the bore rifled? And will it shoot straight? I understand these tend to shoot high, that's ok, but as long as it shoots straight, that's fine.
asked P.
Do you ship to mexico?
asked Joeymenchaca
can white grips be purchased
asked Darline from USA