The Remington Model 725 VTR Breakbarrel Air Rifle is capable of slinging pellets at 900fps, delivering 30 FPE of devastation at whatever you point the rifle at. With an all-weather synthetic stock inspired by the Remington 783 rifle, the 725 VTR uses a powerful nitro gas-piston powerplant to keep your pellets flying fast. Featuring an adjustable 2-stage trigger, you will have no trouble finding your ideal trigger pull with a report dampened by a fully-shrouded barrel.Each Remington 725 VTR includes a long Weaver/Picatinny accessory rail that readily accepts the included CenterPoint 3-9x32mm Scope that provides varied magnification and clear sight picture when aiming downrange. If you want to bring .25 caliber power set into a solid breakbarrel system, pick up the Remington 725 VTR today!
Remington Model 725 VTR, .25 Caliber
Gas Piston
.25 cal Hunting Rifle
Remington 783 stock design
Bull barrel
Ambidextrous, all-weather stock
Two-stage, adjustable trigger
Picatinny rail
Front Sling Loop
CenterPoint® 3-9x32 mm Scope
Specs
Manufacturer

Remington

Caliber

.25

Velocity

900 fps

Condition

New

Ammo Type

Pellets

Action

Break barrel

Barrel Style

Rifled

Fire Mode

Single-shot

Gun Weight

10.50

Overall Length

48.00

Loudness

3-Medium

Mechanism

Gas-piston

Rail

Weaver/Picatinny

Safety

Manual

Front Sights

none

Rear Sights

none

Shots per Fill

1

Trigger Adjustability

Two-stage adjustable

Trigger Action

0

Use

Small game hunting/plinking

Warranty

5-year limited warranty
Reviews
Average Customer Review
4.7
4.5
7 Reviews
5.0
By Kosior
USA
May 6, 2020
Verified Purchase
Glad I bought it. I'm probably going to buy another one. For the .25 break barrels.. this one may be the best. Time will tell, but if I have any issues with it, I'll get it fixed, and maybe even further enhanced.. However; I don't foresee any problems with it. Everything about it is good. The way it seals, is so precision.. tight. Sorry, that I built your expectations.. but I am very happy with this purchase.
Pros
I consider this one near the top of the heap... Totally impressed with it. Powerful... and the long barrel makes it easier to charge, faster, and more accurate. It has a kick like an M-16... really, does.. a nice pop, and kick, very nice. I'm going to put a good scope on it, but have not decided upon which one yet.. but a good one, because it deserves a good one. This break barrel is right beside my Hatsan Carnivores, and my Umarex Octane.. I really like the looks of it too.
Cons
Nothing negative.. and Airgun Depot.. was great as usual, and expected.. Everything is always the best with them. I am never disappointed.
5.0
By oldguy
April 1, 2020
Verified Purchase
Pros
I have a hatsan model 135 in 30 and 25 caliber. I ordered the Remington725 VTR in 25 and it shoots very good and the weight is not heavy or to loud for the back yard. I does not look as good as the Hatsan models but it is very accurate and fun to shoot. I put a Red Dot on it as the scope is low quality .
Cons
This is the fifth rifle and fourth scope and other items I purchased from Air Gun Depot and I could not be more happy with them. No cons.
5.0
By Amori
USA
March 12, 2020
Verified Purchase
This is one of the most accurate air rifles I've bought with the scope from the box. My rifle likes the H&N sport barracuda extreme pellets shooting 1 1/2 groups at 55yards. And the knock down power is amazing I dropped a bobcat at 45 yards he felt nothing he was died a soon as he was shot.
Pros
Accurate, Powerful and backyard friendly
Cons
None
5.0
By David
USA
December 26, 2019
Verified Purchase
I was so impressed by the obvious quality in the feel and build, not to forget the extreme power!
Pros
Best value in a powerful package.
Cons
None at all!
3.0
By Jordan
USA
August 7, 2019
Average rifle, surprisingly great build quality. .25 Caliber is pretty disappointing in performance and effectiveness even at "point blank" ranges. Overall 7/10 I would recommend it but definitely wait for a discount sale for it.
Pros
Build quality is exceptional Threaded barrel Picatinny rail already on the rifle Safety is very good along with trigger pull
Cons
Extremely heavy Barrel "shield" is just a cheap plastic tube Cocking action is absurdly stiff
5.0
By Thomas
November 14, 2018
Verified Purchase
This is the second time I have purchased air guns and supplies from AGD and both times I have been pleased with my purchases. As far as the Remington 725 VTR goes, I am plenty happy with the fit and finish of this rifle. This rifle is a bit heavier than my other rifles but, this is also my first .25 caliber air rifle. I think that the weight is well balanced though. I have only shot this gun about three times so far as it is not what I would call backyard friendly. I have not tried to adjust the trigger and frankly I don't remember if it is adjustable. I do know that when I pull the trigger there is almost no first stage and the second stage does have some creep before letting the hammer fly. My rifle came bundled with a 3-9X40 AO Center Point scope. The glass is clear and over all decent to me. If you decide to purchase this gun and plan on using it for hunting and such I would recommend having swivel studs installed on it (as it doesn't already have any) and a carry strap. Overall, I think that this air rifle is pretty nice for the price.
Pros
everything so far but, keep in mind this is a man made machine is therefore not perfect.
Cons
nothing comes to mind yet.
5.0
By Ryan M.
October 29, 2018
Verified Purchase
I picked up this 725 for small game purposes, it has been an amazing preformer and has not let me down. On other sights I have seen people having consistency issues with their rifle, but most of that I believe is due to a cheap scope and the rifle not being broken in yet. This is a heavy gun and does have quite the kick eating cheaper scopes and scope mounts. I believe airgun depot have found this out as mine did not come with a CenterPoint? 3-9x32 but a 3x9x40 Centerpoint that feels much more sturdy then the standard freeby scope companies usually throw in the box. For me it took a can of JSB Diabolo Exact King .25 Cal, 25.39 gr pellets to break in. Before that it was almost unusable shooting a 2 1/2" grouping from 10 yards. After break in how ever it has held its zero on the money and puts the pellet through the same whole just about from 10 yards. This was my first airgun over a .22 Cal so I was surprised at just how much more mass and energy these pellets deliver, not only up close but form further way also. All in all this is a great preforming rifle for the money, would recommend to any one looking for a small game air riffle to have this on their consideration list.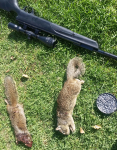 Pros
Accuracy Power Build Nice scope included Has a standard rail for scopes (I'm not a fan of the dovetail mount at all)
Cons
Heavy
Q&A
Question?
Login to ask someone who bought this product.
To anyone who owns this gun: How do you like it? Is it a powerful .25 cal airgun? The function and specs of this rifle seem very similar to that of the Benjamin Trail XL NP .25 cal (besides the stock). Would you agree with this?
asked Jack from USA