The Remington Model 725 VTR Breakbarrel Air Rifle is capable of slinging pellets at 900fps, delivering 30 FPE of devastation at whatever you point the rifle at. With an all-weather synthetic stock inspired by the Remington 783 rifle, the 725 VTR uses a powerful nitro gas-piston powerplant to keep your pellets flying fast. Featuring an adjustable 2-stage trigger, you will have no trouble finding your ideal trigger pull with a report dampened by a fully-shrouded barrel.Each Remington 725 VTR includes a long Weaver/Picatinny accessory rail that readily accepts the included CenterPoint 3-9x32mm Scope that provides varied magnification and clear sight picture when aiming downrange. If you want to bring .25 caliber power set into a solid breakbarrel system, pick up the Remington 725 VTR today!
Remington Model 725 VTR, .25 Caliber
Gas Piston
.25 cal Hunting Rifle
Remington 783 stock design
Bull barrel
Ambidextrous, all-weather stock
Two-stage, adjustable trigger
Picatinny rail
Front Sling Loop
CenterPoint® 3-9x32 mm Scope
Specs
Manufacturer

Remington

Caliber

.25

Velocity

900 fps

Condition

New

Ammo Type

Pellets

Action

Break barrel

Barrel Style

Rifled

Fire Mode

Single-shot

Gun Weight

10.50

Overall Length

48.00

Loudness

3-Medium

Mechanism

Gas-piston

Rail

Weaver/Picatinny

Safety

Manual

Front Sights

none

Rear Sights

none

Shots per Fill

1

Trigger Adjustability

Two-stage adjustable

Trigger Action

0

Use

Small game hunting/plinking

Warranty

5-year limited warranty
Reviews
Average Customer Review
3.9
4.0
12 Reviews
I would use this up to coyote-sized game at close range. No problem. .25 hits hard!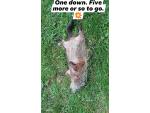 Pros
I wanted a pellet rifle that would take care of an invasive whistle pig problem. This has fit the bill handsomely. What a beast! Sadly even tho I myself have recently got it in the last 4 months, it's no longer available online. Shame. Great pellet gun!
Cons
Nadda, I mean it's heavy but a lot of good guns are.
1.0
By Mark
USA
July 20, 2020
Verified Purchase
seems nice i liked it until if the incident hopefully just a fluke
Pros
scope mount fell off mid shot seems like a nice gun i was liking it until during first shooting session
Cons
scope mount fell off mid shot
5.0
By Carlene
USA
June 20, 2020
Verified Purchase
Pros
I love it!
Cons
Mine didn't come with upgraded scope?
1.0
By Levi Hale
June 2, 2020
Verified Purchase
Dont fall for there Express shipping
Pros
None .... just 200 dollar garage
Cons
Scope mounting rail snapped broke the scope .... Express shipping that I paid 35 extra bucks for took 3 weeks .... and when the gun got here it didn't even last 300 shots ..... this whole experience with both companies has been completely garbage..... order off Amazon
2.0
By Douglas
USA
May 30, 2020
Verified Purchase
Like the rifle and the included scope was more than adequate but I don't trust that months down the road the rail won't separate again. Made in China
Pros
Sturdy feel as if a centerfire hunting rifle. Simple setup, powerful. Like the size holes the .25 cal pellets make. Easy to see down range.
Cons
Had to have an RMA issued. the day I received the rifle, I got about the 40th pellet downrange and the picatinny rail separated from the receiver. the picatinny rail is not secured via screws so I am requesting a refund instead of a replacement. The receiver is not drilled and tapped for the rail and only held in place with a light weld.
5.0
By Kosior
USA
May 6, 2020
Verified Purchase
Glad I bought it. I'm probably going to buy another one. For the .25 break barrels.. this one may be the best. Time will tell, but if I have any issues with it, I'll get it fixed, and maybe even further enhanced.. However; I don't foresee any problems with it. Everything about it is good. The way it seals, is so precision.. tight. Sorry, that I built your expectations.. but I am very happy with this purchase.
Pros
I consider this one near the top of the heap... Totally impressed with it. Powerful... and the long barrel makes it easier to charge, faster, and more accurate. It has a kick like an M-16... really, does.. a nice pop, and kick, very nice. I'm going to put a good scope on it, but have not decided upon which one yet.. but a good one, because it deserves a good one. This break barrel is right beside my Hatsan Carnivores, and my Umarex Octane.. I really like the looks of it too.
Cons
Nothing negative.. and Airgun Depot.. was great as usual, and expected.. Everything is always the best with them. I am never disappointed.
5.0
By oldguy
April 1, 2020
Verified Purchase
Pros
I have a hatsan model 135 in 30 and 25 caliber. I ordered the Remington725 VTR in 25 and it shoots very good and the weight is not heavy or to loud for the back yard. I does not look as good as the Hatsan models but it is very accurate and fun to shoot. I put a Red Dot on it as the scope is low quality .
Cons
This is the fifth rifle and fourth scope and other items I purchased from Air Gun Depot and I could not be more happy with them. No cons.
5.0
By Amori
USA
March 12, 2020
Verified Purchase
This is one of the most accurate air rifles I've bought with the scope from the box. My rifle likes the H&N sport barracuda extreme pellets shooting 1 1/2 groups at 55yards. And the knock down power is amazing I dropped a bobcat at 45 yards he felt nothing he was died a soon as he was shot.
Pros
Accurate, Powerful and backyard friendly
Cons
None
5.0
By David
USA
December 26, 2019
Verified Purchase
I was so impressed by the obvious quality in the feel and build, not to forget the extreme power!
Pros
Best value in a powerful package.
Cons
None at all!
3.0
By Jordan
USA
August 7, 2019
Average rifle, surprisingly great build quality. .25 Caliber is pretty disappointing in performance and effectiveness even at "point blank" ranges. Overall 7/10 I would recommend it but definitely wait for a discount sale for it.
Pros
Build quality is exceptional Threaded barrel Picatinny rail already on the rifle Safety is very good along with trigger pull
Cons
Extremely heavy Barrel "shield" is just a cheap plastic tube Cocking action is absurdly stiff
Q&A
Question?
Login to ask someone who bought this product.
Is there any way that I can fix the trigger, would a GRT lll work
asked ray from USA
Is there a trigger kit for this rifle, the trigger sux and there's only one adjustment screw that I see and it doesn't do anything to help
asked ray from USA
There is no trigger kit for the 725 VRT.
Mark from USA
Did anyone change the scope especially if you're shooting for distance. I have the Hatsan 125 in .25 caliber had to change the scope I can hit 100 yards consistently.
asked Greg from USA
I put a UTG 3x9x40 on mine don't know if it made a difference cuz I never mounted the cheap scope that came with it I don't have a hundred yards to shoot my max yardage is 65 and I'm getting 1/2"groupings
ray from USA
To anyone who owns this gun: How do you like it? Is it a powerful .25 cal airgun? The function and specs of this rifle seem very similar to that of the Benjamin Trail XL NP .25 cal (besides the stock). Would you agree with this?
asked Jack from USA