The Seneca Dragon Claw air gun has two large air reservoirs, you have the luxury of getting more shots from a fill and do more hunting. It throws a .50-caliber projectile and gets 230 ft-lbs. of muzzle energy, giving you the power to compete with firearms when hunting. This rifle can humanely and quickly take out feral hogs, javelinas, coyotes, foxes, nutria, possums, woodchucks, raccoons and similar-sized animals.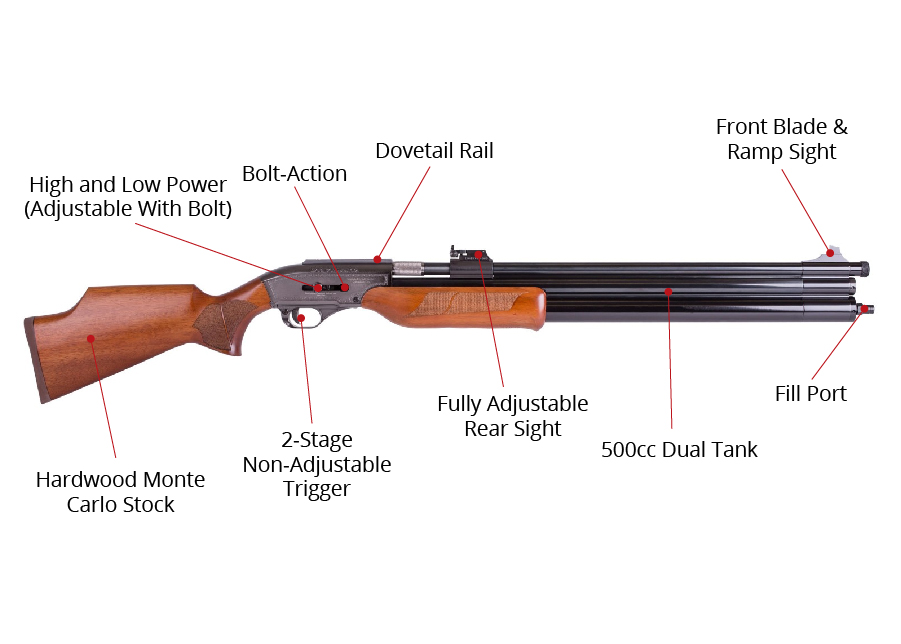 Seneca Dragon Claw Dual Tank Air Rifle Features
Pre-Charged Pneumatic (PCP)
Single-shot/Bolt-action
Fixed front sight, fully adjustable & removable rear sight
Dual air chambers
Checkered forearm & grip
Hardwood Monte Carlo stock
Dual air chambers (500cc total air capacity)
Specs
Manufacturer

Seneca

Caliber

.50

Velocity

679 fps

Condition

New

Ammo Type

Pellets

Action

Bolt-action

Barrel Style

Rifled

Fire Mode

Single-shot

Gun Weight

8.50

Overall Length

42.10

Barrel Length

21.65

Loudness

5-High

Magazine Capacity

0

Mechanism

Pre-charged pneumatic

Rail

11mm dovetail

Safety

Manual

Front Sights

Blade & Ramp

Rear Sights

Adjustable for windage & elevation

Shots per Fill

0

Trigger Adjustability

0

Trigger Action

0

Use

Hunting

Warranty

1-year limited warranty
Reviews
Average Customer Review
4.8
5.0
28 Reviews
5.0
By Doug
November 1, 2020
I watched the twang & bang video, and I'm confused. In the video it said that any .50cal airrifle with a 28 inch barrel would shoot the air bolt. Isn't that about 7 inches longer than the barrel on a dragon claw. The dragon claw has a 21 inch barrel, doesn't it?
Pros
I love the way it looks.
Cons
I have no cons.
1.0
By John
USA
August 21, 2020
Verified Purchase
Pros
Looks good
Cons
The air rifle came broken. Will not take air, air leaks from fill port and the manufacturer will not reply to customers. I have repeatedly called and emailed with no response.
5.0
By ALDO ALEJANDRO
USA
May 15, 2020
que no sé como lo voy a lograr pero tiene que ser mía.
Pros
esta no es una reseña, es una pregunta, ¿saben quien lo puede pasar legalmente a México?
Cons
he visto mucho videos y opiniones y no le cambiaría nada.
5.0
By Derrick
USA
January 23, 2020
All I can say is this thing is a beast! It is the ultimate prepper Doomsday rifle the ability to shoot 50 caliber slugs and air bolts it has very impressive knock down power. And it is badass looking everybody's jaws drop when they see it and are what the hell is that😁.
Pros
Two power settings Accurate Visually Intimidating Airbolt capable
Cons
It's heavy It's loud It's Not hand pump friendly you can do it but you'll sweat for it
5.0
By Nancy
January 6, 2020
Verified Purchase
Gun is crazy good, wish air compressor was sold with gun as it's a must have.
5.0
By Brad
January 3, 2020
Verified Purchase
I am 61 and grew up using Crosman pellet guns, etc., and this gun is in an entirely different world. It packs a punch like a mule on steroids and I would feel comfortable taking down large game with ease. I also like it that you can fill the air reservoir and leave it ready for action and it won't damage the seals. There is a reason why it has a five star rating. No regrets.
Pros
10 shots on a fill
Cons
Single shot. Wish that it had a multi-slug capacity.
5.0
By Matthew G.
October 14, 2019
Verified Purchase
They have great customer service.. My order was lost in the shipping process and they made it right with no issues..
Pros
Will be receiving it soon.. Can?t wait!!
Cons
None
5.0
By Kent Z.
June 10, 2019
Verified Purchase
Beautiful Gun. Grand Aesthetics. Strong and Powerful. Top-Notch Service, Top-Notch Product. Could Not be Happier With This Rifle.
Pros
Wood on Stock and Overall Gun is Impressive. Got the Kings Treatment Here at Airgun Depot.
Cons
None.
5.0
By Danille
USA
March 1, 2019
Just bought this gun and it performed great! watch The High Road with Keith Warren and he dropped a African Cape buffalo!
Pros
Everything
Cons
None!
5.0
By Victor
December 9, 2018
I have only had this gun for a little while I shot two deer in one hunt with it deer on ran 10 to 20 yards I was shooting a 185 grain hollow point. I love the gun and so will others
Q&A
Question?
Login to ask someone who bought this product.
What is the farthest I can shoot this gun and take a deer with a pellet?
asked Jessica from USA
can you use black powder slugs
asked r w from USA
Will a Benjamin Traveler compressor work with this rifle? If so, will any connectors be needed from compressor to fill tank?
asked Edward from USA
What do you use for an air filler tank?
asked Joel from USA
You can use a high pressure hand pump. A scuba tank ,or a Carbon fiber tank. 3000-4500 PSI.
Mark from USA
Can you use a hand pump for this rifle
asked Lionel from USA
Can an Air Venturi MK4 Hand Pump be plugged directly into this gun to charge it? Or do you have to fill a tank and use that to fill the charge?
asked David from USA
You can connect the handpump directly to the Dragon Claw.
Mark from USA
The best arrows
asked Tony from USA
The 50 cal Airbolts AGD-P1357 * $99.99 * .50 * 430 grains * 6 ct
Mark from USA
Will my paintball air tank charge this gun?
asked Greg from USA
If your paintball tank operates at a minimum 3000 PSI ,Yes. The gun takes 500 cc to fill. A 13 cu in tank will fill the gun once. A 100 cu in tank will fill the gun 6 times.
Mark from USA
I want to be able to shoot this without needing to go out and find adapters, hoses, disconnects, ect. What needs to be purchased with this gun in order to shoot it other then ammo?
asked Dwight from USA
Awesome, thank you Mark :)
Dwight from USA
You need a 3000-4500 PSI airsource. A handpump,scuba tank or CF tank. As long as the air supply has a foster female QD on the hose end you can connect.
Mark from USA
if i want to store this gun do i store it with air inside or without air? if it is with air how much
asked joel from USA
You store PCP air guns with 800-1000 PSI left in the gun. It keeps the seals tight.
Mark from USA
What pellet weight gives the best power?
asked Alex from USA
The heavier the more ftlbs. The best overall performer will be in the 150 gr to 2500 gr range.
Mark from USA
What kind of compressed air do you have to use can you use any regular air tank or compressor or do you need CO2 tank on the dragon claw 50 cal rifle
asked DAKOTA from USA
You need 3000 PSI compressed air. Not CO2. Most shop compressors only go to 150 PSI.
Mark from USA
Can the pellets take down a deer with a lung shot?
asked Jarred from USA
On the Dragon Claw 50cal duel tank, How many refills do you get using the air tank?
asked Ronald from USA
100 cu in tank :5-6 fills: scuba tank : the same: 74 cu Ft : 30 fills : 100 cu Ft : 50 fills
Mark from USA
Dose it come with compound arrows like the demolition branch one
asked Jacob from Canada
https://www.airgundepot.com/sam-yang-dragon-claw-air-rifle-twang-n-bang-combo.html Yes.
Mark from USA
What are the velocities at the two power levels with arrows and slugs? Please list both velocity and projectile weight as just listing a velocity without weight doesn't tell me much.
asked Phil
I love this gun. But can you leave it charged with air? Or do you have to release the air.
asked Jay from USA
Could you use an air compressor with proper fittings and ditch the fill bottle all together?
asked Cole Rogers
Could you use .50 caliber sabots with this gun?
asked Daryl Wade
What is the thread size for the tip of the barrel? Where can I get a silencer for this Claw? Any way to speed up the ammo? Which runs best in this Dragon Claw, slugs or .50 cal pellets? How about the steel balls?
asked Giibert from USA
Can a regular car tire air tank be used to fill the gun?
asked jane
The trigger pull in the specs says 7.5 pounds. Is that adjustable? Can Airgun Depot reduce the trigger pull? That sounds really high and detrimental to accuracy. How is it to actually use?
asked Ronald from USA
How many hi pressure shots per full tank
asked Peter
What air pump do you recommend getting with this gun?
asked Brady
Looking to purchase this for deer �Ÿï¿½Œ hunting in Georgia. We own a 100 acres and most of its fairly thick, so not many omg shot available. Will this drop a white tail? TIA!
asked Cliff
can you mount a scope on this gun?
asked wayne
can you fill the reservoir with regular compressed air until it the gauge says it's full?
asked Logan
Does this come with the refillable air tank
asked Tim
I just got mine today Seneca Dragon Claw and why that cocking lever Is not intact?
asked Albert from USA
Does it use 1/8inch bspp threads to fill it?
asked Wyatt
yes it does
RON THE BLADE SHOPPE
What is the weight of the pellets?
asked Gary Hyatt
This does not use pellets it uses cast bullets like you'd use in a muzzle loader and they come in a variety of grain weights I my self use the 177 round ball and 187 hollow point as well as 200 grain steel tip round nose all for hunting and shooting.
Kevin from USA
The pellets are the same rounds as black powder guns they can very I don't know but you can look them up you can use the slug or on some even the ball.
Matthew from USA
Its advertized as .357 how can the specs say .5??? And there is no info on tank capacity in cc or how many effective shots one can get from a one full reservoir.
asked PRIMO from USA
Can you shoot the shot shells made for the wingshot in this ? How well do they work?
John from USA
And the .357 has about 30-40 lbs less of muzzle energy than the .50!
Ramon from USA
There are many cal. .357 44 cal 50 cal oh and by the the way .357 is the same as a 9 mm.
Matthew from USA
Samyang has two versions the .357 Recluse and this .50 caliber one. They look identical but about $30 difference. Check Pyramidair. You can see demos at youtube from pyramidair.
Emmanuel from USA
Dear Sir.Am Rosh,What is the range(mtr) f this gun?wich Model pellets? Am from kerala(india) how can i get it...
asked Rosh
Rosh, Please contact our International Shipping Department at [email protected] They can answer any questions you might have. Sincerely, The Airgun Depot Customer Care Team
Scott from USA