SIG has paid homage to the rights of all Americans which are protected by the United States Constitution, with their new 1911 "We The People"┬Э commemorative pistol. This true to life replica of that pistol includes every detail that is on the original, with the added benefit of being able to purchase one. Engraved on the slide is "1776" and the phrase "We The People"┬Э on the other, which is the opening to the Bill of Rights. The handle has 13 stars on each side, representing the original colonies. This CO
2
version is powered by a 12 g cartridge and uses a 17 round BB magazine, which throws rounds down range at 340 fps. Like the firearm it is replicating, this version can also be field stripped and features blowback action.
SIG Sauer 1911 "We The People" BB Pistol
Co2
Metal Construction
17 rd BB magazine
Realistic Blowback
Field-Strippable
"We the People" and "1776" engraved on the slide
Unique 50 Stars grip (25 on each side)
Weathered finish
Fixed white dot sights
Skeletonized Trigger and Hammer
Specs
Manufacturer

SIG Sauer

Caliber

.177

Velocity

340 fps

Condition

New

Ammo Type

BBs

Action

Semiautomatic

Barrel Style

Smooth bore

Fire Mode

Repeater

Gun Weight

2.20

Overall Length

8.50

Barrel Length

4.50

Loudness

3-Medium

Magazine Capacity

17

Mechanism

CO2

Rail

No

Safety

Manual

Front Sights

Blade

Rear Sights

Fixed

Trigger Adjustability

0

Trigger Action

0

Use

Plinking/Fun

Warranty

1-year limited warranty
Reviews
Average Customer Review
4.3
4.0
16 Reviews
4.0
By Misty
USA
October 2, 2022
Verified Purchase
See above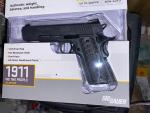 Pros
Very realistic and excellent design.
Cons
I Noticed that gas escapes a lot when in the blow back action. Also the slide kept jamming when the clip was in and releasing thaw magazine stuck sometimes when trying to release it. Going to have to call the support to see if it is defective or needs to be lubricated I think I figured it out still having issues. Also more magazines for it and I sure wish they would make the same magazine for all 1911 models the others are very difficult to load bbs and quite an issue for fingernails being ripped up from the intense stiff springs
3.0
By Steve H
April 20, 2022
The weathered finish is excellent except for the glossy black components which I lightly sanded to create the worn look they should have. See photos
Pros
The look and feel of this replica mimics the original one to a T! The power and accuracy is really good with a new CO2 cartridge which seems to last longer than most.
Cons
The magazine holds the BBs very loosely causing jams.
5.0
By Jonathan
USA
July 29, 2021
Even though this gun is CO2 hungry in that you will only get just over 2 magazines per CO2 bottle, it is a hoot to shoot and the blowback is really strong. I would recommend this gun to anyone. On the image, the WTP is the target on the right. Aiming at the center was the Walther CP99. On the left was the SIG M17 (I dont know why that group was so big as I use this gun all the time). The bottom group was the Beretta APX. All were at only 5 yards. I think that the two "flyers" on the WTP were me and not the gun.
Pros
This is one of my favorite pistols in my ever-growing collection. Not only because it is one of the best looking guns I have ever seen with the weathered finish and patriotic artwork. Not to mention that it is a fully functional 1911 with take-down and the works. If you get a BB jammed, no fear, you can have this gun apart in seconds with no tools. There is nothing not to like about this gun, especially if you love the USA.. which is interesting to get from a German gun manufacturer.
Cons
It would be great if it shot pellets instead, but that is about all I would change about this gun.
5.0
By Nato
USA
March 23, 2021
It is great for training as it fits into my work holster. Everything is exactly where everything on my duty sidearm is.
Pros
I love this pistol. I love the heft. The way it looks and feels like a real M1911. It is pretty accurate and a lot of fun to plink with. The magazine wasn't dropping freely at first but after a fee magazine changes it cleared up. It has performed flawlessly and without fail.
Cons
I wouldn't change anything on this gun.
3.0
By Buddy
USA
December 17, 2020
This is a nice heavy gun I got myself at big five. I was really excited to go out and shoot this gun. Right out of the box it looks exactly like the real thing, pull it out and it's almost as heavy! Love the engravings and worn look. The gun itself shoots okay. It wasn't the most accurate gun I've ever shot but it wasn't the worst. As I kept shooting I started notocing that sometimes the clip will just barley come loose and won't register a shot. Most the time I found myself loading the clip holding the gun from the slide because the slightest touch of the handle saftey will block the slide from going in. About five days later the gun jammed, it wasn't anything too serious just two bbs stuck ontop if eachother. Field stripped it and stuck a jamming rod down there and got them out no problem but after that the gun no longer shot and would just be firing air. To add on to all of this, one of the Allens holding the grip completely fell out without me noticing and I had to return it.
Pros
Nice an heavy, looks real, feels good
Cons
Sometimes pulling the slide back would result in the entire cartridge leaking itself out. Clip sometimes doesn't want to go in all the way or at all and won't shoot.
4.0
By Corey
USA
July 22, 2020
This is worth the money.
Pros
This replica is nearly indistinguishable from the real thing. The metal construction is hefty and durable. The pistol breaks down just like a real 1911. The receiver tolerance with respect to the magazine is extremely tight. The snug fit caused several feed problems while shooting. I replaced the receiver with a C0lt and have had zero malfunctions since. The realistic construction makes swapping parts easy.
Cons
The magazine jams in the receiver.
3.0
By jmatt
December 30, 2019
Bought this for our son for Christmas. It is super cool. It feels and weighs like a real gun.
Pros
It is an excellent replica and the slide actually goes back like the real gun.
Cons
After the first day of firing, we noticed that even though the magazine is still loaded the slide catch keeps going up on its own like the gun is stuck in the open position. Also, the safety gets engaged really easy with your thumb. I also wish you could buy extra clips.
5.0
By Gene
USA
December 21, 2019
Sig Sauer got this one right fellas. Spittin' image of the real steel and accurate right out of the box. Nice heft, nice feel, excellent look and blowback action. Don't hesitate or they may be gone.
5.0
By Logan
USA
November 27, 2019
The gun looks and feels like the real thing. Super fun to shoot and the grand kids are having more fun than ever busting targets in the basement
Pros
Realistic
Cons
None
Q&A
Question?
Login to ask someone who bought this product.
Are the grips interchangeable with std 1911 grips? I'd like wood grips.
asked Pete from USA
Where can one get spare magazines for this gun?
asked William from USA
You can buy spare magazines for the Sig 1911 We The People at Barra Airguns. Just buy the magazine for the Barra 1911.....it will fit all KWC foundation 1911's. You won't find a better price.
Michael from USA
I ordered one from Sig Sauer directly. Part number is AMPC-BB-WTP. $34.99
Kevin from USA
Is there a extra mag available for the we the people 1911
asked Phillip