The SIG Sauer MCX Rattler is a CO2 BB rifle that gives you a similar look and feel to the firearm version of this popular SBR. You get velocities up to 300 fps for fun and exciting backyard plinking or target shooting.
You'll enjoy the fact that you get more time to shoot with less time reloading because of the 30 round drop free magazine that mimics the capacity of the real steel version. Plus, it has a selector so you can flip it from safe, to semi auto, to 3 round burst, giving you the options you need for thrilling fun without using all your ammo.
You'll find the SIG MCX Rattler simple to store and move because it comes with a minimalist folding stock that's very similar to the one on the original firearm version, making it compact when folded. Both right handed and left handed shooters will find it easy to use because it has ambidextrous controls, and you'll appreciate the 12 gram CO2 cartridge that gives you straightforward and reliable performance.
You can add your preferred dot sight or scope to the long Picatinny scope rail, or use the attached flip up front sight and flip up rear sight to get accurate shots without extra equipment. It's also fast and easy to attach accessories like lasers and lights securely with the M-LOK T-slots on the handguard.
If you're in the market for a CO2 BB rifle that lets you experience the excitement of the enjoyable SBR platform without the noise and expense of the firearm version, get a SIG Sauer MCX Rattler at Airgun Depot today.
Please Note: This rifle's safety functions like the real firearm, it can only be engaged after the rifle is cocked. Attempting to force the safety into the engaged position without cocking the rifle first may damage your airgun.
SIG Sauer MCX Rattler Features:
.177 caliber (4.5mm) BBs
Semi auto and 3 round burst modes
30 round drop free magazine
Ambidextrous controls
Max. velocity: 300 fps
Textured pistol grip
Flip up front and rear sights
Long Picatinny scope rail
M-LOK handguard
Minimalist folding stock
Uses one 12g CO2 cartridge
Weight: 4.6 lbs. (with magazine)
Barrel length: 5.5"
Overall length: 23.63"
Specs
Manufacturer

SIG Sauer

Caliber

.177

Velocity

300 fps

Condition

New

Ammo Type

BBs

Action

Burst fire

Barrel Style

Smooth bore

Fire Mode

Repeater

Gun Weight

4.60

Overall Length

23.63

Barrel Length

5.50

Loudness

3-Medium

Mechanism

CO2

Rail

Weaver/Picatinny

Safety

Manual

Front Sights

Flip-up, adjustable

Rear Sights

Flip-up, adjustable

Shots per Fill

60

Trigger Adjustability

0

Trigger Action

0

Use

Plinking/Fun

Warranty

1-year limited warranty
Reviews
Average Customer Review
5.0
5.0
4 Reviews
5.0
By Edgar
August 1, 2023
I recommend the .22 pdf version of the Sig with extra belts. There are now some very reliable compact PCP pumps on the market at reasonable prices ( naturally Chinese made! ) Edgar G., PhD Prof. Emeritus Mech. &Aerospace Eng.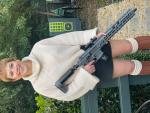 Pros
I have 2 .177 co2 Sigs and 2 .22 pdf Sigs. The Sigs are unique in that they are belt fed. I currently have 26 air rifles from brake action, co2 and pdf in .177, .22, and .25. The Sigs are all fitted with green lasers. They might not be the most accurate of my air rifles , but they top the list of most fun to shoot .
Cons
Care must be used in fully inserting pellets in the belt.
5.0
By Russell
USA
April 28, 2023
Pros
Mimics firearm version, select fire, magazine weight, quality steel sights, fun, fun, fun!
Cons
Gas hog if shoot bursts too quickly as it chills the CO2 canister.
5.0
By Joseph
USA
March 24, 2023
Verified Purchase
It's a lot of fun just spraying and shooting and having a good time with it
Pros
I got mine Thursday I've already shot 4000 rounds through it shoots Fallis get a lot of mags out of a CO2 cartridge on semi you get 90 shots and on burst you probably get 60
Cons
I wouldn't change a thing for what it is
Q&A
Question?
Login to ask someone who bought this product.
Can you mod the stock to something more solid basically can I take apart the hinge without the thing coming apart?
asked Seth from USA
Is any part of it metal
asked David from USA
Receiver, barrel, internals, Polymer shield, magazine, folding stock. Solid build, fantastic trigger feel,
Russell from USA
Is this a blowback?
asked joe from USA
Yes sir, stays open last shot
Russell from USA