The Umarex Origin gives you a full power shot after just 13 pumps, and 40 shots on a full air tank after only 100 pumps. It reaches max velocity of 1075 fps and comes with a 4500 psi 3 stage hand pump, so you have everything you need to get started with a PCP without breaking the bank.
Umarex set out to give shooters more shots with less work, and they succeeded by creating their unique Ever-Pressure Tank system, which uses a pre-pressurized chamber to help compress air added to the air cylinder. The result is a rifle that takes up to 50% fewer pumps to get to the same pressure and shot count of comparable guns from competitors.
The Origin features a 2 stage adjustable trigger, onboard fill pressure gauge, and convenient sidelever so you can get smooth and dependable shots. Add in a rubber buttpad, all weather textured pistol grip and combination 11mm dovetail and Picatinny scope rail and it's easy to see this air rifle gives you the options and comfort you need to shoot your best.
If you're ready to step up to PCP power and reliability without spending a fortune or hauling around bulky air tanks or pumps, get the airgun that shoots more for less work and money with the Umarex Origin from Airgun Depot.
PCP
Sidelever
Includes 3 stage 4500 psi hand pump
3625 psi/250 bar fill pressure
Automatic overpressure release
13 pumps for one full power shot
40 shots from a full tank after 100 pumps
Max velocity: 1075 fps
Magazine capacity: 10rds
Integrated sound suppressor
Combination 11mm dovetail/Picatinny optics rail
2 stage adjustable trigger
Manual safety
Textured pistol grip
Rubber buttpad
Weight: 6.8 lbs.
Barrel length: 22.9 in.
Overall length: 43.1 in.
Includes: 2 magazines, fill probe, pump rebuild kit, multi-tool
Specs
Manufacturer

Umarex

Caliber

.22

Velocity

1075 fps

Condition

New

Ammo Type

Pellets

Action

Sidelever

Barrel Style

Rifled

Fire Mode

Repeater

Gun Weight

6.80

Overall Length

43.10

Barrel Length

22.90

Loudness

3-Medium

Magazine Capacity

10

Mechanism

Pre-charged pneumatic

Rail

Weaver & 11mm dovetails

Safety

Manual

Front Sights

none

Rear Sights

none

Shots per Fill

40

Trigger Adjustability

Two-stage adjustable

Trigger Action

0

Use

Small game hunting/target practice

Warranty

3-year limited warranty
Reviews
Average Customer Review
4.1
4.0
35 Reviews
5.0
By Robert
USA
August 30, 2023
I had a Umarex Octane Elite break barrel which failed after 2 years, but they no longer make it. So they gave me a credit, and I bought this one, which is my first PCP. I'm totally impressed. The pump is amazing...only takes a couple minutes, and it really isn't that hard to pump. Super accurate and very quiet.
Pros
I like everything about this gun. Especially the pump. For me it works great. Accuracy, power, and 40 shots per fill.
Cons
Nothing.
5.0
By Wesley
USA
August 19, 2023
Verified Purchase
I've only had this rifle a couple weeks. Since I've been using it, it has been extremely accurate! I can't wait for hunting season to try it out on some small to medium game.
Pros
Hard hitting entry level pcp air rifle. Only takes between 4-7 minutes to fill with my compressor.
Cons
There are some issues with the EPT system, but when you get a good one it's awesome!!
3.0
By William Smith
August 16, 2023
Verified Purchase
Ordered a Umarex Origin .22 w/pump (a kit) from a Airgun Retailer. Pump would not work. It was a Umarex pump. So I called Umarex, and left a message as instructed after being on hold for several minutes. Said a rep would call me as quickly as possible or such. Waited a week, no call. So called back and waited for a rep, talked to them, explained all from above and he said he would send me paperwork to return the entire package. I said I only needed the pump to which he replied, "that pump is no longer used by us so I can't send you a pump therefore need the entire package back and we will send you a new gun/pump package". UPS Store wanted $42 to return, oversized. Felt it likelyI'd get another cheap pump. Wife suggested I simply buy a good pump, which could be had via reviews for about $70. Seemed logical so I did. Lesson to be learned here is don't but a kit. Umarex obviously puts cheap pumps with the kits so don't waste your money on a kit.
Pros
Have never got to shot it as the pump would not work right out of the box. But the gun looked like it was a nice unit.
Cons
Don't but the kit. Buy a good pump.
5.0
By James
August 4, 2023
Verified Purchase
No need too spend more money on (better models) unless ur competition shooting or something like that
Pros
Accurate, powerful. Varmint crusher!
Cons
Add sling studs please
5.0
By Gabriel
USA
June 24, 2023
Verified Purchase
This is an awesome rifle all the way around.
Pros
This was my first pcp rifle. Its very easy to use, very smooth action, and it is pin point accurate to at least 35 yards. I have a JTS Aircuda I love also but this is my go to.
Cons
You could change the aesthetics I suppose but functionally this thing is just incredible so not anything really.
4.0
By John Bollinger
May 21, 2023
Verified Purchase
Everyone thinks it is an over-under shotgun!
Pros
I love the look and feel of it.
Cons
A pictanny rail for a bi-pod (or at least be drilled for one) would be a nice feature. Sling mounts wouldn't be awful.
5.0
By Christopher younk
May 4, 2023
If your looking for your first pcp this is definetly the gun for you and doesnt brake the bank. At just under 400$
Pros
Very accruate and quiet. Its my first pcp ive done alot of reasearch and this gun combined with a hand pump and a couple tins of pellets and walmart wc Scope gets the job done. I am shooting 22 grain h&n pellets and with my scope ive taken starlings at 80 yards and made easy 100 yard shots. I have yet to shoot further as i maxed out my range. Built in baffle system is nice aswell.
Cons
Sling and bipod mounts is all i would change on this gun. I also had a random stage of inacurracy as the barrel after about 1500 rounds had build up but a simple clean and she was back to penny size groups at 50 yards.
5.0
By Rod
March 24, 2023
Verified Purchase
I seems to be very air efficient and the smaller air tank makes using a hand pump doable.
Pros
For a PCP it is very light weight. I very accurate and has a nice trigger pull and the 25 cal. version has quite a punch.
Cons
Sling swivel mounts and a pic rail underneath for a bipod would be great additions. A better foster fitting cover would also be a nice improvement.
5.0
By Aharon
March 20, 2023
Verified Purchase
The main reason I choose this rifle was for the accuracy and the ease of filling with a hand pump. I was pleasantly surprised with the accuracy. Dime sized groups at 25 yards with JSB pellets. Cheap cross an pellets are very accurate too. Pumping is easier than other air guns. I have not changed the power adjuster screw from factory and I get about 40 good shots before I have to pump it back up. Takes about 70 pumps to fill it after the 40 shots. Very happy with it. Only cons are that it is a bit loud (88 db measured from rear of air gun where shooter is located) and that it scratches easily. I just leaned it against my chair and now there is a scratch on the barrel. I will be more careful with it from now on.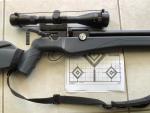 Pros
Accuracy, easy to fill with pump, fairly powerful.
Cons
A bit loud for my backyard. (88 db) Also scratches easily. Leaned it against my chair and now it has a scratch on the barrel.
5.0
By robert
January 19, 2023
Powerful gun, no need for a 22 long rifle.
Pros
i LOVE THIS GUN I have the 22 cal version I was shooting 34 grain slugs with plenty of power to boot with this gun. I like 30 grain slugs the best. Its a very well made gun and very accurate. I love the look and feel of this gun. Pretty light weight. I can shoot flies with it, its so accurate,.
Cons
My only complaint is the magazines are trash. I use benjamine marauder 22 mags they work great. Order some marauder mags. /////the ones with the origin seem to break constantly.
Q&A
Question?
Login to ask someone who bought this product.
What height scope rings are needed to mount a scope with a 50mm objective?
asked William from USA
What type of scope rings I need to mount a scope?
asked chrystian from USA
The pump never fill the gun, there was a obvious leak. Change the o-rings with the kit, its even worse now no seal. Had the gun for two days can't fill it, what are my options?
asked Michael from USA
What kind of bipod would fit?
asked Nelson from USA
Can you use a electric compressor?
asked Nelson from USA
Hey I was looking for a O-ring kit for this gun, where can I find one.
asked Joshua from USA
Hello, new to these types of rifles. Just wanted to know if I could use a portable tire air compressor with 150 psi to pump up this rifle?
asked Chavin from USA
Fill probe will no longer snap in to tank. Can't fill any more. Loved the gun until now. It's useless if I can't fill it. Suggestions?
asked Joe from USA
Contact Umarex. It has a 3 year warranty, and they take care of you.
Robert from USA
am i reading and seeing this correctly? no sights?! is there a way to add sights or is it pretty much just a scope Or really good luck? lol
asked Andrew from USA
ok," fucktard", ever heard of a front sight?
Andrew from USA
Yes, see the picatinny rail. You fucktard... just kidding honest mistake.
Mikeal from USA
Can the magazine (etc.) accommodate slugs?
asked Benjamin from USA
Just hammer some In it and find out
Mikeal from USA
can I fill with a air compressor
asked Robert from USA
yes, I purchased the umarex readyair and it works great. pumping to 3600psi from 1600 in under 5 minutes
Robert from USA
What is the capacity (cc) of the air cylinder?
asked Michael from USA
At least 2cc
Mikeal from USA
can hammer spring be adjusted? it looks like there is a hole in the stock for it
asked Clinton from USA
Can i hook up a silencer on this gun ?
asked Charlie from USA
The adapter threads into the barrel shroud that the moderator threads on to.
Mark from USA
DonnyFL also makes a threaded adapter to take the place of the original cap to add a silencer
daniel from USA
Somebody makes a cone system that goes in the inside of the shroud to help bring it down its pretty quiet regardless
daniel from USA
It doesn't come threaded for one; maybe a gunsmith would have a answer as to if it's possible to modify. It's about 90-100 decibels out box; fairly quiet when in a field or woods.
Adam from USA
The barrel isnt threaded so I would say not. It's not very loud anyway.
Brad from USA
Does it also come with a single shot tray, if not will the Gauntlet tray fit ?
asked Thomas from USA
yes, I bought the Gauntlet single shot tray and it works great
Robert from USA
I've bought two now (pump was DoA on first), neither had a single shot tray with it. I'm wondering where Mark is getting his information.
Adam from USA
Previous answer is incorrect, it does not come with a single shot tray. It does come with two magazines
James from USA
Includes: single shot tray, 2 magazines, fill probe, pump rebuild kit, multi-tool
Mark from USA
Es el mismo rifle con diferente configuración Air venturi Avenger
asked Eva from USA
No. The gun is made by a different company. No. El arma est fabricada por otra empresa.
Mark from USA
What sight or scope would you recommend for a new airgunner looking to buy the Umerex Origin who will mostly be plinking and target shooting but wanting to possibly hunt squirrels in the future?
asked Nathaniel from USA
I put the UTG Hunter 3-9 on mine. It seems like a nice budget scope and comes with rings.
Brad from USA
A 3-9 or 4-12 power scope will work very well. Look at the Athlon.Hawke. UtG or Element scopes.
Mark from USA
Is this regulated?
asked ronnie from Philippines
Where is this air rifle manufactured?
asked John from USA
According to Umarex customer service it is manufactured in Taiwan. Not sure who Mark is but I'm guessing he doesn't work for Umarex.
Adam from USA