The Umarex Origin gives you a full power shot after just 13 pumps, and 40 shots on a full air tank after only 100 pumps. It reaches max velocity of 1075 fps and comes with a 4500 psi 3 stage hand pump, so you have everything you need to get started with a PCP without breaking the bank.
Umarex set out to give shooters more shots with less work, and they succeeded by creating their unique Ever-Pressure Tank system, which uses a pre-pressurized chamber to help compress air added to the air cylinder. The result is a rifle that takes up to 50% fewer pumps to get to the same pressure and shot count of comparable guns from competitors.
The Origin features a 2 stage adjustable trigger, onboard fill pressure gauge, and convenient sidelever so you can get smooth and dependable shots. Add in a rubber buttpad, all weather textured pistol grip and combination 11mm dovetail and Picatinny scope rail and it's easy to see this air rifle gives you the options and comfort you need to shoot your best.
If you're ready to step up to PCP power and reliability without spending a fortune or hauling around bulky air tanks or pumps, get the airgun that shoots more for less work and money with the Umarex Origin from Airgun Depot.
PCP
Sidelever
Includes 3 stage 4500 psi hand pump
3625 psi/250 bar fill pressure
Automatic overpressure release
13 pumps for one full power shot
40 shots from a full tank after 100 pumps
Max velocity: 1075 fps
Magazine capacity: 10rds
Integrated sound suppressor
Combination 11mm dovetail/Picatinny optics rail
2 stage adjustable trigger
Manual safety
Textured pistol grip
Rubber buttpad
Weight: 6.8 lbs.
Barrel length: 22.9 in.
Overall length: 43.1 in.
Includes: 2 magazines, fill probe, pump rebuild kit, multi-tool
Specs
Manufacturer

Umarex

Caliber

.22

Velocity

1075 fps

Condition

New

Ammo Type

Pellets

Action

Sidelever

Barrel Style

Rifled

Fire Mode

Repeater

Gun Weight

6.80

Overall Length

43.10

Barrel Length

22.90

Loudness

3-Medium

Magazine Capacity

10

Mechanism

Pre-charged pneumatic

Rail

Weaver & 11mm dovetails

Safety

Manual

Front Sights

none

Rear Sights

none

Shots per Fill

40

Trigger Adjustability

Two-stage adjustable

Trigger Action

0

Use

Small game hunting/target practice

Warranty

3-year limited warranty
Reviews
Average Customer Review
3.7
3.5
21 Reviews
5.0
By Christopher
USA
January 3, 2022
Use 18.13 JSB Pellets with hammer spring adjusted counterclockwise three full turns from all the way in. Only fill to 3,000 and shoot down to 2000 PSI for SUPERIOR ACCURACY!!!!
Pros
I'm blown away by the performance of this air rifle at 40 and 50 yards!
Cons
Nothing
5.0
By Tony
USA
October 28, 2021
Verified Purchase
This air rifle really surprised me! Right out of the box, it shot great groups! I fired three shots and had it zeroed in! I haven't adjusted the trigger yet, it's really great the way it is. I did adjust the hammer pre load the way Hajimoto recommended, and it was great. Everyone seems to say the pump is junk, but I disagree. I think they are just pumping it up too fast and causing a heat problem which would destroy any hand pump! I take my time pumping and have no issues. It's also great cardio workout, lol. I also never shoot the air cylinder to empty, I keep the air in the sweet spot I have found. No issues so far with the pump. After zeroing the scope, I've included a photo of the first group I shot. A six shot group and with pellets that were not perfect! I am very happy with the Umarex Origin and I highly recommend it! By the way, I shoot JSB Hades 15.89 pellets.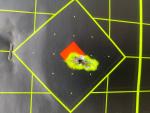 Pros
Pros: Light weight, well built, very accurate, easy to operate. Included pump works as advertised. Side lever is great! Adjustable trigger is smooth as butter! Adjustable hammer pre load is great!
Cons
Cons: a bit noisy, mechanical twang noise, not pellet related. Plastic flap on the bottom that protects the fill port is a bit cheesy. So far that's it!
5.0
By Gary
August 6, 2021
Verified Purchase
Pros
I am going to give an up date,on this,gun my 2,one first one i said,had,to fix,some stuff that was lose got that fix and it was not hitting like it should so i new it was me,are the gun are scop one ov them so i finly got a new scope bsa made for a pellet gun ten shot later if i can hold it i am shooting free handed i can hit a dime size target out of ten shots 7 i hit the target the other one right by it i shake so not bad
2.0
By Taylor
USA
June 6, 2021
Verified Purchase
Unless the price comes down, keep looking. I don't mean to badmouth, just trying to share my experience. I put around 4000 pellets through this. It is fun, the trigger is nice. I had problems with the action twice, I had to oil it and that seemed to fix it. I would really go for a regulated gun if I were you. I know it says you can get 60 shots out of this, but in my experience the "sweet spot" is only about 20 shots being unregulated. the other shots are alright, just not as accurate.
Pros
can be accurate, but keep looking. there is better out there at the same price point. DONT LET THE PUMP SELL YOU, IT IS JUNK!!! I don't want to come off as a negative person, but it really is terrible. its a widely known fact. check the forums and Facebook groups. taking away the pump, this isn't a great value. I'd go with the Air Airms Avenger or Gauntlet if I had it to do again. or a Benjamin. Some in the groups have had good luck with this rifle, I'm not one of them.
Cons
I wish they would sell this without the pump. The pump is absolute garbage. The gun itself is ok, but quality control just isn't there. I know many will say for a $349 pcp, what would you expect? I will say I can buy a 10/22 for a lot less than that and it will be way more accurate, more power, and 100x more reliable. that being said it does have its place. I used mine to take care of a severe pigeon problem. I had issue after issue with this rifle. for the most part at close range it can be very accurate, but it wasn't consistent. It would be accurate for a few weeks, then there would be massive point of impact shifts and no accuracy. like 5" at 20 yards. then I would put it down for a while and the next time I would shoot it, it would be on again. super frustrating. the barrel band was more or less for looks, I had to remove the shroud and shim it to remove the play. I never could get it to group very well at 50 yards either. pretty much for me this was a 30 yard or less gun for game
4.0
By Gary
May 2, 2021
Verified Purchase
Hope to get more air gun in time may be 25 call next then a 40 are 50 cal
Pros
First pcp for me it shots pretty well dead on most part
Cons
I say it need better way to hold the barl in place it lose I fixed it now it show to hit way better then it did do I say it went from a 7 to a 9 on hitting dead on rest I fill is me pulling off hope to get a better scope
4.0
By John
USA
March 13, 2021
Verified Purchase
Lots of people complain about the included pump, if you follow the manuals instructions and lube it well it will work fine. Takes me about 120 pumps to completely fill the gun, go 10 pumps and let the pump rest a minute and repeat (takes about 15 to 20 minutes).
Pros
Very light and powerful. The Gun handles well and is very accurate with most pellets around 16 grain weight. Still new to me and have not messed with adjusting the hammer yet. My range is set up for around 35 to 40 yards, so upping the power is not a main concern for me. Even tho the gun is not regulated per say, I think the ever=pressure system in this gun works just as well as if it was.
Cons
Needs a single shot Tray and better quality Magazines. Had a issue with one of the included Mags, that cause repeated jamming of pellets into the chamber, making for a chore of clearing the issue to return the gun to operation.
3.0
By kenneth
USA
February 26, 2021
Verified Purchase
Pros
Love the gun, but air pump was a disaster. Bought package in July, received in August, pump bad, sent pump back for repair they sent me a new one which did not work, sent that back! Got a call and was told they will send me a new pump as soon as the company fixed the issue with their pumps, its now six months later and still no pump or update!!!??
Cons
Pump sucks, stop selling the package until the problem is resolved..
1.0
By Gene
USA
February 11, 2021
Verified Purchase
Save your money
Pros
The rifle is awesome. However it's worthless without a pump.
Cons
The pump is garbage. it only lasted 1 week. Makes me very reluctant to spend $550.00 or more on a powered compressor.
4.0
By Jared
USA
February 3, 2021
Verified Purchase
Aside from the dangerous situation of firing by pushing the safety lever forward without touching the trigger the gun is fantastic. It shares almost all of it's parts with the Air Venturi Avenger
Pros
Light, accurate, complete in one kit. It would be fantastic if offered in .25 as well.
Cons
Gun fires without pulling the trigger simply from pushing the safety slightly too hard to the fire position
3.0
By Craig
USA
January 30, 2021
If you are buying this because a hand pump is included, don't. The pump is very poor, was defective from the beginning and when I sent the pump back to Umarex they said they don't have parts to fix the pump or a pump to replace it with. No estimate on when they will have pumps to replace the defective one. Until the new pumps arrive, the rifle gets to sit in the cabinet. If buy another hand pump, a tank or an electric pump then I have a pump I don't need and overpaid for a gun pump combo when the only use piece of the combo was the rifle. Save your money get a rifle you want and a way to fill it.
Pros
Rifle is accurate. Looks good sitting in the cabinet.
Cons
Hand pump is a joke.
Q&A
Question?
Login to ask someone who bought this product.
Hey I was looking for a O-ring kit for this gun, where can I find one.
asked Joshua from USA
Hello, new to these types of rifles. Just wanted to know if I could use a portable tire air compressor with 150 psi to pump up this rifle?
asked Chavin from USA
Fill probe will no longer snap in to tank. Can't fill any more. Loved the gun until now. It's useless if I can't fill it. Suggestions?
asked Joe from USA
am i reading and seeing this correctly? no sights?! is there a way to add sights or is it pretty much just a scope Or really good luck? lol
asked Andrew from USA
Yes, see the picatinny rail. You fucktard... just kidding honest mistake.
Mikeal from USA
Can the magazine (etc.) accommodate slugs?
asked Benjamin from USA
Just hammer some In it and find out
Mikeal from USA
can I fill with a air compressor
asked Robert from USA
yes, I purchased the umarex readyair and it works great. pumping to 3600psi from 1600 in under 5 minutes
Robert from USA
What is the capacity (cc) of the air cylinder?
asked Michael from USA
At least 2cc
Mikeal from USA
can hammer spring be adjusted? it looks like there is a hole in the stock for it
asked Clinton from USA
Can i hook up a silencer on this gun ?
asked Charlie from USA
The adapter threads into the barrel shroud that the moderator threads on to.
Mark from USA
DonnyFL also makes a threaded adapter to take the place of the original cap to add a silencer
daniel from USA
Somebody makes a cone system that goes in the inside of the shroud to help bring it down its pretty quiet regardless
daniel from USA
It doesn't come threaded for one; maybe a gunsmith would have a answer as to if it's possible to modify. It's about 90-100 decibels out box; fairly quiet when in a field or woods.
Adam from USA
The barrel isnt threaded so I would say not. It's not very loud anyway.
Brad from USA
Does it also come with a single shot tray, if not will the Gauntlet tray fit ?
asked Thomas from USA
yes, I bought the Gauntlet single shot tray and it works great
Robert from USA
I've bought two now (pump was DoA on first), neither had a single shot tray with it. I'm wondering where Mark is getting his information.
Adam from USA
Previous answer is incorrect, it does not come with a single shot tray. It does come with two magazines
James from USA
Includes: single shot tray, 2 magazines, fill probe, pump rebuild kit, multi-tool
Mark from USA
Es el mismo rifle con diferente configuración Air venturi Avenger
asked Eva from USA
No. The gun is made by a different company. No. El arma est fabricada por otra empresa.
Mark from USA
What sight or scope would you recommend for a new airgunner looking to buy the Umerex Origin who will mostly be plinking and target shooting but wanting to possibly hunt squirrels in the future?
asked Nathaniel from USA
I put the UTG Hunter 3-9 on mine. It seems like a nice budget scope and comes with rings.
Brad from USA
A 3-9 or 4-12 power scope will work very well. Look at the Athlon.Hawke. UtG or Element scopes.
Mark from USA
Is this regulated?
asked ronnie from Philippines
Where is this air rifle manufactured???
asked John from USA
According to Umarex customer service it is manufactured in Taiwan. Not sure who Mark is but I'm guessing he doesn't work for Umarex.
Adam from USA