Make this powerful air pistol your go-to airgun!
With Umarex's Turbo Nitrogen Technology (T.N.T.) gas piston, the Trevox really puts a spin on your pellets! Capable of shooting lead pellets at 540 fps, and alloy pellets at speeds up to 600 fps, this hard-hitting Trevox is more than up to the task for small game and target shooting.
Cock the grooved barrel once and you're ready to shoot! Use the included fiber-optic sights or mount your own optics to the 11mm Dovetail rail. Umarex ensures your shots will be quiet with its 3 chamber SilencAir baffle system. If you want power from your air pistol, send pellets flying with the Trevox.
Umarex Trevox Air Pistol Features
TNT gas piston
SilencAir - noise dampener
Reinforced SilenceAir is the cocking handle
Fiber optic sights
18.25" overall length
3.15lbs
Specs
Manufacturer

Umarex

Caliber

.177

Velocity

540 fps

Condition

New

Ammo Type

Pellets

Action

Break barrel

Barrel Style

Rifled

Fire Mode

Single-shot

Gun Weight

3.15

Overall Length

18.25

Barrel Length

6.25

Loudness

3-Medium

Magazine Capacity

0

Mechanism

Gas-piston

Rail

11mm dovetail

Safety

Manual

Front Sights

Fiber Optic

Rear Sights

Adjustable for windage & elevation

Shots per Fill

0

Trigger Adjustability

0

Trigger Action

0

Use

Plinking & target practice

Warranty

3-year limited warranty
Reviews
Average Customer Review
4.1
4.0
18 Reviews
5.0
By Jerry
USA
March 2, 2021
Verified Purchase
You can't go wrong buying this pistol . Accurate packs a punch and cocking is tough but not doable but it gets great power.
Pros
Great sights and sound suppressor works great. Pistol is super quiet. My new favorite pistol the grip is very comfortable and this thing is accurate as a laser.
Cons
Nine.
2.0
By Vance
USA
December 9, 2020
Verified Purchase
Mine shoots very high. Even with rear sight bottomed out I have to aim an inch and a half to two inches to hit target at 35ft. Trigger is VERY heavy.
Pros
Feels good in the hand
Cons
Sights and heavy trigger pull
4.0
By Dan
USA
July 11, 2020
If you shoot every day, it is relatively inexpensive.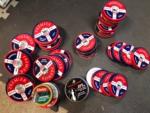 Pros
Although it's fun to shoot, the build quality is not so good. I have shot over 10,000 pellets (I bought it seven months ago) and had to modify it a bit. When I bought it, the suppressor was loose and canted to the left. I eventually had to glue he suppressor it to get some kind of repeatable accuracy out of it as well as using red lock-tite on all the screws. If I shoot it every day, I can consistently hit the bulls eye about 2-3 times for every five shots (I shoot five shots at a time). I also shoot it from a distance of about 22 yards or so (that's the distance from the door of my shop to where I have a bunch of targets set up). 10 yards is not much of a challenge so I recommend shooting it at a farther distance than the usual 10 yards to give the gun a chance. Also, Crosman wad-cutters shoot surprisingly good at the distance I shoot from.
Cons
Build quality. It was very frustrating to get it set up to shoot with any kind of repeatable accuracy.
2.0
By Charles
USA
February 12, 2020
Short at a squirrel at 15 yards! He jumped straight up in the air! Then ran off and lived to see another day! Not very good at hunting! I used the Crossman wadcutter. I will try the Crossman pointed pellets next time. Both are 7.4 grains. Going at about 500 FPS. I don't think I have enough power with lead pellets to kill a squirrel!
Pros
Very accurate. Easy to cock. Not too heavy
Cons
Not as powerful as I would have liked!
5.0
By David
USA
January 8, 2020
Verified Purchase
I was pleasantly surprised by the pistol. It's really affordable, easy to use and cock and fun to shoot all day. Being a break barrel gun it's a little heavy for a pistol but that doesn't lower the fun factor.
Pros
Price, ease of use
Cons
None
3.0
By Joe
January 6, 2020
Verified Purchase
Out of the box the gun feels balanced but the grip seems a little undersized. Also, the trigger guard will bite into my finger if I'm careless. For the money I think it's a good deal, however, the trigger pull is too long and stiff to be able to do any precise shooting. The sights are good, nice tru glo units but I attached a red dot sight to try improving my accuracy.
Cons
Trigger
Accurate, great sights, powerful, easy to cock, handy safety, and quiet, maybe too quiet. I can't think of anything else that I'd want from it.
4.0
By Joe
USA
January 28, 2019
I have been using it with iron sights. It's dead on.
Pros
Price, consistant accuracy
Cons
Lacks much power.
5.0
By DV
September 25, 2018
Best pistol for the money Paired with a BSA scope,dead on
Pros
Quality & Cost
Cons
Only comes in 177
4.0
By Michael
July 9, 2018
I, too had a broken rear site. Shoots great. Chipmunk (in my house) killer.
Q&A
Question?
Login to ask someone who bought this product.
I broke my rear sight need replacement?????
asked Mario from USA
Parts will come from Umarex USA
Mark from USA
i this to hard and tiring to cock for a senior. hows the accuracy w/ open sights is the trigger hard?
asked Joseph from USA
The cocking effort is moderate, The trigger will be fairly hard. This is not a competition pistol as far as accuracy goes.
Mark from USA
Did anyone find a case to fit this gun?
asked Robert from USA
walmart has a case will fit
greenbay12$ from USA
How many rounds does it hold
asked Rich