Overall Reviewer Rating




Accuracy
Ergonomics
Quietness
Power
Trigger
If you hunt small game and are looking for a lighter weight, compact alternative… then you need look no further. Being brilliantly small and extraordinarily light, Crosman's Benjamin Woods Walker is appropriately titled. I can think of nothing else I would want to tromp around the woods with.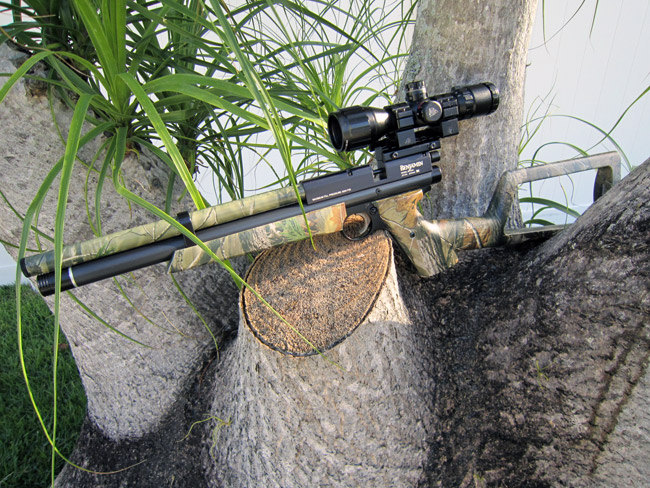 When I unboxed the Woods Walker, I was really taken back by how feather light it was. It caught me off guard as I initially pondered its quality. A closer examination proved my concerns invalid though. The Realtree camouflage coating has a rich mat finish to it, which bit nicely into my wet hands at the range. The metal work, and other coated finishes are absolutely transparent to the senses and scream quality. Of course the Woods Walker is not the most inexpensive offering, but as you're about to discover… it's well worth the moderate price.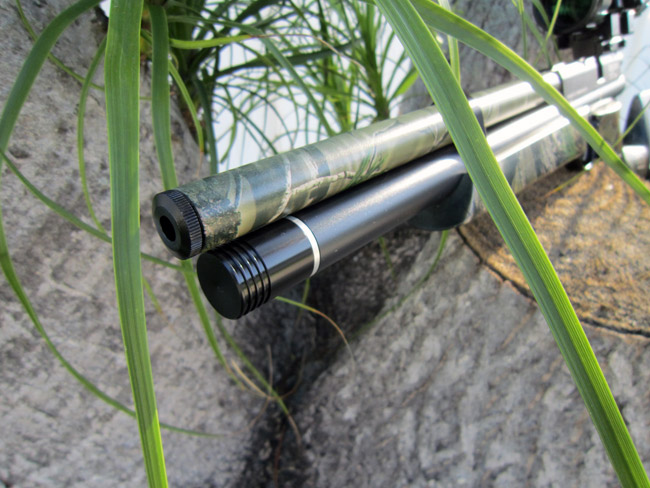 Arriving in four major components, they consist of the pistol, the detachable stock, the red dot sight, and one rotary magazine. The single plastic magazine holds 8 rounds, and I was not able to find a single pellet that would not fit within it… and I tested some big ones. It takes some getting used to but after a few hours of awkward practice it becomes second nature to load. Initially, I found it challenging to have to wind it up, so to speak, and to have to hold my finger under the first pellet hole so the pellet wouldn't fall through. But like I said, it became muscle memory after a while and performed flawlessly for over 500 rounds of use.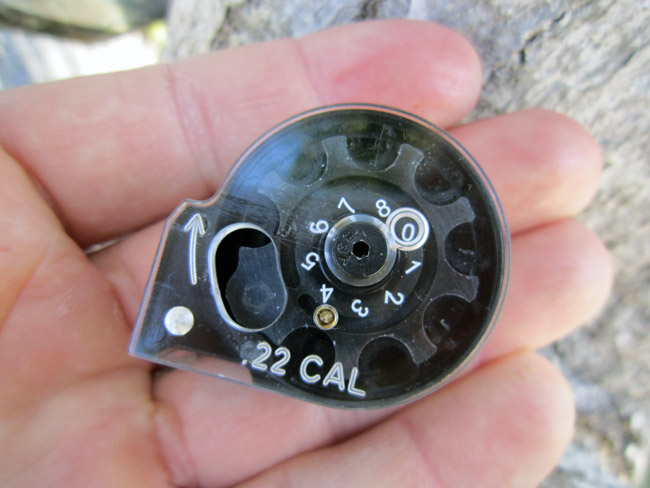 The plastic grips unscrew with one screw per side, allowing the stock to simply slip over the handle's inner framework. It's straightforward and fast to make the changeover, with the penalty being that the stock doesn't stay very tight. It's tight enough to function but for the price point, I would have preferred an improved design that doesn't begin to move around after a few minutes of use. So you can expect some shoulder stock movement when cycling the bolt.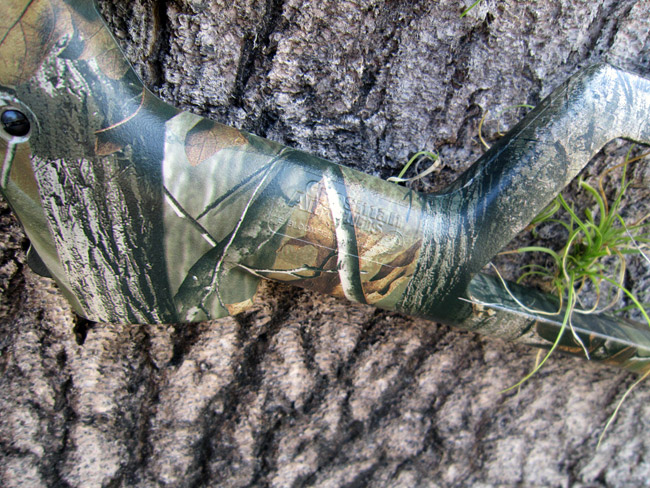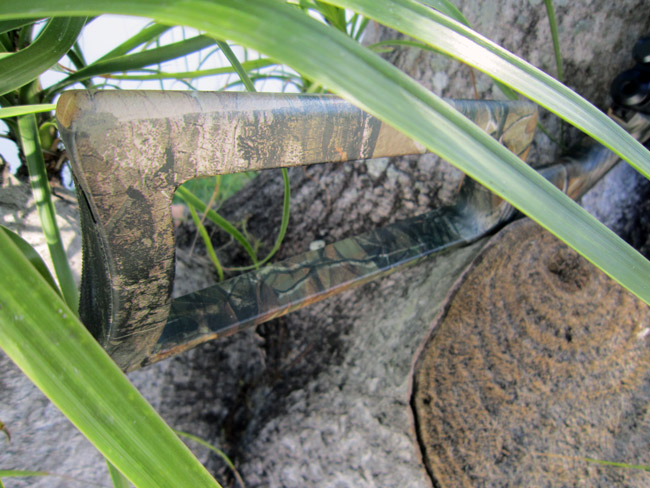 Made by Centerpoint, the Red Dot Sight is phenomenal, and totally exceeded my expectations. Blasting squirrels, I felt like the Predator with its four different laser reticles. Choose from a dot, three vertical dots, a dot with a vertical line under it & a horizontal one to its left & right… and a dot with a circle around it with vertical & horizontal lines on its axis. As if that weren't enough choices, you can also pick from red or green… and view them all in five different light intensities for appropriate brightness in all lighting conditions. This instrument allows for very fast target acquisition, and compliments the Woods Walker's feathery feel. It looks great, operates with buttery smooth rotary dials, and is a great choice for inside of 25 yards.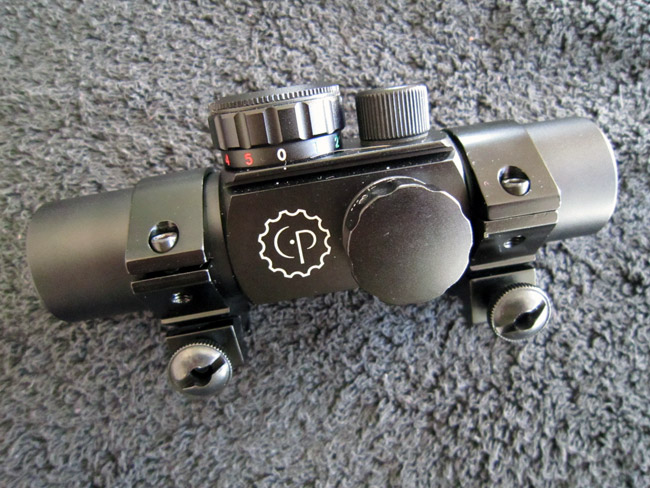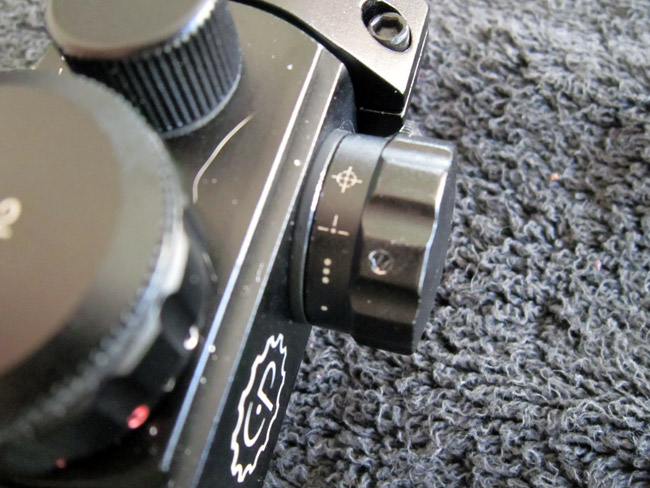 Something the Woods Walker does especially well is keep the noise down. The precision choked barrel comes fully shrouded which means you can shoot it indoors without hearing protection or you can shoot in the back yard without alerting your neighbors. You can also shoot it in the woods without spooking the wildlife. Crosman did a great job silencing the Woods Walker… it's as quiet or quieter than my springers, and goes off with a satisfying "snick."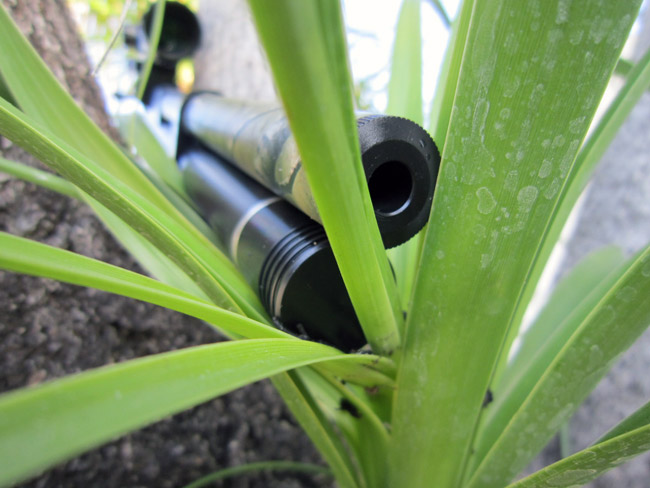 Setting things in motion is the match grade trigger. Its pull weight comes set lighter than that of its big brother, the Maurader Rifle… and it can be set even lighter. The included instructions detail how to adjust pull weight, along with first & second stage duration. Simply remove the pistol grip side plates and it's all right there. I found the trigger to be very predictable and lend to the superb accuracy of the Woods Walker. It broke in the same place every time, but was able to be set light enough to surprise me a few times… so take care in your adjustments. The bolt action was very smooth to cycle, but required moderate force.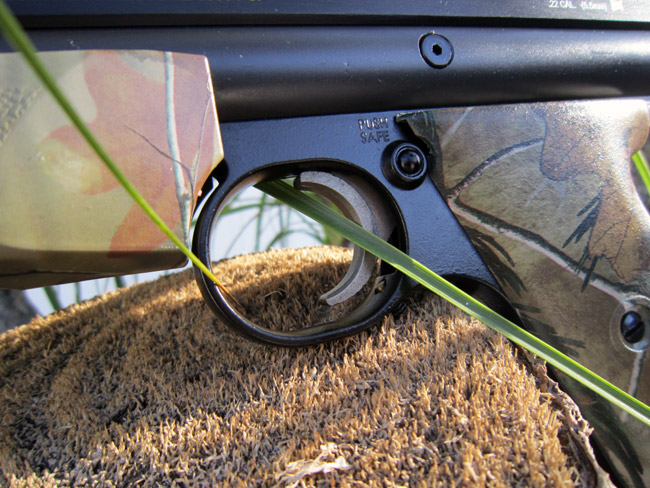 The high pressure air (HPA) permanent reservoir in the Woods Walker is fillable up to 3,000 psi, although Crosman now recommends you fill it to 2,900 psi to steer clear of any valve lock. Underneath the foregrip is a monometer to keep an eye on fill pressure… and refilling is straight forward. Pop off the removable dust cover to expose the male foster fitting and fill with a SCUBA, SCBA tank, or hand pump. In my tests, I was able to get 40 usable shots, filling to 3,000 psi and shooting it down to about 1,300 psi… impressive count & curve for such a compact unit. What this means to you is a predictable spread for repeatable results. It also means that you should get about 20 very consistent shots filling to about 2,300 psi and shooting it down to about 1,400 psi… plenty for a day of hunting. Scroll down for the shot chart.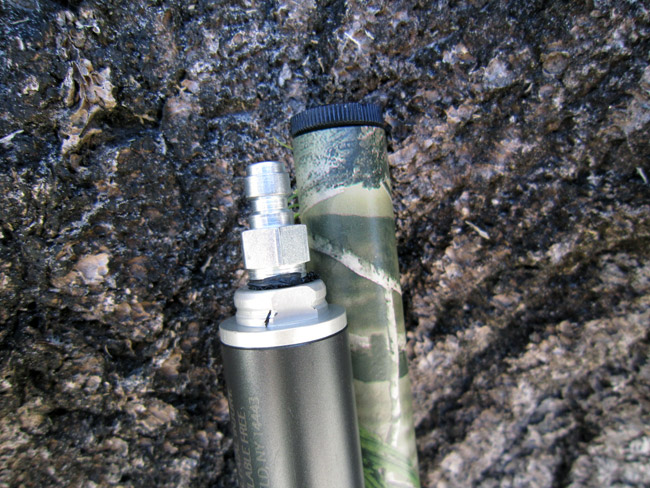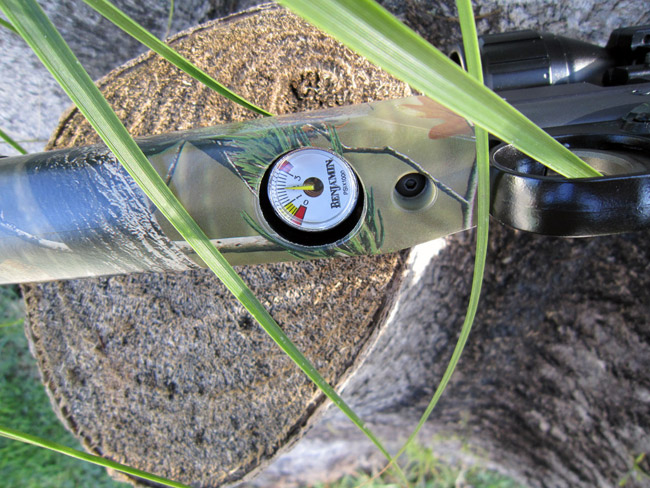 Shot Count, Velocity, and Bell Curve from 3,000 psi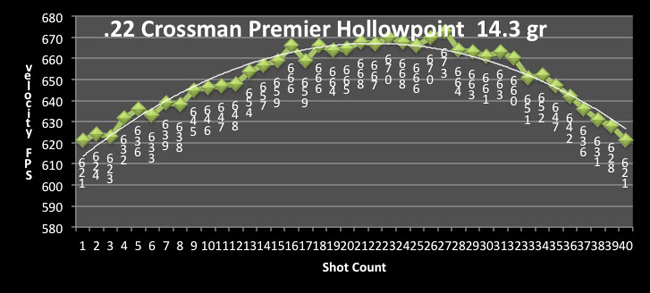 Over the chronograph, I had continued favorable results showing a standard deviation of a mere 2.82 fps across ten shots. This too will lend itself to very good accuracy once the barrel's preferred pellet is discovered. Curious to see if I could achieve Crosman's velocity claims with lead pellets, I sampled RWS's Hobby pellets, which weigh in at 11.9 grains. The Woods Walker didn't disappoint, pushing muzzle velocities over 712 fps with the factory settings. This performance lands this little thumper solidly in 14 foot pounds of energy category, which is more than twice what you would need for small game.
10 Shot String from 2,400 psi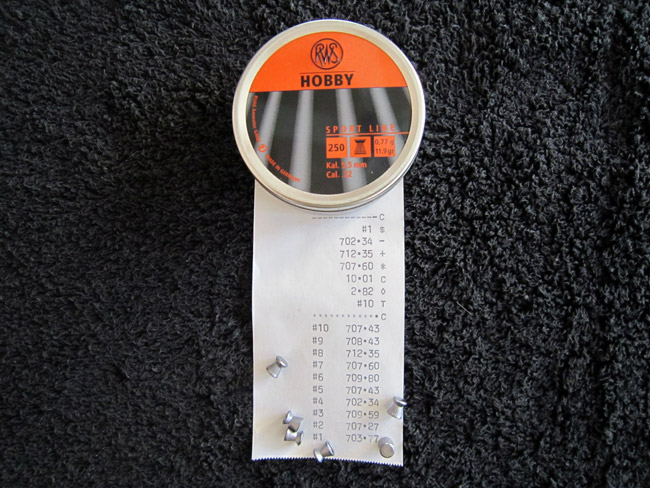 Of course the Woods Walker is a gun, so all of this doesn't mean much if it doesn't shoot. Well, it shoots. It shoots freakishly straight in fact… that is if you are able to hold it steady. Feather light to a flaw comes with a penalty… shakiness through the shot cycle. Until I made my way out to the 50 yard range Friday, it didn't occur to me that my usual gentle hold, and lack of consistently perfect follow through was causing my groups to open up. In my back yard, while shooting at 25 yards I initially couldn't figure out why my groups would spread from time to time, or why I would have multiple fliers with pellets I knew to fly with pinpoint consistency. Then I began experimenting with hold strength, and follow through. It was at that time that the light bulb went off in my head and that I had an eye opening epiphany. The Woods Walker is so light that the shooter will likely benefit from practicing a technique seldom coveted in the air gun world… a tight grasp, and a firm shoulder. Coupled with good follow through and trigger squeeze, this midget-Marauder will impress. Once I mastered this "new to me" technique, I started getting some really interesting results.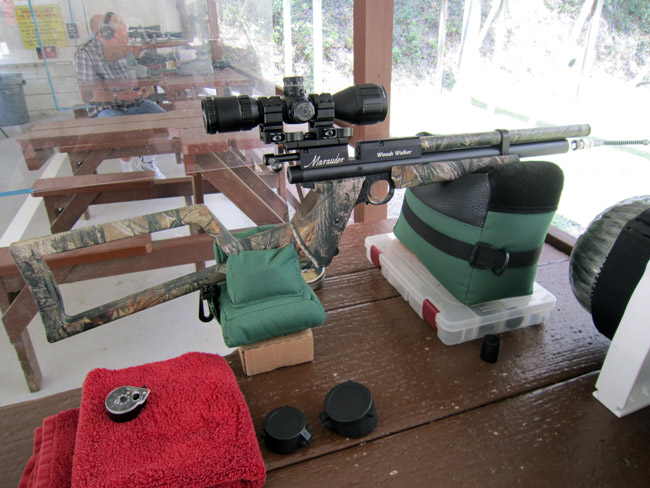 50 Yards to Target… P-Rod Playin' with the "Big Boys"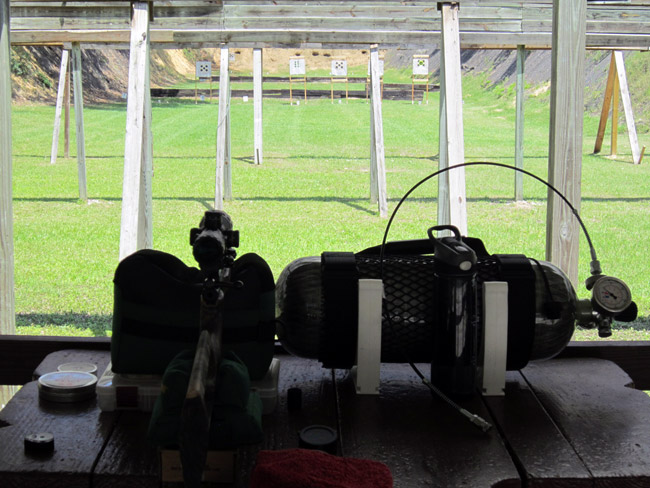 So in a nutshell, how is the Woods Walker capable of grouping? The long and short of it is as follows. At 50 yards it will group inside of an inch, at 25 yards it will group inside of .50 inch, and at 30′, it will drill .22 caliber sized holes at will. When it comes to accuracy, the Woods Walker is a little freak of Crosman engineering.
50 Yards Crosman Premier Domed 14.3 gr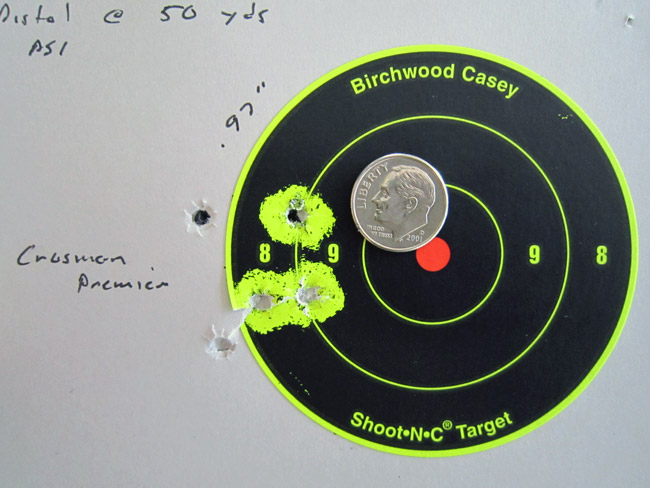 50 Yards JSB Jumbo 15.89gr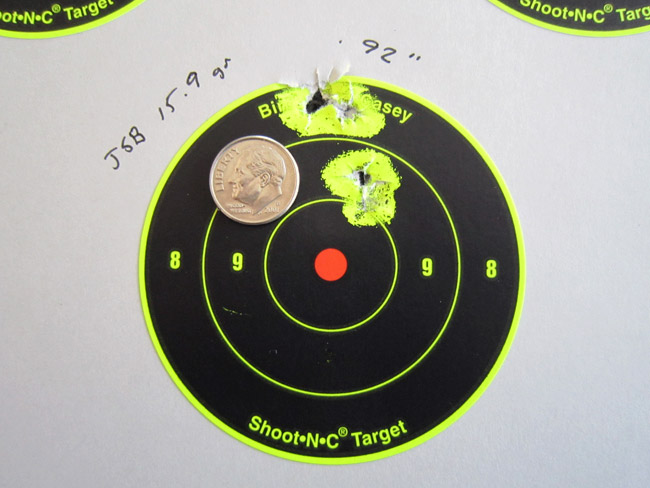 50 Yards Baracuda Match 21.30 gr "wow" without the flyer"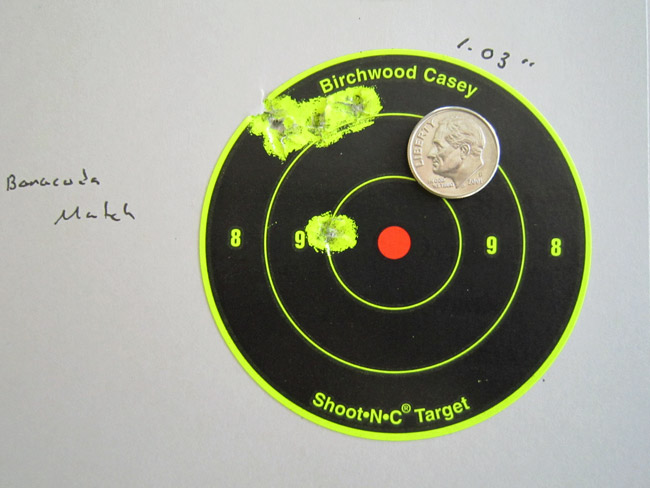 50 Yards HN Baracuda Hunter 18.21 gr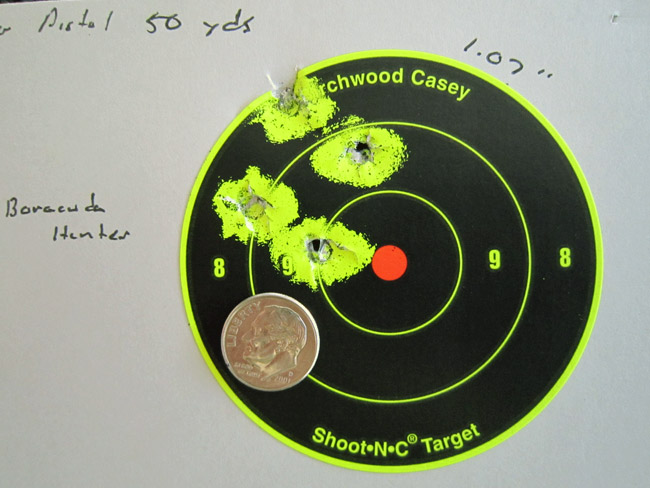 25 Yards Baracuda Match 21.30 gr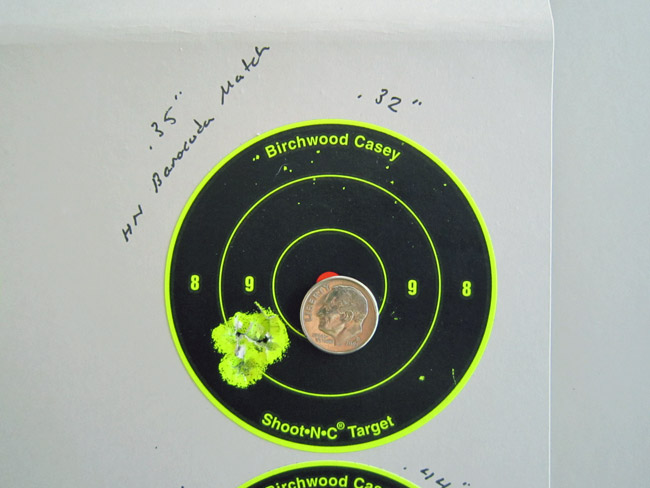 25 Yards JSB Jumbo 15.59 gr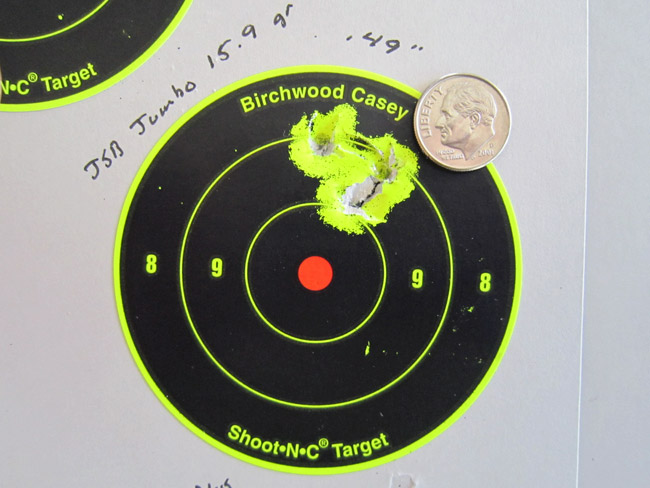 25 Yards Crosman Premier Domed 14.3 gr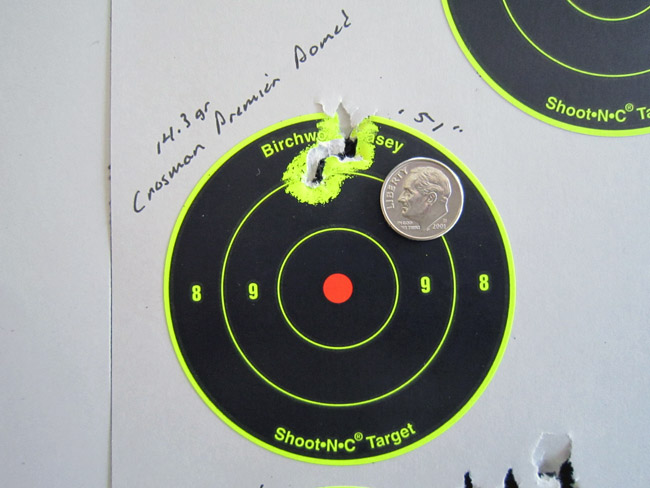 25 Yards HN Field Target 16.36 gr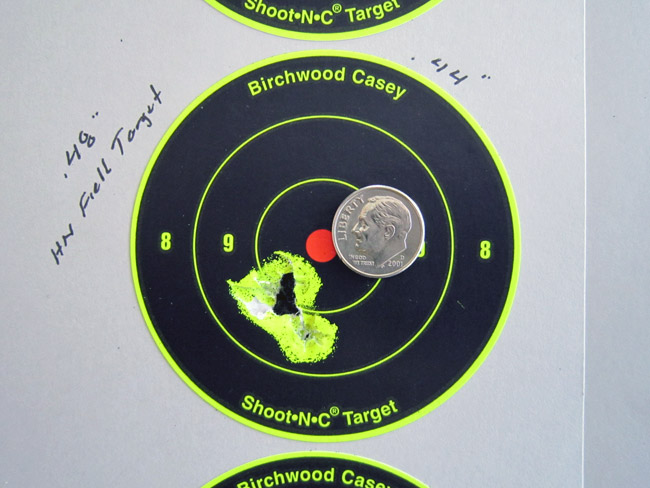 Drilling Holes at 30 Feet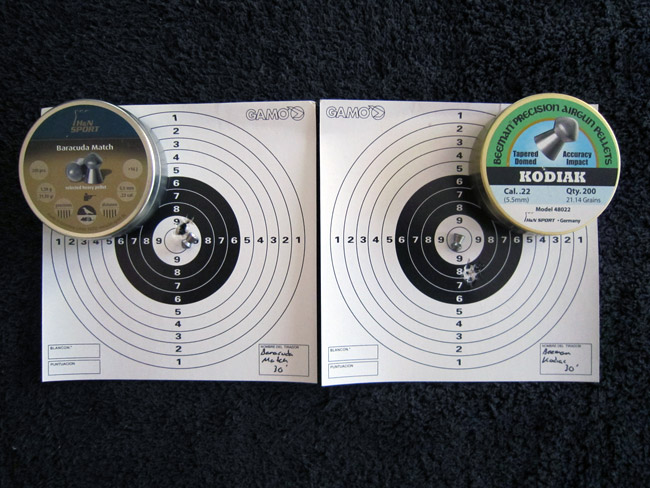 Drilling Holes at 30 Feet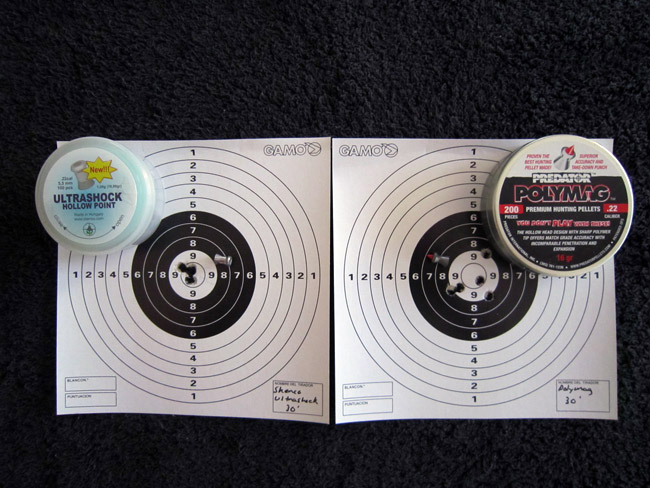 Finding the right pellet took some pretty serious experimentation, but in the end the Woods Walker shot well enough with several styles & brands. For testing, I found the Leapers/UTG 3-9 x32 Bug Buster Scope to be a good match for longer range duty. It looked proportional to the rest of the platform, and most importantly wasn't noticeably top heavy. Sighted in at 25 yards, typical holdover at 50 yards was 1-2 mil dots at 9x. I ran 41 different types of pellets through the barrel in an effort to discover what it liked, and to bring you some idea of what to try. Most all of the pellets performed well enough for hunting at 30 feet, and a lot of them performed well enough at 25 yards, but the real star performers evidenced themselves only after testing out to 50 yards. The best choices in this barrel for longer range accuracy were the Crosman Premier Domed 14.3 gr, the JSB Exact Jumbo 15.89 gr, the HN Baracuda Match 21.30 gr, the HN Field Target 16.36 gr, and the HN Baracuda Hunter 18.21 gr. It is also worth mentioning that I was not able to get the Predator Polymag 16 gr to group at any range past 30′.
Star Performers at Longer Distances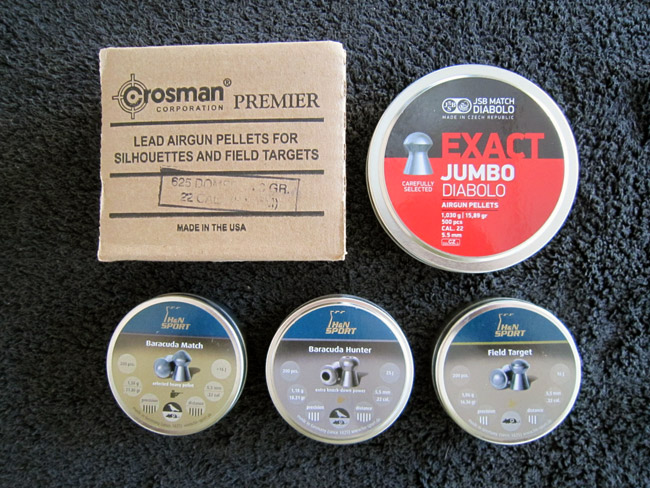 Crosman's Benjamin Woods Walker is a tiny gun with big personality. The old timers at the range were thoroughly confused by its lack or snort and relentless accuracy. It is ultra-light, is of superb quality, comes smeared in Realtree Camouflage, and even comes with a useful red dot scope. Sling it over your shoulder or cram it in a backpack… either way, you won't even know it's there, and neither will your quarry for that matter. It's not pellet fussy, and gets tons of shots per fill too. Bravo Crosman!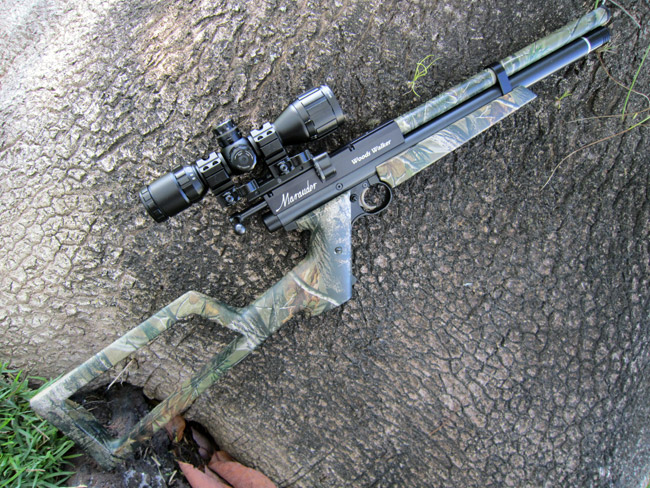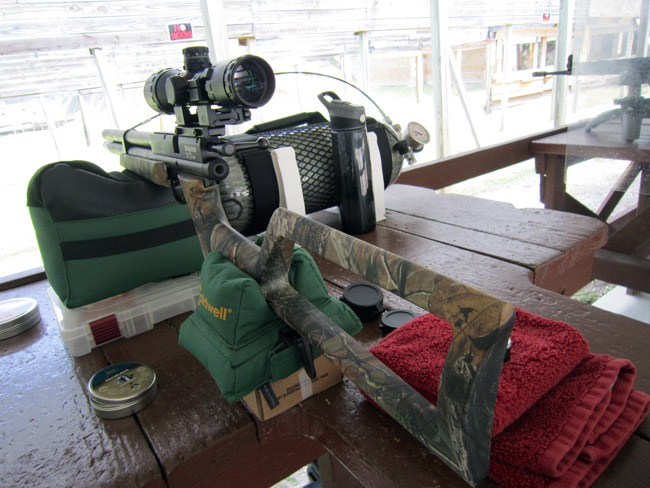 Steve Scialli
April 30, 2013
Helpful Links:
Benjamin Marauder Woods Walker Air Pistol
Benjamin Air Pistols
Airgun Reviews
This is a Community Review of the Benjamin Woods Walker air pistol by Steve Scialli. He also did a follow up to this review, testing the gun with a few additional pellets. The author of the following review are in no way affiliated with Airgun Depot. The views expressed below are personal opinion only.