Airgun Depot is launching its new and improved website! We are striving to bring you the best airgun buying experience possible and in order to do so, we have completely overhauled our website bringing you new features with a lot more to come.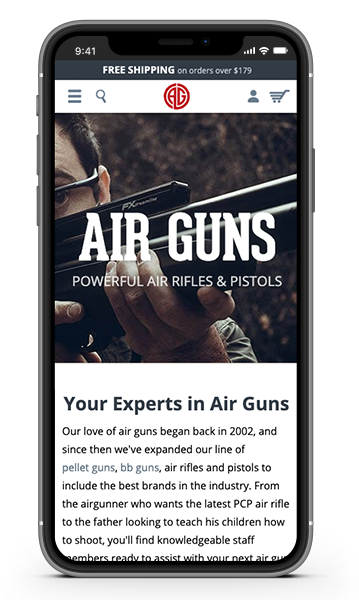 Under-the-Hood = Improved Performance & Speed
The new platform will allow us to show you the amazing airguns we sell quicker than ever. The videos we make to try to entertain and educate you will load faster and play smoother, and you will be able to follow the links we have as fast as your trigger finger can push a button!
Checkout = Improved Shipping Rates & Ordering
One of the things we are most excited about is the new checkout experience. It will be smooth and easy so you'll be able to pull the trigger on your new gun and accessories as fast as you can pull a trigger! And we'll be able to offer better shipping rates that more accurately reflect your geographical location as well as give you more payment options.
Account = Improved Experience
With the new platform, you'll not only be able to easily checkout, but you'll still get to earn reward points that can be easily redeemed for gift certificates. Plus, we've done all the heavy lifting and moved all of the reward points that you've earned and account details over for you.
Product = Improved Recommendations for You
Airgun Depot is known for putting together combos that pair up the best guns and accessories for your needs, but with the new website, we will be able to do this in a fluid and active way that constantly connects you with the products that go best with the airgun that you are buying or considering. It's almost as good as taking a walk with us through our warehouse!
We appreciate your business and your loyalty and we hope that this website will make it even easier to feed your airgunning passion!