Day 3 is here and it's our last day at the show. We saw a lot today and as much as we are excited to get back to the hotel and rest for a bit we had to share with you some of the exciting things that we saw and what we think are some of the most exciting products that will be coming to Airgun Depot this year.
ATN X Sight II
In 2015 ATN released the X Sight and for many airgunners it was a must have item. These little digital optics units provide shooters with an economical night vision solution that was much less than other options but featured many of the functions of higher end units such as the ability to attach a DVR to record directly from the scope and built in wi-fi for connecting smartphones and tablets.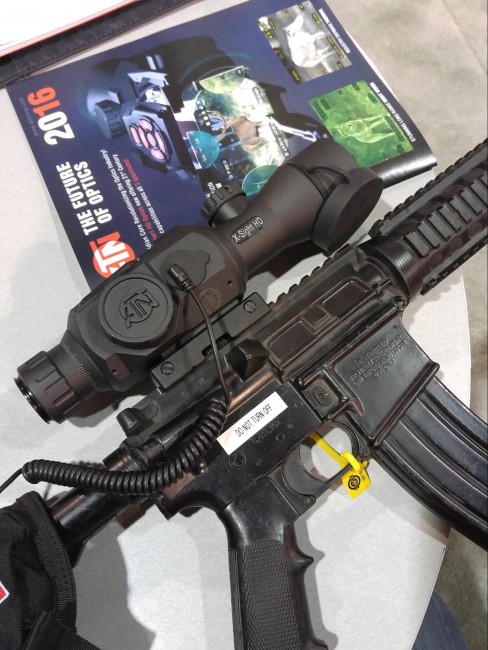 There were a few glitches with the first iteration but ATN has worked hard this last year to bring us the X Sight II and it is better than ever. With a retail price starting around $600 the X Sight opens the door to night hunting to hunters that may have not have been able to do so before. We are really excited to have this product on our shelves in 2016.
Badger .40 PCP
Some of you may have seen this rifle posted on our Instagram feed from SHOT Show 2015, and at the time it was just a prototype. Well, we are happy to announce that the Badger .40 cal PCP is ready to roll and should be hitting our shelves as early as late February.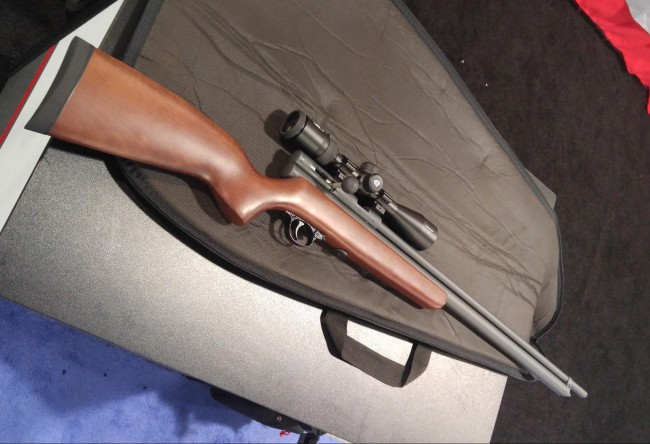 We were heavily involved with the prototype testing of this rifle and we think it's a great option for those looking for serious big bore power on a budget. Our prototype model made almost 300 ft/lbs in early testing and with a retail price of about $600 the Badger is a great way to get your foot in the door of big bore airgun hunting.
Evanix REX
Evanix has a new series of rifles set to debut in 2016 and we got the chance to take a look at them today. The new REX features an inline air cylinder and valve system that is much more reliable and functional than some of the earlier Evanix designs. The REX will be available in 3 configurations: a pistol, a short carbine, and a full rifle.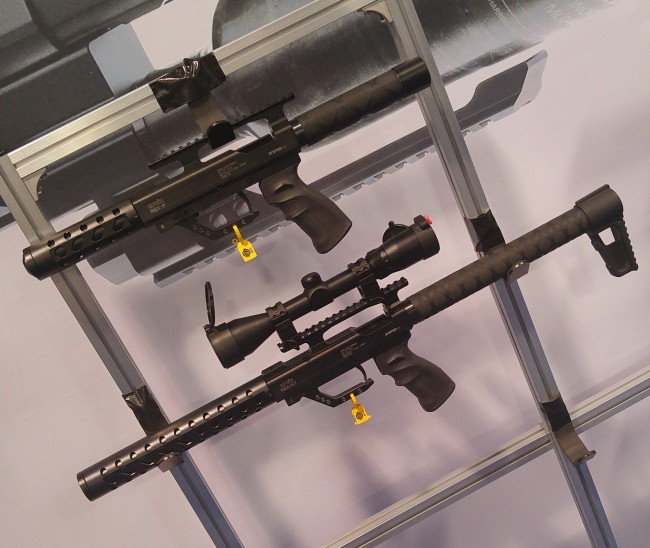 We are told the Evanix Rex should be available up to .35 caliber. The guns are almost entirely aluminum except for the grip and the barrel so they are fairly light weight. We really liked the tactical look of these guns and are excited to see how they shoot once we get them in our shop.
Benjamin Maximus
For a long time the Benjamin Discovery has been the go-to rifle for first time PCP buyers, but it has gone largely unchanged since its debut in 2008. The folks at Crosman knew it was time for an update and it looks like this year it will become reality.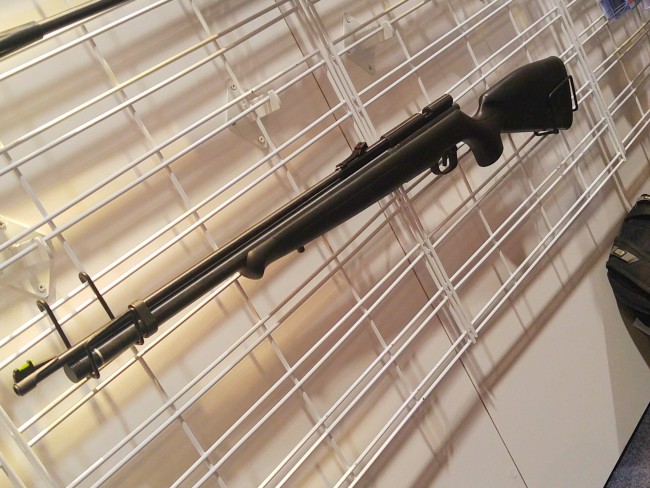 The re-named Maximus is the same Discovery that we know and love but now in a synthetic sporter stock. We really like the look of the Maximus as it kind of reminds us of the old express rifles carried on African safaris around the turn of the century. Crosman did a great job dressing up this classic to continue to bring the love of airgunning to new shooters, plus at a $199.99 price point, Crosman has created the lowest priced PCP.
Another New Bullpup…
We swung by the AirForce booth and got a sneak peek of something new coming in under the AirForce International label. AirForce International is part of the AirForce brand that is made up of guns that the folks at AirForce find in Europe that have not been brought into the US. They import them and put them through some serious testing before they are made available to the public. We got a chance to look at one of the new guns that they are looking to bring in called the Orion Bullpup.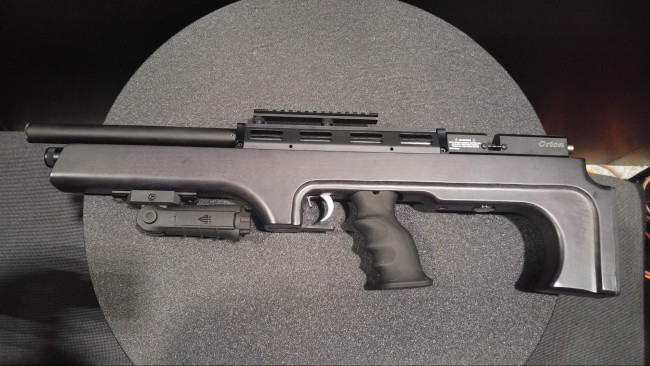 The AirForce International Orion bullpup rifle features a hardwood stock, a full shrouded barrel and operates off a rotary magazine. Though the model that we saw was just a prototype of the Orion, we are really excited to get our hands on this one. Especially as it will be at a very friendly price point compared to other European bullpups.
That is it for us here at SHOT Show 2016. We are really excited for what 2016 and can't wait to get our hands on a few of these new guns, get them tested and that information to you. Make sure you are following us on Facebook, Instagram and YouTube to keep up as we bring you all the info.