In 2020 we saw the two big pellet makers, JSB and H&N, bring small bore airgun slugs to market.  What does this mean for the airgun industry?  
Airguns that shoot slugs are by no means new.  Airgunners have been shooting slugs or solid projectiles for hundreds of years. So what's all the fuss about anyway?  The difference is that all those airguns have been big bore, i.e., .30 cal and greater.
Today's airgun shooters want "bullet" performance from their small bore guns too which opens up a whole new discussion. 
Pushing the Envelope
The idea of making things do "more" is not new.  That's in our nature.  Airgunners are some of the most dedicated to the principle of "more."  One more foot per second, one more foot-pound, we just want more.  Much of that really is an exercise of who can have the bigger, badder, faster toy and finding the right airgun ammo to match is just as much an art as it is science. 
If you've spent any time at the range with your airgun, you've probably noticed that the truly functional limits of most airguns are about 75 to 100 yards. Beyond that, the drag on the pellet is just too much, and accuracy and energy suffer for it. You can try and push the pellet faster at the muzzle, but that causes another set of problems, often worse than the first. The laws of physics tell us that we need a different shape coming out of the bore.
Small-Bore Slugs
Bullets are more effective than pellets at long range because they are heavy, dense, and their shape helps them retain energy.  Pellets are designed to be very accurate at close range, the skirt acting much like fletching on an arrow.  The downside is the drag caused by the pellet skirt, resulting in a poor ballistic coefficient.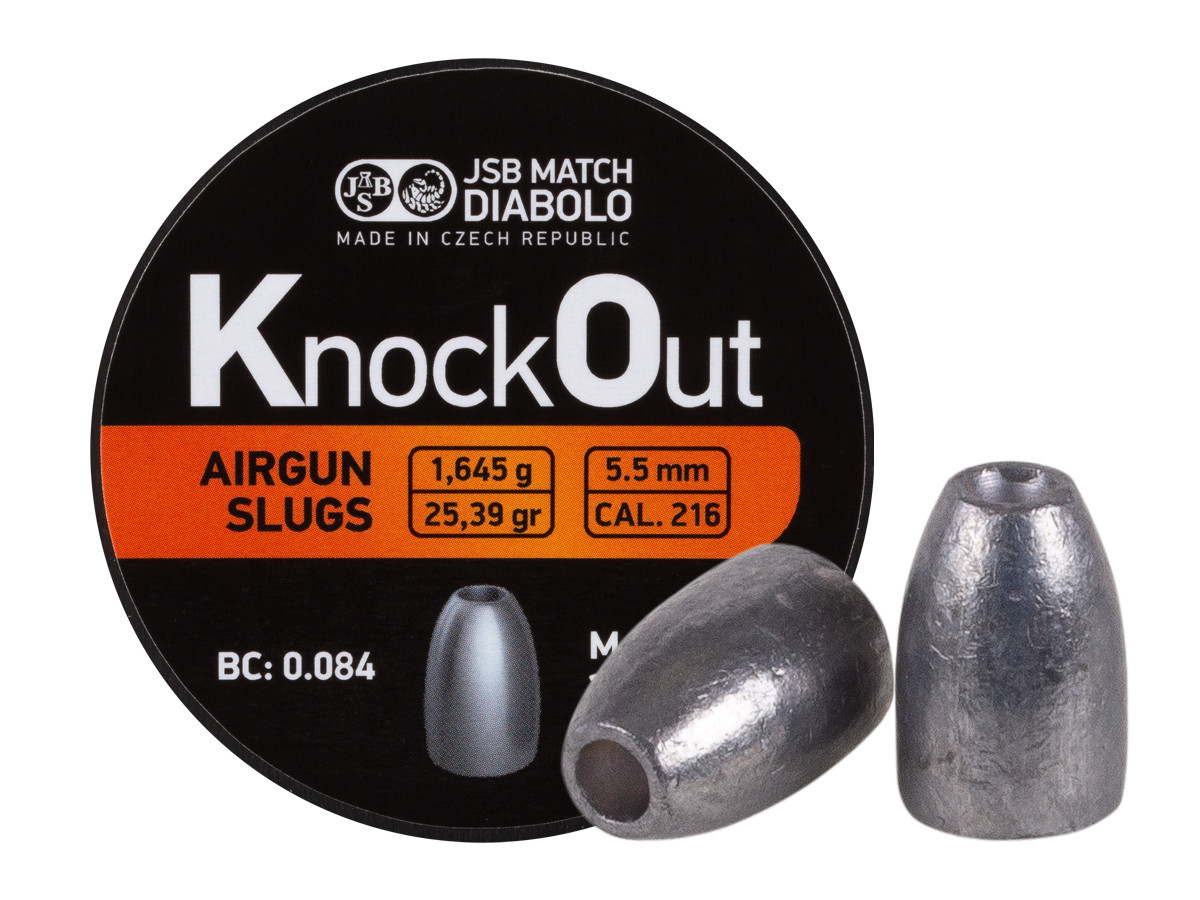 As airguns have become more powerful over the last few years, shooters wanted to do more with that power.  Airgun slugs are starting to deliver "bullet-like" performance with improved technology and manufacturering.  Where 100 yards was the outer edge of airgun accuracy, shooters with the right setup and slug can now reach out past 200 yards with consistency. 
Looking Forward
What does this mean for the airgun industry?  It probably means that we'll see many new folks interested in shooting airguns, now that they can reach out there.  Hunts like prairie dogs and other pests become a lot more fun when you can sit at 200 yards with your airgun and make clean shots.  Target shooting at 300 yards down at the local range becomes a whole new challenge.  But some legitimate concerns should be considered.
Because airguns are seen as close range hobby products, they generally get a pass by the anti-gun society. When they can begin competing with firearms on power, range, and accuracy at range, that could change, drawing unwanted scrutiny and legislation down on the industry.
This isn't the fault of the airgun slug as it's been around a long time. But, airgunners could bring it on themselves by not giving airgun slugs the proper respect they deserve. For example, shooting slugs in your backyard at 20 yards may not be the best option. Slugs start to show their advantage at 75 yards and beyond. It may make more sense to save them for the range or hunting.
What's the Bottom Line?
At the end of the day, small-bore slugs are here, and they are here to stay. That's not going to change. How we, as airgunners, choose to make responsible use of them, that's certainly open for more debate. Time will tell if the new slug phase turns out to be something good for the industry or something that brings the wrong kind of attention. We simply don't know how things will go.
Manufacturers like JSB and H&N are betting that it's going to be good. Most everyone else in the game seems to have the same expectation. Our hope is that whatever people choose to shoot, they do so responsibly and safely. If everyone makes that a priority, we'll probably be just fine.