Does not come with sights, refill clamp or device to fill the tank. If you plan to put a scope on your gun, you won't need to buy open sights. The AirForce hand pump comes with the correct fitting to fill your EscapeUL air rifle. Are you a survivalist or prepper? The EscapeUL air rifle was made for you! It's compact, light, accurate and has adjustable power. The original Escape model was conceptualized by TV's Ton Jones of Auction Hunters fame. Because some people want a lighter rifle, AirForce came up with the EscapeUL. It makes it easy to grab & go when you need to get out of Dodge immediately! Keep your gun ready to move out by making sure you have the hand pump, pellets and gun in one place (preferably in a lightweight case or backpack made to carry rifles). Because the EscapeUL air reservoir is small, most people can fill it quickly and easily with a hand pump. Besides the velocity/energy figures shown elsewhere on this page, here are some more figures supplied by AirForce Airguns:
.22-caliber Beeman Kodiak pellets
21.14 grains 1,080 fps max 54.77 ft-lbs.
.22-caliber Eun Jin pellets
28.50 grains 980 fps max 60.79 ft-lbs.
.25-caliber Eun Jin pellets
43.20 grains 1,010 fps max 97.88 ft-lbs.
.25-caliber Beeman Kodiak pellets
31.02 grains 1,020 fps max 71.68 ft-lbs.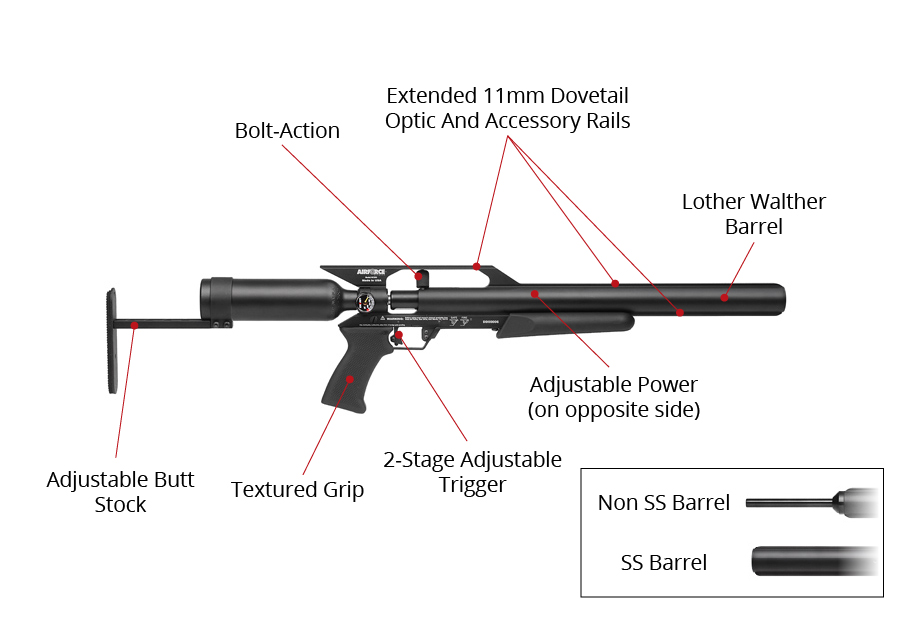 AirForce Escape UL Air Rifle Features
Pre-Charged Pneumatic(PCP)
Single-shot/Bolt-action
2-stage trigger
Automatic safety
Textured grip Adjustable buttstock
Adjustable power Recoilless
Extended optics rail
Specs
Manufacturer

AirForce

Caliber

.22

Velocity

1200 fps

Condition

New

Ammo Type

Pellets

Action

Bolt-action

Barrel Style

Rifled

Fire Mode

Single-shot

Gun Weight

4.25

Overall Length

33.00

Barrel Length

18.00

Loudness

5-High

Magazine Capacity

0

Mechanism

Pre-charged pneumatic

Rail

11mm dovetail

Safety

Automatic

Front Sights

none

Rear Sights

none

Shots per Fill

15

Trigger Adjustability

Two-stage adjustable

Trigger Action

0

Use

Hunting

Warranty

Lifetime limited warranty
Reviews
Average Customer Review
5.0
5.0
2 Reviews
This rifle is extremely accurrate and even on the lowest setting in my backyard goes through whatever I shoot at. Granted its mostly old tires and 2x4's but still impressive. I am shooting mostly JSB and Eunjin pellets and get nothing but one ragged hole at 30 yds. I took it to a friends house today and shot out to 80 and still accurrate with minimal drop with JSB 25 grn. I am using a hand pump to fill and only takes about 5-10 min to get back up to 3000 psi depending how far I take it down. The hand pump works good but you have to take your time with the pump stroke. I also want to mention the awesome customer service both with my rifle order and a pellet order. They called me back and answered all my questions and even helped me switch out some backordered pellets for something in stock, all before noon the next day. You rarely see that anymore. It is loud so if you live in the city think about some sort of device to make it a bit quieter depending on local laws.
Pros
Power
Cons
Having to buy more pellets due to all the shooting
5.0
By Terry
USA
December 1, 2015
This is the most accurate air rifle I have owned. It is built really well and is extremely light. I bought an airforce hand pump with it and it is really easy to fill the tank back up to 3000psi. It takes like 3 minutes to pump it back up to 3000psi from 2000psi. This gun is really loud for an airgun. When people say it is not back yard friendly they are right. I fired it one time and new I was going to need a shroud. Ordered one that night and just got it installed yesterday and now the gun can be shot in my back yard all day without bothering anyone. You can't go wrong with an airforce airgun. Next gun I get will be the Texan for deer hunting next year.
Pros
The low weight, and ease of use. Very accurate with jsb pellets. The airforce guns have a big following and there is a lot of upgrade parts to pick from.
Cons
None
Q&A
Question?
Login to ask someone who bought this product.
Got a P08 haven put 500 rounds though it And it stop shooting. Tried deferent Co2 Feels like trigger not working n not letting Co2 do it's job. I've seen other post saying the same thing I'll give AG a call Monday. Really like this peace , but it is a Co2 eater lol
asked Earl from USA
will this accept the same tanks as the condor?
asked Richard Hambright
How many full power shots per fill on the EsacapeUL rifle?
asked Gary from USA
5 full power regards Vermont airgunner
Daniel from USA
According to the specs they say you can get 5-15 shots per fill depending power level.
james
You will get 5-10 shots
Daniel from USA
I heard around 20. Maybe...
Isaiah from USA