The Condor air rifle is the pride and joy of the AirForce line. Let alone it is one of the most powerful Precharged Pneumatic (PCP) models. This rifle features a Lothar Walther barrel (German made) that allows you to achieve unbelievable accuracy with groupings. Its air tank is much different from the standard AirForce tank because it uses a special valve system to pull the best velocities possible.
AirForce brand air rifles are considered to be some of the most advanced rifles available. Using aircraft grade aluminum alloy, space age polymers and state of the art production techniques you don't just get a typical air rifle, you get a technologically advanced piece of machinery! With outstanding power, accuracy and advanced production techniques, AirForce air rifles will not disappoint.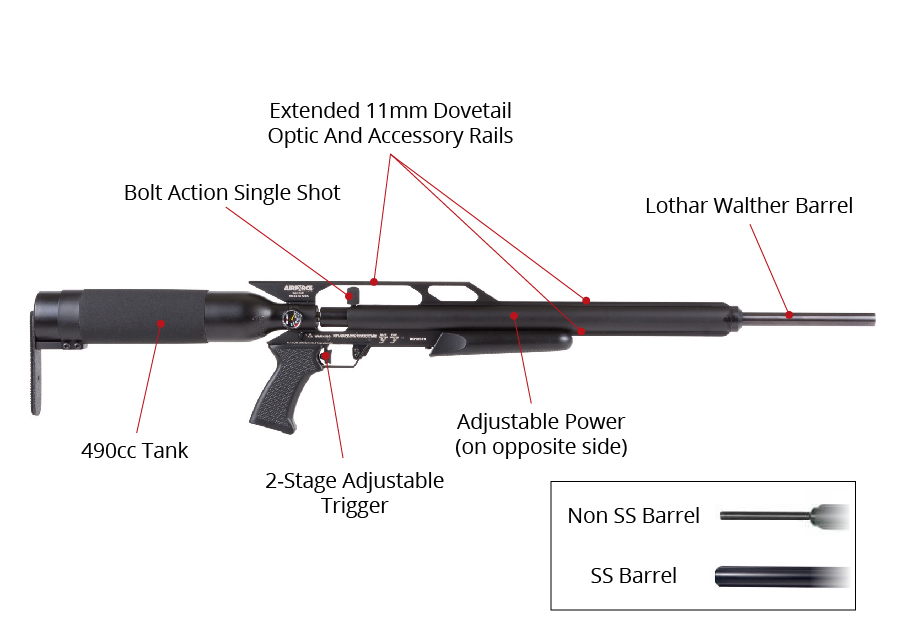 Being a PCP (pre-charged pneumatic) rifle, a pump or scuba refill clamp must be purchased or you will not be able to fire your rifle. We recommend the AirForce pump to insure you get the maximum power out of your rifle with out having to lug around a Scuba tank or take it to get charged constantly after each outing when using the Scuba Refill Clamp with Adapter. Both are excellent ways to charge your guns pneumatic system and get it ready for shooting.
The Condor has many other highlights, like the easily adjustable power reel that is located on the barrel, a two-stage adjustable trigger and automatic safety as well as the ergonomic feel and overall light weight.
don't forget to pick up a scope or standard optic sights for this rifle or other AirForce accessories because they are not included with this package. It is also recommended to pick up a gun case and .177 caliber maintenance kit of your choice to keep your rifle in excellent condition.
Other items needed for Operation:
Airforce 3-Stage Pump or Scuba Refill Clamp
Specs
Manufacturer

AirForce

Caliber

.22

Velocity

1250 fps

Condition

New

Ammo Type

Pellets

Action

Bolt-action

Barrel Style

Rifled

Fire Mode

Single-shot

Gun Weight

6.10

Overall Length

38.75

Barrel Length

24.00

Loudness

5-High

Magazine Capacity

0

Mechanism

Pre-charged pneumatic

Rail

11mm dovetail

Safety

Automatic

Front Sights

none

Rear Sights

none

Shots per Fill

50

Trigger Adjustability

Two-stage non-adjustable

Trigger Action

0

Use

Hunting

Warranty

Lifetime limited warranty
Reviews
Average Customer Review
4.8
5.0
19 Reviews
4.0
By Raymond
USA
September 4, 2022
Verified Purchase
hey go to AGD and get you a airforce airgun and rock out with it.. yeah you will have to get a new valve on it but hey thats part of the game. AGD they rock .. so give them a call and get your self a new airforce airgun.you will be a fan too
Pros
i got the airgun as im a big fan of airforce airguns. well i got this one in 25 cal as i have the 45 cal and 50 cal and love them it tool over 1000 rounds to break in .i used 29.5 nsa ammo couldnt hit went thru over 700 rounds and then got 38.5 ammo and it took around 300 rounds to get on target . was ready to give up.now im hitting 1 inch targets at 88 yards a tack driver.. like i said i love all of airforce airguns they are crazy strong hard hitting guns.. you have to try them to know the power.
Cons
ok the reason for the 4 stars are .. on every aifforce airgun i have i have had to put a new pressure valve on them . i went hunting today and when i got back home my wife said i hear air leaking from your gun .. the air valve is leaking. so i hope that airforce will get a heads up on this and fix the valves on there guns.. and i tell you what airforce has big guns i mean big. they are out of this world on how strong they are and how hard they hit
5.0
By tino
USA
July 19, 2021
Verified Purchase
hand pumping's a work as with all pcps lol dose not come with a quick adapter for filling or a set of picatinny rails hopefully will be a good match with my atn xsight 4kpro once my picatinny rails get here :( lol but the cheap daisy scope will do for now(only scope i own that fits the stock rails) and the gun holds a 4 inch zero at 50 yards with it surprisingly so with a quality scope should be a super accurate gun....used polymags senca hunting 43.2 and hnh barracuda hunters and all shot well as long as you lower the power to not shoot them supersonic witch this gun really wants to do insane amounts of power for a .25 pcp ive only had the gun a couple hrs and have already went through a box and a half of pellets flawlessly and hopefully the gun last for many years to come it has already become one of my top 3
Pros
love the design feel and look of the gun relatively light for a gun of its size the trigger has a very crisp breaking point love the trigger guard safety(if it doesn't want to engage you didn't cock the bolt far enough) gets a fairly high shot count for the power level given very fun gun and feels vary familiar with the ar style platform would love a magazine shot through half inch particle board on the factory preset power level (the energy behind this beast is insane compared to its competition when its turned all the way up with heavy pellets)
Cons
i would love to see a magazine implemented (would make this a monster in the field with the ability to follow up shot if needed) give a set of picatinny adapters with the gun (should be common sense for the price point considering most quality scopes are picatinny/weaver anyways same with bipods) no quick adapter ( just another thing i feel they should add with the gun) not really a con but does shoot light pellets so fast they destabilize in flight lol(but you can always tune the gun down for lighter ammo from my experience the 26 grain pellets like the polymags need to be shot on a little bit of a lower power level for maximum accuracy )
5.0
By Richard
USA
January 20, 2020
This my second Condor, same caliber (.25), yet not an SS model. I opted to get a Condor with a 24" barrel to elevate my game so to speak in regards to getting maxim FPE and velocity being that I use it with the intent of eradicating feral creatures within my cow pastures. I am comfortable with the notion that it is a single shot, I did give serious consideration to getting Seneca lever action, yet I have been so seriously impressed with my Condor SS in .25 caliber that I again went with a Condor, yet in a slightly configuration. The deciding factors in doing so were based on the amount of power these air rifles posses, extreme accuracy that will provide and ease of use. Without having to crack the bank account, I find that the Condors are perfect tool to use in my eradication efforts of a variety of Feral creatures I encounter here on Kauai. Feral pigs, goats, chickens, parrots and few other undesirables have been taken down with my Condor SS and no will with new condor. I have been able to take out Feral pigs at 60 yards with ear shots with my Condor using 38 -43 grain slugs. Dropping them with just few kicks while laying on its side. Goats, not a problem. Parrots out to 110 yards dropping them with authority. There are few other types of creatures that my Condor has dropped, yet may be a bit offensive for others to hear about. The are of Kauai I live in is very rural. So I have the luxury of not having to have to worry about a 'Back yard' friendly shooter as many unfortunately have to. However, and this is a big however, I cannot with my new Condor without the Sound suppression unit shoot whenever I like even if to shoot targets leisurely or to zero in a scope. This new Condor literally sounds like a cross between a .22 and a .30, seriously. That 24" barrel and no sound moderator does make people jump, even in my rural community. I have thus far pretty much been restricted to shooting around my pasture, which is fine, however as much and often as I like to shoot, just does not sit well with me. Hopefully to take the bark out of this beast of an air rifle, I within the following day of receiving the Condor, put in an order to Donny for a Ronin sound moderator, from what I have read, Donny's sound moderators are just a quiet if not more so than the stock sound moderators that AirForce puts on the Condor SS models. Hoping this to be true, for the moderators are not cheap and in all put another $240 into what I had already put up for the purchase of the rifle. If the moderator works as advertised, then heck money well spent and I will be back in the Saddle yet again so to speak riding around in my mule tending to my cattle and eradicating feral creatures daily.
Pros
EXTREMELY powerful air rifle. After sighing in the scope, I then proceeded bring the Chrono out , have a full dive tank and the various slugs that I am fond of and decided to tune it up. I was amazed at the power this 24" barrel Condor has. I was literally getting with 3000psi fill, 1100 FPS average and 36 grain hollow point slug a clean 104.78 FPE. Coupling this with accuracy I was getting at 50 yards I was literally blow away. 3-4 shot groups I was getting under 3/4 of an inch. Extremely accurate and Powerful air rifle that will kill creatures if that is ones intent
Cons
Nothing really, I mean I knew getting into purchasing the Condor without the suppression unit on it, that it was loud. Just about every review lists it, so in this respect I knew what I was getting into and CANNOT complain. I just had no idea as how loud it really was
5.0
By Yoel G.
December 21, 2019
I am happy , is a good rifle tu hunt with
Pros
great power,light weight,easy to handle it (dissansemble to clean or modify),accurate
Cons
noisy
5.0
By Stanley
USA
December 23, 2018
Ive had this rifle a better part of 12 years , so it has the older safety ( which i prefer) no spin-loc. Installed a Maddog stock for more comfort and looks and a bipod for long shots on mine ( highly recommend this up grade ) . Mine came with 24 inch 22 caliber barrel and then when the 25 came out i changed it to the 25 caliber in 24 inch. It is 22 long rifle loud . I was shooting with a friend and he had his Ruger 10/22 and mine just as loud or louder than his 22 l/r.He said daammm what heck is that? He had never seen an airgun with that much power.He had thought his Benjamin pump 342 was powerful until now. I said this isn't your daddies Daisy. I have regular firearms but hardly ever use them because of the cost and availability of ammo so i reload my .223 and 22-250 varmint rifles if i really want to reach out at long ranges. Pellets are fraction of the cost and just as much fun.You don't need powder to have fun.To fill the tank you will need muscle though. 450 to 500 pumps to fill from empty or a compressor or scuba tank .I fill mine with a hand pump but i never let it get very far down.Fill after each outing.
Pros
US made , powerful ,accurate , easy to accessorize and modify , one platform does it all , change calibers in minutes.
Cons
LOUD , Airforce accessories are expensive .
5.0
By Joyce S.
November 21, 2018
I've owned the Air Force Condor .25 for several years and it performs as advertised. All the power you need and the kind of accuracy that makes a good shooter into a great shooter. This is a LOUD gun. I like that as it speaks to its power. So if you aim straight, shoot straight, you are going to hit your target. Having said that please use caution as to what is beyond your intended target in case you miss. By the way girls love this gun because it has no kick and they don't mind shooting better than I do at the ol' firing range.
Pros
Power and accuracy is all a guy wants in a gun. Plus it's modern and sexy looking. Girls like that.
Cons
Pumping up the damn thing. One day I'll break down and get a refill tank for it. (But you realize that's a good thing-- it's not not work, it's exercise!)
5.0
By Eric
November 15, 2018
So far i have just used it for target practice. Out of the box it's kinda all aver the place but not real bad hopefully that gets better. I bought the condor mainly for coyote hunting I believe it has plenty of power to take one down.
5.0
By Patrick
USA
October 19, 2017
I bought this condor, airforce pump, and a 3-9 scope about the better part of a year ago. It was my very first PCP gun. I love to shoot and hunt and have loaded my own hunting ammunition in multiple calibers for years. Over the years the cost of shooting has continued to rise and of course I've searched for ways to facilitate my enjoyment while bringing the cost to near affordable... This gun is awesome; powerful, accurate,and deadly. It continues to suprise me as time goes on it continues to amaze... Of course there's been difficult moments of wanting a limitless supply of air without having to leave the bench, or exit the hunt, but until a sponsor sends me a new compressor and instructions to enjoy, I guess I'm stuck at the pump building my pressure one pump at a time...
Pros
Really puts a lot of lead down range fast. Its a stone cold killer in the right hands... She's a mean .25!!!😎
Cons
Can't think of any cons for the gun... I wish I had one of each and all the air and ammo that money could buy. I guess that makes my monetary limits the con...I sure love my con--dor...heh heh...
5.0
By Neal T.
February 5, 2017
Have had it for some time now...is powerful (80-90ftlb)and accurate...I'm a fan of 25 caliber when you can break 1000fps easily,as it helps with trajectory and impact.
Pros
Power and accuracy
Cons
Loud.
3.0
By Larry M.
December 18, 2016
I really like the AF Condor, and in .25 it really hits hard. I shot about 50 rounds through it and it always cocked hard. This morning I attempted to shoot some new pellets to test and one shot didn't even make it to 40 yards and landed in the grass. I cocked, reloaded and shot again and it hit right where I wanted. When I attempted to cock it for a reload, it will not cock and is jammed. Not happy, but I'm waiting for AF to reply to my email. I expected better QC, but if they make it right, I'll give it 4 stars. It will lose 1 star for poor QC.
Pros
Looks good, hits hard.
Cons
Will not cock after 50 shots and is now a $700 display piece. I had to call Airgun Depot twice to get my free add-on items. They weren't included with the original shipment and the first attempt to call blew me off. The second call worked and I received my scope/rings.
Q&A
Question?
Login to ask someone who bought this product.
What size is the super hat in the condor 22
asked Jermiah from USA
Can I use my bicycle pump to fill the air tank?
asked Christopher from USA
No has to be a high pressure pump you can get a cheap one on eBay or amazon
Abel from USA
Can I use my air venturi carbon fiber tank to fill this airgun or do I need to buy a different tank?
asked jim
What would be the advantage or disadvantage to getting a condor or the SS (anything besides noise)? I have a 30lb C02 tank... Can I use this to fill tank? Is the trigger the same for Condor and the SS?
asked Brad from USA
There is a trade-off between the Condor SS and the Condor. The SS version is super quiet. I have been shooting 43 grain Eujin pellets at 860fps but when I changed the barrel on my SS to the 24" condor barrel my speed went up to 960fps. I gained 100fps and 20 foot pounds of energy. I was getting 72 foot pounds and now I am getting 90 foot pounds with the 24" barrel. The trade off is noise. You gain speed and more energy but is as loud as a .223 rifle. VERY LOUD!!!! Booommm! That loud.
Santiago from USA
I got mine few days ago, condor cal .25. I have shoot many times and working normally. But yesterday something wrong with it, the air could not discharged from tank after i fired. Only sound of ring i could heard. Need your assistance please.
asked Freddy
New to airguns.....How many shots possible per tank charge? I realize this will vary with setting, a rough idea? Thanks.
asked Poppa
generally 40 to 60, but you can tune it for more or less. Some guys put powder burner barrels on their condors and use slugs for predator hunting and get 3 shots a fill, other tune down with lighter pellets to get 90. But this is a very versatile platform.
James from USA
Does this AirForce Condor Spin-Loc Air Rifle- .25 Caliber really go 1100 FPS? Wont that speed affect its accuracy?
asked Francisco from USA
With a lighter pellet and turned up to the highest power level that FPS is probable. At level 3 my condor is more powerful than my .25 Marauder. The condor is the most moddable, and most powerful design of PCP because of the straight path of the tank, valve and breech. When you increase the fps there will be an affect on accuracy, especially when supersonic. But many people are happy running their Condor's at 1050fps.
James from USA
Hi. I want to buy this gun, you send it to Argentina? how long it take?
asked manuel from Argentina
Manuel, Please contact our International Shipping Department at [email protected] They can answer any questions you might have. Sincerely, The Airgun Depot Customer Care Team
Scott from USA
Freight tariffs altogether? Can be disassembled into parts delivery? I'm in Guangdong Province of China。MY EMAL:[email protected]
asked leavesno1
To whom it may concern, Please contact our International Shipping Department at [email protected] They can answer any questions you might have. Sincerely, The Airgun Depot Customer Care Team
Scott from USA
When will be available ? I will pay for system PayPal. You send parcel by USPS Express Mail International ?
asked Alexandr from USA
Alexander, Estimated in stock date is 2013-06-05. Please let us know if you have any further questions. Sincerely, The Airgun Depot Customer Care Team
Scott from USA
Hello! I was wondering if using a hand pump would be a wise choice. If anyone has used a hand pump for this gun, please share your opinions with me. In the meantime, happy hunting!
asked I from
If anything it is good exercise . . . yes? It takes 400 strokes with an empty tank to get to 3,000 psi. But once filled and you never let it drop below 2,000 psi then about a 100+ pumps should do it. If you take a look at the Airforce .25 Escape (standard version) it uses a smaller tank and therefore takes less time or strokes with the pump to get to 3,000 psi. Oddly enough it's slightly more powerful than the Condor due to the smaller tank. (I'm not sure about the physics of it all, but that's what is advertised). The other good thing about the Condor is if you pump it up to just a little over 2,000 psi the bullets travel under the sound barrier making it quiet but powerful enough to take down small game with increased accuracy. For me I really had to think hard about which version to get, the Condor or the Escape. I chose the Condor because you can switch out the barrels from .25 caliber to .22 caliber. Can't do that with the Escape. And I don't mind pumping . . . I need the exercise.
Tom
Bought the airforce pump, lasted about a month! Best bet is to fill from a scuba tank and fill up with a pump, even that is next to impossible! You need to top up to 3000 as after 4-5 fills the scuba tank pressure starts to drop. Very difficult to use the pump, a real workout. Only recommend if you live on mars! Ron Vol
Ron
I was wondering if the .25 caliber barrel will fit onto my .22 caliber condor?
asked Louis from USA
Yes, it will. Definitely. But the .177 won't-- have to change the tank as well. I love the versatility of the Condor.
Tom
yes all air force barrels are inter changable 20, 22. 25. if you want 177 you must change air tank
barry
Hi, I'm from Argentina, I would like to know if you are sending up here and if performed well as the purchase and how much it would cost, thank you very much
asked Sergio
We sell a lot of guns to Argentina. This is a very high performance air rifle. One of the best PCP we sell.
Scott from USA