The AirForce Condor SS has consistently been one of the go to air rifles for airgun hunting, and for good reason too: It's incredibly accurate in part to it's Lothar Walther barrel, extremely quiet thanks to the SS fully shrouded and baffled sound suppression system, and extremely powerful. In fact there aren't many other air rifles that are more powerful in either .22 caliber or .25 caliber.
The AirForce Condor SS Hunter combo is a perfect way for those serious about a day of hunting to extend their air in the field. This combo comes with an Air Venturi 100 cu in carbon fiber tank that is small enough to easily be carried in a back pack or tossed in the back of the car. The Tank holds up to 4,500 psi, so simply fill it up with your compressor or down at the local scuba/paintball shop and you're set for hours of constant shooting. We've also included a Hawke 4-12x50 IR scope and rings. This Hawke scope is simply our best selling and favorite Hawke scope and a perfect pair with the Condor SS. All that's left to decide is what what ammo you want to be firing and if you want any accessories like bipods, etc.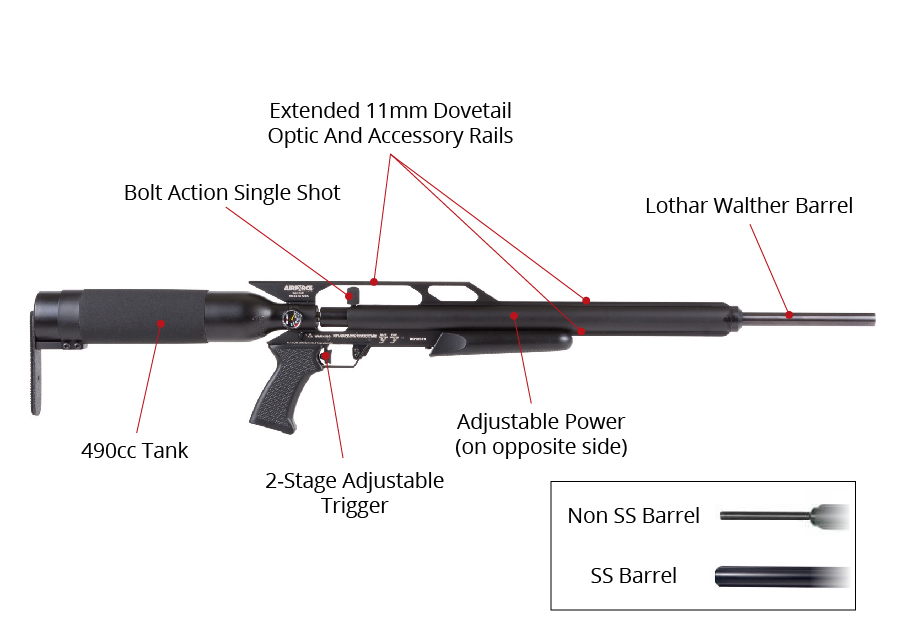 AirForce Condor SS Hunter Combo Features
Includes an Air Venturi 100 cu in Carbon Fiber Tank (a $369.99 value)
Includes a Hawke VANTAGE IR 4-12x50 IR Scope with rings ($180 value)
Single-shot
Recoiless
Adjustable Power setting on side of gun
Achieve between 600-1000 fps depending on caliber, pellet & power setting
Multiple Dovetail mounting rails
Max fill pressure: 3,000 psi via quick disconnect male foster fitting
Achieve up to 60 ft lbs of muzzle energy in .25 caliber
Achieve up to 48 ft lbs of energy in .22 caliber
Specs
Manufacturer

AirForce

Caliber

.22

Velocity

1100 fps

Condition

New

Ammo Type

Pellets

Action

Bolt-action

Barrel Style

Rifled

Fire Mode

Single-shot

Gun Weight

6.10

Overall Length

38.13

Barrel Length

18.00

Loudness

4-Medium-High

Magazine Capacity

1

Mechanism

Pre-charged pneumatic

Rail

11mm dovetail

Safety

Automatic

Front Sights

none

Rear Sights

none

Shots per Fill

0

Trigger Adjustability

0

Trigger Action

0

Use

Hunting

Warranty

Lifetime limited warranty
Reviews
Average Customer Review
5.0
5.0
5 Reviews
5.0
By Richard
USA
December 27, 2019
This was my first venture into a PCP Air Rifle. After nearly a year and a half of purchasing I believe it was a total of 8 different gas/spring air rifles, all but one in .22 caliber, I finally pulled the plug and gave it a chance in .25 caliber. For myself, it was like finally turning the lights on in a room after having been in the dark. Here in the islands I live in a very rural area, so I really need not worry about houses next to mine, nor irritated neighbors from loud noises from an air rifle. Most importantly, my sole purpose for collecting air rifles simply is because of the amount of feral creatures that frequent my cattle pasture. My Condor has taken down feral goats, dogs, cats, and small pigs up to 135 pounds within 75 yards with ear and eye shots. The accuracy of these Condors is amazing. Properly set up and this rifle dialed in will literally put pellet upon pellet up to fifty yards, one also has to his or her part as well, however, people talk about a tack driver, well my Condor has been just that since day one. I daily take out pesky minor birds and parrots in the trees at 80 yards, clean kills not a problem. I have found that this air rifle shoots much better overall with a 31 gr. slug or better by far in accuracy, power and distance. My new heart throb slug for this rifle is one put out by rat sniper deep hollow point of 40 grains, really packs a mean whallop and drops what you are aiming at. Feral Roosters on the run at 40 50 yards, not a problem with this rifle. The air tank which came with it is great to take along with me into the pasture and sight in the rifle. Had I know though I would have gotten a slightly larger tank, however after one or two fills on the rifle with this tank one SHOULD have the rifle sighted in. The scope, with all honesty I was NOT impressed with it and after two days of using after sighting gave it away. Opted to go with a Vortex scope which still use today. If you are still on the fence about this Rifle like I was do yourself a HUGE favor and just do it, you will not be disappointed, especially if you do eradication or hunting like I do. Shooting at targets at varying distances you will not be disappointed as well.
Pros
EXTREMELY POWERFUL, more than likely you will if eradicating or hunting will kill whatever it is you are going for with eye and ear shots on even creatures up to 100 pounds, without a doubt Very accurate rifle, with the right scope you can reach and touch something, very flat shooting rifle. Easy to maintain and operate not a lot of complicated moving parts to deal with in keeping it clean and maintain.
Cons
As with any single shot rifle, regardless of Caliber, its a single shot. Not complaining mind you, yet when there are other rifles with nearly comperable power and accuracy out there, some offer a multi shot. Tempting, yet with proper shot placement and slug, this rifle should do it in one shot in humanely killing whatever creature you are aiming towards
5.0
By Kevin
USA
February 2, 2019
I am new to air guns but I enjoy the power of this product in comparison to firearms because of the cost effectiveness of use. A pellet is a lot cheaper than a bullet and you get the same result.
5.0
By Kevin Platt
USA
November 8, 2018
My first PCP rifle and right out of the box this gun is impressive! It loves the JSB Diabolo Exact Jumbo, 15.89 Grain pellets. I am very happy with the scope as well. As for the small tank, wish I could get more refills before heading back to scuba shop. I have not turned the power wheel past 4 and I blower through 1-1/2 pine lumber at 30 yards.
Cons
None
Quality Rifle and very accurate
Cons
It's not as quiet as I thought it would be.
5.0
By Deborah G.
August 4, 2017
My husband and I both are having a great time with this gun..it is a kick in the pants to use..we have been using it almost every day. .very precise. .
Q&A
Question?
Login to ask someone who bought this product.