AirForce has kicked it up a notch with their new baffle system, which makes the Talon SS quieter. Thanks to the new Spin-Loc tank and collar, you don't have to remove the gun's air reservoir to fill it. Of course, if you want to, you can remove it easily and attach another one. Carrying an extra filled tank when shooting in the field is a lot easier than carrying a scuba or carbon fiber tank for refills. The AirForce Talon delivers pellets at a rip-snorting 1000 fps (in .177), and it's recoilless! Accurate (1" at 50 yards) and powerful, this PCP offers extreme flexibility. It has an 12" Lothar Walther barrel with a 1:16 twist. You can also buy 18" and 24" barrels. Change-outs are easy and don't require any special tools, but the gun will be unsilenced. Built in the USA.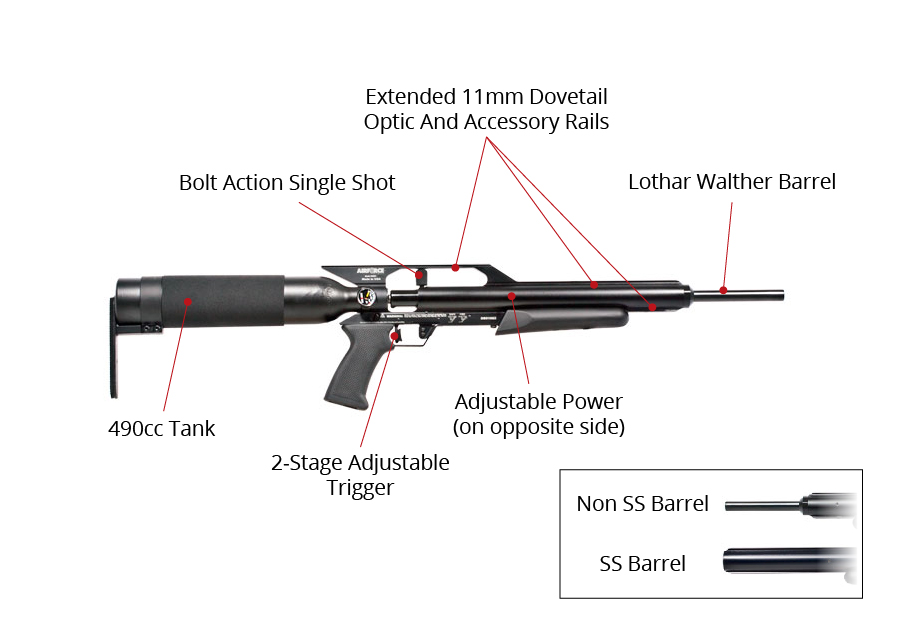 AirForce Talon SS Spin-Loc, Red Features
Finished in A Unique Red Color
Adjustable PCP Powerplant
Max Fill Pressure: 3000psi or 200bar
Single Shot; Bolt Action
12 Inch Barrel Length
Two Stage Adjustable
3 lbs Approximate Trigger Pull
No Sights
11mm Dovetail Rail
Accessory Grooves Along Top & Bottom of Barrel and Rail
Accuracy: 2 inch or less groups at 50 yards
Air Tank Volume: 490cc
Easy To Read Tank Pressure Gauge on Tank Nozzle
Automatic Safety
Specs
Manufacturer

AirForce

Caliber

.177

Velocity

1000 fps

Condition

New

Ammo Type

Pellets

Action

Bolt-action

Barrel Style

Rifled

Fire Mode

Single-shot

Gun Weight

5.25

Overall Length

32.75

Barrel Length

12.00

Loudness

3-Medium

Magazine Capacity

0

Mechanism

Pre-charged pneumatic

Rail

11mm dovetail

Safety

Automatic

Front Sights

none

Rear Sights

none

Shots per Fill

0

Trigger Adjustability

Two-stage non-adjustable

Trigger Action

0

Use

Small game hunting/target practice

Warranty

Lifetime limited warranty
Reviews
Average Customer Review
0.0
0.0
0 Reviews
Q&A
Question?
Login to ask someone who bought this product.
FPS??
asked MICHAEL from USA
The manufacturer-supplied velocity is listed below each caliber.
Adam from USA
Amigos q compraram a pcp Air force talon o frete e qts
asked Anderson from Brazil
pagamento somente com dolar
asked Anderson from Brazil
Can you switch barrels like the .20 18" for .25 28" and have the gun be quiet.
asked gary from USA