AirForce brand air rifles are considered to be some of the most advanced rifles available. Using aircraft grade aluminum alloy, space age polymers and state of the art production techniques you don't just get a typical air rifle, you get a technologically advanced piece of machinery! With outstanding power, accuracy and advanced production techniques, AirForce air rifles will not disappoint. The AirForce Talon is the original AirForce rifle that offers one of the best combination of power, weight and balance available.
The Talon SS uses a 12" barrel and a special muzzle cap that helps stop air turbulence when the pellet leaves the barrel. This makes the shot EXTREMELY quiet compared to other PCP (pre-charge pneumatic) and spring pneumatic rifles. The same German made Lothar Walther barrel is used in the Talon SS, so there is no accuracy being sacrificed at the cost of noise reduction. Some people have reported shooting 2 inch or less groups at 50 yards with this rifle. With it being quiet and such an accurate shot, it makes the Talon SS perfect for urban varmint and pest removal while not upsetting your neighbors because of sound.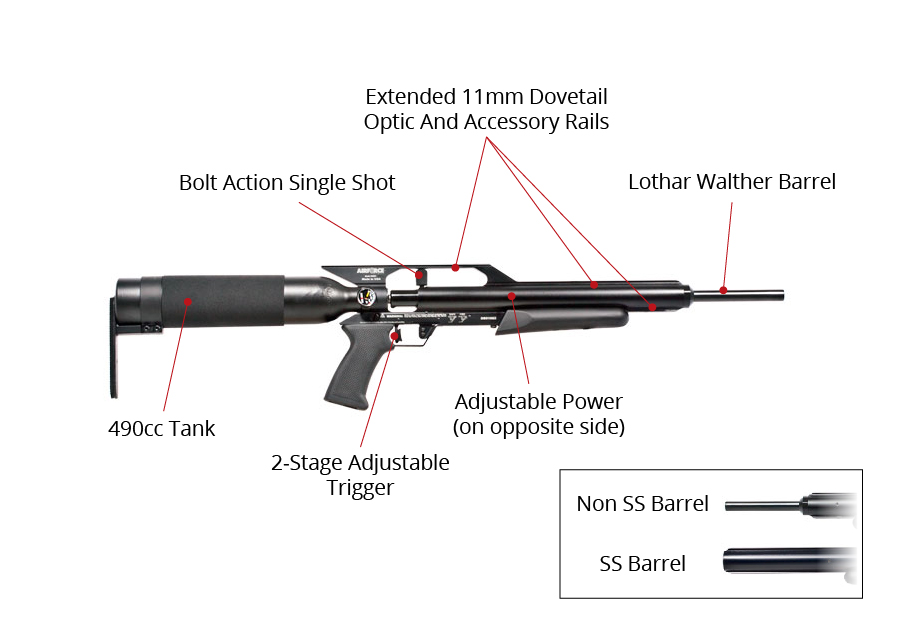 Being a PCP (pre-charged pneumatic) rifle, a pump or scuba refill clamp must be purchased or you will not be able to fire your rifle. We recommend the AirForce pump to insure you get the maximum power out of your rifle with out having to lug around a Scuba tank or take it to get charged constantly after each outing when using the Scuba Refill Clamp with Adapter. Both are excellent ways to charge your guns pneumatic system and get it ready for shooting.
The Talon has many other highlights, like the easily adjustable power reel that is located on the barrel, a two-stage adjustable trigger and automatic safety as well as the ergonomic feel and overall light weight.
don't forget to pick up a scope or standard optic sights for this rifle or other AirForce accessories because they are not included with this package. It is also recommended to pick up a gun case and .22 caliber maintenance kit of your choice to keep your rifle in excellent condition.
Other items needed for Operation:
Airforce 3-Stage Pump
or
Scuba Refill Clamp
Detachable Open Sights
or
a scope of your choice
and
11mm Dovtail mounts
Specs
Manufacturer

AirForce

Caliber

.22

Velocity

800 fps

Condition

New

Ammo Type

Pellets

Action

Bolt-action

Barrel Style

Rifled

Fire Mode

Single-shot

Gun Weight

5.25

Overall Length

32.75

Barrel Length

12.00

Loudness

3-Medium

Magazine Capacity

0

Mechanism

Pre-charged pneumatic

Rail

11mm dovetail

Safety

Automatic

Front Sights

none

Rear Sights

none

Shots per Fill

0

Trigger Adjustability

Two-stage non-adjustable

Trigger Action

0

Use

Hunting

Warranty

Lifetime limited warranty
Reviews
Average Customer Review
4.5
4.5
11 Reviews
2.0
By William
USA
July 11, 2022
Shoot the heck out of one before the return window is closed.
Pros
Light weight, Quiet and Accurate.
Cons
Purchased from AGD 8/27/2020 After 150 rounds fired became impossible to cock. Off to Airforce in Texas for warranty repair 4-6 wks. Got it back back then the safety would intermediately not release, off for warranty repair 4-6 wks. Returned 7/06/2022 and now trigger so stiff I thought the safety was still on safe. I have spent over $100.00 shipping for warranty work and the gun is still not right ! Twice burned.....As they say. I must have purchased a made on Friday. I email some days ago and no response yet. The Free Life Time Warranty isn't Free when adding in repeated shipping costs. To say I am disappointed in an American made product and AirForce Air Guns is an understatement.
5.0
By Santos Javier
USA
February 23, 2022
Pros
Currently I have one. The shots are of excellent precision at 65 and 100 Yards. Far surpassing much more expensive rifles than this one cost us. We marry Iguanas, their skin is very hard and they marry without any inconvenience. Talon SS and Talon P is excellent.
5.0
By Stanley
USA
December 22, 2018
I bought this rifle 15 years ago and was very impressed with the power and option of being able to switch calibers within minutes and still use the same platform. Mine started as a .177 with the 12 inch barrel which was pretty quiet ,but then i installed the 24 inch barrel in 20 caliber. Not that quiet anymore, sounds like a loud nail gun. I had to send my frame back to Airforce because the new 20 caliber would not slide in. It seems Airforce changed the inside diameter so the barrel wouldn't work.So they milled the barrel spacers to fit and sent it back. Great customer service. I prefer the older safety to the new one because if you don't take the shot it can be decocked.
Pros
Very powerful , well made in the USA ,many options available tailored to the shooter, many modifications to personalize the perfect Talon.
Cons
Filling the tank can be a workout if all you use is a hand pump ! 450 to 500 pumps from empty. Ley your gym membership expire it will no longer be needed. I never let mine get that empty. Extra tanks are available.
5.0
By Stephen
USA
April 2, 2018
Great fun , I should have purchased sooner. I will be adding a scope
Pros
quality
Cons
needs scope
5.0
By Richard
USA
December 2, 2017
I was unaware of how far the air gun market had come since the days of the Daisy BB gun I had as a kid until a friend and coworker introduced me to the Talon SS about a year ago. Since that day I was hooked and decided to look into what's out there some more. After a lot of reading and watching videos I decided to go with the Talon SS so I bought the combo with the Hawke 4-12x50 Vantage IR scope and an AirForce hand pump. (The Benjamin Marauder was a close second). So far, after about 200 shots, I must say I'm very impressed. I'm not a hunter and I don't live in an area where pests are a problem, I just like to target shoot and this gun provides an excellent platform for just that. I'm still learning about it so I'll update the review once I've had it for a while.
Pros
Quality (It seems very well constructed) Amount of shots from a fill. (I filled it to about 2900 psi and with the adjustment set to 6, I put 30 shots through it and only dropped to about 2500 psi). Looks cool.......... The hand pump is a good workout. I'll have Popeye arms in no time.
Cons
I did have one small issue with it. After the third pellet the trigger and safety locked up. A quick Google search and I found that the issue can be caused if it isn't fully cocked so now I just make sure to slide the cocking lever fully forward each time and it's been trouble free ever since.
5.0
By James
USA
January 26, 2017
Other guns may be stronger, faster, bullpups, etc. But this is the first gun I pick up to shoot out of the 10 I own. It is small and easy to handle. It does have the weird ergonomics of all Airforce guns, but it shoots true, and reliably every time. I have taken a couple of rabbits at 100 yards with it. So even though it is shooting sub 800fps as I have it configured, it hits right where I want it, which is most important. I did add a custom stock which makes it alot easier to handle.
Pros
Accurate, shot count
Cons
ergonomics of a rear bottle gun
5.0
By MICHAEL
USA
November 9, 2015
Accurate out of the box, four shots to zero then bulls eye every shot. I swore I would not consider a single shot air gun but I caved and wanted to see what Air Force produced. This is the most accurate gun I have and I have more than a few. Thank God Air Force doesn't make a repeater or they would put all the other makes that I have out of business.
Pros
Light, powerful, accurate. Lots of shots per fill, and did I mention, accurate. Very quiet so I can shoot in my yard without startling the neighbors. If this gun was a repeater it would be perfect.
Cons
Pain to load after each shot as good as it shoots I want to fire cock fire till the air runs out.
4.0
By Timothy
USA
June 4, 2014
I received my Talon SS in a nicely packaged box with everything it was advertised with. The DVD is a nice addition to the package and actually contains very helpful information. Out of the box it is light and futuristic looking. It shoots like a dream though is not as quiet as it is made out to be, not so much the report but valve slap. I had some reservations about the power wheel system. Some reviews said it could go down to 400 fps, I have never achieved that low. Lowest mine went down to was around 680 and a high of 850. The bottle on this thing is huge. For anyone with a pump be prepared to work out to be able to shoot.
Pros
Shoots good- accurate Adjustable power
Cons
balance- rear heavy Huge tank- going to need a tank or work out pumping.
5.0
By Greg
USA
December 22, 2013
My new Talon SS in .22 arrived and was well packaged. The only issue I had was some rough machining on the threads of the airtank that had to be smoothed out before the spinloc tank could be installed. I installed a 12X44 scope and had it sighted in very quickly. While not as quiet as my Marauder, it is not objectionable for backyard use. The shot count per fill is exceptional right out of the box and it is quite accurate given how short the barrel is. It handles very nicely and the short overall length makes it easy to transport. Greg F
Pros
Very light, short package. Lots if power and a high shot count.
4.0
By Scott
USA
November 28, 2013
This is a fun gun. It takes a lot of experimenting and reading to get it set up right and keep it there. If you like engineering and tinkering, this gun is for you. It doesn't set up like any other airgun, look like any other air gun, or attract the same kind of fans as other air guns. When it is right, it is deadly accurate. I like it.
Pros
Efficient and accurate. It is a full-time hobby in one gun. It is infinitely modifiable and adjustable by a skilled and educated shooter. There are more mods and accessories available for this gun than you would think possible. Made in the USA
Cons
It is a full-time hobby in one gun. It is infinitely modifiable and adjustable by a skilled and educated shooter. There are more mods and accessories available for this gun than you would think possible.
Q&A
Question?
Login to ask someone who bought this product.
How many shots on average can you get on one tank full
asked Pete from USA
Confused does a tank come with this unit
asked John from USA
Does it have the new sound loc baffling and is it quiet
asked Blaine
Can I get one in mat black? from airgundepot
asked caleb
Dose the Talon SS have a removable barrel?
asked caleb
I wanted to buy the Air Force Talon SS , but I did not know what accessories come with it. Does the accessory included the Spin-Loc wrench or is that purchase separately ?
asked tom from USA
The wrench is included. All you need is a scope and fill source.
Richard from USA
The wrench does come with the Talon SS and I think that is about it. I really like the rifle and it is quiet with the new Sound-Loc shroud which is also included. You will have more questions. TAG (Talon Air Guns) forum is a good source. You could PM me from there (looknup).
Scott from USA
The air rifle comes with the wrench. If you plan to leave the tank on and fill it that way buy the spin lock tank. If you want to store or carry the rifle in its broken down state or desire to swap tanks buy the spin on tank.
Greg from USA
The spin lock wrench is included
yujister from USA
Hello. I like to buy this rifle Talon ss in caliber .25 but you do not have in the internet page in caliber .25. I have two questions 1. You will have Talon SS .25 to soon sale? 2. If I buy the Talon SS in .22 Caliber and i change the barrel for a .25 caliber. Would be the same as buying the Talon SS Calibre .25 ? Greetings.
asked Oscar Islas
Oscar, Please contact our International Shipping Department at [email protected]. They can answer any questions you might have. Sincerely, The Airgun Depot Customer Care Team
Scott from USA
Does the product come with everything included in picture?
asked Cuong
Cuong, This particular item only comes with AirForce Talon SS in .177 Caliber and Air Tank. The pump and other accessories are sold separately. Hopefully this answers your question. Sincerely, Airgun Depot Customer Care Team
Scott from USA
Does the Talon SS now sold here include the new "Sound-Loc" baffle system?
asked Scott from USA
I wouldn't be able to tell you I haven't received mines yet !! Sorry
Joe from USA
what wieght pellet is used to get 950 feet per second, and is this with a high flow tank
asked Al
Velocity: 1050fps w/light 900fps w/medium 800ps w/heavy
Scott from USA
Can I charge this with an air compressor? (125 PSI)
asked kim
A scuba tank or nitrogen bottle is the easiest. Or if you are a fitness buff you can buy a hand pump and manually crank 3000psi in there.
Greg from USA
No. It needs high pressure air, 3000psi.
Baeker
I would like to know how many shots you can perform at full power and if recommended for target shooting at 80 meters.
asked Tomas
# of shots depends on several factors including caliber, fill pressure, hammer spring setting, and others. On my .22 filled to 2800 psi, on high power I get about 35 shots. Your mileage may differ. I seldom shoot on high power. Lower power is often more accurate, depending on pellet weight. If I were looking for 80 meter shots as my norm, I would think about the Condor SS with its longer barrel.
Scott from USA
I have not found the need to run this gun at full power, most often I shoot it between 6 and 8. The trajectory is still flat and I easily get 75 plus shots. For more than 50 meters I would be looking at the Condor or Condor SS. The longer barrel and high flow valve sound more like what you are looking for. Greg F
Greg from USA