AirForce brand air rifles are considered to be some of the most advanced rifles available. Using aircraft grade aluminum alloy, space age polymers and state of the art production techniques you don't just get a typical air rifle, you get a technologically advanced piece of machinery! With outstanding power, accuracy and advanced production techniques, AirForce air rifles will not disappoint. The AirForce Talon is the original AirForce rifle that offers one of the best combination of power, weight and balance available. The Talon uses an 18 inch Lothar Walther barrel to ensure maximum accuracy. This gives the Talon outstanding accuracy and the ability to shoot 1 inch or less groupings at 50 yards easily, once you get your iron sights or scope (both sold separately) ?zeroed? in. This makes it one of the most precise air rifles we have encountered here at Airgun Depot.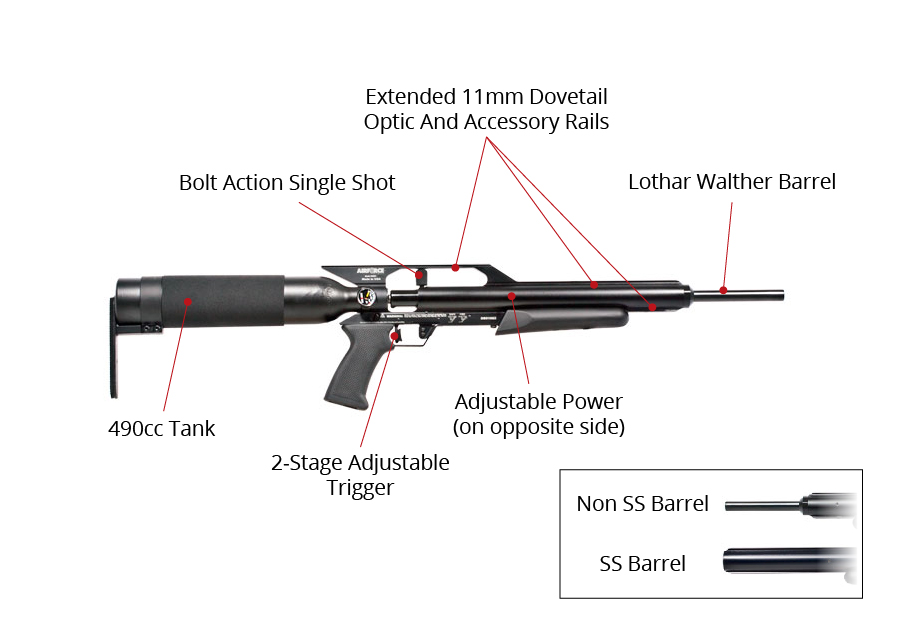 Being a PCP (pre-charged pneumatic) rifle, a pump or scuba refilll clamp must be purchased or you will not be able to fire your rifle. We recommend the
AirForce pump
to insure you get the maximum power out of your rifle with out having to lug around a Scuba tank or take it to get charged constantly after each outing when using the
Scuba Refilll Clamp with Adapter
.
Both are excellent ways to charge your guns pneumatic system and get it ready for shooting. The Talon has many other highlights, like the easily adjustable power reel that is located on the barrel, a two-stage adjustable trigger and automatic safety as well as the ergonomic feel and overall light weight.
don't forget to pick up a scope or standard optic sights for this rifle or other AirForce accessories because they are not included with this package. It is also recommended to pick up a gun case and a .177 caliber maintence kit of your choice to keep your rifle in excellent condition. Other items needed for Operation:
Airforce 3-Stage Pump or Scuba Refilll Clamp
Detachable Open Sights or a scope of your choice and 11mm Dovtail mounts


Specs
Manufacturer

AirForce

Caliber

.177

Velocity

1100 fps

Condition

New

Ammo Type

Pellets

Action

Bolt-action

Barrel Style

Rifled

Fire Mode

Single-shot

Gun Weight

5.50

Overall Length

32.60

Barrel Length

18.00

Loudness

5-High

Magazine Capacity

0

Mechanism

Pre-charged pneumatic

Rail

11mm dovetail

Safety

Automatic

Front Sights

none

Rear Sights

none

Shots per Fill

50

Trigger Adjustability

Two-stage non-adjustable

Trigger Action

0

Use

Hunting

Warranty

Lifetime limited warranty
Reviews
Average Customer Review
0.0
0.0
0 Reviews
Q&A
Question?
Login to ask someone who bought this product.
What other equipment do I need to make this weapon operational?
asked Robert from USA
You need a 3000 PSI airsource. A scope and rings. Then pellets.
Mark from USA
Can you fill spin lock from bulk bottle
asked Halderman
do yall sale uesd condor or talon air rifle
asked moe
I am sorry but we do not carry used or refurbished talons or condors.
Steve from USA
AM I ALLOWED TO HAVE THIS IN NEW YORK
asked ERNESTO SANTOS
The shipping restrictions and ownership laws are determined by your local city and state, we do have a list of the restricted zip codes in New York at the bottom of every page of our site.
Steve from USA