The Beeman Under Lever is a PCP air rifle with a unique cocking method that lets you get options that are normally reserved for a more expensive air rifle in a budget friendly package instead. It reaches speeds of up to 1050 fps in .177 and 880 fps in .22 and has plenty of power for small game hunting, plinking, and pest control.
What makes this air rifle so special is the operation, which is an underlever you'll find in the bottom of the forearm. Simply pull it down and backward to cock the gun, then push it back up into the stock to seat the pellet and close the bolt. Along with the stock design, this means you'll find it fast and easy to cock whether you shoot left handed or right handed.
Aside from the underlever, one of the first things you'll notice is the attractive ambidextrous thumbhole stock shaped out of European wood to make the rifle sturdy. It doesn't weigh too much, because it's a bullpup design, so it's still light and short compared to other air rifles with similar levels of power and accuracy, and you won't get as tired carrying it on a long day in the forest or field.
The air rifle has a quick disconnect port and an onboard pressure gauge in the stock for easy filling, and a rubber buttpad to give you added comfort and a stable hold. The package includes a Beeman 4x32 scope and rings, and there's a Picatinny scope rail and two Picatinny accessory rails on the sides below it so you can add lasers or lights.
If you want a PCP air rifle with underlever action and a European wood stock at an affordable price, get the Beeman Under Lever at Airgun Depot now.
Beeman Under Lever Features:
PCP
Repeater
Underlever action
Max velocity: 1050 fps (.177), 880 fps (.22)
European wood ambidextrous thumbhole stock
3000 psi max pressure
Magazine capacity: 12-round (.177), 10-round (.22)
Shrouded barrel
Integrated pressure gauge
Rubber buttpad
3 Picatinny rails for scopes and accessories
Includes 4x32 Beeman scope and rings
Male quick disconnect fill fitting
Weight: 7.4 lbs.
Overall length: 29.25"
Specs
Manufacturer

Beeman

Caliber

.177

Velocity

1050 fps

Condition

New

Ammo Type

Pellets

Action

Underlever

Barrel Style

Rifled

Fire Mode

Repeater

Gun Weight

7.40

Overall Length

29.25

Barrel Length

18.90

Loudness

3-Medium

Magazine Capacity

12

Mechanism

Pre-charged pneumatic

Rail

Weaver/Picatinny

Safety

Manual

Front Sights

none

Rear Sights

none

Trigger Adjustability

Two-stage adjustable

Trigger Action

0

Use

Small game hunting/target practice

Warranty

1-year limited warranty
Reviews
Average Customer Review
5.0
5.0
1 Review
Upgraded the scope on mine with 3x12x44mm side focus for a clearer sight picture and installed side mounted bipods as well as a moderator adapter to tone down the the bark from this little PCP . Shot count is about 3 magazines give or take depending on settings. At first fill air was escaping through the barrel but then stopped and preceded to fill . ( Shipped Empty ) . These can be very hard to find in stock with pre order issues .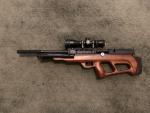 Pros
Price , features , smooth on both sides , easy to use underlever for left or right handers , mass amount of pica-tinny rails , standard fill with no fill probes to loose . Easy to fill with a hand pump. Stock does seem to be very well done .
Cons
Most agree the trigger is a bit mushy and has a long travel before it releases . Keeping in mind this is a budget friendly PCP with many other features that other makers wish that were included . With trigger time it can be mastered .
Q&A
Question?
Login to ask someone who bought this product.
Is this rifle configured for using a Donny Fl suppressor or is there an adapter needed and available?
asked Roy from USA
Contact donnyfl.com . They make an adaptor for a moderator .
Stanley from USA
How do you feel this with air
asked Mickey from USA
A PCP hand air pump or compressor .
Stanley from USA
Where is this Beeman Air Gun Made? I suspect this is Chinese. Please confirm.
asked Michael from USA
its made in china , same and all QB based rifles , its also a mod of the chief II if you look close
James from USA
This air rifle is it any good with slugs/bullets ammo in 0.177 because i have never try them in any air rifle before so if anyone has any information about this i would be very grateful for your advice and help please
asked George from United Kingdom
it might be depending on the weight of the pellet and its conical shap,make sure air is at max and take care to make a clean kill
James from USA
How many shots per fill or is it just one pump one shot?
asked Joe from USA
Depending on pellets used and the hammer spring adjustment . At least 30 shots per fill . Easy to refill with a hand pump .
Stanley from USA
How many mags / clips are included Thanks
asked Charles from USA
Two with a single shot tray.
Stanley from USA