Bullpup airguns are the all the rage because they're compact and easily maneuvered in the field. Why carry a full-size rifle when a gun 30% shorter has all the power you need to get the job done? The Benjamin Bulldog .357 takes game at distances that smallbore airguns can only dream about harvesting. Besides reaching out further, take larger game and pests such as feral hogs, which are destroying American farmland. Your local farmers will see you as a hero for coming to their property to eliminate these pests. Because this Benjamin is shrouded, it's not going to spook all the other critters after you take your first shot. Speaking of shots, you'll get 5 in each rotary clip and up to 10 shots per fill. That gives you plenty of ammo in case your quarry runs in packs.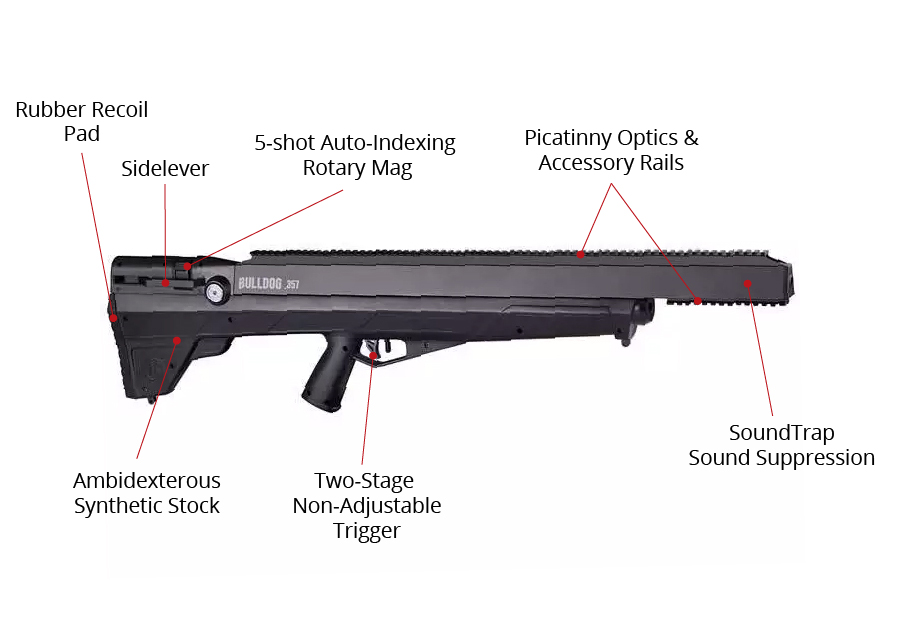 Benjamin Bulldog .357 Bullpup Features
Precharged pneumatic
5rd auto-indexing rotary clip
Sidelever
28.00" rifled barrel
SoundTrap baffle-less trapezoid-shaped sound suppression
26" long Picatinny optics rail
5.50" long Picatinny accessory rail
2-stage non-adjustable trigger (stage 1=2 lbs., stage 2=3 lbs.)
Manual safety
36" long
Ambidextrous synthetic stock
Rubber recoil pad
3000 psi max fill pressure
340cc reservoir
10 max shots per fill (going from 800 fps down to 670 fps and from 3000 psi down to 2000 psi by shot 10)
7.70 lbs.
Foster male quick-disconnect
800 max fps with a 145-grain Nosler bullet (900 fps max with a 95-grain bullet)
200 ft-lbs. max with a 170-grain bullet
When you look for optical accessories, the Bulldog's manual states this: "Use of 37mm tall (Absolute Co-Witness) rings, widely used with the AR platform, are recommended." You may also use other sighting systems suited for AR platforms.
Specs
Manufacturer

Benjamin

Caliber

.357

Velocity

910 fps

Condition

New

Ammo Type

Pellets

Action

Sidelever

Barrel Style

Rifled

Fire Mode

Repeater

Gun Weight

7.70

Overall Length

36.00

Barrel Length

28.00

Loudness

4-Medium-High

Magazine Capacity

5

Mechanism

Pre-charged pneumatic

Rail

Weaver/Picatinny

Safety

Manual

Front Sights

none

Rear Sights

none

Shots per Fill

10

Trigger Adjustability

Two-stage non-adjustable

Trigger Action

0

Use

Hunting

Warranty

5-year limited warranty
Reviews
Average Customer Review
4.9
5.0
27 Reviews
5.0
By Craig
USA
October 4, 2021
Verified Purchase
Update, finally got to go shoot this amazing gun. Didn't want to shoot it in the backyard like the smaller calibers I own. So went to my friends farm with my wife and her new Savage 22. Yikes this gun is no JOKE! See attached photos. 3 1/8 inches into a 6×6 pressure treated hard Chunk of wood. All I can say is it's AWESOME, GET ONE and be very sure of your backstop. Love it, love it, love it! Green arrow shows direction of travel. Target at 50 yard's. Can't wait to go again!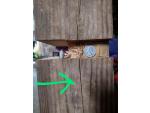 Pros
I like just about everything but see cons.
Cons
Not real keen on the plastic safety.
5.0
By Craig
USA
October 4, 2021
Verified Purchase
Update, finally got to go shoot this amazing gun. Didn't want to shoot it in the backyard like the smaller calibers I own. So went to my friends farm with my wife and her new Savage 22. Yikes this gun is no JOKE! See attached photos. 3 1/8 inches into a 6×6 pressure treated hard Chunk of wood. All I can say is it's AWESOME, GET ONE and be very sure of your backstop. Love it, love it, love it! Green arrow shows direction of travel. Target at 50 yard's. Can't wait to go again!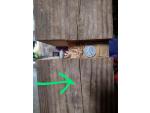 Pros
Everything
Cons
Nothing
5.0
By Craig
USA
May 27, 2021
Verified Purchase
Dressed it up a little, can't wait experience it's power!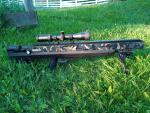 Pros
Haven't fired this beauty yet so info on performance however it seems well made and very heavy. Long walk would be a task. Since that is not what I purchased it for am very impressed.
Cons
Plastic safety, really!!! Expensive piece like this deserves a nice billet safety. Come on Crosman!
Question? Wouldn't this rifle be quieter if the air gauge was at the top of the cylinder in the cap? With said mod. The only thing stoping the trapezoid Extrusion from moving back to the magazine is itself. Cut a two inch notch out of extrusion. Slide it back to the magazine plastic stand off from the end of barrel will be sticking out of the end of the extrusion enough to thread the standard is 18 x 1 metric dies come in 19 x 1 and 20 x 1.
Pros
Thumb size K. Get your ears eyes. Move everything not moving. Bounced one back first time, no holes. Ordered another. Have a Ronin and FX version f/ DFL. Adaptor from DFL is pretty. Have two adaptors. Would not buy second Ronin/FX. And if an emperor can't break 100db I'm going to grab ears and skip silencer. A third Bulldog yes sir. These things are a blast. Ammo anything thumb size last time I checked round ball. I got at least 200 rounds out of my second bulldog. Absolutely straight from the box. NP. Thing will shoot 2000 maybe 20000. With no maintenance beyond pushing a spounge down the barrel.
Cons
Lots of screws
5.0
By Darnell
USA
February 14, 2021
Doing testing with Bulldog soubd and bullets.Im getting 120 dcbls with it out of box and with a Donnie fl Emporer and ext its getting 107dcbls. The best hunting bullets i have found after trying alots alots of different kinds and sizes the best one so far is amr ahollowpoint 150 grn hollowpoint. it does awesome damage to a deer /Killed five big bucks with the Mr Hollowpoint bullets after hunting with lots of other brands. will be testing more later
Pros
Nice gun but a little loud
Cons
Let it come with a suppressor
5.0
By Michael
USA
January 27, 2021
Get the optional baffles. Really great gun. Save money and spray paint the camo yourself
Pros
Powerful,quiet,easy fill,accurate. I added optional silencer baffles which make it even quieter. Inexpensive
Cons
It ODD looking , no two ways about it, but so is my dog, and I love them both
5.0
By WALTER
USA
December 9, 2020
Just received my bulldog a week ago with a couple tins of JSB DIABLO 81.02 grain pellets and a tin of Predator pollymags. First day of shooting @ 25-50-75yds I had "okay" groups ranging from 1"-21/2" but here's the kicker. I wasn't especially happy with the results compared to several Youtube vids I had watched so I decided to CLEAN THE BORE with the included cleaning rod and swabs using about 4 drops of pellgun oil (also included). What a dirty little bore it was, almost as if it had been pre-shot I was thinking. Back to the bench @ 27yrds and first three shots were dead on bullseye so I aim toward the 40yd target and five more shots a hair above dead center with all pellets touching making one thumbsized hole in the target...yessir I was grinning from ear to ear I tell ya. This rifle is a beast if the day you get it the first thing you do is "CLEAN THAT BARREL"...air her up...and shoot! Like so many others I honestly don't know why I waited so long to make this purchase...do it!
Pros
POWER, accuracy, weight, crisp trigger, balance, smooth lever
Cons
none
4.0
By Joel
USA
March 8, 2020
Verified Purchase
This rifle is powerful! if your state allows it, you can hunt some pretty BIG game with this air rifle. It could even be used for home defense if you are a convicted felon that cannot have a firearm. It will surely blast through an intruder, no Joke! Hell it can blast through the skull of a wild boar...
Pros
The gun is very powerful, it is accurate, and has a wide variety of ammo that could be used in it. I have blasted through pressurized treated wood that is over 1.5 inches thick and it went in another 1.5 thick piece. Very dangerous without a proper backstop. The rifle is LOUD, and is NOT backyard friendly if you live in the suburbs with neighbors, even if you have a decent sized backyard. The neighbors will hear it. What I did was put a DonnyFL Emperor suppressor and it quieted the sound down alot! You can still hear the hammer slap and ping, about the sound of a nitro piston break barrel rifle. It made it backyard friendly, you could probably install a depinger, but the hammer slap is still pretty loud since your ear is closest to the rifle. I'm sure people at 15 feet or greater would barely hear it.
Cons
The only Con I could think of is the safety (It's FREAKIN' PLASTIC!), trigger, and the PING. Come on Benjamin! you guys made a superb trigger and metal safety on the Marauder, why not the bulldog??? and dont forget, the later versions of the Marauders did have a depingers factory installed.
5.0
By Robert
USA
January 24, 2020
Verified Purchase
What more could ya want when the Bulldog lands in your hands?I got exceptional accuracy out to a hun'ert yards. 1" ragged 5 shot holes. Love the balance, craftsmanship, smooth action, trigger and easy use accs. rails.easily solved the noise issue with a DonnyFL moderator. Can't do nothing about that Big-Wet-Smack!, when impacting on a coyote with The Nozlers,... You know it's love when ya start tricking it out with camo, complete digital, (reflex), night vision system from Sightmark, complimented with an infrared mil spec light, strobe and white light, Caldwell bi-pod and a tactical sling. we don't spend that kind of bling on a dud.
Pros
Everything.
Cons
Always want More per fill,... But i'm greedy that way.
5.0
By Daniel
USA
November 26, 2019
This PCP rifle is deadly, perforates a 2x4 like it was not there and it has also blasted even two 2x4's. It is accurate and a force to be reckoned with. I have quite a few PCP guns and this one is a solid "go to" gun for all types of circumstances. I have had this for about a year and would buy this gun again.
Pros
Easily maneuverable, powerful and accurate.
Cons
It could jam.
Q&A
Question?
Login to ask someone who bought this product.
How is moderate fitted
asked Tom from USA
do the bull pup shoots arrow bolts
asked jim from USA
do the bull dog pup shoot arrow bolts
asked jim from USA
Does this come with any means of filling the tank? Or is that a separate purchase?
asked Dan from USA
NO PUMP(not easy), Bottle(expensive) or compresure ($200+to thousands) pick 1
Richard from USA
Who covers the 5 year warranty on this? Also is there a list of what ammo can be shot through this?
asked Bryant from USA
Helo Can it be disassembled ? Can I load with an air compressor or manualy ?
asked Vítor
Which gun is louder... the bulldog or the condor ss?
asked Steve
Definitely the bull dog!
Gary
will bulldog357 might loud but other like air force and taxen much louder
Billy from USA
They are both rated with 4 medium-high. About about as loud as punching your leg
Vito
bulldog is way louder..
OneEyedJack Great Falls MT.
This gun is much louder than the Condor SS which is a shrouded gun. This gun is as loud as the AirForce Texan (which is unshrouded) in my opinion.
Jon
what do you think of this rifle for power and accuracy and what is the best clean kill to date
asked hamish
150 lb hog at 50 yrds. Nosler went through lungs above shoulder and was bullet seen bouncing off water in lake behind hog. Hog dropped in 30 feet.
Tony from USA
will have seen video of hunting with bulldog 357 and kills are clean and fast so this make good survival gun and practices gun maybe home defends I am every impress on this air gun I would like own one but I will save one up too just that
Billy from USA
As far as I know it is 900fps with a 145 grain 357. Pellet And the latest recorded trophy was a white-tale deer in south Carolina
Vito
I have tried lots of pellets and pure lead cast bullets . For pellets the H&N Grizzly 82 gr. hollow points are good for small game , target shooting ,I use them for sighting in new sights ,scopes and red dots . The sizing of the pellet is a bit smaller than .357 there .35 caliber .What makes them shoot able is the rear is concave , I've done some tuning and tinkering with one of my Bulldogs so the extra oomph opens up the rear of the pellet and expands the lead against the inner barrel sealing it enough for 900 plus psi ! close to 145 fpe .My favorite's for my own pure lead cast bullets are .358 Lee 125 gr round flat top 869 fps / 220 fps ,and my self defense round is the Lee 2 cavity ,358 diameter 158 round flat tip ( 163 gr ) with pure lead at close to 800 fps for 231 fpe my best kill to date was dead center shot through both sides of my outdoor grille !lol clean hole going in close to a quarter coming out.
Timothy from USA
Answer to your 2nd question: http://www.crosman.com/connect/chase-completes-texas-sheep-slam-with-bulldog/?hvid=1SVpMV
Roy
35lb coyote at 35 yards
Stephen
Hammish if u look at YouTube there is a guy with a wildabeast
Stexas