The Benjamin Marauder has held up over the years as a consistent seller and easily the most owned PCP of all time, and for a reason. It's an incredible gun that flat out performs. The Benjamin Marauder Wood Hunter Combo is the perfect way to give an aspiring airgun hunter everything they need to take in the field who desires a traditional looking wood stock on their new rifle. This combo includes a massive Centerpoint 4-16x40 scope that is perfect for the longer ranges the Marauder allows you to shoot. And having an illuminated reticle will allow you to hunt way into the twilight hours. The hunter combo also comes with a sling to make packing your Marauder easy, and an Air Venturi 100 cu in carbon fiber tank to refill from. The buddy bottle air cylinder is the perfect way to recharge your Marauder without the need of hauling a larger carbon fiber tank into the field or a hand pump. Simply fill the 100 cu in tank from a compressor at home, or take it to the local scuba shop or paintball shop to get it topped off (even some firehouses will air if you have the right adapter and rapport with them!)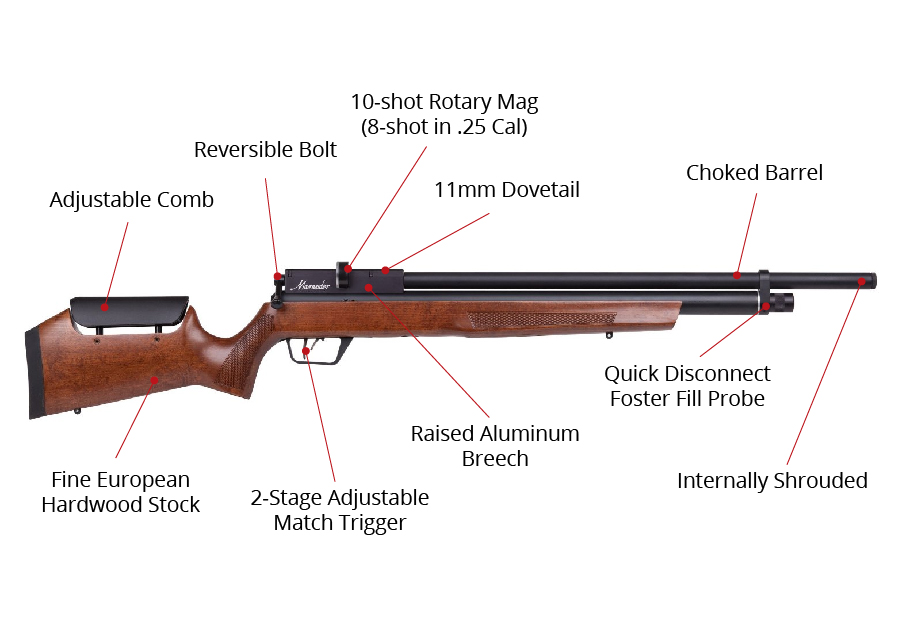 Benjamin Marauder Wood Hunter Combo Features
10-shot repeater with auto-indexing feature (.25 cal is an 8-shot repeater)
Uses compressed air: 2,000 to 3,000 psi (make adjustments as shown in the owner's manual)
Can be adjusted for different velocities
Internal shroud makes this a VERY quiet gun
Choked barrel delivers superior accuracy
2-stage adjustable match trigger
Raised aluminum breech for easier loading of circular magazine
11mm dovetail
Ambidextrous Turkish walnut stock with vertically adjustable comb
Reversible bolt -- switch from right to left side
Built-in air pressure gauge (manometer)
215cc air reservoir
Includes CenterPoint 4-16x40 AO Rifle Scope, Illuminated TAG-Style Reticle with high 11mm dovetail rings, A Benjamin sling w/ swivel studs, and the Air Venturi 100 cu in carbon fiber tank
Specs
Manufacturer

Benjamin

Caliber

.25

Velocity

900 fps

Condition

New

Ammo Type

Pellets

Action

Bolt-action

Barrel Style

Rifled

Fire Mode

Repeater

Gun Weight

8.20

Overall Length

42.80

Barrel Length

20.00

Loudness

2-Low-Medium

Magazine Capacity

8

Mechanism

Pre-charged pneumatic

Rail

11mm dovetail

Safety

Manual

Front Sights

none

Rear Sights

none

Shots per Fill

16

Trigger Adjustability

Two-stage adjustable

Trigger Action

0

Use

Small game hunting/target practice

Warranty

5-year limited warranty
Reviews
Average Customer Review
4.7
4.5
9 Reviews
5.0
By Bryan
USA
January 23, 2020
This is my first air rifle but easy set up.. and with fewer that 10 shots its hitting nickels even out to 40 yrds..
5.0
By Calvin h.
April 9, 2019
I've been shooting a Sheridan for about 35 yrs. Heard about these pcp's. Little disappointed with a few scratches on the stock but when you mail order well i guess you get what they send. However it's a very accurate rifle i can head shoot birds 30 to 40 yards. I've had this mrod less then a month so far my best shot is ground hog at 94 yds. Would have never done it with the Sheridan, even though the Sheridan has took squirrels at 20 yd. Very impressed with my mrod.
Pros
Accurate great gun for hunting
Cons
Few scratches on stock
5.0
By Sean E
USA
July 13, 2018
The Marauder is my first experience with PCP and I do like the Hunter combo with the CenterPoint Scope and AirVenturi 90ci bottle. For under $1000, It's a good entry level combo to get you started PCP'ing. So far I've been able to shoot pretty decent groups at different distances out to about 50 yds. and believe I'll be able to extend that to 75 to 100 yds with a little more practice. The rotary magazine takes a little getting used to but once you master loading the magazine, you're off and shooting. I haven't made any adjustments to the trigger and right out of the box, after mounting the scope and sighting-in, I'm pretty impressed. I'm a little uncomfortable being around high pressure when charging the gun, but being cautious and just getting familiar probably just takes a little time. I've recharged the PCP about 10 times on one fill of the bottle and I'm getting about 16 - 24 shots before recharging. Not sure how many total charges this "pony" bottle will hold, but it seems fine for a day out hunting. I'll probably get a larger bottle or find an inexpensive compressor to refill it myself. I would definitely recommend this combo for getting into PCP shooting.
Pros
Cost, Quality
Cons
None yet
5.0
By James
USA
July 8, 2018
Very accurate.22. I've only shot it at 100 ft. so far. I stays right around a nickel.
Cons
Wish it was a little lighter.
5.0
By Mike
January 6, 2018
I went large. The whole combo. Gun CP scope Air-venturi 4500 psi air tank. For me it was time to take the plunge from my .22 disco with g6 hand pump over to a .25 cal mrod. The price at christmas with a discount code was unbelievably awsome. It's what I was waiting for. I have wanted one forever but my concern was air. I'm not pumping an mrod!! Hallelujah I have a Hong yeng compressor. NOW I'm ready. I'm extremely happy with the purchase of my Mrod combo. It's everything everyone says it is. The trigger the trigger the trigger. Man did I mention the triger. So nice. The Power! Nice !! AT 25 YDS I punched through a fire extinguisher. .25 jsb king. Blammmm whit powder popped out everywhere so very cool. I like haveing a tank with gauge to fill from thats backpack size for field use. The center point scope is just ok. I'm thinking better glass maybe leapers. I'm glad I did this as its the conclusion to my crossman benjamine collection. (Unless momma says bulldog) ya never know what next christmas will bring.
Pros
Power & accuracy ! At an all inclusive great price.
Cons
Honestly Without that christmas discount code i probably wouldn't have bought all this at one time. The guns a little heavy. But I went traditional wood, not synthetic.
2.0
By jun
November 2, 2017
To be frankly, I purchased this combo from airgun depot sorely because of the competitive price and the $70 discount last month. After I placed the order, they told me this item is back-ordered and have to wait one more week. That's fine, I'm in no hurry. But when I got the package, I found the Sling Swivel can't go through the post and can't installed onto the gun. I make a call to Airgun Depot and wrote emails. Finally they agreed to send me a new sling. That's one thing. It took me several days to find a scuba store nearby to fill the air tank. And after I finally filled the tank, a new problem occurred. It's the hose of the fill station. The tank is filled, the knob works, but the air can't go into the gun because the hose is blocked somehow. I found a friend to fill my airgun and the gun is ok. So I wrote to them again and still wait for their reply. Gees! This is my first time shopping in Airgun Depot. I have to wait a month to use my Mrod as expected. Can't they check the quality control! Told them to give a return label, I'll send them back the sling and fill station as they can check it!
Pros
good price, nice gun, accurate.
Cons
the sling, the fill station, don't wok! I almost lost my patience.
5.0
By ron r.
August 22, 2017
It is all it is was advertised to be. Great consistency. Tight groups Easy to load. A weapons expert friend shot mine last night and is going to buy one tomorrow.
5.0
By Edwin
USA
March 4, 2017
Very good, much more than I expected.
5.0
By ronald
USA
January 24, 2017
I am retired military and have not shot any type of weapon regularly since retiring. After reading & researching a lot, I chose an air gun over powder weapon. The setup & instructions for all of the accessories were very clear but you must read carefully. Right our of the box the scope sight was very close. I am, after all the years of not shooting, getting adjusted but my groupings have been at he quarter size. I am sure I will get better as time goes on. It is a lot different shooting from a fixed to a bi-pod stance. No complaints on any of the items or accessories. Everything worked, mounted and functioned as my salesman (Jerry) stated. Let me say this about Jerry, he answered ALL my questions with patience, gave advice & is very knowledgeable. (his ext:243)
Pros
This .25 Marauder is very accurate for me having his my yard pest at 58 yards. Everything works as Jerry said it would!
Cons
None as to the gun, scope, bi-pod or the magazines. However, the pellets (JSB Diablo's have a lot of defective/deformed items) Out of 350 count, I have throws away about 25.
Q&A
Question?
Login to ask someone who bought this product.
.22 or .25? I will be mostly punching paper out to 100-yards, with the occasional varmint.
asked Terry from USA
What is the difference between the Crossman barrel and the Lothar Walther Barrel?
asked Ricky from USA
How,and best way,to site the scopes on these guns?
asked Howard from USA
22 cal and over, I use my laser that fits down the muzzle of my gun. You can get it pretty close (on target) with that. Then you have to shoot it for final zeroing in. I use it for 22lr to 45 Colt.
John from USA
What's the FPE with the .25? , thank you
asked GREG from USA
Approx 45 ft lbs
Mark from USA