The Beretta M92A1 is the standard issue side arm for the U.S. military Adopted in the ealry 80's it has served around the world. Now you can own a quality replica air pistol version of the M92A1. Un-like its firearm counterpart this pistol features a full-auto mode and with life like blowback it makes this pistol a blast to shoot. You can either use it to maintain proficiency without the high ammo costs and range fees, or go full auto and have fun spraying 18 shots with one pull of the trigger!
Beretta M92A1 Pistol Features
Full-Auto / Semi-Auto
Full metal
Uses a 12-gram CO2 cartridge
Realistic recoil action
Blowback
18rd removable drop-free BB magazine
Manual safety
Fixed front and rear sights
Specs
Manufacturer

Beretta

Caliber

.177

Velocity

330 fps

Condition

New

Ammo Type

Pellets

Action

Semiautomatic/Full-auto

Barrel Style

Smooth bore

Fire Mode

Repeater

Gun Weight

2.40

Overall Length

8.50

Barrel Length

4.50

Loudness

4-Medium-High

Magazine Capacity

18

Mechanism

CO2

Rail

No

Safety

Manual

Front Sights

Blade

Rear Sights

Fixed

Shots per Fill

0

Trigger Adjustability

0

Trigger Action

Double-Action & Single-Action

Use

Plinking/Fun

Warranty

90-day limited repair warranty
Reviews
Average Customer Review
4.3
4.5
132 Reviews
5.0
By DON 32
September 25, 2021
Verified Purchase
I love watching those beer cans scatter!!!----Especially when filled with water! Another trick is to bend the tab up & run baling wire thru each tab & slide the cans down the wire as many as you want, then anchor each end with a nail, this keeps you from re-setting after each blast!!!
Pros
All owners of the 92ai know that in loading the mags are a pain on fingernails. Here's the simple solution: Using a small household nail, put the pointed tip into the follower & slide down to the notched slot to hold spring depressed, then dribble in the BB's, I have found that using a small towel in your lap catches all the spilt extra BB's to return into the BB container.-------Try it! you will like it!!
4.0
By Jonathan
USA
June 4, 2021
Verified Purchase
I learned that this airgun has a "hop up" adjustment, so I believe that this may be contributing to it's inaccuracy. Here is a YouTube video that explains where to find the hop up adjustment https://www.youtube.com/watch?v=YJpZZ6P8orU If you are like me, and don't use AirSoft and have no clue what a Hop Up even is, here is a really useful video that shows what it is and why you may need to adjust it if you have one https://www.youtube.com/watch?v=hM4S4T617jA I hope that this helps save face for this awesome little pistol!!! I will be working with this hop up adjustment over the next few weeks to see if I can get the vertical accuracy better on this gun.
Pros
This gun really feels "sexy" in your hands. It is solid and well made. The full-auto mode is sure to put a smile on anyone's face when they try it.
Cons
I agree with other reviewers that this gun is terribly inaccurate. Out of the box at 10 yards, it was shooting about 5" low and about 2" to the right. I bought a laser sight for it that really helps this inaccuracy.
5.0
By Jonathan
USA
April 8, 2021
Verified Purchase
This is my first full-auto airgun and I must say that this thing is a blast (no pun intended). I love the blow-back action and how the slide locks open after you empty the clip. The gun is all metal and feels solid in your hand.
Pros
The blow-back action and auto-fire make this gun a ton of fun to shoot for all ages. I am getting about 5 clips of 18 rounds per CO2 cartridge, so each CO2 cartridge will shoot about 90 BB's.
Cons
The basic kit doesn't come with the "RWS Air Chamber Lube" that the manufacturer recommends to seal around your CO2 cartridges. After reading other comments, I used a drop of air tool oil and this seems to work.
4.0
By hayden
USA
March 17, 2021
Verified Purchase
Very realistic feel and weight it's spot on to the real thing. I love this thing it's a whole lotta fun.
Pros
I like the select fire. It puts a nice twist on the practical replica of the beretta M 92A1. .
Cons
With dust devil bbs it tends to jam pretty quick so I'd suggest using steel bbs. I didn't try it with pellets so I have no clue how it functions with those but I could imagine it's not much different
5.0
By Russ
USA
December 16, 2020
Verified Purchase
Well worth the money.
Pros
Excellent replica. Fires in auto without any jamming or hesitation. It's my favorite air pistol by far.
Cons
I wish the grips were wood. I bought a set that was supposed to match but they did not. The grips are my only complaint as they are plastic and not easily replaced.
4.0
By Ron
December 16, 2020
Stock up on Co2's 3 mags at full auto and your done.....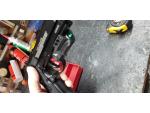 Pros
Great for the Novelty of shooting full auto. 4 stars only for the cool factor
Cons
Accuracy is the worst I've ever seen in anything I've shot in the 45 years I've been shooting. As close as 15 feet away it shoots 5 inches low and 2 inches right while using a rest. Luckily with the built in picatinny rail I put a laser sight on and was finally able to get consistent bullseyes. If this gun had adjustable sights it would be the best. If your not going to use a laser sight you'll need full auto to hit anything, just spray and pray. Lol
4.0
By Victor
USA
December 11, 2020
Verified Purchase
Watch out guys make sure to oil your gun before you use it(x
Pros
Looks good feels nice I haven't tested it out yet had to throw some wd-40 in it
5.0
By Abed Lizandro Funes
May 21, 2020
Pros
I like a lit the beretta brand but I do prefer the beretta M9 desert color.
4.0
By Michael
USA
April 27, 2020
Verified Purchase
Pros
Love the full auto sound and feel,,, Gun is very close to the 9mm real one,, Price is nice,,,, But note about jamming, damage if let air deplete to far,,,,
Cons
Warning about shooting to close to air depletion,,, If not enough air BB's will jam, not leave barrel,,, IF in full auto they will back up to the point the jam up where the air comes out,, The gun is basically BROKE then,,, can not remove the BB stuck in the air tunnel cup,, Took it apart, springs all over flying out,, not good idea,,,,Advice is use full auto first two clips,,, last one use semi and STOP before air becomes weak,, I ordered another one because I like it,,,
For full auto fun, I recommend spending a bit more and getting the MP40 replica - but be advised - not all BBs are created equal. Umarex BBs are literally the only brand it will feed. For a great air pistol, you can't beat the Colt Python replica which is very accurate, shoots .177 pellets as well, and is much cheaper than the 92A.
Pros
Realistic look and feel.
Cons
TERRIBLY inaccurate. BBs will sail a foot off target at less than 10 yards. Magazine is difficult to load w/o spilling BBs. Within a year, the slide on mine no longer locks back when mag is empty.
Q&A
Question?
Login to ask someone who bought this product.
Hey,what can you shoot with it ?.Theres hunting in Danmark ?.
asked peter from Denmark
What ligh/laser fits well
asked Tyler from USA
Are parts available for this thanks
asked Chris from Australia
I have the same seal blow out problem,the gun was well maintained,i feel like it is a common problem,and i dont feel i should have to pay half of what the gun is worth for another clip to potentially do the same thing! please help
asked James from USA
ive had min for a year and the seal went out on it blew co2 out of bottom when you try to load co2. do i have to buy another clip or can i replace the seal?
asked JASON from USA
Is the M921A field stripable?
asked Charles from USA
what are the differences between this: https://www.airgundepot.com/beretta-m9a3-bb-pistol.html and this: https://www.airgundepot.com//beretta-m92a1-bb-pistol-full-auto.html other than color and the fake threaded barrel on the M9A3? Are both the latest models with the same features and performance?
asked Ronald R from USA
I see the inscription "Made for Umarex - Germany". Question is: will the gun I order with the same inscription?
asked Shahin from USA
Do I need the license when buy this gun?
asked Dung from USA
Can this be shipped to new york?
asked Scott from USA
NYC- No will always be the answer to that question.
Jean from USA
New York state. Yes. NYC-No
Mark from USA
How strong is it ? 200 Fps ? or more ?
asked cameron crocker
The pistol is 330 fps
Mohsan from USA
How many fps?
asked Brian
WHERE CAN I FIND REPLACEMENT PARTS?
asked Eric from USA
I'm not seeing the free holster I'll buy the gun if it comes with the host on
asked John from USA
Is there wny possible way to find a new or different magazine that would work in thks gun? I've been scouring on ebay for years to get thjs gun, and finally found a price that I could settle with, the gun is currently shipping, and im very exited to use it. However, every review I've ever seen for this gun mentions that the quality of the magazine is lacking. Can anyone tell me where I could buy a second mag new mag or even an extended mag for this gun?
asked Moscow Boi
Is it full blowback?
asked Liviu
Does it locks back when no ammo left?
asked Liviu
Does anyone know the Feet Per Second?
asked Chase
How fast does this gun fires FPS?
asked Henry
What is the FPS spec
asked Patrick Bristol
Is this delivered in India?
asked Tarun
I�€™m trying to order an Airgun from Canada on the checkout what do I put for the state
asked Andre
it is possible for them to be held in the Brazilian customs and can be taxed due to the product
asked Marcelo from USA
what is her fps and how much does she weigh and shoot steel ball 4.5 m
asked Marcelo from USA
i need to buy a new screw cap for my clip. do you know where i can order one
asked bryan barber
What kind bullets work best for this pistol?
asked Lonnie from USA
Can I get this in Canada
asked Jason
I see semi-automatic in the description but only see people firing it full-auto...I know it's fun but for someone taking shooting seriously does the M92A1 Beretta give the option for semi-auto/single shot firing?
asked Chris St. from USA
I live in Mississauga and I am wondering if anyone has bought this in the country of Canada, due to the 500 velocity limit for an airgun, has bought in Canada without a PAL, or please just tell me the Velocity.
asked Daniel Korchyna
Extra mags or extended
asked Cristian Quezada
How many fps does this shoot at?
asked Larry
I purchased this gun and I must say I LOVE it.I bought two extra clips and the fun doesn't stop to reload, I am however having leaking issues with the clips. Does anyone have a suggestion? I do use a drop of oil on each CO2 cartridge but it's not working.
asked Robert from USA
Does the drop-free magazine also contain the CO2 cartridge?
asked W. Scott from USA
does it shoot pellets, too... or just bb's?
asked Hugo Sabastiano
is this airsoft
asked william stalnaker
What is the velocity of this gun?
asked James from USA
What is its life expectancy? Ive had a few automatic guns in the past and some of them ware down extremely fast in auto mode.
asked Seumas
Does anyone know if there is a speed loader available for this M92A1? Like some said in the review, loading is painful.... Thanks
asked Brian
Is this good for getting critters out of the attic.
asked Mike West
What bullet do I need to buy? 4.5 mm or 6mm bb?
asked nick
How much are extra magazines? Where do you get them?
asked HarryP.Ness
I got this gun about 2 months ago and the Slide Catch Lever does not hold in position when the magazine is empty, can this part can be replaced? Can I use the same part as if was a 9mm gun? or do I have to order this part from Umarex?
asked Tony Ruiz
How much accurate is this target shooting?
asked Kuna
Hello, I am from Madeira Island (Portugal) I would like to buy this pistol, I do not have it in Portugal. It was to know if you can send it to Madeira Island and if I can pay by bank transfer or ATM.
asked Nuno
want another mag, please advice
asked ,Kevin from USA
does this gun have the mounts for the bsa 30mm red dot scope?
asked Lester from USA
Hello! Can I to buy that gun from Chile, South America Thanks
asked Eugenio Zamorano