The Beretta M92A1 is the standard issue side arm for the U.S. military Adopted in the ealry 80's it has served around the world. Now you can own a quality replica air pistol version of the M92A1. Un-like its firearm counterpart this pistol features a full-auto mode and with life like blowback it makes this pistol a blast to shoot. You can either use it to maintain proficiency without the high ammo costs and range fees, or go full auto and have fun spraying 18 shots with one pull of the trigger!
Beretta M92A1 Pistol Features
Full-Auto / Semi-Auto
Full metal
Uses a 12-gram CO2 cartridge
Realistic recoil action
Blowback
18rd removable drop-free BB magazine
Manual safety
Fixed front and rear sights
Specs
Manufacturer

Beretta

Caliber

.177

Velocity

330 fps

Condition

New

Ammo Type

BBs

Action

Semiautomatic/Full-auto

Barrel Style

Smooth bore

Fire Mode

Repeater

Gun Weight

2.40

Overall Length

8.50

Barrel Length

4.50

Loudness

4-Medium-High

Magazine Capacity

18

Mechanism

CO2

Rail

No

Safety

Manual

Front Sights

Blade

Rear Sights

Fixed

Shots per Fill

0

Trigger Adjustability

0

Trigger Action

Double-Action & Single-Action

Use

Plinking/Fun

Warranty

90-day limited repair warranty
Reviews
Average Customer Review
4.3
4.5
125 Reviews
5.0
By Abed Lizandro Funes
May 21, 2020
Pros
I like a lit the beretta brand but I do prefer the beretta M9 desert color.
4.0
By Michael
USA
April 27, 2020
Verified Purchase
Pros
Love the full auto sound and feel,,, Gun is very close to the 9mm real one,, Price is nice,,,, But note about jamming, damage if let air deplete to far,,,,
Cons
Warning about shooting to close to air depletion,,, If not enough air BB's will jam, not leave barrel,,, IF in full auto they will back up to the point the jam up where the air comes out,, The gun is basically BROKE then,,, can not remove the BB stuck in the air tunnel cup,, Took it apart, springs all over flying out,, not good idea,,,,Advice is use full auto first two clips,,, last one use semi and STOP before air becomes weak,, I ordered another one because I like it,,,
For full auto fun, I recommend spending a bit more and getting the MP40 replica - but be advised - not all BBs are created equal. Umarex BBs are literally the only brand it will feed. For a great air pistol, you can't beat the Colt Python replica which is very accurate, shoots .177 pellets as well, and is much cheaper than the 92A.
Pros
Realistic look and feel.
Cons
TERRIBLY inaccurate. BBs will sail a foot off target at less than 10 yards. Magazine is difficult to load w/o spilling BBs. Within a year, the slide on mine no longer locks back when mag is empty.
3.0
By Rodger
USA
January 26, 2020
I have shot my Beretta for several days - over 400 rounds of Umarex BB's. This is not my first rodeo as I have several good airguns in the Umarex line. This one does not shoot very well compared to my others. I took it apart and cleaned it and took it back out and shot it with no improvement in accuracy. What is wrong here?? Is there some defect in the barrel or what?? I see no reason this gun should shoot as poorly as it does. I had my grandson shoot it and he had the same poor accuracy I did. He is an excellent shot with his airsoft, pellet guns , 22 cal rifle, and BB pistol. Can we get some help on this deal? I like the gun, but it simply does not shoot well. I have an inexpensive $25.00 Umarex BB pistol that will shoot rings around this much more expensive gun. What can this be?? I have seen other complaints that indicate I am not alone with this situation. Thank you.
Pros
Well built. Nice gun. Works well ,full auto is good fun.
Cons
Inaccurate ! Worst Umarex I ever owned in this regard.
5.0
By theonlytommy
January 26, 2020
Oh my gosh. This feels real and shoots better than any BB gun I own. From retired cops to military veterans everyone I let shoot it, including me, says how awesome thus gun is. I will be buying another just for the heck of it.
Pros
Fully auto, feels real
Cons
NONE
4.0
By Michael
USA
January 14, 2020
Verified Purchase
This is a super realistic replica, and great fun to shoot. For a BB pistol, it's actually quite accurate! The trigger pull on double action is somewhat heavy, but very easy during single action shooting. The full auto will just make you giddy; it's a hailstorm of BBs!!!
Pros
Very "lifelike," accurate, good usage of Co2.
Cons
Filling the magazine is a bit cumbersome, as the indentation on the spring mechanism is very shallow, and so unless you've got a long thumbnail to pull it back, it can be a bit tricky.
2.0
By Phillip L.
December 25, 2019
Verified Purchase
I was satisfied with my purchase from Air Gun Depot until I went to register the gun with Umarex the manufacturer...they will not allow register the warrantee unless you accept their privacy policy which I read. They basically collect your data and load cookies on your system then share it with whoever the Hell they please....I did not sign up...I hope this purchase lasts 30 days and I will never buy another Umarex product.
Pros
The gun shoots...I hope it shoots better when it breaks in a bit
Cons
I am not going to sign a aggrement to allow someone I know basiclly nothing about to share my data with whoever they please. I was born at night but it wasn't last night.
4.0
By John
USA
August 30, 2019
Fun gun, the fully auto is a great feature! This is a full metal gun and has the weight and size of the real thing. This is a great replica. I love the 3-Dot sight and the fact it has a small picatinny rail for accessories. I was suggest you purchase an extra magazine! "Airgun Detectives" did a great review on this on YouTube!
Pros
"Fully Auto"!!!!
Cons
Accuracy is not very good but it is not horrible.
4.0
By Dennis M.
April 26, 2019
Verified Purchase
Very fun to shoot.
Pros
Well made.
Cons
very hard to load co2 cartridge. Sights are not adjustable
4.0
By Bobby
April 22, 2019
Verified Purchase
I enjoy shooting my Beretta 92A1 I honestly was surprised at the overall details in this gun . The weight is spot on . The action is awesome even down to the hammer falling when the safety is switched on .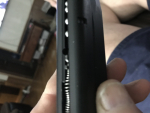 Pros
The appearance is perfect, The weight is spot on, the action is smooth and operates perfectly.
Cons
The only fault I can find is the loading of the BB into the clip. I almost feel like the clip that came with my gun is defective? I would think that you should be able to slide the spring latch to the notch to hold it back for loading with your thumb or finger? But the clip spring latch is flush so you have use a tool like a knife point or small screwdriver. If not for this I would have given this 5 stars.
Q&A
Question?
Login to ask someone who bought this product.
Is the M921A field stripable?
asked Charles from USA
what are the differences between this: https://www.airgundepot.com/beretta-m9a3-bb-pistol.html and this: https://www.airgundepot.com//beretta-m92a1-bb-pistol-full-auto.html other than color and the fake threaded barrel on the M9A3? Are both the latest models with the same features and performance?
asked Ronald R from USA
I see the inscription "Made for Umarex - Germany". Question is: will the gun I order with the same inscription?
asked Shahin from USA
Do I need the license when buy this gun?
asked Dung from USA
Can this be shipped to new york?
asked Scott from USA
NYC- No will always be the answer to that question.
Jean from USA
New York state. Yes. NYC-No
Mark from USA