At Airgun Depot, we sell thousands of airguns, but if you are looking for a versatile airgun, the Beretta PX4 Storm is for you! This airgun gives you the ability to use pellets or BBs, putting the power in your hands! The PX4 Storm is a perfect for target shooters and airgun enthusiasts. Our customers say that when you add on the
co2 cartridge
(not included), the
PX4 Storm not only shoots, but also looks and feels like the real thing.
Because it shoots pellets or BBs, just pick your ammo and you're on your way! With the 8-shot rotary clips, this repeater ensures that the PX4 Storm will keep up with your trigger finger! Finish one clip and flip the magazine over to release the remaining 8-shots. You can easily load a 12-gram co2 cartridge in this gun's grip, giving you the ability to release numerous shots before even thinking about a refill. This gun has an accessory rail underneath the barrel. Just like with a handgun, you cock the Beretta Px4 Storm with every slide action, which gives you that feeling of power many other air guns only dream of achieving. After you start, you won't want to stop, make sure you stock up on tons of ammo, co2 cartridges and then just have a blast! Your Beretta Px4 Storm purchase includes one 16-round magazine to get you started. Be sure to order extra ammo and co2 cartridges because if you are an airgun enthusiast, once you start, you will not want to stop!
90 Day Warranty
At Airgun Depot, you receive the typical 60 day warranty through the manufacturer and our 30 day warranty.
Note:
There is a misprint in the Beretta Px4 Storm's manual that states the gun has an operational slide release lever, this gun does not have one.
Specs
Manufacturer

Beretta

Caliber

.177

Velocity

380 fps

Condition

New

Ammo Type

BBs

Action

Semiautomatic

Barrel Style

Rifled

Fire Mode

Repeater

Gun Weight

1.60

Overall Length

7.60

Barrel Length

4.10

Loudness

3-Medium

Magazine Capacity

0

Mechanism

CO2

Rail

No

Safety

Manual

Front Sights

Blade

Rear Sights

Fixed

Shots per Fill

0

Trigger Adjustability

0

Trigger Action

Double-Action & Single-Action

Use

Plinking/Fun

Warranty

90-day limited warranty
Reviews
Average Customer Review
4.5
4.5
170 Reviews
Nice shooting gun at a nice price.
Wife loves it. Just the sound sends pest running. I'm glad of that because I was the one that had to pick up the bodies. Slick looking...Left it laying on the coffee table on purpose when a friend was coming over. When he saw it he thought it was a real Beretta.
This gun is amazing. The blow back action is unreal. The safety is a tad bit tough but it gives me more security whether it is on or off. I love the weight of the gun. It adds to the realistic features. Very accurate shooting .2 inch groupings from about 15ft. Very powerful gun as well. My only problem is the difficultly in loading the CO2 (wasted about 2-3 cartridges due to improper installing). Although i still could get off a few powerful shots while the cartridge was leaking. Considering on buying another one for dual equipped shooting
Great little plinker and very accurate for its size. Weight and feel is excellent also to the real deal. Bought refurb and came looking and functioning like new.
its a grat gun, the only thing i didnt like was how you install the co2, but tha gun its very cool and the kickback its awesome. its just like a real gun
5.0
By Peter B.
November 22, 2019
Verified Purchase
It's virtually the exact same size as the real PX4 Storm, and the weight is just a scant 3 ounces lighter than the real firearm, but it's not noticeable to the feel. Other than the rear slide decocker, which is fixed and no red dot (can paint one) on the air gun, virtually all other aspects look and feel the same as the real one. The only possibly differentiations, and I say possible difference, which most, sans those in the know would see, while most would not notice, is the barrel in the slide assembly when in battery. The air gun has a round barrel chamber while the real one has one of the few rotating barrel chambers currently on the market, as well as a very large right side real safety under the top fake safety, which of course, the real one does not have. Therefore, nonetheless, this is still an excellent piece if one has a real PX4 Storm and has opportunities with inert training sessions and wishes to train with the same air gun as the real deal; in this case this particular Beretta model.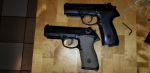 Pros
Virtually looks, feels and acts like the real deal. The photo comparison shows the two together, however, the real PX4 Storm has rubberized grip tape added to it, so it appears a little different from the air gun, but underneath, again, it's virtually the same design as the real one. Not impeccably the same, but close enough, and in this case close enough to also group with hand grenades and horseshoes.
Cons
None, unless you're a nitty, picky sniveling, whining baby that is.
4.0
By Denis
August 22, 2018
Good shooting pellet pistol. The grip is good. Nice kickback ! The full auto mode is awesome !
5.0
By Todd
USA
April 30, 2018
How do I keep this short? Wanted to improve my semi-automatic pistol skills. After considerable research, I overlooked the negatives and chose the PX4. 100% pleased. Realistic, well conceived, engineered, and built. Accurate. As this is not a self defense weapon and intended for practice, I have no problem with the safety or how the Co2 cartridge loads. I actually like the way they work. Despite that it gets less shots per cylinder than some airguns due to the blowback, I'm still getting over 50 good shots per cylinder. Compare the cost to 9mm ammo, which most people can't shoot in their backyard anyway. I shoot this almost every day and my speed and accuracy are improving dramatically. The slight blowback is just enough to require re-sighting after every shot, but it will shoot as fast as you can pull the trigger. Of course, due to the nature of Co2, power will drop some with continuous rapid fire. The power rebuilds after a short rest if the temperature isn't too low. None of us ever wants to draw our concealed 9mm on anyone, but if the need ever reared its ugly head, I'm confident the skills I am gaining with the PX4 will make this scenario second nature. Besides, it's just plain fun to shoot! Get the holster and at least one extra mag. Use a drop of Pellgun oil every other cylinder and use recommended pellets. Don't use BBs. Airgun Depot customer service is great! Thank you!
Pros
Pretty much everything.
Cons
Although sights are very precise and easy to see, adjustable rear sight would be nice.
Q&A
Question?
Login to ask someone who bought this product.