The full powered FAS AR611 Air Rifle is the more powerful big brother to the AR611 10 Meter Rifle that was designed for just competition use. With the AR611 Sporter Air Rifle you can tackle everything from field target, hunting, range training or just general target shooting with a quality made Italian PCP target rifle. FAS has gained a huge following and reputation for creating excellent and accurate target pistols at a much friendlier price point than the high-end competition grade pistols. That same expertise and approach makes for a very intriguing and accurate first foray into the world of PCP air rifles by FAS.
The AR611 is an internally regulated sidelever PCP that is housed in a beautifully designed and functional walnut oil finish stock. Field target and bench rest shooters alike will love the wide flat front of the stock that is well balanced at just 7.7 lbs. The butt stock of the gun features an adjustable comb and butt plate. The walnut itself features detail and design will leave you speechless as you recognize an instant heirloom when you see one. The AR611 is a single shot gun but can be converted to a 10 round rotary mag system using the Air Arms S200 conversion kit.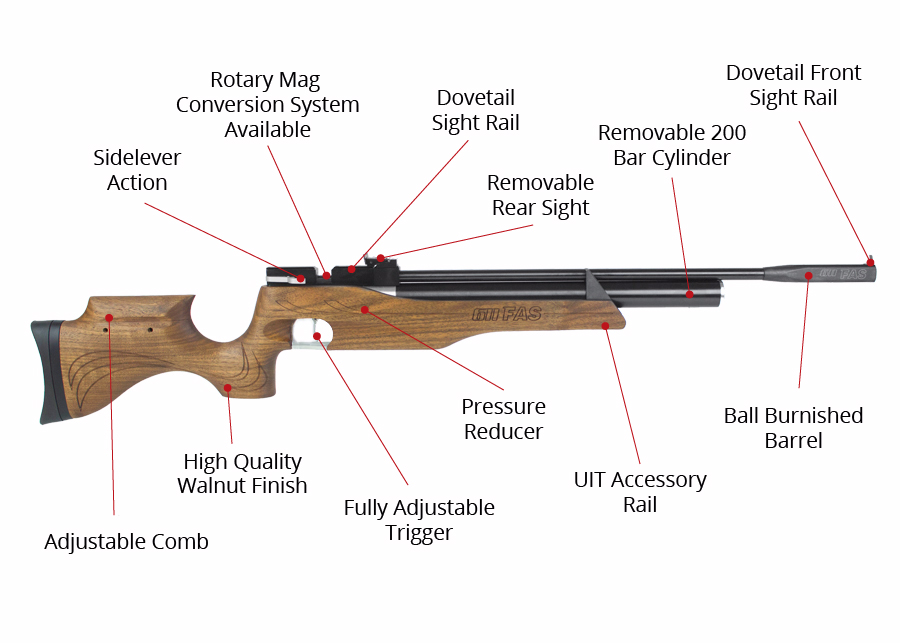 The FAS AR611 comes with a set of iron sights (perfect for those looking for a training gun) but seems better suited to pair with your favorite side focus scope. The removable adjustable rear sight is attached on a front sight base that can be slide forward on the barrel to accommodate even the largest of scopes (perfect for those wanting to use the FAS for field target). All of this is built around a fully adjustable trigger system that is incredible at this price point. The FAS AR611 trigger breaks out of the box at just over a pound and can be adjusted to your liking (including moving forward or back on the trigger rail to fine tune length of pull).
The barrel itself is a ball burnished barrel. This is a well-regarded process used by some of the finest barrel makers. After rifling the barrel, a hard steel ball sized slightly larger than the bore is passed down the barrel to smooth out and eliminate all signs of boring marks. The end result is a more accurate barrel devoid of tool markings that can throw accuracy.
FAS AR611 Sporter Features
Full powered PCP rifle (16j in .177 cal / 40j in .22 cal)
Ambidextrous high quality walnut oil finish stock
Stock built to cater to ISSF 10m, Bench Rest & Field Target shooting disciplines
Sidelever cocking system
Internal regulator (aka FAS Pressure Reducer)
Includes adjustable rear sight and front blade sight
Standard 11mm Dovetail scope mount rail
Traditional diopter sight and front globe sight can be attached
Optional rotary mag conversion kit available
9-11mm under rail present for attaching shooting accessories
Removable 200 Bar cylinder with pressure gauge
Use Long 300 DIN female fitting to fill cylinder (not included)
Use of silicone tape to completely seal threads on DIN adapter is recommended
Inludes black hardcase
Specs
Manufacturer

Chiappa

Velocity

0 fps

Condition

New

Ammo Type

Pellets

Action

Sidelever

Barrel Style

Rifled

Fire Mode

Single-shot

Gun Weight

7.50

Overall Length

39.50

Barrel Length

24.00

Loudness

4-Medium-High

Mechanism

Pre-charged pneumatic

Rail

11mm dovetail

Safety

none

Front Sights

Blade

Rear Sights

Adjustable for windage & elevation

Trigger Adjustability

Two-stage adjustable

Use

Small game hunting/target practice

Warranty

1-year limited warranty
Reviews
Average Customer Review
3.5
3.5
2 Reviews
2.0
By Vic
October 30, 2019
Verified Purchase
I was really excited to receive this rifle as it's made in Italy where they are passionate about hunting and about style and quality. Well, the first rifle I received had a major issue with air escaping into the barrel immediately upon screwing in the air cylander. When I got a replacement, there was a similar problem with the air escaping until I re cocked the gun after firing. Two strikes and you are out! Sorry but I'm buying an Air Arms now.....Shane as it's a beautiful gun.
Pros
Beautiful, looks well made, solid, decent price and therefore value.
Cons
The two that I received obvisously had major gasket problems and therefore caused air to escape .
5.0
By Kurt
USA
March 24, 2017
Great quality, fit and finish! I am considering a second in .22.
Cons
Not much information about them anywhere.
Q&A
Question?
Login to ask someone who bought this product.