A trail ready shooter right out of the box! Crosman's Summit Ranger features their patented Nitro Piston 2 technology which means the Ranger can shoot in cold weather, remain cocked for hours and shoot with 80% less noise compared to a spring piston airgun. Designed with the trail in mind, the Summit Ranger's all-weather synthetic stock includes integrated sling swivels that just need a sling for easy transportation. On top of the stock, you have an 11mm dovetail rail for your optics choice or simply use the included metal open sights. As an added bonus, the Ranger includes Crosman's Clean Break Trigger (CBT), an enhanced 2-stage trigger that's adjustable. Best of all, the Summit Ranger is build in the USA. These features add up to a solid rifle that's more than ready for shredding paper targets dispatching small game.
Crosman Summit Ranger NP2 Air Rifle Features
Nitro Piston 2 (gas piston)
15% faster than standard gas pistons
Less cocking force and reduced vibration with patent pending technology
Dual stage, clean break trigger
Sling Mounts included (rear post/front loop)
Dovetail mounting rail
Metal front and rear sights
Benefits of the Nitro Piston 2 over a metal mainspring:
Smoother cocking
Smoother shooting
No spring torque
No spring fatigue, even if left cocked for hours
Functions perfectly in cold weather
Lasts longer than a metal spring
Specs
Manufacturer

Crosman

Caliber

.177

Velocity

1150 fps

Condition

New

Ammo Type

Pellets

Action

Break barrel

Barrel Style

Rifled

Fire Mode

Single-shot

Gun Weight

7.00

Overall Length

44.50

Barrel Length

15.50

Loudness

3-Medium

Magazine Capacity

1

Mechanism

Gas-piston

Rail

11mm dovetail

Safety

Manual

Front Sights

Blade

Rear Sights

Adjustable for windage & elevation

Shots per Fill

0

Trigger Adjustability

Two-stage adjustable

Trigger Action

0

Use

Small game hunting/plinking

Warranty

5-year limited warranty
Reviews
Average Customer Review
4.7
4.5
3 Reviews
5.0
By Dennis
USA
January 1, 2020
Verified Purchase
I am 89 and on a budget, but I have 4 Crosman/Benjamin rifles and just liked the looks and info supplied. I've had this for three weeks and shoot daily. THIS IS A NAIL DRIVER. One of the best-balanced guns I own, out of the box ready to shoot. The photo is a 10 shot group at 13 yds, off a tripod. Crosman Premier Domed Ultra Magnum, 14.3 gr. Center Point 3-9x32 Scope.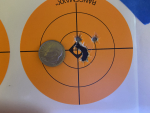 Pros
YOU WILL NOT BE DISAPPOINTED as a FIRST GUN or ADDITIONAL for $99.99. Airgun Depot was great to work with.
Cons
NONE
I've had this gun (.22 version) for only three days, so maybe a review is premature, but I've already spent several hours sighting it in, setting the trigger, and practicing with it, and these are my first impressions. The gun's power is impressive. It strikes with authority, no question. I'd have no qualms hunting small game with it once I learn to hit my mark consistently. I can't say this NP2 gun is really much quieter than a spring piston gun, but the sound is smoother, if that makes sense. Breaking the barrel to load is heavier than I'd come to expect after reading other people's reviews, but closing the barrel is smooth and effortless. The sights overall are pretty good, but the rear sight has an annoying back and forth play caused by a gap where the sight plate is pinned into two front prongs at the front of the sight base. This can be fixed though, with shims, or maybe building up the sides of the sight plate or base prongs with JB Weld, or gently tapping the two prongs on the sight base closer together with a light hammer. It's a pity this is left to the end user, but it is what is, and it is nevertheless better than many other sights I've seen. The trigger is good once you get it adjusted to the briefest second stage possible. It is as advertised very crisp and light, and the lengthy first stage is an entirely acceptable trade-off to get it to that point. And a light, crisp trigger pull does make a huge difference in accuracy. Hold sensitivity I don't know that I can really comment on too much at this point, except to say that I'm starting to believe that some shooters may be over emphasizing the forearm hold while ignoring stock weld, which is at least as important. Good and consistent placement of your cheek on the comb when sighting in translates into good, consistent shots. So far I've only shot off the bench with the fore end resting on a pad, but I have noticed some significant variation in shot placement while trying to get a decent stock weld. Which isn't easy with this gun, you really have to cant your head and lay your cheek as hard as possible into the comb to get a decent sight picture. (Some relief might be possible though by going old school and filing the generously tall front sight down far enough to allow lifting the rear sight up a little higher.) And that leads us to stock design and ergonomics. Clearly this stock was designed to be used with a scope instead of open sights. In fact, this is the same stock used for the scope only Benjamin Summit. It looks like basicly what Crosman did was retrofit the Benjamin Summit with open sights. The other ergonomic deficiency with this design owes much to the beefy stock fore end and hollow plastic butt. The balance point with an artillery hold is a little forward of the end of the scope rails, a good hands width forward of the trigger guard, which makes the gun unwieldy for shooting offhand. Overall the gun's weight is currently acceptable, it's just front heavy, but I'm reluctant to add any more weight to it in the butt to bring the balance point back. Again though, I strongly suspect that since this stock was designed for a scoped gun this problem will be solved once I mount a scope. So overall, I would say this gun is solid, well made, and a very good step in the right direction, and it was certainly worth what I paid for it, though for want of more refinement in the rear sight and a better stock more suited to open sights it's not as good as it could be.
Pros
Price point, solid construction, powerful, accurate, trigger and sights are better than most at this price point.
Cons
Stock poorly designed for open sights.
5.0
By Tom
USA
February 6, 2018
Hello my name is Tom. I am a Forest Hunter and I Hunt Small Game in the North Woods of Minnesota. If you hunt rugged country in extreme weather conditions like I do, then you may want to take a look at this Well Designed, Gas Ram Hunting Rifle. I ordered this gun in 22 Cal. from PA on 10/29/2017 I received it, on Nov 5th. It shot well, right out of the box ( after barrel clean-up). It is a good hunting type gun but it is Not a Looker with a Walnut Stock. The open sights are all metal and no plastic. The gun is fairly rugged and does very well in a difficult hunting terrain. Sleet, snow, ice and rain haven't bothered this rifle much. If you shatter a scope on a rock, you still have the open sights to hunt with until you can get the broken scope replaced. The muzzle break unscrews for a threaded barrel, in case you decide to add a moderator or air stripper.. The gun comes un-scoped and weighs about 7 Lbs. My gun weighs around 7/12 to 8 pounds scoped. It handles well in heavy cover and the Clean Break Trigger is a big improvement over past Crosman triggers. I have taken several squirrels with this gun so far. ( Nov 13th) It was 18 degrees out that morning. I shot three squirrels out of trees at about 30 yards. It was "Lights Out & Dead Right There" on these squirrels with one shot to the center chest on each. This would be a good Field Grade Hunting gun but Not a Show Gun. This one has the NP #2 Gas Ram in it and cocks fairly easy. It Hits Hard and Shoots Straight. No Barrel Droop at all. Since I got the gun Nov 5th, I have only shot about 85 shots thru this gun. It is not broken in yet and it already shot a dime sized grout at 25 yards The gun's shot groups are improving even more as it is getting broken in. My gun has not been pellet picky and is not hold sensitive either. Every pellet that I have shot through this Crosman Summit Ranger NP2 rifle has shot fairly well out to 25 yards. I don't have to re-adjust the scope much. I have shot Crosman Piranhas, Gamo Red Fires, Crosman Destroyers, H&N Terminators and others. Some... but not much... variation in POI out to 25 yards. I don't have a clue why...that is just the way it is on this particular gun. ??? ???
Pros
Well Designed-Accurate-Rugged-Affordable-All Metal Open Sights - Good Customer Support from Crosman/AGD/PA - Good Trigger
Cons
I would like to see this rifle offered in the Benjamin Trail NP2 Camo Stock
Q&A
Question?
Login to ask someone who bought this product.