The upgraded Diana Stormrider Gen2 featuring black synthetic stock is a light and highly accurate rifle with solid construction for a price that won't break the bank. Despite the fact that this is a budget minded air rifle, you still get max power of 20 fpe and max velocity of 1050 fps in .177 and 950 fps in .22. The 100cc air tube fills to 2900 psi, so it's fairly easy to fill with a hand pump. You get about 30-40 shots per fill, which means more shooting and less pumping or filling. This newer version also has an improved, longer integrated moderator, giving you a quieter shot that sits at the lower end of the loudness scale.
The Stormrider has a light 2 stage trigger that's adjustable for both pull weight and sear engagement. This version adds a black synthetic stock that gives you a firm hold even when wet. For additional control and comfort, it has a checkered grip and forearm and a rubber buttpad. This air rifle has an integrated pressure gauge on the end of the air tube, and the side bolt with O-rings for grip has been enlarged from the previous model so it's easier to use. It includes a rear sight that's adjustable for windage and elevation and a fixed front blade sight, and the rear sight can be removed so you can add a scope on the 11mm dovetail mount.
Whether you're shooting for fun, shooting at targets, or hunting small game, the Diana Stormrider Gen2 in black synthetic stock has you covered. It's easy on the wallet, a great entry point into the PCP market, or an enjoyable extra gun, so get yours today at Airgun Depot.
Gen2 Diana Stormrider, Black Synthetic Stock Features
PCP
Bolt action
Max. velocity: 1050 fps (.177), 950 fps (.22)
Max. energy: 20 fpe (.177), 26 fpe (.22)
Mag. capacity: 9rd (.177), 7rd (.22)
Shots per fill: 30-40
Black synthetic stock
Integrated muzzle brake moderator
Max. fill pressure: 2900 psi
Air tube volume: 100cc
2 stage adjustable trigger
Adjustable rear sight
11mm dovetail mount
Specs
Manufacturer

Diana

Caliber

.177

Velocity

1050 fps

Condition

New

Ammo Type

Pellets

Action

Bolt-action

Barrel Style

Rifled

Fire Mode

Repeater

Gun Weight

4.60

Overall Length

39.80

Barrel Length

19.00

Loudness

2-Low-Medium

Magazine Capacity

9

Mechanism

Pre-charged pneumatic

Rail

11mm dovetail

Safety

Manual

Front Sights

Blade

Rear Sights

Adjustable

Shots per Fill

40

Trigger Adjustability

Two-stage adjustable

Trigger Action

0

Use

Small game hunting/target practice

Warranty

1-year limited warranty
Reviews
Average Customer Review
4.6
4.5
18 Reviews
5.0
By Joel
USA
October 16, 2023
Verified Purchase
This is a very affordable and nice well made air rifle.
Pros
Shoots well very well.
Cons
Since is my first PCP rifle I cant said anything negative at this time. I just added a barrel band to reinforce barrel
5.0
By Cecil
September 2, 2023
Verified Purchase
I think anyone would be satisfied with this rifle as it is.
Pros
The weight of the storm rider is a real positive as most air rifles are much heavier and this is a definite plus for older shooters that might have control issues and would also be a positive for younger shooters. This rifle is a pleasure go shoot and I almost shot a whole ten of pellets the day it arrived.
Cons
I would love to have this rifle with a thumb hole stock or a skeletonized stock as I have severe joint issues a d can't properly hold a rifle for accurate shooting. I usually have to get my sander to the stock and put a pistol grip behind the trigger guard so I can hold it.
5.0
By Kathleen Fennell
August 27, 2023
Verified Purchase
My husband bought himself an air rifle for pest control and target shooting. I thought it looked like it could be fun and asked him to get me one. My husband purchased this, Diana Stormrider, Gen 2, for me. He put an Athlon scope on it. I have used pistols for target shooting before, but never a rifle. My husband had to help me correct my grip and sighting. I am right hand and left eye dominant. I was able to hit the dot with my first three shots at 28 yards. The rifle was comfortable to hold. The trigger pulled smoothly and easily. And, the safety was easy to locate and use.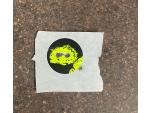 Pros
Light, nice trigger pull
Cons
Nothing at this time
5.0
By Nick
August 27, 2023
Verified Purchase
Pros
Works just fine for what is.
Cons
Where is it made ?
4.0
By Tony
June 4, 2023
Verified Purchase
Tried mounting a scope but the magazine won't fit under the tube. Open sights is a tack driver at 7-10 yards
Pros
Light weight, accurate, quiet
Cons
Longer rail for scope, second barrel band, extra magazine
5.0
By Blake
USA
February 27, 2023
Verified Purchase
I love my Stormrider for light peering and plinking. I installed an AR kit from Buck Rail as well as a second barrel band.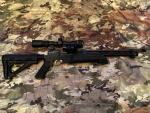 Pros
Lightweight, easy to pump, accurate with the addition of a second barrel band if shooting off anything other than a bench.
Cons
Needs another barrel band, I had to switch the trigger adjustment screws to eliminate creep in the second stage.
5.0
By Dennis
USA
February 21, 2022
Verified Purchase
pumping the little rascal to 200 bar is kinda tough. i almost had to jump on the pump plunger. i use a g9 from air venturi so there might be a better pump out there. i cleaned the barrel well and started shooting crossman 14.3 hps and never looked back. my gun is GERMAN made and not made in china. i don't know how well the chinese made stormriders will shoot but if made to german specs they should be just fine.
Pros
liteweight very accurate no trouble loading. i instlled a regulator set to 125 bar and a g9 handpump to pump it up. ONE ragged hole at 25 yds 5 shot groups. after 3 groups the pressure starts falling off and it's time to recharge. i'm new to pcps, but this little critter is an eyeopener. it puts my springers in the back seat. the magazine works flawlessly and loading singly took a little getting used to. the trigger isn't a match trigger but works just fine.
Cons
nada
5.0
By Timothy
USA
October 9, 2021
You cannot find a better economy PCP rifle for plinking. Correctly set up, it is savagely accurate. It will toss 3 or 4 magazines at decent pressure before needing recharge, which only takes a few seconds.
Pros
It's surprising what a good selection we have in air rifles today. I started punching pellets back in the1970s when a family friend gave my brother and I a well-used Crosman multi-pump in .22. We shot that rifle practically every day, and then graduated to rimfire rifles and lather center fire cartridges. The Diana Stormrider harkens back to the classic plinking rifles. It is simple, and and has a small frame, so both adults and teenagers can shoot it. For the price, it is very solid and well-built. This may not make you Rambo, but it will improve your marksmanship. This is an excellent PCP pared down to the basics. Great trigger. As accurate as you are -- there is an excellent video of this rifle grouping at 100 yards. It's a high-quality gun.
Cons
It needs a second barrel band. The stock has a very aggresive texture. I think the stock could be refined with a more delicate treatment. As a regulated rifle, this is very choice, but not everyone will want to spend and additional $100 to $130 to make that move.
5.0
By Brandon
USA
July 30, 2021
I got mine in .22 cal from Pyramid Air thinking it was .177, so this won't be a verified purchase review. As it makes about the same muzzle energy as my Marauder .22 semi-auto (which I did buy here) and is nearly as accurate while just under half the weight without optics, I'm not disappointed. Everything about this gun is a pleasure, especially for me when I'm out doing my daytime poultry chores and want a gun handy for opportunistic pesting and plinking. For daytime I use a UTG BugBuster IR 3-9x32 AO (SCP-M392AOIEWQ) on the Accushot High Offset Pro Mount, 1" Rings, Dovetail (RGPMOFS38-25H4) both available here. Fit is tight but perfect, almost like the gun was designed for them. Rear sight can be removed for a longer scope but this combo fits its capabilities. For night work the Marauder semi with a Pard008 is my goto; as a backup I bodged on a tiny cheapo NV spotting scope paired with a green/IR laser combo meant for pistols that is adequate at 20 yards for rat-sized targets
Pros
Astounding design and quality workmanship for any price point, fit and finish more than rivalling some if its higher-priced cousins. As powerful as a Benjamin Marauder while being feather-light in the hand and on the wallet. The bolt action is buttery-smooth with a light pull, much better than my wood Hatsan Flash QE .177 which costs a full $130 more at time of writing, and may be more accurate. Synthetic stock is high-quality and feels solid with a deliberately grainy texture outside the attractive checkering that gives it a pleasantly grippy feel. Two-stage trigger pull is smooth and light out of the box, I've not felt any need to take advantage of its adjustable pull weight or sear engagement. Sure it's not the most capable PCP in terms of power or adjustability but for its price and utility if you can beat it I'd like to know about it. You won't want to put it down -- I know I never do.
Cons
Others have noted this could be a better gun if you wanted to pay more for it, and I agree. Out of the box this rifle is unregulated and by the end of the third mag (7 rounds ea.) power drop-off is causing ~1/2" POI change at 15-20 yards. The optional regulator from Diana will run you $100 if purchased here, and adds 3/4 lb. I have one but haven't felt the need for it at the close distances I work at. There is also an optional third barrel support to reduce potential sag but you'd probably only need it for drilling rabbits at 50 yards. Stock is narrow for weight and squarish in my big mitts My wishlist for this weapon would make it an entirely different gun: regulated out of the box and a semi-auto option which would make the small air reservoir even smaller and probably heavier overall, ruining what this is: a light, close-in PCP pester and plinker. Realistically I want this in .177 with a wood stock, which I cannot find, and lose the front sight which slightly blocks optics.
Q&A
Question?
Login to ask someone who bought this product.
What's the name of the adapter to hook up this air rifle to my air compressor? Is the gold item in the picture with the magazine an adapter? Thank you.
asked Lonnie from Laos
Yes, this PCP uses a brass fill probe.
Adam from USA
What scope works with this rifle
asked Daniel from USA
This is a PCP, any scope you like that can parallax down to your closest shooting distance.
Adam from USA
Does it come with a silencer/suppressor/moderator? Such feature is not legal in New Jersey. If it's available without that feature, I'll buy it.
asked EPQ from USA
How much effort, or pumps, is it to pump up to pressure ?
asked Ken from USA
i quit shooting mine at 140 bar which gives me 14 accurate shots down from 200 bar. from there it takes about 50 strokes on my air venturi g9 pump. you can't be a whimp to pump up my setup. it's kinda on the tough side. letting pressure go below 140 bar means more pumping. i have a regulator in my stormrider g2 and get 2 magazine loads of 22 cal. with excellent accuracy
Dennis from USA
does it come with hand pump adapter
asked Tyler from USA
OK, am considering this model for light-duty pest control. What are your average group sizes? Please provide group measure in inches or mm, range to target, the pellet used, number of pellets per group, and PSI level when the group was produced. Corresponding chronograph measure at the time of the group would be nice if you have them. Thank you for your data and information.
asked Eric A. from USA
Firstly let me say that my experience with Air Gun Depot has been nothing short of excellence. I won't go into details of their support, but I must give Cudo's to Mat and Bob for customer service! To your question...I have a .22 Gen 2. At 25 or 40yds I would challenge any other rifle to have better accuracy. I am not a pro but still a pretty good shot. Benched this rifle will give me 1/2 '' groups with more than half the mag (7 shots) hitting pellet on pellet. Do get a refill mechanism as the pump is more arduous that most will tell you. If you have a quick way to refill it makes the experience much better.
Clyde from USA
Can you put a scope on the rifle
asked Theo from South Africa
Yes. The Stormrider has a 11mm dovetail optic rail.
Mark from USA
What kind of fill connection does this have
asked Kyle from USA
DIA-1900101. The fill probe is in the item pics. The synthetic model uses the same fill probe.
Mark from USA
how does this gun compare to the air venturi avenger
asked Bill from USA
The Avenger will be a more robust gun. Higher shot count. The Stormrider is lighter and shorter.
Mark from USA
How do u fill it will i need to buy somthing to fill it or how dose that all work
asked David from Canada
To fill the Stormrider you need a 300-4500 psi hand pump,air tank or compressor.
Mark from USA
hand pump recommendstion?
asked Donald from USA
Any of the handpumps will work. The Hill and Air Venturi are the best.
Mark from USA