If you'd like your Royale 400 to really stand out, there's simply no more stunning finish than the Black Pepper Laminate Royale 400 from FX Airguns. The black pepper laminate may be one of the most spectacular finishes seen on an airgun. This truly makes the Royale 400 a modern day heirloom ready to be passed down from generation to generation. And because it's ambidextrous, there will be no concerns if you're a lefty!
The Laminate Royale 400 has the features that have made FX one of the premium airgun makers today, including the smooth side cocking lever to rotate the 12 shot rotary mag (16 shot in .177) that is in the Royale breech block. The 480cc carbon fiber cylinder can be filled to 3,600 psi. All of which is sent through the Royale?s internal regulator to be able to provide consistent air flow and make sure you?ll have the most accurate shot possible.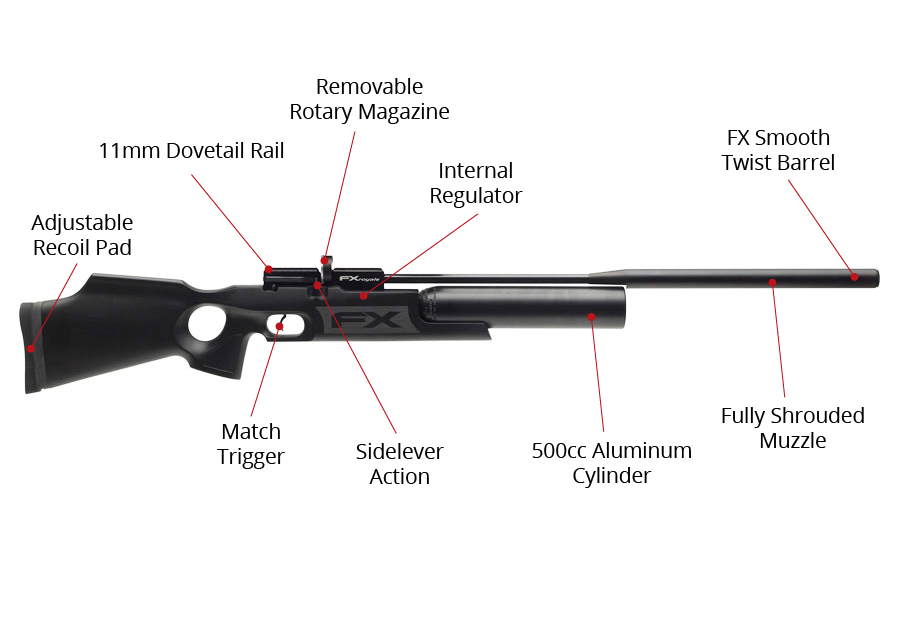 Much of the supreme accuracy is due to the FX Smooth Twist barrel, a barrel decades ahead of standard rifles barrels as the majority of the barrel is smooth bore, allowing the pellet to gain maximum speed before hitting the twist at the end of the barrel. This spin gives the pellet it's stabilizing force and leads to world class accuracy.
The Laminate Royale 400 air rifle features an exceptional fully adjustable two-stage match trigger that is set at just 12oz by FX. Out of the box, you?ll find the first stage to be very light with a clean break. The stock is very well balanced with a balancing point located just under the breech, making it easy to shoot off hand. And the FX Royale 400 also has a 3-step power wheel on the left side of the breech that allows you to shoot at lower velocities and extend shot count. A great feature for those that are shooting in their backyard (as it will also lower the rapport of the rifle)
Note: Higher calibers are available in this series of airgun. The FX Royale 500 is the .25 caliber version, and the FX Boss is the .30 caliber version.
FX Royale 400 Laminate Features
Black Pepper Laminate ambidextrous thumbhole stock
Features FX Smooth Twist Barrel
Internal pressure regulator
3-step patented power adjuster
Sidelever cocking action
Removable 480cc carbon fiber air cylinder
Additional spare cylinders available
Max fill pressure is 250 bar (3600 psi)
Achieve up to 36 ft/lbs of energy (18 ft/lbs in .177 cal)
Fully shrouded barrel
Adjustable recoil-pad (height)
Removable rotary magazine
Fully adjustable match trigger
Male quick-disconnect Foster fitting for fast refills
Specs
Manufacturer

FX Airguns

Caliber

.22

Velocity

950 fps

Condition

New

Ammo Type

Pellets

Action

Sidelever

Barrel Style

Rifled

Fire Mode

Repeater

Gun Weight

7.50

Overall Length

40.25

Barrel Length

19.50

Loudness

2-Low-Medium

Magazine Capacity

12

Mechanism

Pre-charged pneumatic

Rail

11mm dovetail

Safety

Manual

Front Sights

none

Rear Sights

none

Shots per Fill

100

Trigger Adjustability

Two-stage adjustable

Trigger Action

0

Use

Small game hunting/target practice

Warranty

1-year limited warranty
Reviews
Average Customer Review
5.0
5.0
2 Reviews
5.0
By Andrew
December 30, 2017
I bought this gun refurbished in gray laminate.22 cal. Its just perfect. I was originally wanting to but walnut but this one cost less so...yeah :) the fit and finish are supperb, the dimensions are perfect. The action, the reload lever is just is smooth as glass. Im very happy! Thanks Santa! P.S. I own two of these, one .22 laminate and one in .177 in synthetic. What you must know and something that no one ever mentions this is that synthetic stock has a much smaller thumb-hole opening and is right handed only . So, if you have bigger hands like me it wont be comfortable. It will take a while to get use to and shouldering this rifle is not as smooth as it takes longer to get comfortable with. The laminated or walnut stocks are much better ergonomically.
Pros
Perfect fit and finish. Absolutely beautiful design. The walnut and the laminated stock are very comfortable. This rifle is unbelievably accurate and the shot count in .22 is 140. Thats just insane, but hey this is what you get for nearly $2k. I love the carbon-fiber bottle.
Cons
For nearly a $2k gun, the magazine shouldnt be this awkward to load. Definitely not easy. The first pellet has to be loaded backwards and the following ones go in nose first. Additional magazines are crazy expensive.
5.0
By Kennith
USA
March 15, 2017
Like most FX air guns the thing is built very well, wood is just nice and everything fits well. The finish on all the metal is just great and the cocking system is just as smooth as glass.
Pros
accuracy, quality of materials and fit and finish.
Cons
price and the scope has to be mounted to high.
Q&A
Question?
Login to ask someone who bought this product.