The Laminate FX Boss is housed in one of the most incredible stocks available, and a stock worthy of such an incredible gun. The black pepper laminate stock is beautifully crafted and ambidextrous. If cared for this rifle will stand the test of time. The contrast in the grain between the dark and light is what gives the black pepper laminate it's name and also features highly detailed checkering on the grip and forend.
The FX Boss is revolutionary for FX as it is the first big bore caliber traditional air rifle that features a custom made .30 caliber Smooth Twist Barrel. A barrel so named as the majority of the barrel is actually smooth bore. So the pellet initially travels down the barrel without any friction to slow it's building velocity. Then at the end of the barrel as the pellet has obtained its maximum velocity, and externally introduced twist (so not a standard etched rifling) spins the pellet to stabilize its flight. The results are world class accuracy and the highest level of accuracy found on any rifle (let alone an air rifle).
The accuracy is also delivered by the internal regulator, which provides a uniform air flow through the valve regardless of how much air is or isn?t in the onboard air tank. Out of the box the Boss is tuned to achieve trajectories of up to 870 fps using standard pellets (we recommend JSBs for all FX air rifles). For hunting purposes that will result in around 82 ft/lbs of energy, and a good shooter will be able to group at a ? inch at 75 yards.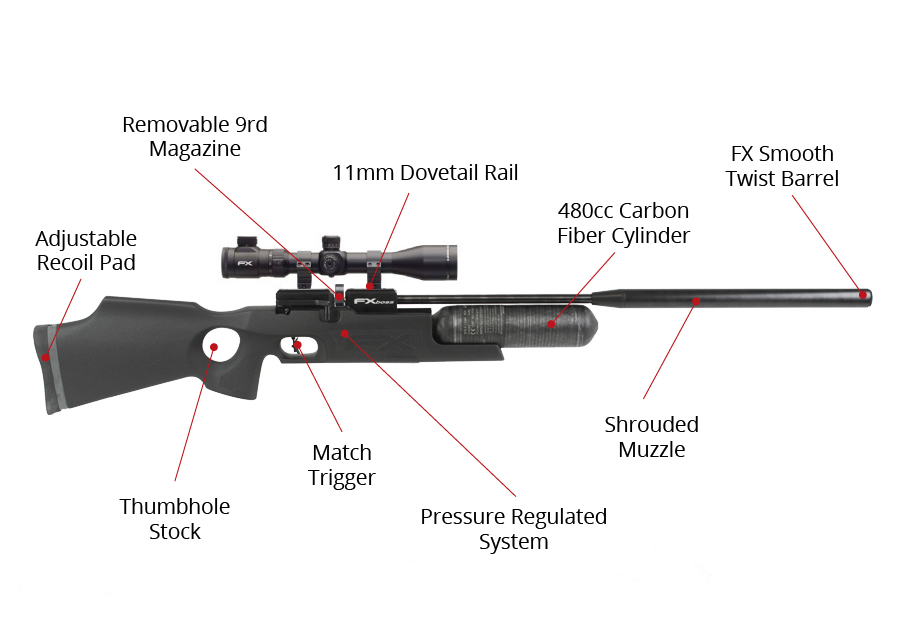 A fully adjustable match trigger which we are confident will be your new favorite trigger is standard on all Boss rifles (and similar to those found on high end field target and 10m rifles). The onboard air cylinder can be filled to a max 250 bar (3600 psi) and will result in approximately 40 full power shots. And since the Boss is regulated that means that there will be no difference in velocities between shot 1 and shot 40!
FX Boss Laminate Features
Black Pepper Laminate ambidextrous thumbhole stock
.30 caliber FX Smooth Twist Barrel
Internal pressure regulator
Sidelever cocking action
480cc carbon fiber air cylinder
Max fill pressure is 220 bar (3200 psi)
Achieve up to 82 ft/lbs of energy
Fully shrouded barrel
Adjustable recoil-pad (height)
Standard 11mm dovetail scope rail
Removable 9 shot rotary magazine
Fully adjustable match trigger
Male quick-disconnect Foster fitting for fast refills
Includes foam lined hard case
Includes foam lined hard case
Specs
Manufacturer

FX Airguns

Caliber

.302

Velocity

870 fps

Condition

New

Ammo Type

Pellets

Action

Sidelever

Barrel Style

Rifled

Fire Mode

Repeater

Gun Weight

7.50

Overall Length

47.04

Barrel Length

23.60

Loudness

1-Low

Magazine Capacity

9

Mechanism

Pre-charged pneumatic

Rail

11mm dovetail

Safety

Manual

Front Sights

none

Rear Sights

none

Shots per Fill

48

Trigger Adjustability

0

Trigger Action

0

Use

0

Warranty

1-year limited warranty
Reviews
Average Customer Review
5.0
5.0
1 Review
5.0
By Clayton
USA
April 1, 2017
This is a really great gun, but it should be for the price. Very well made, very accurate, a real pleasure to shoot. If you have a desire to indulge yourself this is the gun to buy.
Pros
See above.
Cons
Price.
Q&A
Question?
Login to ask someone who bought this product.