The FX Wildcat MKII by many is considered the finest bullpup designed to date. Such an incredible airgun should be housed in the highest quality stock to match the accuracy, power, and quality within the airgun. The black pepper laminate stock is really the premium stock for a premium gun. A piece of art in its own look touch and feel that perfectly matches the perfection found in pulling the trigger of the FX Wildcat MKII. The Wildcat MKII is the second generation of a bullpup rifle that itself is a completely new designed airgun from FX Airguns. Not wanting to simply reuse existing breech and other airgun designs, FX instead created the Wildcat from the ground up. The FX Wildcat MKII Laminate features an internal regulator that results in a steady and consistent flow of air for each and every shot, a newly designed 8 round open magazine which is easy to load, a finger print resistant coating on all the metal parts of the gun (specially developed by FX) and an incredible side lever cocking mechanism that is perfectly placed right above the trigger. We can't say enough how this placement combined with the buttery smooth cocking lends itself to hours of joyful shooting. Follow-up shots are easy and without the need of breaking your line of sight. It's just one masterful execution of design after another with the FX Wildcat. The FX Wildcat MKII Laminate is comfortable to shoot both right and left handed. The stock is extremely well balanced and very light even though it's housed in a laminate stock. Part of this is due to the excellent weight distribution that results in a rifle that is quick pointing. Depending on the caliber of gun you'll notice the difference in barrel length and size of air cylinder. The larger .25 caliber has a longer barrel so it can gain more power and speed. You should be able to reach nearly 47 ft/lbs of muzzle energy with premium hunting pellets. We recommend JSB pellets as the FX barrels are designed for these pellets. The FX Smooth Twist barrel Liner is legendary and the most accurate barrel design we've ever fired. It's a barrel that is truly innovative, redesigning how spin and velocity can be obtained for an airgun. The barrel is fully shrouded and moderated to reduce the sound (though additional moderator sections can be added to further suppress the gun even more). Simply stated, the FX Wildcat MKII Black Pepper Laminate is a gun that must be experienced to fully understand. It's straight forward enough that you don't need to worry about having to tinker to get the best out of it, priced well below the features and quality you will receive, but yet will deliver results that can only help to make you a better shooter. And with the deep contrast found in the grain of the black pepper laminate, you'll be the envy of others on the firing line.
FX Wildcat MKII Laminate Features
Black pepper laminate stock
Forward positioned sidelever cocking action
FX Smooth Twist Barrel
Easy-load 8 round magazine
Fully adjustable match trigger
Non-removable 230cc aluminum air cylinder (300cc in .25 cal)
Max fill pressure is 230 bar (3300 psi)
Aluminum cylinder and action features a finger print resistant tactical finish
Fully shrouded and moderated barrel with optional additional baffle extensions (sold separately)
Quick fill port with integrated dust cover (uses FX fill probe)
Specs
Manufacturer

FX Airguns

Caliber

.30

Velocity

850 fps

Condition

New

Ammo Type

Pellets

Action

Sidelever

Barrel Style

Rifled

Fire Mode

Repeater

Gun Weight

7.10

Loudness

2-Low-Medium

Magazine Capacity

7

Mechanism

Pre-charged pneumatic

Rail

11mm dovetail

Safety

Manual

Front Sights

none

Rear Sights

none

Shots per Fill

30

Trigger Adjustability

Two-stage adjustable

Trigger Action

0

Use

Small game hunting/target practice

Warranty

3-year limited warranty
Reviews
Average Customer Review
5.0
5.0
1 Review
5.0
By Steve
September 26, 2019
Purchased a .25 cal FX Wildcat and wow. It's a shame that so many air gunners will never get a chance to shoot such an amazingly awesome pcp air rifle. Smooth in every action. This pcp can and will out shoot it's shooter. I've shot 8 shot groups tighter than reviews of the Wildcat on YouTube. At 50 yards, I am blown away by its performance. A silent killer at 59 and 62 yards on two quails. The FX Wildcat is a 5 out of 5 star pcp.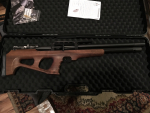 Pros
The Wildcat MKII out shoots the shooter. Very light and quiet with power to get the job done. Is not pellet fussy
Cons
Makes your other pcp air rifles collect dust.
Q&A
Question?
Login to ask someone who bought this product.
What do i need for a complete set up do If I get this gun ? Pellets etc Do I need an air compressor ?
asked Ezequiel from USA
You need an air source for 3000 PSI. Hand pump,air tank.or compressor.
Mark from USA