The new Dreamline Lite features a stock design that we haven't really seen from FX before. This new "tactical" design was developed with efficiency in mind. It comes with all the same features that can be found on the Dreamline lineup, a high capacity magazine, AMP regulator, Smooth Twist X barrel system, and a trigger that is arguably the best in the industry. The new externally adjustable AMP regulator can adjusted both up and down with air still in the cylinder. If you're looking for accuracy, efficiency, and a tactical look, then look no further than the FX Dreamline Lite!
FX Dreamline Lite w/DonnyFL Moderator Features:
Externally Adjustable AMP Regulator
STX Smooth Twist X Barrel System
Two Stage Adjustable Trigger
Fixed DonnyFL Moderator
Adjustable hammer weight and valve
Large Capacity Magazine
Skeleton Buttstock
Hogue AR Grip
Specs
Manufacturer

FX Airguns

Caliber

.22

Velocity

890 fps

Condition

New

Ammo Type

Pellets

Action

Sidelever

Barrel Style

Rifled

Fire Mode

Repeater

Gun Weight

5.80

Overall Length

43.25

Loudness

2-Low-Medium

Magazine Capacity

18

Mechanism

Pre-charged pneumatic

Rail

11mm dovetail

Safety

Manual

Front Sights

0

Rear Sights

0

Shots per Fill

60

Trigger Adjustability

Two-stage adjustable

Trigger Action

0

Use

Small game hunting/target practice

Warranty

3-year limited warranty
Reviews
Average Customer Review
4.3
4.5
3 Reviews
5.0
By Dave
USA
March 11, 2023
Mine is in .177. This is the ultimate backyard gun IMHO. Dime sized groups at 30 yds with JSB 10.3gr. Delivers 77 shots per fill before coming off the reg at 100 bar at target velocity tuning. About the quietest air rifle I've ever owned . Love this thing!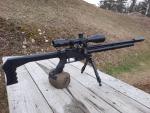 Pros
Balance, weight, features, performance, trigger, smoothness, style...
Cons
Pricey to upgrade /change out parts but the option is there.
4.0
By Chris
USA
January 9, 2022
Pros
The accuracy of this gun is amazing. I am shooting it out to 100 yards with less than 1" groups in 30 cal. It's smooth and quite.
Cons
Poor workmanship/ The O ring on the mag fell off the first time I used it and the pin that holds the cocking arm together fell out after the 3rd mag. I now have a nail acting as a roll pin in a $1200 gun. Sad.
4.0
By Sammy
USA
March 7, 2019
I'm very pleased with this airgun, kinda pricey but worth it, had many other air rifles but the build and quality is excellent only reason I gave four stars cause the crazy price
Q&A
Question?
Login to ask someone who bought this product.
Is it possible to shoot slugs with this gun and is there a difference in moderators to buy when shooting slugs?
asked Ryan from USA
will this shoot slugs and take slug liner
asked Joe from USA
There is no slug liner for the Dreamline. You can shoot slugs from the barrels. We do not know how well they will shoot.
Mark from USA
The fx manual says I should only use dry air and not oxygen or other gases to fill this airgun. how else would I fill this gun besides using oxygen?
asked Denny from USA
Dry air is composed of 80% Nitrogen and 20% oxygen. That is the air that we breathe. Pure oxygen can cause a violent explosion in the event of a spark or other ignition source.
Robert from USA
Does the gun come with a hard case? I'm trying to compare prices between 2 websites
asked Sam Ryssman
Am I going to need some type of adapter to fill this rifle with air? I'm talking a standard femail foster fitting on the tank/pump side.
asked Richard
I have a quick question regarding the fx dreamline lite low power setting. Hi Guys, what is the lowest velocity you can set this rifle to work at *consistently*. The use case here is shooting rats inside a small farm shed and not wanting to punch holes in the walls or roof. I have a 22lr shooting subsonic (CCI Quiet) at around 650fps and that is too much for this purpose. Im hoping a .22 pellet with less weight and hopefully at lower velocity would work and with FX accuracy too! :)
asked Gerard
Is it any good for hunting? If so what size game.
asked Michael
What scope rings are being used in the video?
asked Sheldon
My Questions: With the large capacity magazine I would expect that you would have to use high scope mounts. Would this put the scope too high to comfortably look through with the low cheek rest the flat buttstock provides? How quiet is the gun with the fixed moderator, backyard friendly? Robert Hulse, Cayman Islands
asked Robert Hulse
What size are air cylinders on each version of the FX Streamline ,relative to models configuration? Thanks Kevin Neel
asked Kevin from USA
What is the length of pull?
asked Ralph
Is this a semi-auto ?
asked David Vane