The FX Royale 500 is an exceptional sporter air rifle and the Royale series is the epitome of years of quality FX air rifles. FX airguns have spent countless hours perfecting and pushing the boundaries of what airguns can do. And while the FX Royale 500 features many high end cutting edge features, it is presented in a straight forward simple design that shooters will find familiar and comfortable. The FX Royale 500 is essentially the .25 caliber of the 400 series. 500 standing for the larger 500cc air cylinder. It also features a longer barrel than its smaller caliber counterpart in order to maximize performance and obtain power and velocity needed for this more hunting oriented caliber.
Like all air rifles made by FX around the Royale breech block, the FX Royale 500 includes an internal regulator and valve system that delivers consistency not found in lesser airguns. The side-lever cocking system is buttery smooth and provides easy follow-up shots without fear of the rotary mag jamming. The breech will stay cocked open upon emptying the 11 shot rotary mag so you won?t mistakenly fire without a pellet, not just wasting air, but more importantly possibly missing out on the perfect shot.
The muzzle of the barrel is shrouded and moderated to dampen the noise of the rifle. The barrel itself is an exceptional piece of craftsmanship featuring the patented FX Smooth Twist Barrel technology. Essentially a smooth bore barrel for the first 95% of the barrel, the pellet upon firing has less friction compared to a standard barrel's rifling, so that energy can build more efficiently and quickly. Then the final section of the barrel introduces an aggressive twist, rotating the pellet to stabilize its flight and provide an amazingly high degree of accuracy.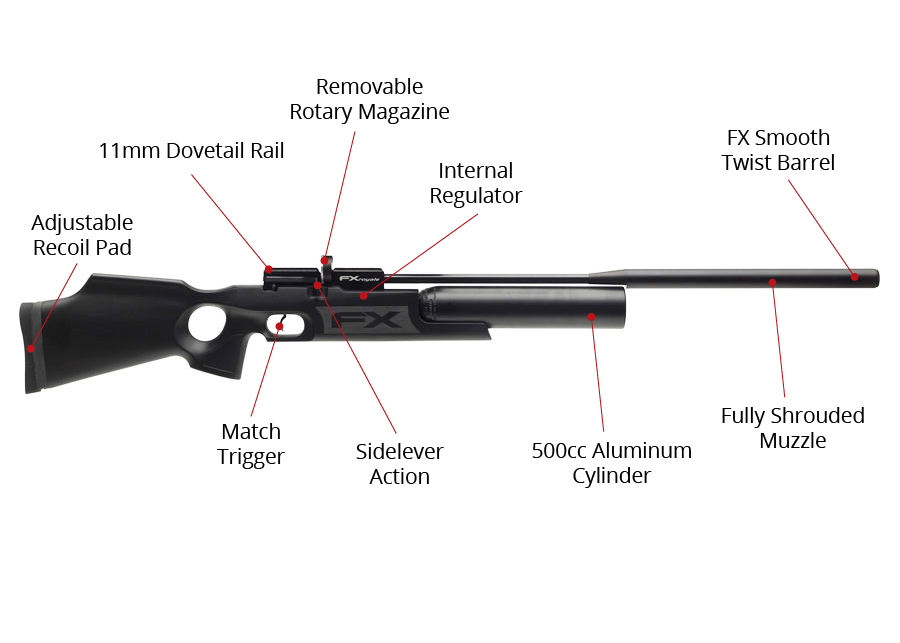 You can expect from your factory tuned FX Royale 500 to achieve up to 55 ft/lbs of power and velocities as high as 900 fps depending on the pellet you choose to fire. With a full 220 bar (3200 psi) fill you should expect approximately 60 full power regulated shots. The internal regulator will insure less variance between shots which allows for a high degree of confidence in shot placements even at exceptional distances not usually associated with airguns.
If you don't want full power the FX Royale 500 is easily adjusted to a lower power setting using the 2 stage power adjuster on the left side of the breech. This will reduce power and extend your shot count. The Royale 500 also features a fully adjustable two-stage match trigger that is one of the best we?ve fired on a PCP air rifle.
The stock on this Royale 500 is a soft touch coated synthetic all-weather stock. Note that the synthetic stock is right handed only. Left handed shooters will need to consider either the walnut or black pepper laminate stocks, both of which are ambidextrous.
A .30 caliber version of this gun is available. It's called the FX Boss.
FX Royale 500 Synthetic Features
Right-hand only synthetic soft-touch all weather thumbhole stock
.25 caliber FX Smooth Twist Barrel
Internal pressure regulator
2-stage power adjuster
Sidelever cocking action
Non-removable 500cc air cylinder*
Max fill pressure is 220 bar (3200 psi)
Achieve up to 45 ft/lbs of energy
Fully shrouded barrel
Adjustable recoil-pad (height)
Standard 11mm dovetail scope rail
Removable 11 shot rotary magazine
Fully adjustable match trigger
Male quick-disconnect Foster fitting for fast refills
Includes foam lined hard case
*Note ? 500cc aluminum air cylinder can be removed by loosening set screws on barrel and the 500cc tank can be replaced with the FX 480cc carbon fiber removable air cylinder (which would provide a higher fill pressure, allow for carrying additional spares, and lower the gun weight.)
Specs
Manufacturer

FX Airguns

Caliber

.25

Velocity

870 fps

Condition

New

Ammo Type

Pellets

Action

Sidelever

Barrel Style

Rifled

Fire Mode

Repeater

Gun Weight

7.05

Overall Length

47.04

Barrel Length

23.60

Loudness

1-Low

Magazine Capacity

11

Mechanism

Pre-charged pneumatic

Rail

11mm dovetail

Safety

Manual

Front Sights

none

Rear Sights

none

Shots per Fill

60

Trigger Adjustability

0

Trigger Action

0

Use

0

Warranty

1-year limited warranty
Reviews
Average Customer Review
0.0
0.0
0 Reviews
Q&A
Question?
Login to ask someone who bought this product.
How is the cylinder charged Do you finance?
asked William White
1. overall, is this worth the cost ? 2. what is the decibel level ? 3. what is the accuracy at 80 yrds?
asked k elia
are the new 500s regulated?
asked Alan from USA
is this FX 500 Regulated?
asked STEVEN GARCIA