The Gamo Arrow Multi-Shot PCP Air Rifle and Air Venturi G9 Pump Kit combines a sturdy and reliable hand pump with a compact and light airgun with convenient features into a package that is ready to shoot without needing extra equipment like a compressor or scope. Capable of velocities with alloy pellets up to 1200 FPS in .177 and 900 FPS in .22, this air rifle is well-suited for plinking, pest control, and small-game hunting.
The air rifle in this kit is powered by a 125cc air cylinder that fills easily with the included Air Venturi G9 Hand Pump and provides up to 60 shots on a single fill, and it includes a male Foster quick-disconnect fill port to make refilling simple, as well as an integrated manometer to monitor the air cylinder pressure. Each shot will leave the barrel at a noticeably quieter volume level because of the Whisper Fusion sound suppression system, Gamo's quietest noise suppression technology.
The Gamo Arrow PCP air rifle uses a magazine with 10X Quick-Shot technology that makes it easy to get a fast follow up shot, as well as to view the number of shots remaining with the numbered wheel on the magazine. This combines with the ambidextrous straight-pull bolt action to result in a smooth and efficient shooting experience.
The air rifle includes a fiber optic front sight and an adjustable fiber optic rear sight, meaning this combo can be shot with just what comes in the box once the appropriate pellets are loaded. Additional sighting options are provided by the optics rail with 11mm dovetail grooves. In addition, the all-weather synthetic stock is filled with automotive-grade glass for an overall weight of 5 pounds, and the overall length of 38.98 inches provides a reduced size compared to competing airguns.
Gamo Arrow PCP Rifle Hand Pump Combo, .177 cal
Precharged pneumatic
Includes Air Venturi G9 Hand Pump, 4500 PSI
Ambidextrous straight-pull bolt action
10X Quick-Shot magazine
Up to 60 shots per fill
125cc air cylinder
Automotive-grade glass-filled nylon all-weather stock
Textured grip and forearm
Two-stage independently-adjustable Custom Action Trigger
Max. velocity (alloy pellets): 1,200 FPS (.177), 900 FPS (.22)
Whisper Fusion sound suppression system
Manual safety
Fiber optic front sight, adjustable fiber optic rear sight
11mm dovetail optics rail
Raised cheekpiece
Ventilated rubber recoil pad
Male Foster quick-disconnect fill port
Integrated manometer
Length of pull: 14.57"
Barrel length: 20.08"
Overall length: 38.98"
Weight: 5 lbs.
3-year warranty
Specs
Manufacturer

Gamo

Caliber

.177

Velocity

1200 fps

Condition

New

Ammo Type

Pellets

Action

Bolt-action

Barrel Style

Rifled

Fire Mode

Repeater

Gun Weight

5.00

Overall Length

38.98

Barrel Length

20.08

Loudness

2-Low-Medium

Magazine Capacity

10

Mechanism

Pre-charged pneumatic

Rail

11mm dovetail

Safety

Manual

Front Sights

Fiber Optic

Rear Sights

Fiber Optic

Shots per Fill

60

Trigger Adjustability

Two-stage adjustable

Trigger Action

0

Use

Small game hunting/target practice

Warranty

3-year limited warranty
Reviews
Average Customer Review
4.7
4.5
3 Reviews
5.0
By Marshall
October 22, 2023
Verified Purchase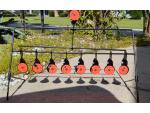 Pros
Shipping was fast free and the packaging was super good. No danger of damage. Finally got around to reading instructions and setting it up........and pumping it up. Did shoot it a few times just to make sure everything cycled ok. Then had to put it up until more time allowed for sighting in. After about a week, I was surprised at how well it held a charge.. First time with a PCP air gun and was amazed at how smooth it shot. Trigger was smooth. I put a few more pumps into it to bring the needle up into the green range a bit more. Sighted it in with a few shots at 50 ft. Took about 4-5 shots to center the group, but I am pleased at the consistency of grouping. Someone younger with better eyesight could do probably do better. I was shooting indoors from a rest. Below is a picture of target.
Cons
Would have been nice to have an extra mag.
4.0
By Michael
USA
October 4, 2023
Verified Purchase
Good entry level gun for someone looking to get into PCP. This was my first PCP, and not my last.
Pros
Good weight, nice feel, and super quiet. Having the iron sights is a plus, as many air rifles do not have that option. The rear bolt was a little getting used to, but after a couple of magazines you get used to it. Magazine never jammed, and it is easy to load. Trigger pull is excellent, and smooth, easy to stay on target while squeezing. It has a lot of power, and very accurate grouping at 25 yards.
Cons
The plastic dovetail scope mount, actually the whole plastic receiver seems to wigggle/move slightly which was throwing my scope off zero. Sighted in three different scopes before I realized what was making them lose their zero after sighting them in. This issue made me return the rifle.
5.0
By Greg
October 4, 2023
So today I shot this air rifle for thth e first time. The first time I ever shot a PcP gun. I usually shoot break barrels or under levers. I was very surprised When I squeeze the trigger for the 1st time and there was no kick. Lol. I find it hard to believe that something could be powerful without kick!. Lol. It took some getting use to. :) welcome to the world of PcP guns! You could get spoiled shooting something like this. This is probably the best combo deal (with the pump) That you can get to introduce yourself to this whole new world of PvP shooting. It uses the same magazines as my GAMO swarm 10x (1st gen.) Which is really good! You can even store your extra mags in the handle. This is the perfect entry level PCP As well as intermediate level. The tank is not too big And well within the scope of filling with an air pump. After shooting about 3 magazines,It just takes only a little bit of pumping to get it back up to par! Perfect! I'm happy, you will be to!
Pros
Light, reasonably priced, dependable,quite,powerful enough,accurate enough.ease of operation.
Cons
There should be 2 magazines That come with this rifle.
Q&A
Question?
Login to ask someone who bought this product.
On the title it says Gamo arrow pcp.. I dont see anything else said about arrows...?
asked Paul from USA
It is a pellet rifle. The name of the rifle is Arrow.
Adam from USA