Most pistols these days are powered by CO2, so it's a breath of fresh air to see a gun that requires nothing but you and a tin of pellets to let the fun begin! If you're planning to teach someone to shoot air pistols, this might be a good one since you can leave it cocked without worrying about weakening a coiled mainspring while you give them instruction. A fun plinker for casual backyard get togethers and competition among friends and family.
Gamo P900 IGT Features
Gas-piston
IGT (Inert Gas Technology)
Breakbarrel
Single-shot
Adjustable fiber optic rear sight
Ambidextrous
Smoother cocking/shooting
No spring torque/fatigue
Manual safety
Specs
Manufacturer

Gamo

Velocity

508 fps

Condition

New

Ammo Type

Pellets

Action

Break barrel

Barrel Style

Rifled

Fire Mode

Single-shot

Gun Weight

1.30

Overall Length

12.60

Barrel Length

6.25

Loudness

3-Medium

Mechanism

Gas-piston

Rail

No

Safety

Manual

Front Sights

Fiber Optic

Rear Sights

Adjustable for windage

Trigger Adjustability

Two-stage non-adjustable

Use

Plinking/Fun

Warranty

1-year limited warranty
Reviews
Average Customer Review
3.3
3.5
7 Reviews
3.0
By Richard B.
July 9, 2019
Trigger is very weird. Soft then need to pull to shoot so accuracy is off for anyone who wants to teach anything but the basics. However !!! If you want to teach someone to shoot at s can this is great!!! Just enough of a challenge at 30 feet. Not too heavy and inexpensive. Just like ribs and suace. Simple, comfortable and basic.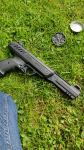 Pros
A five year can shoot it and hit the target
Cons
No vertical sight or trigger depression adjustment. About as accurate as a pollster over 30 feet.
4.0
By Charles
USA
January 28, 2017
I'd say this a decent choice for break barrel guns, but does leave power to be desired. It's not to hard to cock, and does have a rail, I have pics of it with and without a sight on it. I mounted my Gamo green dot sight and it looks pretty sweet with it. Not sure the power, box says 400 and agd says 508. Will not shoot bbs
Pros
Decent power,easyish to cock and can be signted. Also a good sized gun.
Cons
Power on box and site way off, light and plastic body and does not shoot bbs.
4.0
By David M.
August 14, 2016
My son and I have had many fun hours plinking and shooting at targets with this one.
Pros
Consistent power and trajectory. Relatively easy to cock. Likes many different types of pellets. Able to keep good grouping up to 25 ft.
Cons
Seems much weaker than specs suggest. No adjustment for sight elevation. Very difficult to get consistent groups at 30+ feet. Trigger is disappointing.
2.0
By Glenn
USA
July 30, 2015
Basically, a light plinker with poor rear sight adjustment. At the time I bought the Gamo P900, I bought the Ruger Mark I for $6 more, and the Benjamin Trail NP for $10 more; they are much better buys; much more power, more accuracy, better sights. My 9 year old grandson has a tough time cocking the Gamo, but with the cocking extensions, he handles the other more powerful pistols more easily than the Gamo.
Pros
Looks cool to the 9 year old; Terminator-like. Feels good in the hand. IGT gas piston is nice.
Cons
Lower-end power. Too light, too much plastic; poor sights; tough to cock for the little guy.
4.0
By walter
USA
May 7, 2015
High tech, pretty, and feels good; but the sights and trigger leave a little to be desired, imho. Could be my old eyes, but those flourescent dots are better at point-and-shoot than precision, or so it seems to me. I'd recommend this for those who like 'techies' in our sport.
Pros
Cocking is relatively easy Grip is ambidextrous, good news for southpaws, and fit smaller hands. such as mine Has a natural pointing angle to the grip, sorta like the Ruger Mk models, Luger, etc.
Cons
Trigger is heavy and combined with the sighting system, so far have resulted in negative accuracy results - to be fair, part of it could be my old eyes, but....
4.0
By Brad W.
January 5, 2015
Didn"t want to deal with co2. Decided to try this as I am very happy with my Gamo Bull Whisper. Love this little pinker.
Pros
Nice shooting, accurate at 25 yards not feet. Im shooting nice groups at 25 yards. Decent power. No co2, no pumping. Still shoots easily through cardboard boxes at 35 yards.
Cons
Don't care for rear sight but can live with it. Accuracy dies out at 35 yards I'm all over the place.
2.0
By Rich
USA
September 29, 2014
Not bad to shoot, an OK item for a beginer.
Pros
Inexpensive and easy to shoot.
Cons
tough trigger and the rear sight is poor.
Q&A
Question?
Login to ask someone who bought this product.
Is it possible to mount a laser sight to this pistol? ( Gamo p-900 IGT air pistol )
asked edwin c. from USA