The Gamo Raptor Whisper air rifle is full of features that add up to an awesome hunting, target shooting and plinking gun. The Whisper Technology makes this gun really quiet, and you'll appreciate the reduced recoil thanks to the buttpad equipped with the Shock Wave Absorber (SWA). The single shot Raptor Whisper delivers all-weather durability and is a great choice for small game hunting, target shooting and dispatching pests. The Raptor Whisper incorporates Inert Gas Technology (IGT) into the powerplant by using an inert gas cylinder. You get smoother cocking and shooting, no spring torque, no spring fatigue, no issues shooting in cold weather, and a much longer life than a traditional spring.
Gamo Raptor Whisper IGT SAT Air Rifle Features
IGT gas piston (IGT=Inert Gas Technology)
Breakbarrel
Single-shot
11mm optics dovetail
No open sights
Whisper noise dampener reduces noise by 52%
Rifled steel barrel with fluted polymer jacket
All-weather synthetic stock with black rubber inserts
Dual raised cheekpieces (ambidextrous)
Textured pistol grip and forearm
Shock Wave Absorber (SWA) recoil pad absorbs up to 74% more recoil
Manual safety
2-stage adjustable Smooth Action Trigger (SAT)
Shock Wave Absorber (SWA) recoil pad absorbs up to 74% more recoil
Includes 4x32 scope & mount
Benefits of the IGT over a metal mainspring
Smoother cocking
Smoother shooting
No spring torque
No spring fatigue, even if you leave it cocked for hours
Functions perfectly in cold weather
Lasts longer than a metal spring
Specs
Manufacturer

Gamo

Caliber

.22

Velocity

975 fps

Condition

New

Ammo Type

Pellets

Action

Break barrel

Barrel Style

Rifled

Fire Mode

Single-shot

Gun Weight

5.64

Overall Length

44.50

Barrel Length

19.10

Loudness

3-Medium

Magazine Capacity

1

Mechanism

Gas-piston

Rail

Yes

Safety

Manual

Front Sights

none

Rear Sights

none

Shots per Fill

0

Trigger Adjustability

0

Trigger Action

0

Use

Small game hunting/plinking

Warranty

1-year limited warranty
Reviews
Average Customer Review
3.9
4.0
10 Reviews
The scope came loose after 100 pellets and the parallax was all messed up. However, found you could adjust the eye piece. So-to solve the double bullseyes/parallax issue- tighten the "ring" back towards you while holding the eye piece in place. Once I did that, having retightened all of the scope rings/screws, the scope was super accurate again.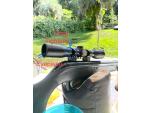 Pros
Accurate, tried different pellets and found what it liked = 1" groups. It is quiet, sounds like a nail gun using a 3 pack of Winchester pellets. Comfortable, easy to use and super fun.
Cons
Difficult initially to resight in scope to 25' at first use because the 3 pack of pellets all shot differently.
5.0
By Carl
USA
March 11, 2021
Recoil is felt, but with the gas piston, kept under control. Accuracy, well, its fantastic with the right pellets. Buy it for the rifle, give away the scope. This is a very affordable, supremely comfortable rifle that shoulders better than any other rifle in my current collection. Balance and feel on the hands, absolutely superb. Matched with very low weight, and checklist of important features, it can't be beat. Don't be swayed by negative reviews, just be sure to get a decent scope, find good pellets for it, and thank me later.
Pros
Gamo RAPTOR IGT SAT in .22, is probably the best break barrel rifle for the price if quietness, power, shoulderability (ergo's and comfort), and accuracy are appealing to you. Never take the scope out of the box. Buy a decent scope because this rifle is worth it. A nice 2-7X Hawke perhaps, something light and small to match the rifle. I shoot this rifle indoors into a trap in my apartment, you can barely hear it outside my front door shooting in my living room. Make sure you choose ammo that stays subsonic, that is the key!
Cons
For the price, nada. The next generation should have iron sights I suppose, that would have been nice.
3.0
By Canyon
February 26, 2021
Make the barrel shorter put a better scope on it and the little red thing that's near the shock absorbers are make it stay on
Pros
It's somewhat quite and looks cool but that's it
Cons
Way to long junk scope and for the length it's heavy it can't even hit a can at 20 feet and you have to have something to set it on I want to send it back but it's to late
4.0
By michael
November 27, 2020
These are very accurate and powerful but you need to get on a forum and learn about them. They make them in .25 too. Good luck and be safe !!!
Pros
This gun is basically a Crosman Vantage NP in any caliber...Mine had wide groups at 20 yards 6" using Crosman Premier HP pellets, now I produce 3/4" groups using H&N Domed Trophy Match .22 caliber...I have experimented with over 9 types and brands of pellets...I also lapped the barrel using compound...The barrel bore on these are usually filthy with gunk...Run a patch through with a little solvent and see if so, be careful with the O-ring ,I cover it with masking tape...I use a bore snake and brush too,be careful not to mess anything up. Do it untitil patches are clean...You have to lapp it 100 times first with Brownell's Lapping Compound.
Cons
Should be drilled and tapped for Weaver base and skip the cheap scope. The silencer is ridiculous get rid of that too. I just have the barrel on mine...with a decent scope. Should have sling swivel studs.
As others have already stated, the scope is trash. That being said, any good scope won't help with the accuracy. It doesn't exist, just like Gamo customer service. You won't find any negative customer reviews on Gamo's web site either. They won't publish them. Buy anything but a Gamo. You'll be glad you did.
Cons
not quiet, not accurate.
2.0
By Paul
December 17, 2017
This is the third spring piston airgun I have owned, and the conclusion is that these guns are not designed for scope mounting. The impact recoil of the spring hitting the end of the cylinder is too much for the scope mounts to handle. I have spent literally hundreds of dollars on mounts and rings trying to solve this problem. I bought class five stainless set screws only to have the scope walk and bend them in half. I have tripled up the mount rings, I have tried 4 screw base mounts, in the end they all walk. I went as far as to have the scope mounts welded to the gun and this cause the scope to actually bend the mounting rings backwards. I finally mounted open sights to the gun and problem solved. I was way more acculturate with my Crosman 760 as a kid. Don't buy any of these rifles in you are wanting to mount a scope. Go with pump or CO2.
Pros
Price, decent power
Cons
Not that quiet nor accurate. Cannot keep scope from walking. Too much recoil
5.0
By Willie
November 15, 2017
When I first got this rifle I couldn't get a solid group with scope that came with it. After slapping on another scope it worked alright and the new scope didn't stay on very long after about 10 shots it would drift. Put the stock scope back on it and tightened it down as hard as I could to find out the top rings were loose to begin with. Now I'm hitting groups at 25 yards within a inch spread. Also spend a little extra on pellets the cheap daisy pellets aren't worth it. They are loose in the chamber and just generally are not worth it. I use gamo red fire and I paid 10 bucks for 125 pack. Now I'm hitting headshots on every raccoon and beaver I come across with a clean kill shot. BUY THIS RIFLE IF YOU HAVEN'T YET!
Pros
Comes with accurate scope. Very quite, I can shoot in my backyard without disturbing nieghbors.
Cons
It's not really a con but you have to be careful with this gun. It'll shoot straight through your wood fence. I have a field behind my house so I don't mind putting up paper on my fence to sight it in. Little rubber things in the stock could possibly fall out. Mine haven't but I noticed they're a little loose. It's nothing if you lose one.
5.0
By James J.
July 18, 2017
This gun is capable of everything that I am but the scope is junk. Review after review will tell you the same thing. Do not think that you will be immune to the junk scope because it is junk. After 100 Rds. the scope will no longer hold zero. After 5 or 6 super impressive shots you are suddenly 2 inches off target. Why 5 stars then for the gun? Even with the cost of a new scope figured in this gun is a very impressive shooter for the price. At 15 Yds. I am able to shoot the tacks off that hold my target on and the strings that hold up the hanging targets.(I get bored punching paper) I have this chambered in .22 and I have put on a UTG hunter 3X 9 scope. I am shooting 2" groups at 60 Yds. and don't have the gun fully broken in yet. I have about three hundred rounds through it and could not be more satisfied with it's performance.
Pros
Highly accurate and fairly quiet. Easy to pump and comortable to shoot
Cons
Scope is worthless
4.0
By Luis
September 21, 2016
So far I'm happy with my rifle. It's quiet to shoot which is great since I have neighbors on both sides I won't disturb with my backyard plinking. I previously bought a Kodiak dual caliber from my local Walmart but I took it back because it was just too loud. The noise suppression of this Gamo is nothing short of amazing! Using Crossman lead 14.3 grain pellets I got a three shot average of 747 fps using my F1 chrony. Good enough for shooting cans and paper targets since I don't hunt with it. The scope was on target when I put it on but the zero didn't last long. After a few shots I had to re zero it which was disappointing. I plant to upgrade the scope later but the scope it came with should stay true since the recoil is not that strong.
Pros
Quiet, powerful, great price, accurate.
Cons
Scope zeroing did not last long.
5.0
By Anthony
USA
May 10, 2016
I have the .22 version of this Gamo. I've shot about 100 pellets with it. It seems very accurate out of the box. It has good balance and feel in my hands. I was surprised at the quality of the scope, which is very nice. The scope optics are clear, and it's easy to adjust, keeping in mind it is a bundled scope and not of the quality of those costing a lot more. Cocking has got to be in the 30-35 pounds range, and it is very firm immediately after taping the barrel all the way until full stroke. I hope it lightens after several hundred shots. The one thing that bothers me a bit is that when approaching full stroke in cocking, the mechanism rubs on the fore stock. I'm not willing to trim it yet because if I have to return the gun for other reasons (very doubtful), it will look like I altered it in some way. Right now, I can live with it. It has a great trigger, also nice out of the box. It's very powerful, and has a kick to it. All in all, a very nice rifle.
Pros
Good looking gun, powerful, good scope, nice trigger, about 7 pounds +, quality rifle overall, good price.
Cons
Mechanism rubs on stock at full stroke; very firm cocking, probably 30 pounds or so.
Q&A
Question?
Login to ask someone who bought this product.
I bought the 22 cal. Gamo Whisper. The scope cannot be sited in. No matter how much adjusting I do. It shoots 16 inches left of target. The rifle is useless without the scope , since it had no front ot rear sites. So do I need to send the whole rifle back for a refund. Or just the scope for a trade for another scope. If I send the rifle back for a refund. I will buy a different brand air rifle. Can you help with a new scope?
asked Dennis from USA
Anyway to use this rifle without a scope?
asked John from USA
How many decibels with lead pellets? What weight pellets and location in relation to the gun when it was measured. Sound Meter app shows the max db. I am looking for shooting iguanas in the backyard and don't want to bother the neighbors.
asked Florin from USA
What is your thoughts on the " Adjustable 2 Stage Trigger?" Has anyone tested the weights on different settings of the 2 stage trigger?
asked Paul
What is the farthest kill yardage with this rifle in .177 caliber
asked Matthew Carter