The Barrage semi-auto PCP air rifle from Hatsan is ready to throw lead down range just as fast as you can pull the trigger. This awesome rifle, along with its bullpup brother the Bullmaster, are some of the first truly accessible semi-auto PCP air rifles on the market. Sure, they have been done before, but what sets the Hatsan rifles apart is A) the price point and B) the availability. Hatsan have really listened to their customers to bring semi-auto PCP's into the scope of mainstream airgunning. The Hatsan Barrage air rifle features a large 500cc air reservoir to keep you shooting longer and spend less time filling your rifle. Its semi-auto action uses rotary magazines available in 14 shot capacity in .177 and 12 shot capacity in .22. Each rifle come with 3 magazines and 2 on board storage slots so you can easily carry extra mags with you into the field.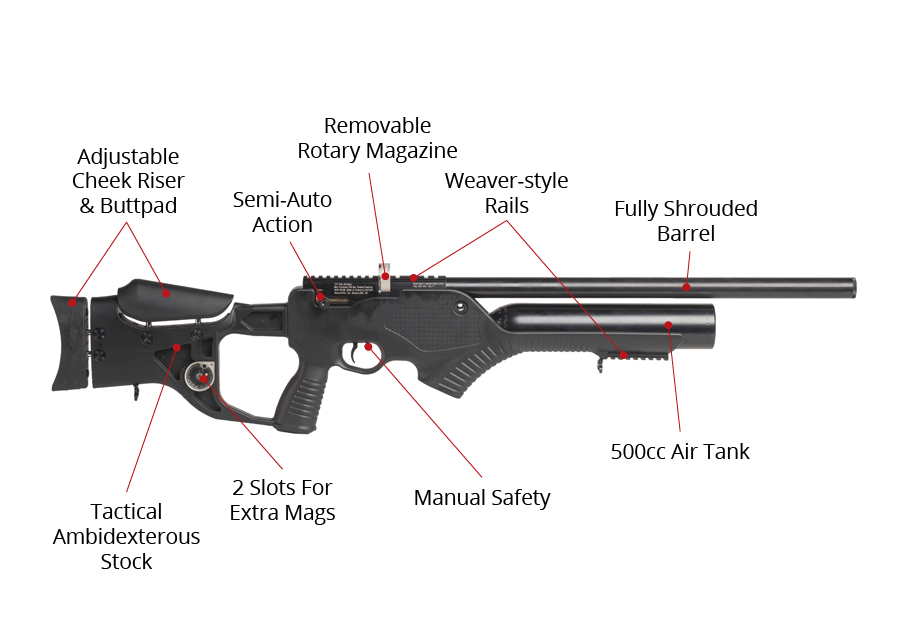 The rifle's stock is made of high impact polymer that is both rugged and weatherproof and features a non slip texture that makes this rifle great to hold in the hand. All metal surfaces are finished in black and add to the futuristic looks of the rifle. Wielding the Barrage is like handling no other rifle, between its fast firing action and sheer size you know this thing means business. At the core of the Barrage is Hatsans gas operated semi-auto firing system. Unlike mechanical or electronic semi-auto systems the Hatsan uses gasses recycled from the firing process to cycle the action. This results in reliable semi-auto fire with a smooth and crisp trigger pull and extremely fast follow up shots. Get ready to go through pellets like they are going out of style with the Hatsan Barrage!
Hatsan Bullmaster Features:
Semi-auto action pre-charged pneumatic (PCP) air rifle
Available in .177 (4.5 mm), .22 (5.5 mm) caliber
Detachable 14-shot magazine in .177 (4.5mm) and 12-shot magazine in .22 (5.5mm)
Fully shrouded, precision rifled and choked barrel for accuracy
500cc volume air bottle mounted in the forearm
Includes 3 magazines
Includes quick-fill nozzle
Tactical style ambidextrous stock
2 spare magazine carrying slots in the stock
Accessory Weaver-style rail beneath the forearm
Ventilated rubber butt pad
Built-in pressure gauge to monitor the cylinder pressure
Weaver-style rail for both 11 mm and 22 mm scope mounts
Overall blued finish, black anodized receiver
Patented anti-knock system prevents discharge when rifle is knocked or bounced
Manual safety
Black metal trigger
Fitted sling swivels
Specs
Manufacturer

Hatsan

Caliber

.22

Velocity

1000 fps

Condition

New

Ammo Type

Pellets

Action

Semiautomatic

Barrel Style

Rifled

Fire Mode

Repeater

Gun Weight

10.10

Overall Length

40.90

Barrel Length

19.70

Loudness

3-Medium

Magazine Capacity

12

Mechanism

Pre-charged pneumatic

Rail

Weaver & 11mm dovetails

Safety

Manual

Front Sights

Fiber Optic

Rear Sights

Fiber Optic

Shots per Fill

50

Trigger Adjustability

0

Trigger Action

0

Use

Small game hunting/target practice

Warranty

1-year limited warranty
Reviews
Average Customer Review
3.0
3.0
5 Reviews
3.0
By Carlos
November 24, 2021
Pros
I bought a nice Hatsan Flush pup Shoot one evening, next day could not add any air, called and email, Nothing! Customer service = 0 (Zero)
Cons
Read : "how to improve CS "
1.0
By David
January 16, 2021
Buyer Beware
Pros
Looks good
Cons
Terrible customer service and terrible product. Purchased a Barrage .25 caliber air rifle from Hatsan. The air cylinder wouldn't hold pressure despite changing o rings, etc. Contacted Hatsan, and couldn't have been more disappointed with their customer service. They didn't seem to care about helping me solve the issue. The bolt is jammed and I have requested my money back. I have not heard a word. Would never buy another air rifle from Hatsan, ever.
5.0
By Kyle
USA
August 19, 2017
This gun will send pellets down range rapidly. I did misfire a few times—the magazines were stiff from being new and did not rotate a new pellet into place, since break-in there has been no failures. The trigger is stiff and nonadjustable but the gun is easy to keep on target if you fire at a reasonable rate. I have only shot this gun at a 25 yard range and it is Just as accurate at this distance as any other PCP rifle I own. I can put the pellet in the same place over and over. It does seem to be a bit louder that the other Hatsans with shrouded barrels—not so much it cannot be used in the back yard.
Pros
Semi automatic fire that works well--just something not seen often with air guns. Accurate
Cons
Heavy rifle, Heavy trigger--do not buy it for the younger people in your family.
3.0
By Dave
USA
March 18, 2017
I purchased the 22 cal from this site. The barrage arrived fairly quickly. I pumped it up using my omega supercharger. Loaded a magazine with 18 gr exact jumbo heavy pellets. First time firing, I got pellets jammed in the barrel. I mean REALLY jammed. Sent the rifle back to airgun depot. No questions asked (thank you). Second barrage 22 arrived. I noticed the bolt action seemed a little "stiff" kind of metallic grinding. Got out my aerosol silicon spay. Small amount of lube seemed to help. I worked the bolt manually for a while until the bolt seemed to move a bit smoother. Now, on to the magazines. With some trepidation I might add, I examined each magazine. As you might guess I was worried about what had happened before. Out with the silicone lube. Each magazine received a little squirt of silicone, and i worked them around a little just to make sure they were not overly "stiff". Loaded again the 18gr jumbo heavy's. The magazines and the gun WORKED!! Huzzah!! As a side observation after about 10 magazine loads through the gun. I found that inserting the magazine into the breach area works best to just insert the magazine and do not attempt to make it "non-moving" Dont force it down to a flush position. Why that works better for me is an unknown. As of this writing my big decision concerns what to install as an optic. Stay tuned dear readers for more on the adventure of an intrepid Barrage owner. (just kidding)
3.0
By Christopher
USA
February 6, 2017
Repeater action works flawlessly with true high speed semi-automatic output. Fun to shoot. Somewhat cumbersome loading of magazine (skirt first). Good options for adjusting cheek rest and butt stock. Trigger pull pressure very stiff with no adjustment options. Quality of gun not what is typically expected from Hatsan; the front sight-assembly fits tight between the barrel and the tank exerting pressure on the barrel necessitating re-zeroing of scope once attached, lower plastic cover shows 5-6mm gap between it and tank with flexing when bipod attached. Very small hard to read (depending on lighting) pressure gauge concealed in handgrip. Compared to my Benjamin Armada .22 the Barrage is far less accurate in delivering pellets, at least with the 2 different pellets I have used so far. There might be an ideal pellet though. My experience is that every 3-4 shots there will be a flyer out of the grouping and this is with slow repeating action. 36-40 shots per fill.
Pros
Great fun to shoot. Flawless, fast repeater action. Large tank. Sturdy.
Cons
Precision. Trigger. Quality of gun not what expected from Hatsan and relative to price. Rifle Case not molded
Q&A
Question?
Login to ask someone who bought this product.
Is the air tank fixed to the gun or can it be removed to make it easier to fill it?
asked Joel from USA
Can this air rifle come with out the rifling and just smooth, laws in Trinidad and Tobago prohibits the air rifle have them.
asked Dale Springer
is this available in .25 caliber or larger.
asked mark s.
Is the tested velocity with lead or alloy pellets?
asked Dennis
Had an FX Revolution and it became very unreliable as it aged. What has Hasan done to ensure that the semi-auto mechanism works after extended use?
asked Gary from USA