The Hatsan BullBoss QE sets the new standard as to what to expect out of a bullpup air rifle and the price you should have to pay for premium features. Though short and compact, in reality the BullBoss hides deceptively well a 23" long Quiet Energy suppressed German steel barrel that delivers velocities as high as 1170 fps using lead pellets! (1170 fps - .177 cal / 1070 fps - .22 cal / 970 fps - .25 cal)- All with the standard Hatsan features that provide an incredible value at the price point
The Hatsan BullBoss bullpup PCP includes the Quiet Energy suppressed barrel which has been tested by us and shown to severely reduce the report of the gun. It's quiet enough to fire without disturbing your neighbors if you'd like to practice in the backyard. The BullBoss includes Quattro Trigger that is a two stage fully adjustable match trigger. You'll love the weight displacement of the bullpup design that really distributes the 8.6 lbs of the gun well to make this a joy to shoot and creates a situation where follow-up shots are incredibly easy as you can keep the gun shouldered while operating the smooth side lever of the BullBoss. A lot to love about this new bullpup from Hatsan USA.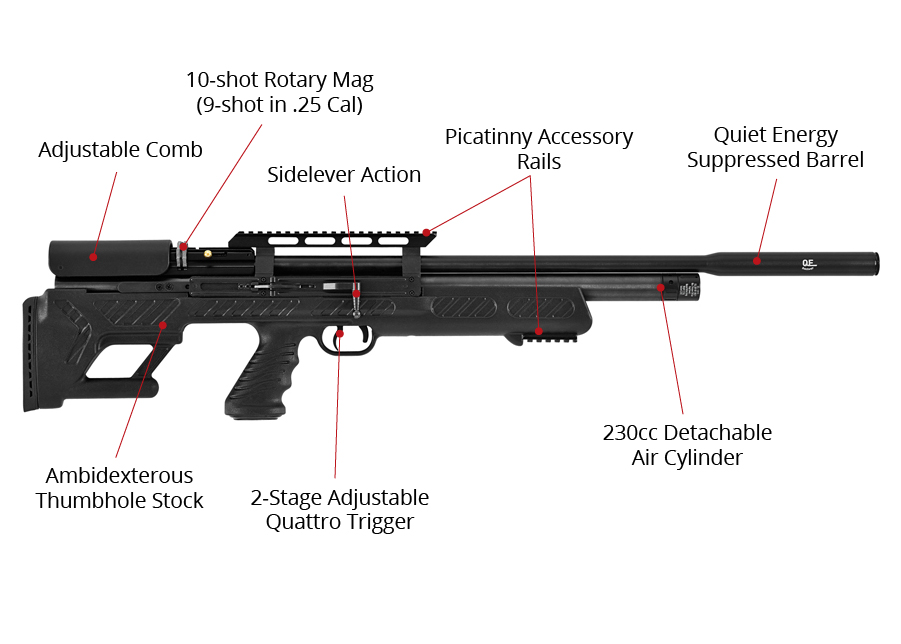 Hatsan BullBoss PCP Air Rifle Features
Side-Lever Cocking Action
Ambidextrous bullpup thumbhole stock design with adjustable comb
Detachable 230 cc air cylinder with integrated pressure gauge (extra cylinders available)
Rotary magazine: .177 10-rd, .22 10-rd, .25 9-rd
Anti double-feed
Anti-Knock System prevents wasted gas
Fully adjustable 2-stage Quattro Trigger System
Picatinny accessory rail
Includes 2 magazines and Hatsan Sling
Specs
Manufacturer

Hatsan

Caliber

.177

Velocity

1170 fps

Condition

New

Ammo Type

Pellets

Action

Sidelever

Barrel Style

Rifled

Fire Mode

Repeater

Gun Weight

8.60

Overall Length

36.80

Barrel Length

23.00

Loudness

4-Medium-High

Magazine Capacity

10

Mechanism

Pre-charged pneumatic

Rail

Weaver/Picatinny

Safety

Automatic

Front Sights

none

Rear Sights

none

Shots per Fill

40

Trigger Adjustability

Two-stage adjustable

Trigger Action

0

Use

Small game hunting/target practice

Warranty

1-year limited warranty
Reviews
Average Customer Review
4.6
4.5
58 Reviews
4.0
By Steven
USA
June 12, 2020
Verified Purchase
Get plenty of pellets, because the gun is really a blast to shoot.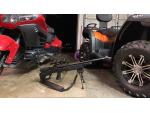 Pros
Great gun to learn the ins & out of air gunning, fun to shoot, accurate, and easy to work on. Really good knockdown power, however it seems as if I am getting Flashpup performance as far as the specs of the gun in 25 cal shooting 850 which is a 150 below advertised FPS. I'm happy with the gun, just wish I could see higher FPS when adjusting the Hammer Spring, I see the loss in power but not the increase.
Cons
Only have seen 850 FPSwhich is under the advertised 1000fps I was using the Baracuda Hunter 27.47gr. Had to shim my scope, because it was shooting low at the max setting.
5.0
By Robert
USA
January 24, 2020
Verified Purchase
Does everything I require from .25 without busting my budget.
Pros
One of the best overall values out there. for all the right reasons.
Cons
No issues so far. 2500 shots approx.
5.0
By Dan
USA
November 25, 2019
Verified Purchase
This was my first airgun I have ever bought. It was not a disappointment, I would highly recommend this to anyone who is just getting into airguns. It is a lot quieter then I expected it to be .
5.0
By Bret
USA
July 8, 2019
Verified Purchase
I have to be honest the first one I got had an issue with the lever to advance the magazine. Air gun depot took care of the return quick! Thank you! Now for the review of this one. At 25 yards (The range I normally see our local pest climbing about.) I can stack pellets on top of each other. Trigger is really nice, with a easy crisp pull. The 25 cal hits like Thor's hammer dropping the little beast quickly and humanly. Best of all this thing is really quiet! Don't want to bother the Nabor's:)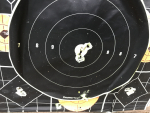 Pros
Very quiet Nice trigger Easy to use action Very accurate Check pic I twitch on the low one. That is a 3/4? bull. 10 shots Easy to carry and aim Hits HARD!
Cons
Have not seen any issues with this at all. Like I said I did have a minor issue with the first one I got but A.D. took care of it fast.
5.0
By Sam
USA
May 18, 2019
Verified Purchase
I decided I wanted to get away from spending tons of money on ammunition that was literally burning money. Having been an avid center and rim fire rifle enthusiast, I was hesitant about getting an air rifle. I really should have made this change a long time ago. This rifle made the switch really easy. The simplicity, accuracy, and sound suppression is phenomenal. A failure on my part, I should have purchased a better scope because, well, honestly, I didn't think I would be hitting 3" targets at over 100 yards in a 1-2" group. I'm not 100% sure what fps I'm shooting at, at the moment, but I can get 20-50 shots depending on when I refill the cylinder. I purchased the .22 cal mostly for the familiarity with that caliber, but I can see now why the .25 is so popular. The Hatsan Bullboss is definitely a cheaper starting alternative to higher priced rifles for someone getting started into PCP rifles.
Pros
Quiet Accurate Simple
Cons
Bipod mount seems a little flimsy tends to double feed 1st mag round
3.0
By Jared
USA
November 19, 2018
Verified Purchase
I wasn't really sure what to expect when I was ordering my first PCP air rifle but I knew it was out of the Hatsan BullBoss and the Kral Puncher Breaker silent. Ultimately what helped me to make my decision was finding out the stock of the Kral was a cheap hard plastic (which may have actually been better now that I think about it). I'm honestly wondering if I made the right choice now because there are definitely some issues with my Hatsan such as the screws that were used to secure the butt pad were way too long and broke through the other side (you can't see this unless you take the stock off), the cheek comb being so high that even with high mount scope rings you have to hold your head at an awkward angle, the irritating automatic safety and the stock being so flimsy and flexible that when shooting from a bipod the whole rifle rocks and twist. I haven't had a chance do any accuracy testing as I've mainly just been trying to get a good shot string and adjusting the hammer tension for the Hatsan regulator I installed but I verall it's a good first PCP and a okay first bullpup. Oh and the air cylinder is not securely held in place so it knocks and rattles against the barrel which makes the whole gun sound incredibly cheap.
Pros
Reasonable Price Great Power Output Convenient Removable Air Cylinder
Cons
Automatic Safety Check Comb Flimsy Stock Heavy No Case Fit & Finish
5.0
By Eric
USA
November 18, 2018
Verified Purchase
Where to start? Well, I went from the Nova Freedom .22 to that gun and what a change. Don't get me wrong the nova is a good gun for the price and the pump as you go is awesome. But, the Bullboss is something else. Right of the box I installed a Hawke 4-12x40, sighted the scope and filled the tank. Started shooting at 35 yards without bags and was putting pellets in a quater size hole with JSB 25.39 gr. I discovered that the best grouping and consistency was around 175 to 150 psi with a dime size group still without bag. I think this airgun has a big potential. After I get my chrono and play with the power adjustment (Hamer spring) I might be looking at the HUMA regulator to get that power curb flatter. I have made 75 and 100 yards shots and was able to keep the groups bellow 2". I really want to see what will happen with bags to stabilize that baby (not that I am shaky but...) The trigger needed a bit of adjustment to fit my test. For me, the adjustment was a bit finnicky on the second stage. I reduced the first stage weigh to really light and the second just a bit. Not having a trigger scale was more about how it feels than a set weigh. As I am mainly going to use the rifle for hunting, I didn't want an "air trigger". I have made an adjustable up and down but pad with my 3d printer and I love it. What else to say about that gun? I think I just love it. I was looking at a Wildcat MKII compact and I do not have any regrets. Now I can buy a second one for my son and still have some money ;) Stock mod details on AGN "bullboss stock mod"
Pros
Consistent Accurate Bullpop with forward side lever 2 pellet clips Plenty of power for hunting Changeable air tanks for extra air while hunting Price
Cons
Can be on the heavy side, but the weigh is toward your shoulder and doesn't feel heavy when shouldered.
5.0
By Phillip
USA
October 15, 2018
Well I am very impressed with my new bullboss 25cal, once I got my scope sited in using 25.39gr jsb , it is a tack driver started at 30 yards and went to 50 yards, dime groups 100 yards quarter size groups, shooting great right out of the box no problems at all , can't wait to go rabbit hunting, South texas
Pros
All I can say is she is very very accurate 25cal , I am impressed and satisfied with my purchase with Airgun Depot , and it can be ajusted for more fps. For the price outstanding , very well built pcp.its a Hard hitter
Cons
Well the only thing I could find , I wish it had ajustible butt pad to ajust up down xtend back .and needs a depinger
5.0
By Phillip
USA
October 3, 2018
I am very impressed with the performance and reliability and accuracy of 25cal bullboss, and let me tell you it is a tack driver once I had my scope sided in , 50yards dime groups 100 yards quarter size groups, I am a very happy customer, I actually wanted a FX sreamline 25cal senthetic combo but couldn't afford it I wish payments could be made on high end pcps, my second option was the bullboss25cal am I am very satisfied and on sale 499 couldnt beet that awsome Hatsan bull
Pros
Can't wait to take it rabbit hunting and squarel hunting , it is a great pcp all around for pest control and hunting or just poping targets at 100 yards very well built, and quick to shoulder to get on target quick, wait is tords the back shoulder area and that meets my expectations, Thank You ,AIRGUNDEPOT
Cons
I wish the rubber butt could extend out for adjustment
5.0
By Ray
September 24, 2018
I got this Bullboss 0.22 from airgun depot a few months ago. I was able to shot at 25 yards, every time I can hit half an inch groups. With JSB 18.13 grains I get up to 989 fps. JSB 25.39 grains gives up to 865 fps that is over over 42 foot-pound of energy. I did not do any modification and I am happy the way that it is.
Cons
Little on heavy side but I have no problem with that.
Q&A
Question?
Login to ask someone who bought this product.
which fill probe is needed for this airgun? why does the at44 qe come with a fill probe and seal kit and not the bullboss? i do not see a hand pump as an option to purchase in the pcp accessories or a fill probe
asked Joe from USA
Includes quick-fill nozzle & air cylinder discharging cap supplied in the box. The quick fill nozzle is the fill probe.
Mark from USA
Can you shoot slugs 25 cal in this gun?
asked Sonny from USA
Yes/ They will probably have to be single loaded. They will probably be too long for the magazine.
Mark from USA
Can you air the rifle up by using a air compressor like one you would use in your garage ??
asked Sonny from USA
No.A garage air compressor delivers air at 150 psi. You need air at 3000-4500 Psi. A high pressure compressor.
Mark from USA
What's the name or a link to purchase the exact connector that connects the $25 hand pump on ebay to the air cylinder of this gun to charge it and the cost? Thx
asked Marc from USA
you need to know what type of connectors are on the ebay hand pump. if the pump has metric fittings we do not carry them. Most fittings are Foster QD's size F12. Threads are 1/8 "BSPP not metric
Mark from USA
What is the muzzle velocity when using JSB Diabolo Exact King Heavy MKII .25 Cal, 33.95 gr?
asked Simon from USA