The Hatsan BullBoss QE sets the new standard as to what to expect out of a bullpup air rifle and the price you should have to pay for premium features. Though short and compact, in reality the BullBoss hides deceptively well a 23" long Quiet Energy suppressed German steel barrel that delivers velocities as high as 1170 fps using lead pellets! (1170 fps - .177 cal / 1070 fps - .22 cal / 970 fps - .25 cal)- All with the standard Hatsan features that provide an incredible value at the price point
The Hatsan BullBoss bullpup PCP includes the Quiet Energy suppressed barrel which has been tested by us and shown to severely reduce the report of the gun. It's quiet enough to fire without disturbing your neighbors if you'd like to practice in the backyard. The BullBoss includes Quattro Trigger that is a two stage fully adjustable match trigger. You'll love the weight displacement of the bullpup design that really distributes the 8.6 lbs of the gun well to make this a joy to shoot and creates a situation where follow-up shots are incredibly easy as you can keep the gun shouldered while operating the smooth side lever of the BullBoss. A lot to love about this new bullpup from Hatsan USA.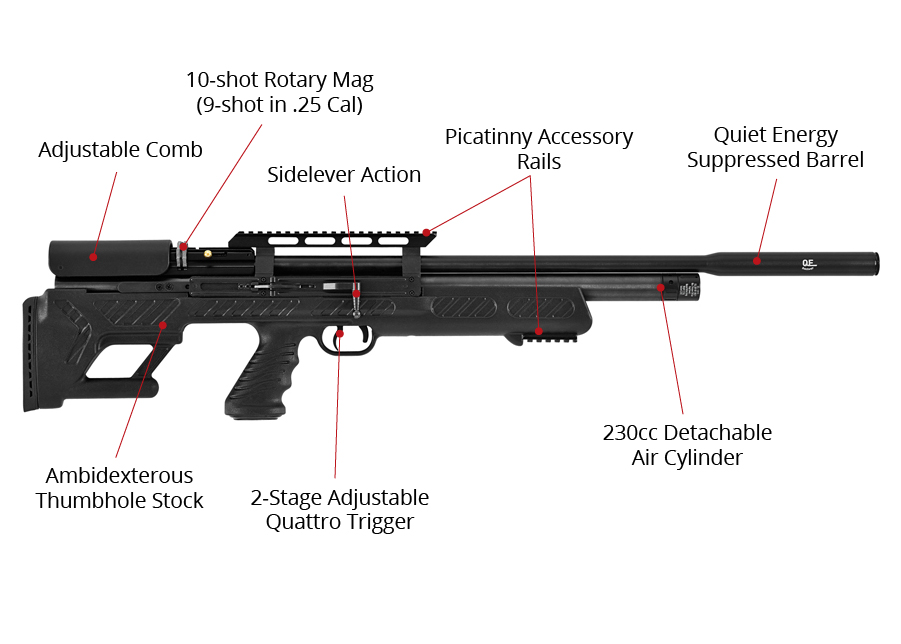 Hatsan BullBoss PCP Air Rifle Features:
Precharged pneumatic power with side-lever cocking action
Bullpup design
Available in .177 (4.5 mm), .22 (5.5 mm) and .25 (6.35 mm) calibers
Synthetic ambidextrous stock with ergonomic design
Picatinny rail for both 11 mm and 22 mm scope mounts
Additional Picatinny rail beneath forearm
Checkering on grip and forearm for better control and feel
Elevation-adjustable Cheek Comb - Stock equipped with integrated elevation adjustment button
Ventilated rubber butt pad
Precision rifled and choked barrel for accuracy
QuietEnergy fully shrouded barrel and Integrated Sound Moderator cuts noise by 32%
Rotary magazine: .177 10-rd, .22 10-rd, .25 9-rd
Includes 2 magazines
Detachable steel air cylinder tube (230cc). (Spare cylinders are available)
Built-in pressure gauge on the air cylinder monitors cylinder pressure
Includes quick-fill nozzle & air cylinder discharging cap supplied in the box
Overall blued finish, black anodized receiver
Manual & Automatic Safety
Anti-double pellet feed mechanism prevents more than one pellet loading into barrel
Patented anti-knock system to prevent gas wastage when rifle is knocked or bounced
Quattro Trigger: 2-stage full adjustable match trigger for trigger travel and trigger load
Metal trigger & synthetic trigger guard
Fitted sling swivels
Overall length: 36.8"
Barrel length: 23"
Weight: 8.6 lb
Muzzle energy: .177 cal=27 fpe, .22 cal=38 fpe, .25 cal=42 fpe
Optimal shots per fill: .177 cal=40, .22 cal=35, .25 cal=30
Specs
Manufacturer

Hatsan

Caliber

.22

Velocity

1070 fps

Condition

New

Ammo Type

Pellets

Action

Sidelever

Barrel Style

Rifled

Fire Mode

Repeater

Gun Weight

9.50

Overall Length

36.80

Barrel Length

23.00

Loudness

4-Medium-High

Magazine Capacity

10

Mechanism

Pre-charged pneumatic

Rail

Weaver/Picatinny

Safety

Automatic

Front Sights

none

Rear Sights

none

Shots per Fill

35

Trigger Adjustability

Two-stage adjustable

Trigger Action

0

Use

Small game hunting/target practice

Warranty

1-year limited warranty
Reviews
Average Customer Review
4.7
4.5
65 Reviews
5.0
By Wayne
USA
June 10, 2023
Verified Purchase
I'm most amazed by the length of the barrel, 23" inches long and the overall is just under 37" and I'm getting 4 magazines per fill and it only takes me down to just under 100BAR.
Pros
I love the looks of this PCP, it is sleek and looks tactical! This rifle is very accurate, once sighted in it's almost impossible to miss with this rifle and it hits so hard, that I had a neighbor stop over because he thought I was shooting a .22 powdered rifle, when I showed what he thought was a rifle report, was actually the pellets striking the target, he was amazed.
Cons
Wish it were semi-automatic.
4.0
By Jason
May 20, 2023
Verified Purchase
Pros
Accurate,light.. good power.can be silenced real good !lol, and price was right!
Cons
Auto safety after every shot , but you can mod it.
5.0
By Michael
USA
March 26, 2022
Verified Purchase
Get this gun, well worth it and a blast to shoot, very very accurate, same results on 3 different pellets so far and one of them being the fx slugs, the work great in this gun.
Pros
Awesome gun, very accurate and looks good, I use jsb exact king Diablo 25.39 in 25 caliber and shoot all 4 clips at a quarter size group at 50 to 75 yards and I get 27 shots at 900+ fps and an additional 9 shots (1 more clip) just below 900, high 800s with just a little hammer spring adjustment, turned it counter clockwise about 2/3 rds, you will need a long 4mm allen key (at least a 6" one) for the hammer spring adjustment and an additional 2.5 mm allen key (6" long) for the 3rd screw on the trigger adjustment, hatsan gives you a 1.5mm allen key for the first 2 screws on the trigger adjustment, what else is there to say, gun looks and shoots great, tried the hatsan regulator from Amazon and I was getting only in the low 700s for fps with multiple adjustments, maybe it was a bad regulator, I actually had 2 of them and one would not go all the way in the cylinder so long story short I returned them both, gun works great without it, it's a personal preference, I would highly recommend
Cons
Hatsan should also give the adapter for the filling probe but just make sure to order one from airgun depot when you purchase the gun, also hatsan should also give a 4mm and 2.5mm allen keys for the adjustments
5.0
By Thomas
USA
May 25, 2021
TRUST NO ONE MORE SCAMMERS WORK THIS HOBBY LOOK HOW AMEER WORKS THE DELAY SCAMHES FAIR HES RUINING BOTH COMPANYS SCHEME
Pros
THE GUN IS GREAT IT JUST NOGOOD WITHOUT PELLETS PYRAMYD AIR HAS AMEERLAZY GUY DONT KNOW HIS JOB CANT KEEP STOCK IN AT AIRGUN DEPOT EITHER THIK MAYBE HE SHOULD ONLY WORK ONE COMPANY INSTEAD OF BANKRUPTING TWO COMPANYS
Cons
SELL THESE GUN WHERE YOU CAN GET AMMO TOO
5.0
By Chris
November 30, 2020
Easily tunable to achieve incredible accuracy. Very balanced on the shoulder. Very capable of longrange repetitive accuracy. Seems to like pellet or slug ammo without issue. JSB King Heavy, Predator Polymags both produced one hole accuracy at 50 yards.
Pros
Extremely accurate, easily tuned. Compact, Balanced. Great PCP for the price.
Cons
Add Air Regulation.
5.0
By Terry
USA
October 22, 2020
it loves 33.95gr diablo exact king heavy , sighted at 120' with bug buster scope on 50' small bore target, amazing . It will throw 38gr .254 AVS dish base slugs almost the same without recalibrating the scope ,they chamber a little stiff but are very accurate . These are pricey but real smashers.as one person said "they hit likeThor's hammer." I imported the wood model to Belize for pest control with bipod .this is an awesome deadly weapon . I also have been forced to shoot this weapon left handed because of retinal hemorrhage , not a problem . I love love love these guns. be sure to have a strong backstop.
Pros
everything , I own both plastic & wood stock models in .25 cal.
Cons
plastic stock model has plastic side cocking plate which I broke & had to replace with a metal one. the wood stock model came with an extra side mounting rail for my light .should be the same with the plastic stock .
5.0
By Matthew
August 2, 2020
Pros
Awesome gun very accurate
Cons
Loose screws, and mine did not come with the free sling?
4.0
By Steven
USA
June 12, 2020
Get plenty of pellets, because the gun is really a blast to shoot.
Pros
Great gun to learn the ins & out of air gunning, fun to shoot, accurate, and easy to work on. Really good knockdown power, however it seems as if I am getting Flashpup performance as far as the specs of the gun in 25 cal shooting 850 which is a 150 below advertised FPS. I'm happy with the gun, just wish I could see higher FPS when adjusting the Hammer Spring, I see the loss in power but not the increase.
Cons
Only have seen 850 FPSwhich is under the advertised 1000fps I was using the Baracuda Hunter 27.47gr. Had to shim my scope, because it was shooting low at the max setting.
5.0
By Robert
USA
January 24, 2020
Does everything I require from .25 without busting my budget.
Pros
One of the best overall values out there. for all the right reasons.
Cons
No issues so far. 2500 shots approx.
5.0
By Dan
USA
November 25, 2019
This was my first airgun I have ever bought. It was not a disappointment, I would highly recommend this to anyone who is just getting into airguns. It is a lot quieter then I expected it to be .
Q&A
Question?
Login to ask someone who bought this product.
Hi my question is in the 177-Cal can you shoot slugs in it or not this may be a silly question but i be told that some of the air rifles can't shoot slugs as i am new to pcp air rifle because i have seen fx have innerliners one for pellets and one for slugs, so has hatsan have the same thing for pellets and slugs?
asked George from United Kingdom
can you put a regulator on the Bullboss?
asked Roy from USA
Yes I believe huma makes a regular for the bullboss, there is a video of it on YouTube
Manny from USA
How is the acre sAccuracy
asked James from USA
One review mentioned a 3d printed cheek pad and several wishing there was a cheek pad. Is there an adjustable cheek pad available?
asked Edward R from USA
Can this be filled off a scuba tank?
asked David from USA
OF COURSE, WITH THE RIGHT FITTING S
antonbend from USA
which fill probe is needed for this airgun? why does the at44 qe come with a fill probe and seal kit and not the bullboss? i do not see a hand pump as an option to purchase in the pcp accessories or a fill probe
asked Joe from USA
Includes quick-fill nozzle & air cylinder discharging cap supplied in the box. The quick fill nozzle is the fill probe.
Mark from USA
Can you shoot slugs 25 cal in this gun?
asked Sonny from USA
Yes/ They will probably have to be single loaded. They will probably be too long for the magazine.
Mark from USA
Can you air the rifle up by using a air compressor like one you would use in your garage ?
asked Sonny from USA
No.A garage air compressor delivers air at 150 psi. You need air at 3000-4500 Psi. A high pressure compressor.
Mark from USA
What is the muzzle velocity when using JSB Diabolo Exact King Heavy MKII .25 Cal, 33.95 gr?
asked Simon from USA
Does this comes with scope
asked Jim
is this gun hand pump friendly?
asked JACOB AGNEW
Yes. I have a hand pump for mine. I find its Easier to remove the cylinder to fill it.
Eric from USA
Why can't I pump up past 125 bar. With my hand pump
asked Jeff Thompson
what is the best pellet for this gon?
asked BILL
What silencer can you get for the Bull Boss 25 cal.?
asked Eddie
Does this gun have a regulator installed already?
asked Jayce
My hatsan Bullboss compressed air canister does not fill pass 50psi. Does anyone know who can fix this issue. I've tried the warranty company but no one answers the phone. This has been an issue since day one and I can't seem to get in contact with someone who could resolve this issue. HELP PLEASE.
asked D'Andre Harrison
Love my BullBoss.... just wanting to know about others who added a regulator and their results from that and any ideas on extension for the stock... my eye relief is just not there.... suggestions?
asked Rick Talbott
How do you remove the air cylinder properly? After unscrewing it seems to not have enough room to slide out because it bumps into the flared suppressor. Thanks.
asked Tyler
Do you need a P.A.L licence to buy this air rifle?
asked chance
How long does the courier take to deliver the product in Italy?
asked Rosario from USA
good day I have a question I bought them a hatsan bullbos and includes the ventury air accessory to connect it to the cylinder?
asked Gregorio flores
Does this come with a pump or do I need to buy one separately? If so, recommendations? Thx!
asked Chris
What is the length of pull on the Bullboss?
asked Rob
I tried everything i know how to pump air into the gun. Just doesn't work. I bought a new Hill MK4 pump from you. A new Venturi probe from Amazon. Still doesn't work. What could be the problem?
asked Phil
What is the spare air cylinder for this rifle? AT 44H?
asked Daryl from USA
What pump goes with the Bulls boss? And do I need to order any fittings to adapt to bull boss?
asked Brian from USA
Has anyone had an issue with air leaking out when trying to pump air into it out the connection hookup point?
asked matheu from USA
Bought an air pump, but the fittings don't match! Where can I get the correct fitting?
asked Nick
does the air pump come with this gun, how can I recharge?
asked charles
Which has more power the 25 caliber bullboss or the 25 caliber at44 long and are you able to achieve 900 ft per seconds with the 25 caliber jsb for about 20 shots also is it back yard friendly thank you.
asked Curtis from USA
Does the Hatsan Bullboss QE Pump combo come with a hard case or any other unmentioned accessories?
asked David from USA
What Pellets work best for bullboss qe .25
asked Joe
WHAT IS GAINED WITH A REGULATOR?
asked Rifleman7
I bought a benjamin 3500 psi pump will it work to pump the bullboss or do you need a 4500 psi pump
asked Chris
What's the best pellet to use in a .25 cal?
asked Dale from USA
What about its long lasting means to say is there any complaint regarding its manufacturing or any other while using it. Is there any person who has been using it from 3 to 4 years?
asked Ahsan Sarfraz