Hatsan has answered the call for a semi-auto bullpup air rifle in a big way! The Hatsan Bullmaster air rifle looks like it came straight off the silver screen or the pages of a sci-fi novel. This beast of an air rifle is available in both .177 and .22 caliber, features rotary magazines for quick reloading, a 500cc on board air tank, and Hatsan's unique gas operated semi-auto action. If you're looking for a gun that can fire as fast as you can pull the trigger, you've found your match! The Hatsan gas operated semi-auto system is what really sets the Bullmaster apart from other attempts made at semi auto air rifles using electronic or mechanical actions. By using recycled gasses from the firing cycle the Hatsan Bullmaster is able to obtain both quick follow up shots as well as achieve a smooth trigger pull making this rifle one of the fastest shooting on the market.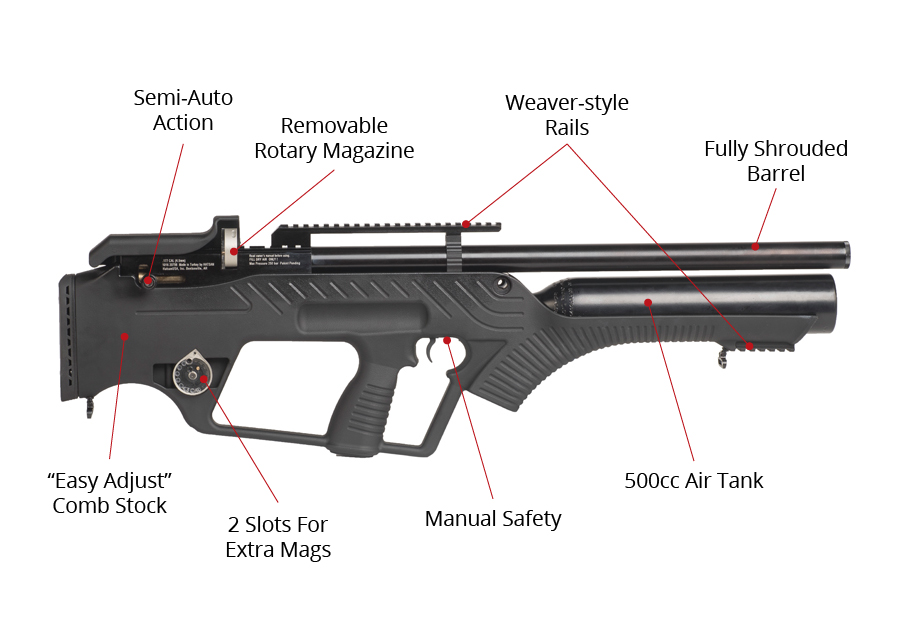 The Bullmaster also features a rugged polymer stock with an adjustable cheek pad and onboard magazine storage so you can easily carry extra ammo. Speaking of magazines each Bullmaster rifle comes with 3 included mags to keep you shooting. The rotary magazines are available in 14 shot capacity in .177 and 12 shot capacity in .22 caliber. The stock also has magazine caddies to store your two extra mags. Perfect for hunting or fast action plinking, the Bullmaster bullpup ushers in a whole new experience to airgunning, and while it may not be the first semi-auto to the market, we think that for the price it certainly is one of the best. Make sure to add a few more magazines and a whole lot of pellets to your order, this gun is hungry!
Hatsan Bullmaster Features:
Semi-auto action pre-charged pneumatic (PCP) bullpup air rifle
Available in .177 (4.5 mm), .22 (5.5 mm) caliber
Detachable 14-shot magazine in .177 (4.5mm) and 12-shot magazine in .22 (5.5mm)
Fully shrouded, precision rifled and choked barrel for accuracy
500cc volume air bottle mounted in the forearm
Includes 3 magazines
Includes quick-fill nozzle
2 spare magazine carrying slots in the stock
Accessory Weaver-style rail beneath the forearm
"Easy Adjust" Elevation Comb Stock
Ventilated rubber butt pad
Built-in pressure gauge to monitor the cylinder pressure
Weaver-style rail for both 11 mm and 22 mm scope mounts
Overall blued finish, black anodized receiver
Patented anti-knock system prevents discharge when rifle is knocked or bounced
Manual safety
Black metal trigger
Fitted sling swivels
Please note: It is not recommended that the BullMaster be operated from the left handed shooting position. The bolt located on the right hand side of the rifle cycles with each shot fired and may cause injury if operated left handed.
Specs
Manufacturer

Hatsan

Caliber

.177

Velocity

1100 fps

Condition

New

Ammo Type

Pellets

Action

Semiautomatic

Barrel Style

Rifled

Fire Mode

Repeater

Gun Weight

10.30

Overall Length

30.90

Barrel Length

19.70

Loudness

3-Medium

Magazine Capacity

14

Mechanism

Pre-charged pneumatic

Rail

Weaver & 11mm dovetails

Safety

Manual

Front Sights

none

Rear Sights

none

Shots per Fill

60

Trigger Adjustability

0

Trigger Action

0

Use

Small game hunting/target practice

Warranty

1-year limited warranty
Reviews
Average Customer Review
4.0
4.0
9 Reviews
1.0
By David
November 15, 2021
Pros
BEWARE!! DONT BUY!!! I own a large wildlife removal company in California. Bought this gun and used it professionally at large commercial customers. No problems for 2 years then the gun quit cycling. I called customer service twice and left voicemails both times over the past 3 months. I sent 2 emails on the customer service contact form on the website—-no response. ABSOLUTELY ZERO COMMUNICATION. No call backs. No emails. They simply don't care. I will never buy more HATSANs for my employees. I will buy the Crossman Bulldog from now on. With the hatsan bullmaster, You will eventually need customer service and unfortunately you'll be left high and dry like us. If you look at other websites, it's common for other customers to have zero luck with customer service at HATSAN. BEWARE! DONT BUY! You'll eventually regret it. I plan on posting this review on every online platform possible. I'm extremely disgusted with Hatsan.
5.0
By Mohannad
December 21, 2019
It's a good pcp gun it is powerful and accurate and big air tank with 530cc gives you a 133 of shots and it's more reliable and easy to repair
1.0
By Jordan
USA
July 29, 2019
I purchased my Bullmaster brand new. It worked fine for the first session. I put the rifle away with 100 BAR. Next day the rifle was completely empty. 0 BAR. I contacted the seller who referred me to the manufacturer. I have called Hatsan numerous times with no response. I have filled out their "online warranty claim" with no response. I have emailed Hatsan customer service, with no response. Buyer beware!
Pros
Very heavy. Can be used as a paperweight or club.
Cons
DOES NOT WORK. ZERO CUSTOMER SUPPORT FROM HATSAN!
The best thing about this rifle is that it is semi-auto. It is so big advantage that it trumps all other problems that this gun has. I shot about 130 pellets from it, no malfunctions so far. 970 FPS for .22 caliber is kind of a stretch. Perhaps if someone uses 10 grn pellets it is possible, but with real-world 16 grn pellets I got 891.8 +/- 2.7 FPS on the freshly pumped cylinder. With 21.14 grn pellets it shot at velocity of 824.7 +/- 3.3 FPS. The muzzle energies were 28.19 and 31.86 foot-pound respectively, which matched the specs, so I cannot complain about the velocities. A good thing is that the spread in FPS was quite small. Another excellent thing is that it was lot more shots than promised 50 without noticeable decrease in the velocity - after about 100 pellets the velocity still was 878 FPS. The gun is heavy like hell, almost 5 KG. I bought it for hunting, so now will have to get more exercises to carry it around. Whatever sight you mount on it, it will be quite high above the barrel, I would prefer that it were lower, but the height of the cheek piece will not allow mounting a low optical sight. Also, the carrying case is made to wrap the gun tightly, you cannot put the gun with mounted scope in that case. Accuracy is not bad. With 16 grn pellets at 40 yards I had groups of 5 pellets less than 2 inches, and all pellets (several tens of them) were in the 6" black area. With 21.14 grn pellets it was considerably better, less than 1" group and many times holes were touching each other. One of the two screws holing extra magazines on the sides of the stock had damaged threads. I was unable to unscrew it and release the magazine. I am still trying to figure out how to get the magazine out with minimal damage to the gun.
Pros
Semi-auto Good accuracy Muzzle energy as expected
Cons
Heavy Scope is quite high above the barrel Cannot fit the gun the mounted scope in the case One screw holding magazine on the side of the stop cannot be unscrewed, cannot get that magazine out.
5.0
By Carlos
USA
October 23, 2017
I love this rifle so far it has everything i was looking for in an air rifle, power, accurate and semiauto. I even make my own moderator and i made it real quiet so i don't have any CONS
5.0
By Frank
USA
October 18, 2017
This rifle, bullpup, is a BLAST! I had to return my Hatsan Hercules, had lot's of problems, poorly assembled in my opinion. However this Bullmaster has not given me a single problem. You will go through some ammo, so stock up. I can go through 4 clips on 1 fill, no problem. Very accurate too.
Pros
FUN to shoot, reliable.
Cons
A bit heavy, and for right handed shooters ONLY. I tried lefty, and got a nick on my chin!
5.0
By john
USA
May 11, 2017
Recently purchased the bullmaster and it lives up the the hype. I have the .22 and its very accurate and powerful. The semi auto works great. Only used for plinking so far but plan to take care of a family of raccoons thats been ripping up my trash. Also one of the magazines i recieved with my gun didn't work, i contacted hatsan and they sent out a new magazine the next day.
Pros
Semi auto works great. Plenty of power and very accurate.
Cons
Slightly louder that i expected but not excessive.
I just got into PCP guns this year. Got the 2 Mauraders , pistol and rifle and now this. It's fun to shoot and more accurate imho that the marauder rifle. Not pellet picky. I'd compare it to Glocks. Kind of ugly but does the job. I know , ugly is in the eye of the beholder. Some would call it "bad", meaning "good" I've only done short range ,37 yards shooting to date. Will take it out of town to stretch out soon. Pretty quiet, I wear a rt ear plug, but I have very good hearing. From a few feet away its not bad. Had more noise from impact than muzzle noise.
Pros
Fun, powerful, accurate. 12 rounds in a few seconds makes me smile.
Cons
Heavy, homely, pricey. Lefthanders, forget it.
5.0
By Isaul mateo
USA
February 28, 2017
Q&A
Question?
Login to ask someone who bought this product.
I can't seem to even fill mine with ANY air!!!!! Have Hatsan heavy duty pump ....no help...took to a SCUBA shop and they could NOT help me because the tank will NOT come out!!!!!!! I have pumped over 200 times and have no air in tank!!!! Whats the deal with fill port and tank?
asked Aaron from USA
what options do i have to reload the air tank, another not electrical supply tanks
asked JORGE from Mexico
You can use a 4500 PSI air compressor. 3000 or 4500 PSI air tanks . A 4500 PSI hand pump. The hand pump fill will take forever.
Mark from USA
Will you be getting the .25 model and if so how much
asked Lloyd morgan
A. Which scope B. Need very quiet for city backyard I mean quiet (2) moderator do I USE, DANNYFL.COM? C. WHICH .22 AMMO THINKING? D. THIS IS MY FIRST AIRGUN DOES IT NEED FINAL PREREADY FIRING OTHER THAN SCOPING SIGHT READY? READY OUT OF BOX? I AM NOT A GUN SMITH! IT HAS TO BE REAFY OUT BOX!
asked Phil from USA
I PLAN TO BUY THE .25 CAL SEMI AUTO BUT HATSAN DOESNT GIVE FPS OR FT LBS AND I NEED TO KNOW IF ANYONE HAS THIS RIFLE ALSO ON A REVIEW BY SOUTHERN GUNNER HE SAYS THE GUN DOESNT COME IN FULL POWER, SAYS IT SHOOTS UNDER POWER AND THAT YOU HAVE TO TUNE IT FOR MAX POWER, WHICH I DONT KNOW HOW TO DO WOULD LIKE ANOTHER HONEST OPINION BEFORE I BUY ONE
asked TONY G
Will it ever be available in larger calibers?
asked Eddie
Does the BullMaster have a QA barrel?
asked James Rodney from USA
would I be able go get this in a smooth bore .177 calibre
asked Raymond Ganpat
is there any hunting videos of it?
asked Carlos from USA
It doesn't come with an owner's manual? Or, where can I get an owner's manual?
asked Michael
What is the muzzle power?
asked Ivan
With this Gun using magazines, does it limit the pellet choices due the depth of the pellet chamber? And what pellet would be best for accuracy and hunting? Thanks, Tim
asked Timothy Smith
Hi, I'm new to these type air guns. I like this model. My question is, when the tank is full or say still 3/4 full. Can the air tank be left on the gun until next time it's used or will it damage internal seals or parts under that pressure? Thanks, Tim
asked Timothy Smith
Any feedback on this yet? I'm trying to decide between this and gladius. Thanks
asked Rojohn from USA
What pressure does the gun work on.
asked Les leathley
Would this gun be legal in Great Britain 🇬🇧
asked Les leathley
hey i was wondering if this would be a good start to a pcp airgun iv never owned one just a break barrel. and would i be able to fill the air tank up with the air venti g6 or mk4 airpump what accesories would i need if i went that route? i would get the scuba tank but the nearest refill center is about an hour away so il just suffer with a hand pump.
asked travis from USA
So when a range officer says cease-fire when your 3 shots into a clip. Youre forced to do what in order to remove the round from the chamber that was auto fed? Fish it out with a cleaning rod? I like the idea of Semi Auto but not the idea of increased chances of a round being in the chamber when it isn't supposed to be.
asked Doug