We've paired the new Hatsan Gladius bullpup with one of our favorite scopes at a great value for you! This combo includes the crystal clear Hawke Sport HD 4-12X50 rifle scope and rings. The scope is red/green illuminated for low light shooting conditions as well as including an adjustable objective (a must for any airgun). The Hatsan Gladius PCP bullpup combines Hatsans reputation for reliability with a compact bullpup package. The Gladius bullpup features a synthetic stock with all the right options that really makes this bullpup standout including adjustable comb & butt pad, onboard storage for up to 3 extra magazines (which are included), a side lever for smooth cocking action, ambidextrous thumbhole stock, scope rail and three accessory rails on forend, the excellent Quattro trigger and a fully shrouded QuietEnergy barrel to keeps things extra quiet. The Gladius also includes a brand new feature not seen before on a Hatsan PCP air rifle, Adjustable power settings. With a dial located next to the magazine, you can select one of 6 power settings to fine tune your rifles velocity and energy output based on your situation. Raise it to full power for hunting medium game, or dial it low for backyard blinking so you don't blow through your backstop (and to increase the amount of shots per fill).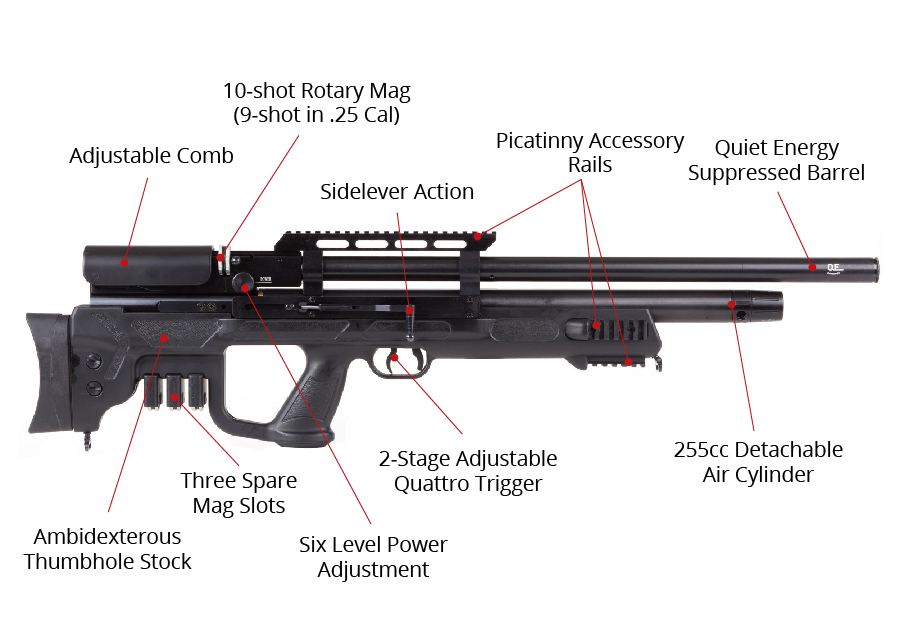 Hatsan Gladius Bullpup
Detachable 10-shot magazine in .177 & ,22 cal (9-shot magazine in .25 cal)
Sidelever bolt-action
Extremely powerful
Anti-double-feed mechanism prevents more than one pellet from loading when gun has been fully cocked
Fill reservoir up to 200 bar (2,900 psi)
Ambidextrous thumbhole synthetic stock with checkering on grip and forearm
Integrated rail accepts Weaver* or 11mm mounts (no open sights)
Additional three accessory rails on forearm
2-stage adjustable Quattro trigger
Manual & Automatic safety
EasyAdjust Elevation Comb
Rubber recoil pad adjusts vertically and angularly
Stock equipped with 3 spare magazine carrying slots
Includes 4 magaines
Fitted sling swivels
255cc air reservoir volume
Anti-knock system prevents gas waste if rifle is knocked or bounced
QuietEnergy fully shrouded barrel and Integrated Sound Moderator
6 level power adjustment to adjust energy & velocity
Up to 55 optimal shots per fill at full power(45-55 in .177 cal / 40-50 in .22 cal / 35-45 in .25 cal)
Up to 34 ft-lbs. of energy (22 in .177 cal / 31 in .22 cal / 34 in .25 cal)
Ideal for hunting up to medium-size quarry
Includes various o-rings, reservoir bleed valve, 1/8" BSPP probe with male threads, 4 rotary clips, sling, hard case, and owner's manual
Includes a Hawke 4-12x50 IR Sport HD AO scope and rings ($169.99 value)
*Weaver mounts are not standard. We do not recommend using them.
Specs
Manufacturer

Hatsan

Caliber

.22

Velocity

970 fps

Condition

New

Ammo Type

Pellets

Action

Sidelever

Barrel Style

Rifled

Fire Mode

Repeater

Gun Weight

0.00

Overall Length

34.40

Barrel Length

19.40

Loudness

3-Medium

Magazine Capacity

10

Mechanism

Pre-charged pneumatic

Rail

Weaver/Picatinny

Safety

Manual

Front Sights

none

Rear Sights

none

Shots per Fill

85

Trigger Adjustability

Two-stage adjustable

Trigger Action

0

Use

Small game hunting/target practice

Warranty

1-year limited warranty
Reviews
Average Customer Review
4.5
4.5
4 Reviews
5.0
By Charles
USA
November 3, 2020
This is an awesome rifle, super consistent shots. It's seems to like heavier pellets for most accurate shots, less than a dime spread at 50 yards and I'm no marksman. This thing looks so cool, fun to shoot. Ok, the description says medium loudness. No way, this is whisper quite at power setting 4 and less. 5 or 6 not much more. The only noise you really hear is the pellet hitting the target. The combo scope is really nice, probably too much scope for me but easy to install and I zeroed it out in my backyard at 30ft. Took about 10 minutes to install and another 10 to zero it out. The included mounting rings are really nice and simple, thumb tighten. It's a bit heavy, I took it out for an iguana hunt in South Florida. Should have brought the strap that's included. It's well balanced so it doesn't seem heavy when actually shooting, just when your lugging around in the Florida swamp. Great value overall, comes with a nice heavy duty plastic case.
Pros
Super quite, really really quite.
Cons
Magazine is a hard to get out, it probably just needs to be broken in a little.
3.0
By Joseph
USA
November 19, 2019
First off this was my first attempt at PCP rifles. The gun seems to be well made. I never fired it and returned it because of a couple things. 1- the gun is to heavy for me, and I prefer my rifles a little heavier but this one was very heavy @ + side of 10lbs. 2- the bullpup style of this gun did not fit for me. I could not pull it up and get comfortable even after adjusting the butt and comb. I'm a big guy and maybe that's the problem. Airgun Depot has been very helpful with the return of the gun.
Pros
For the right person appears to be well built rifle.
Cons
HEAVY!
5.0
By Cabelas
USA
November 2, 2017
Very happy with my Hatsan Gladius. Very accurate! I got the combo with the scope & saved. The bullpup design just feels right & balanced.
Pros
Very accurate, quite & fits great!
Cons
A little heavy.
5.0
By Martin
USA
July 25, 2017
I recently made a purchase of the Hatsan Gladius Bullpup, I took it out of the case and was a little skeptical .When I mounted the scope on the rifle I had it sighted in with only 10 Rounds. My Gladius is particular to two types of ammo, it loves the exact jumbo Diablo's 15.89 grain and it also loves the Barracuda match the 21.1 for grain. No longer skeptical I love this air rifle. It proved its capabilities the other day when I shot to rabbits at 50 yards. And let me tell you it is quiet
Q&A
Question?
Login to ask someone who bought this product.
Is this the "long" or "short" version in this combo? If you purchase just the gun, options are choice of caliber as well as what length. I know it's bullpup.
asked Stephen from USA
Short, at least mine was.
Charles from USA
Can I use a foot pump with this gun?
asked William from USA
Yes, if the pump is made for PCP air rifles, and not for bike tires.
Rich from USA
I am left handed do you have any gun for me Also do you ship in Canada I am in innisfil ontario
asked John
What weight is the trigger pull?
asked Brandon
Where do you take the fill Tank to be refilled with air, or can you simply use an air compressor?
asked Ron
My local airsoft/ painball dealer fills mine. I also have a hand pump and its a Good workout. You would need a high pressure compressor, check out the FAQ on this site, good info.
Charles from USA
When will the regulated air cylinders be released? It seems it is impossible to find them im in the USA.
asked Donald