The Hatsan Jet I lets you switch between an air rifle and an air pistol because it comes with a removable synthetic stock. You get power up to 9.7 fpe in .177, 15.6 FPE in .22, and 16.5 FPE in .25 for versatile and exciting plinking, target shooting, and light pesting if you're using a higher caliber version.
With this pellet pistol, you don't have to compromise. You can set the synthetic stock against your shoulder to let the ridged rubber buttpad give you better comfort and control over your shots, or you can remove it to get all the advantages of a light pistol. Either way, you won't have to sacrifice power or shot count.
The Hatsan Jet I gives you even more options to customize the fit with a cheek rest that has seven positions for elevation and the buttstock that's adjustable so you can get the length of pull you want. You'll get plenty of shots from the 40cc air tube, and there's a built in pressure gauge at the end of it so you know when you're getting close to needing a top up.
This convertible airgun comes with a 11mm Dovetail scope rail on the top so you can add a scope or a dot sight for added accuracy, and it also has a Picatinny accessory rail on the side that lets you attach items like lights and lasers. If you want to get accurate shots right away, there's a fiber optic flip up rear sight and a fiber optic flip up front sight, plus another flip up sight just ahead of the magazine.
If you want an airgun you can change from a pellet pistol to an air rifle with the benefits of both, get the Hatsan Jet I at Airgun Depot now.
Hatsan Jet I Features:
Includes removable synthetic stock
PCP
Convertible pistol or rifle
40cc air cylinder fills to 3625 psi/250 bar
Shots at optimal velocity*: 24 (.177), 21 (.22), 15 (.25)
Magazine capacity: 8rd (.177), 7rd (.22), 6rd (.25)
Built in pressure gauge
Max velocity (lead-free): 810 fps (.177), 700 fps (.22), 611 fps (.25)
Max velocity (lead): 788 fps (.177), 700 fps (.22), 608 fps (.25)
Max energy: 9.7 fpe (.177), 15.6 fpe (.22), 16.5 fpe (.25)
Elevation adjustable cheek rest
Length adjustable buttstock
Ridged rubber buttpad
Flip up fiber optic front sight
Flip up adjustable fiber optic rear sight
11mm Dovetail cope rail
Picatinny accessory rail
Barrel length: 7.9"
Overall length (pistol): 15"
Overall length (rifle): 22.8"-24.6"
Overall weight (pistol): 2 lbs.
Overall weight (rifle): 2.9 lbs.
Includes 2 magazines, single shot tray, cylinder adapter, and spare o-rings
* - within 85% of peak velocity.
Specs
Manufacturer

Hatsan

Caliber

.177

Velocity

810 fps

Condition

New

Ammo Type

Pellets

Action

Sidelever

Barrel Style

Rifled

Fire Mode

Repeater

Gun Weight

2.90

Overall Length

24.60

Barrel Length

7.90

Loudness

3-Medium

Magazine Capacity

8

Mechanism

Pre-charged pneumatic

Rail

11mm dovetail

Safety

0

Front Sights

Flip-up

Rear Sights

Flip-up

Shots per Fill

24

Trigger Adjustability

0

Trigger Action

0

Use

Small game hunting/plinking

Warranty

1-year limited warranty
Reviews
Average Customer Review
4.1
4.0
12 Reviews
3.0
By Wyatt
USA
October 27, 2023
Verified Purchase
great backyard plinker or small game option but sub 50 yards. Even at 50 yards itll be tricky to zero (either with scope or the iron sights), it just doens't have the accuracy and i dont know why :( I'd gladly spend another 100 for a gun with a design like this IF these issues could be improved. Maybe someday Hatsan will make the Jet 3 available in the states? I don't even know if that newer Jet model has addressed these issues but it looks it's been improved plus a moderator comes with it. Overall, this thing is so much fun, portable, customizable, light, easy to use etc. But if you're looking for accuracy at longer distances I think this isn't the best option for you. I had to get within 25 yards of a rabbit to ensure an ethical shot and if you know about rabbits, they're really skiddish and will run away if they spot you from like...50, 75, sometimes 100 yards. I got better at stalking but I'd rather have a rifle that can handle longer shots with accuracy. Air guns are fun
Pros
Such a sexy, modular design. it's relatively light, quiet, and maneuverable. The grip is incredible, fits perfect in my little circus hands. Fits nicely in a backpack, easy to conceal (i usually hunt in urban spots, near train tracks, forest edges in parks, where i have to be a bit more discrete). The removable stock is dope. Fun to shoot in both carbine and pistol configs. I got a hand pump (little cheapo one from Jeff Bezos for 90 bucks or something) and it fills it pretty easily if you aren't a weakling. The last 10 pumps are a bit of a workout (to get it to 250 BAR), but it really isn't that bad. My 100 lb ex wife could probably get it to 200b without too much of an issue. Love the side lever action! Follow up shots, baby! It's really quick and easy to *click click* load that next round. I bought the 177 so i cant attest to the 22 and 22 cal versions. So, buy it but don't expect alot
Cons
I'm sad cause I couldn't get this thing to shoot a consistent and tight groups. At least 1 pellet per magazine (on average, 2) ended up being a "flyer", usually 2-7 inches outside the POI of the other shots. The little metal components (windage adjustment screws, any other heads of bolts/hex screws) came with a little bit of rust on them. That bummed me out. Also the little cover plug for the fill port fell off immediately. It barely stays on there and one little *boop* and she gone. the pic rails on the sides of the air tank are nice but they're all bendy and i worry that a drop might break em off. I wish the stock could be extended more. It's 24ish inches fully extended, but 26 or 27 would make it a little more comfy to shoot and you wont need to bend your neck down and forward to look through the scope (mine has like 1.5 inches of relief, I had to really get my face in there to see through it). I'm getting a different rifle from hatsan, hope its better (bullpup QE .25c)
5.0
By Stephen
August 7, 2023
Verified Purchase
This is not a semi-automatic so not so much rapid fire. The correct air compressor may cost over twice what this gun costs. The air supply is good for 3-4 magazines
Pros
I mounted a Crossfire laser sight--it is amazingly accurate and gets close groups at short range. Some of the .22s will not penetrate oak logs. there are much more expensive PCP pistols & rifles and I think they would be better at longer ranges.
Cons
I didn't know what to expect with respect to power. Some of the .22s will not penetrate oak logs. But I think they will put down small varmits.
2.0
By Charles
August 5, 2023
Verified Purchase
This gun has a lot of potential for plinking and small game hunting but internal parts are made of cheap pot metal only time will tell even with new valve on the way i think it will break again looks like a long wait and I will keep hatsan usa on speed dial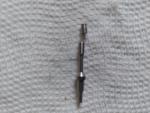 Pros
Small compact and powerful in 177.cal
Cons
Well the first one the main valve broke contact airgundepot and sent a new one then a week later same thing happened again didn't bother to call airgundepot just call hatsan usa and their sending out a new main valve if I had to do it all over again I would buy something else poor parts made of cheap pot metal should have been made of harden stainless steel look at pic Turkish quality absolutely junk do your self a favor buy american
4.0
By roy
USA
June 28, 2023
Verified Purchase
a little loud but overall a great little gun. will need some type of optic sights are a little off and front sight is non adjustable
Pros
lightweight, easy to use and handle, lots of shots from a small fill tank, extremely accurate up to 10 meters
Cons
make front sight adjustable
5.0
By Edward
June 21, 2023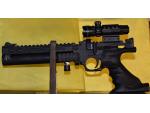 Pros
This is an excellent pistol and is under-rated for power. I have a 40 grain (.25 cal.) round nosed bullet doing 560 FPS (28 FPE). It likes heavier pellets and bullets. The 31 grain H&N pellets are doing 620 FPS (27 FPE). It is perfectly sealed and will hold full pressure for months. It is light weight, very accurate, and simple to use. I love the design of the trigger safety. I highly recommend this pistol.
Cons
Nothing
4.0
By Thomas
USA
June 5, 2023
Verified Purchase
So, to be fair, the first one I got had issues. Shooting super low, loose grub nuts. And after trying to sort it all out. The barrel would walk forward until the magazine would slip all the way through when trying to install it. I have seen the same kind of thing in reviews with first runs of budget guns from overseas before. So I returned it to Airgun Depot. And they sent me a new one with no issues. Took a minute round trip, but they took great care of me! And the second Jet 1 is tip top. Accurate. Consistent. I get three solid mags on a fill and my little compressor takes less time to refill it than it takes to fill two magazines. I recommend this gun, and Airgun Depot very highly.
Pros
Pretty light, accurate, the cocking lever is great. Bolts suck!
Cons
Maybe a little better quality control from Hatsan. But AGD made it right!
5.0
By JohnNG
February 17, 2023
Very accurate!!!
Pros
Loves everything about this pistol rifle and shortness backpackers..5 STARS!!!
Cons
Air cylinder hard to fill at first but gotten used to it. So none
5.0
By Paul
USA
January 19, 2023
Verified Purchase
Enjoy it's a fun little air gun.a bit loud,louder than 457 texan ss.add a kit with adapter for fill connectors and adapter for a suppressor with the gun.
Pros
Powerful little .177.box came open,was a bit concerned I got a return.
Cons
Mountain rail for optics is pretty limited. I'm going to use just iron sight and a laser/torch sight
4.0
By Dean
January 16, 2023
Verified Purchase
Pros
This gun light and compact with the but-stock attached. The ability to carry extra pre-filled cylinders is really convenient
Cons
An attachment for a sling on the but-stock and the grip would be nice for carrying in the field. I would like larger capacity magazines
3.0
By Paul
USA
January 11, 2023
Verified Purchase
You need adapting fitting for quick release it's a bit different on the gun
Pros
Light,nice looking gun
Cons
Nothing yet.
Q&A
Question?
Login to ask someone who bought this product.
Now while trying to fill my jet1 the air just keeps pouring out of the barrel and cocking lever area is that an easy fix with a new seal?
asked Mark from USA
Sounds like valve stem is broken..remove tank and unscrew the mounting plate and you can remove and replace.
greg from USA
Did you cock the pistol and hold the cocking lever back while filling? That will help get the hammer weight off of the valve.
Adam from USA
After around 15 or 20 mags pulled the trigger and all the air escaped from the barrel what could it be
asked Mark from USA
Can this gun be shipped to California?
asked Edward from USA
Yes, but it will require an adult signature upon delivery.
Adam from USA
Would you recommend .22 or .25 for small-game hunting?
asked Austin from USA
25 is the best
richard from Canada
Will the pump for a Benjamin Marauder work with this?
asked Scott from USA
Can you ship direct to Michigan or must go thru FFL
asked Patrick from USA