The Hatsan Jet II allows you to swap from an air pistol to an air rifle without buying a new gun because it has a removable synthetic stock. With power up to 9.7 fpe in .177, 15.6 FPE in .22, and 16.5 FPE in .25, it gives you the performance you need whether you're shooting at targets, plinking cans, or doing light pest control with the higher caliber models.
Buying this air pistol doesn't mean settling for less. It means you get it all: a light pistol for quick and easy shots, and an air rifle with improved control and a firm hold with the ridged rubber buttpad when you have the synthetic stock attached. Both ways give you the same number of shots and the same power and accuracy.
The Hatsan Jet II gives you even more shots than the other version because it comes with an extra 40cc air tube below the first one. That's twice the air capacity and twice the shots. The stock gives you a custom fit with its adjustable length, and the cheek rest has seven elevation positions to give you the cheek weld you want for repeatable accuracy.
To give you precise shots, this airgun has a fiber optic flip up front sight, another flip up sight just in front of the magazine, and a fiber optic flip up rear sight. It also gives you a 11mm Dovetail scope rail for adding a dot sight or scope, and a Picatinny accessory rail on the side so you can attach accessories like lasers and lights.
If you're looking for a pellet pistol with upgraded air capacity that you can turn into an air rifle with a removable stock, get the Hatsan Jet II at Airgun Depot today.
Hatsan Jet II Features:
Includes removable synthetic stock
PCP
Convertible pistol or rifle
Two 40cc air cylinders fill to 3625 psi/250 bar
Shots at optimal velocity*: 48 (.177), 42 (.22), 30 (.25)
Magazine capacity: 8rd (.177), 7rd (.22), 6rd (.25)
Built in pressure gauge
Max velocity (lead-free): 810 fps (.177), 700 fps (.22), 611 fps (.25)
Max velocity (lead): 788 fps (.177), 700 fps (.22), 608 fps (.25)
Max energy: 9.7 fpe (.177), 15.6 fpe (.22), 16.5 fpe (.25)
Elevation adjustable cheek rest
Length adjustable buttstock
Ridged rubber buttpad
Flip up fiber optic front sight
Flip up adjustable fiber optic rear sight
11mm Dovetail scope rail
Picatinny accessory rail
Barrel length: 7.9"
Overall length (pistol): 15"
Overall length (rifle): 22.8"-24.6"
Overall weight (pistol): 2.4 lbs.
Overall weight (rifle): 3.4 lbs.
Includes 2 magazines, single shot tray, cylinder adapter, and spare o-rings
* - within 85% of peak velocity.
Specs
Manufacturer

Hatsan

Caliber

.177

Velocity

810 fps

Condition

New

Ammo Type

Pellets

Action

Sidelever

Barrel Style

Rifled

Fire Mode

Repeater

Gun Weight

3.40

Overall Length

24.60

Barrel Length

7.90

Loudness

3-Medium

Magazine Capacity

8

Mechanism

Pre-charged pneumatic

Rail

11mm dovetail

Safety

0

Front Sights

Flip-up

Rear Sights

Flip-up

Shots per Fill

48

Trigger Adjustability

0

Trigger Action

0

Use

Small game hunting/plinking

Warranty

1-year limited warranty
Reviews
Average Customer Review
3.2
3.0
5 Reviews
3.0
By James
March 26, 2023
Verified Purchase
Pros
Power
Cons
The air gage doesn't work and the magazine are hard to load
1.0
By Big Al
March 13, 2023
They don't hold air well. Can't be set aside expecting to have air in a few days.
Pros
Great looking gun. Accurate for a pistol. Nice and compact.
Cons
They leak quickly
5.0
By Matthew
USA
February 27, 2023
Verified Purchase
OK... This thing is a total HOOT! It's a killer, as far as accuracy. 25 meters... rats don't stand a chance! Oh! Did I say that I bought a suppressor for it, before it arrived? Save that $40 for the adapter... it comes with it, IN THE BOX! They also didn't mention that it has 2 mags. The shoulder stock also adjusts for pull length. I didn't see that mentioned. I am 6-4 and have very long arms. NICE! This lil thang may have just retired my almost new Hatsan Sortie TAC. Shame, that Sortie is a great shooter, but, this Jet2, is just plain sexier! OH! MAKE SURE that you change your standard female disconnect out with the one supplied. It is long enough that you won't lose it inside of the filling recess! I almost goofed! Best $300 that I have spent in MANY years! I'm gonna need more pellets! HA!
Pros
Adjustable, adjustable, adjustable... the cheek rest, stock length, sights, all adjustable. Feels great, and should fit anyone from 3'-6" to over 7' tall. 0-250 Bars in 175 pumps, empty. No leaks, no stress. Has 2 mags. EXTREMELY light. Also, it carries well. It has that 9" 300 Blackout AR feel to it, it just carries well. ANY ground-pounder will appreciate that. Accuracy is more than adequate, tho, I did have to raise the POI a bit, for 25 meter shots in carbine mode. Pistol was spot on at 15m, as were carbine mode sights. Did I mention how much fun this thing is? I was giggling like I had that Mauser Broomhandle in my hands on FA. EVERYone that shoots THAT thing giggles. This is going to do the same thing. Just plain fun! Beer caps are as endangered as rats, now. I haven't found a target too small for 25 meter hits. Maybe I'll start shooting at .177 BB's for targets. HA! ;)
Cons
I would love a 10-15 round mag, tho, they would be larger than silver dollars, I'd imagine. (.25 Cal). LOUD as a .22LR pistol. That $35 suppressor is JUST the ticket, and they supplied the adapter for it, with the gun. I could have saved spending that $40. Now, I have a spare suppressor adapter. HA! I'm not gripin'.
4.0
By Craig
February 5, 2023
Verified Purchase
Fun gun. Have .25 cal. I like the iron sites, however the Picatinny rails will allow for a laser site or a spot light. Not even too much work pumping it up initially with my hand pump. Get between four or five mags before needing to re pump. Get for strengthening the Abs, a good workout. Takes a while to get used to loading the Mags backwards.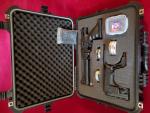 Pros
FIrst off, it looks really cool! The pistol grip is an amazing fit for my hand. Love the Safety lever. Magazines load easily and fit well. Really like the two rear flip up sites for going between the pistol and the rifle stock.
Cons
It is a bit loud upon firing. A suppressor would be a nice thing to have. The Foster fitting is recessed into the sleeve a bit and releasing the fill hose can be a challenge unless you have an extension fitting. Stock extension is just a wee bit on the loose side and rattles a little while being carried.
3.0
By Jared
January 15, 2023
Verified Purchase
I got the .22. It's all plastic and the sights do not lign up with eachother in pistol vs carbine so it would need to re sight every time you swapped rear site up or down... With it being plastic my small 4power prism sight can move the whole top of reciever ... I'm doubting this will last long as a heavy use gun.. time will tell. HN hornets 16.6 grn 575 fps out of the box.. it is loud I ordered a 1/2 to1/2 adapter for Donny FL... Now it's silent.. if I was picking between this and p rod I'd go p rod over all it shoots accurately as I can hold it and has been fun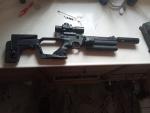 Pros
Small light
Cons
I'd make the reciever of gun aluminum or some type of metal and I would have the sights all line up so it the different configurations you wouldn't need to re site
Q&A
Question?
Login to ask someone who bought this product.
I love the Hatsan Jet, to Mathew and anyone else interested, I use a Hatsan BullMaster/Barrage/Proxima/Sortie Rotary Magazine in 25 caliber \ 10 round capacity on my Jet 1 and it works great.
asked John from USA
How to put air in the right way how to video having problems brand new Hatsen jet ll black. 22
asked Joseph from USA
Anyone know what the thread size is on the end of the Barrel?
asked Craig from USA
7/2-20 UNF mine came with the adaptor
greg from USA
What scope rings will work?
asked Duane from USA
Does it come with a case.
asked Moses from USA