One of the most exciting air guns debuted at SHOT Show this year was from Hatsan! The new Hatsan Vectis is a lever-action, magazine fed repeater. With a smooth lever action, follow up shots are no longer an issue. The lever action is built into the trigger guard of the stock, making it as smooth and stable as possible. Included are two magazines, fiber optic sights, and it also features Hatsan's QE technology to dampen the report. The cylinder is capable of holding up to 2900 PSI, which is enough to sling rounds downrange at 900 to 1150 fps, depending on caliber. Weighing in at just over 7 lbs and at a length of 41.3" long, this is the perfect gun to take into the field!
Hatsan Vectis Lever Action PCP Air Rifle Features
Lever Action operated repeater
Cocking lever is built into the trigger guard
Precision Rifled and Choked barrel
Polymer barrel shroud with Quiet Energy moderator
Removeable, Flip Up Fiber Optic open sights
Combo optics mounting rail fits 11mm dovetail or weaver/picatinny mounts
Manual Safety
Quattro Trigger: Two stage, fully adjustable
Picatinny accessory rail built into stock forend
Ambidextrous, thumbhole synthetic stock
Built-in pressure guage (manometer)
165 cc air cylinder
200 BAR/2900 PSI max fill pressure
Magazine capacity: 14 rds in .177 cal, 12 rds in .22 cal, 10 rds in .25 cal
Up to 35 shots in .177 cal, 30 in .22 cal, 25 in .25 cal
Max. Velocity: 1150 fps in .177 cal, 1000 fps in .22 cal, 900 fps in .25 cal
Max. Energy: 29 FPE in .177 cal, 38 FPE in .22 cal, 40 FPE in .25 cal
Includes 2 magazines, single shot tray, 1/8" BSPP male threaded fill probe and spare seals
Specs
Manufacturer

Hatsan

Caliber

.177

Velocity

1150 fps

Condition

New

Ammo Type

Pellets

Action

Lever-action

Barrel Style

Rifled

Fire Mode

Repeater

Gun Weight

7.10

Overall Length

41.30

Barrel Length

17.70

Loudness

3-Medium

Magazine Capacity

14

Mechanism

Pre-charged pneumatic

Rail

Weaver & 11mm dovetails

Safety

Manual

Front Sights

Fiber Optic

Rear Sights

Fiber Optic

Trigger Adjustability

Two-stage adjustable

Trigger Action

0

Use

Small game hunting/target practice

Warranty

1-year limited warranty
Reviews
Average Customer Review
4.8
4.0
4 Reviews
5.0
By Jason
USA
July 15, 2020
If you're looking for budget pcp lever action airgun, this is it! Make sure you choose the .25 cal as it'll give more whack! And still less noise than Seneca Eagleclaw in same caliber. I use it for pest control like rat, possum, birds, stray animals destryoing property, small coyote, target tin cans, etc. Have not try on medium size game nor doe, i doubt the power will be enough for ethical kill. Bought 4 extra magazines using only H&N and Jsb pellets. Tried some slugs to reach better distance and more power but somehow sacrifices small grouping, I don't know why but still within 4" group about 40 yards. May be it just me but not the case when I use my Neutronstar .25 cal. Filling the air, I use Nomad II air pump to ease my back as it isn't as strong like I was younger. Overall I like this airgun for form and function as well as quality synthetic stock. Anyway, practice shooting safely and be considerate to everyone as airgun is much more affordable and fun to play with. Cheers!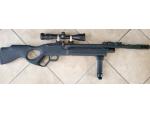 Pros
This Vectis is almost perfect for me as a lever action airgun.
Cons
Improvement could be reducing weight like 1 to 3 lbs. Excluding scope and bipod weight. May be interchangable screw-on muzzle break with QE shroud. Shot counts could improve a lot with adding a regulator.
5.0
By George
USA
July 13, 2020
Verified Purchase
i must say this is not a rifle for a beginner, id say more like an advanced novice would enjoy this rifle very much. im no expert, but i have been shooting for sport for nearly 35 years and this is a fun gun to shoot. i can empty a 14 round magazine in less than 10 seconds without even trying. so quick, nearly effortless to shoot. a great sight picture with open sights. thats my preference for optics on any rifle. i have a friend in the industrial gas industry, and he hooked me up with a tank of dry nitrogen gas. is pressured at 3,400 psi and it works like a charm to fill. CO2 is not recommended given the impurities in with the gas eats the o-rings and seals if left under pressure for an extended time. i have only 1 good arm to use so getting a hand pump wasnt really an option for me. a tank to rifle is very easy filling. can be done in a matter of minutes if setup already. im glad i purchased this awesome rifle. THANK YOU A.G.D.! your review on YouTube sold me for sure! happy plinking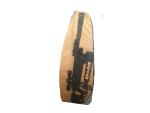 Pros
i just received my Vectis in the mail (due to covid-19 lockdown in California) and what a treat this air rifle turned out to be! the throw on the lever is a dream to use, not much in terms of length. only a few inches (maybe a 2.5 inch throw total) and that makes for follow-up shots super quick. i was putting wadcutter rounds in 5 shot groups the size of a half dollar, out of the box! no adjustments yet on the super easy to see flip up/down sights. this was my intro to P.C.P. rifles and im waaaay impressed with the performance of it. i dont even need to unshoulder it to cock the next round. pull the trigger and that pellet is at the target NOW. impressive hits with high-velocity rounds. you can hear the obvious speed decreasing as you get into the heavier pellets. i customized mine to accept removable sling mounts (universal mount by Weaver) and i dig the top length of it being railed. its a large gun, seems awkward to use at first, i familiarized myself with it successfully.
Cons
the single shot trat is small and easy to lose if not careful. ive dropped mine and had a helluva time finding it lol. maybe a stash on-board to store it when not using it would be handy. my fingers are kinda large so loading it iz not without some difficulty. there is not much room to load in single shot mode. i also had an issue when loading in single shot that if the rifle is barrel up, an errant pellet can fall between the bolt and the housing around the bolt. there is about a pellets width all the way around the bolt itself on the shoulder side of rifle and i had 1 or 3 pellets fall down inside. after a couple of lucky shakes they fell out (thank god) but that is pretty much the only cons ive had.
4.0
By Anthony
USA
November 27, 2019
Verified Purchase
Got this gun for my father in-law for his birthday. I liked it so much I am going to be getting one for my self. Very consistent shooter.
5.0
By Charles
USA
February 11, 2019
Verified Purchase
Lever action very nice. Very short travel and NO auto safety makes for quick shots. When I first got it I said what a BIG gun, but once you pick it up is light for the size. Open sights are very good, with a peep in the rear and an hooded in front giving you a circle with in circle for accurate shots.
Pros
Lever action, open sights, full rail on top and short rail on forearm for Bipod or light.
Cons
A little bulky NOT a Youth gun. Fill adaptor only has threads so you have to supply your own Foster connector.
Q&A
Question?
Login to ask someone who bought this product.
What kind of pump we need for this riffle
asked Juan from USA
Any of the handpumpds we sell will fill the Vectis.
Mark from USA