How about taking an already value packed PCP rifle and turning it into a compact, super maneuverable bullpup without adding to the final cost? That's just what Kral has done with the Puncher Breaker. It's a bullpup version of their massively popular Puncher PCP setup as a bullpup, to give you even more maneuverability in the field. The Breaker retains the same barrel, shroud and action as the standard rifle Puncher, however the air tank has been shortened to 280 cc's in order to decrease size and weight. The Breaker also features a 2 stage fully adjustable trigger as well as rotary magazines and includes a single shot tray for hand loading. The synthetic stock of the Breaker is durable and weather resistant, perfect for you airgun hunters out there. Kral really thought of everything with the Breaker, giving you a compact, powerful and accurate rifle at a cost that is very pocket-friendly.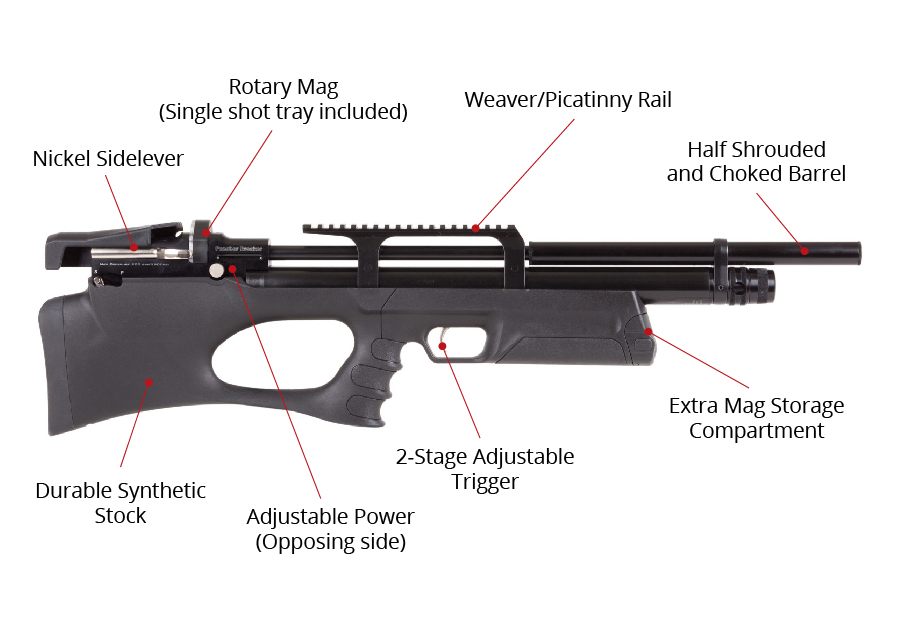 Kral Arms Puncher Breaker Silent Synthetic Sidelever Air Rifle
Precharged pneumatic
Snag-free nickel sidelever
Multi shot
.177 cal=14 rds, .22 cal=12 rds, .25 cal=10 rds
2-stage adjustable trigger
Adjustable power
Weaver/Picatinny scope rail(no open sights)
2900 psi fill pressure (200 BAR)
Built-in manometer (air pressure gauge)
280cc air tank
Kral built choked, rifled barrel
Half Shrouded barrel for extra-quiet shooting
Synthetic stock
Compartment in stock forearm to store spare magazine
Forearm mounted weaver/picatinny rail for accessories
1/8" BSPP fill probe
Includes
: 2 magazines, single shot tray (in the .177 and .22 only.), and fill probe.
Specs
Manufacturer

Kral Arms

Caliber

.177

Velocity

1100 fps

Condition

New

Ammo Type

Pellets

Action

Sidelever

Barrel Style

Rifled

Fire Mode

Repeater

Gun Weight

7.40

Overall Length

29.00

Barrel Length

21.00

Loudness

3-Medium

Magazine Capacity

14

Mechanism

Pre-charged pneumatic

Rail

Weaver/Picatinny

Safety

Manual

Front Sights

none

Rear Sights

none

Shots per Fill

40

Trigger Adjustability

Two-stage adjustable

Trigger Action

0

Use

Small game hunting/target practice

Warranty

1-year limited warranty
Reviews
Average Customer Review
4.3
4.5
7 Reviews
5.0
By Stephen
USA
May 9, 2021
I have been shooting all kinds of pellets out of mine, even Seneca .22 28.5 and they hit with a wallop. I have shot Secenca 32.4 grain through the magazine, however I had to pick through the pellets to find ones just right. I can see this being not an issue if you disassemble and cleanup the production mold marks. I just pulled a quick hack with a small Klien phillips running the point in the channel back and forth a few times till a mm of plastic was removed, still would stick now and then in the mag, so thinking a good disassemble, sand, polish, and lube would resolve that, and I would say its worth it as these things hit like a 22LR, lol
Pros
Accurate, controllable, and predictable I set in on low for backyard plinking and on that setting within 50 feet with my reddot the fur bearers have no chance. I could stretch it further but limited to red-dot, I can tag things with it on this BPS beyond a 100 feet and and hit it.
Cons
Had a soft hex cap that was over torqued into the cheek rest. I was able to lightly tap with hammer star security bit and remove. Wasn't a hassle, but the metal is not what it should be, which can happen, but raises a unnecessary concern.
5.0
By michael
USA
December 5, 2020
This is a great rifle, with a high shot count on full power. As for the lower plastic detachable rail, I used a piece of aluminum rail from a Ruger 1022 firearm to make a better lower rail to hold my Bipod. You will need very high scope mounts, or an extension rail and medium high scope rings to mount your scope and be able to shoot comfortably.
Pros
I like the size of the rifle, it is easy to carry and to use. I bought mine in 25 caliber, and on full power it hits hard and is accurate. I am getting 1/2 inch and tighter groups at 50 yards using H&N Baracuda Hunter Extreme 28 grain pellets. I also am getting tight groups at 50 yards using the H&N Grizzly hollow point 31 grain slugs.
Cons
Kral should include a metal Picatinny rail instead of the plastic lower detachable rail that comes with the gun. Some of the longer pellets may be too long to use with the factory mags.
4.0
By Jayson
October 28, 2020
Pros
can be deliver in canada
1.0
By Joseph
USA
September 25, 2020
Verified Purchase
Pros
It looks nice but didn't get to use it since the fill probe o ring was destroyed trying to fill the gun.
Cons
The fill port edges are so sharp they slice the fill probe o rings preventing you from being able to fill the gun. The magazine holder is so tight the magazines won't come out without a screwdriver. In the photo you can see the shaved off yellow o ring pieces in the fill port
5.0
By Dominic
USA
December 17, 2018
Nice little bull pup. Accurate as hell for me, and economical on air, and a nice shot string for an unregulated rifle. Not for left handed shooters.
Pros
Decent shot count. Consistent fps with no regulator. Compact.
Cons
Heavy for such a small rifle.
5.0
By Ron
USA
March 16, 2017
This is the second bull pup design that I have. The Kral is much lighter to carry and I have had no issues. I did add a top extension to raise the scope up so that i could view the entire scope picture. The cheek piece adjusts forward and back but it can not be adjusted up. this created a problem . It is a simple fix. Using JSB Diabolo Exact King .25 Cal, 25.39 gr at 40 yards to sight it in I was getting 1/2 inch groups of (6) shots. I am very happy with the rifle so far. the added small compartment on the synthetic stock to put a extra mag in is very nice.
Pros
Excellent shooter for the price Lighter in the synthetic version
Cons
Cheek piece to be able to raise so that you do not need a extension on the rail for the scope
5.0
By Xocoyotzin
USA
March 8, 2017
Was not sure if the gun would be worth it for the cost. After review the gun is more than worth it. It is feature pack for sure. The ability to adjust the power output from low, medium, and high makes it a great hunting option and the backyard plinker. With the fx 16 gr domed pellets I am getting 60 solid shots in a 100 bar of usage. In first hunting attempts gun has performed flawlessly. Making shots out to 65 yards and dropping game in 1 shot. I would recommend this gun to anyone looking for a great gun at a great cost.as well the 12 shot mags make it easy to keep count ot shots. The single shot tray works extremely well. I really like the side lever cocking mechanism, it cycles smooth and fast for follow up shots.
Pros
High shot count, easy to sling up and use. Very comfortable when on the shoulder. The cocking mechanism is smooth and effortless to use.
Cons
A little louder than expected with a shrouded barrel. An adjustable shoulder pad would be a nice added bonus. Also the need to have extremely high scope mounts to get property eye relief.
Q&A
Question?
Login to ask someone who bought this product.
Can a DonnyFl Moderator be installed on this? What adapter size is required?
asked James from USA
I am buying this gun within the next day or so what exactly do I need the Cesery wise to hook to a tank or a pump I have both if someone could tell me the names and sizes I'm clueless I keep getting the answering machine in there I'm not one of those dudes that can get a new toy in the mail and not play with it because of a stupid little part that I didn't know about LOL I need to know what Hooks into the gun and from the pump and pretty much everything that doesn't come with the gun that I need to fill with the compressor and a hand pump because like I said I have both thank you
asked Joseph from USA
Do I refill the tank with a hand pump??
asked Michael from USA
The air cylinder can be filled from a handpump. SCUBA tasnk or CF tank.
Mark from USA
Will this gun work with lefthanders?
asked Lawrence from USA
The stock is Ambidextrous. The cocking lever is on the right side of the action.
Mark from USA
Can I receive on installments ... ???
asked Shah from Pakistan
You can arrange financing thru Affirm ( bank financing program) at checkout.
Mark from USA
Did anyone buy a hand pump to refill and if so which one?
asked Chet
what kind of air filler connector does it take
asked Rose Wiley
Is it possible to use a specialized hand pump to refill air chamber instead of a co2 tank set up on the Kral Arms Puncher Breaker Silent Synthetic Sidelever Air Rifle
asked Lincoln
Is barrel threaded? If so, what threads per inch? Are magazines metal or plastic? Are there other accessories made for this brand?
asked Milo
ESTA ARMA TRAE EN LA CULATA HERRAJE PARA EL PORTA RIFLE
asked JOSE A ROMERO ROMERO
Hi, do you have this rifle available for immediate shipment? If not, what is the exact date of arrival to inventory to be able to buy one ?.
asked Luis Enrique Barrera Ojeda
What is a good scope for this? At what price ?
asked Bowhunter
Can you easily attach a bipod to this gun? I didn't notice a rail system and am not keen to drilling into my pricy guns
asked Jay
[email protected] many full power shots can I expect from a charge?
asked Neal Tressler
Is AGD ever going to sell extra magazines for the Kral Air Guns? I'd like to order a couple when I order my Puncher!
asked John payne
Are extra magazines and air tanks available for this Kral air rifle?
asked John payne
is this rifle regulated?
asked Phillip from USA
In .25.cal how loud is it and what weight pellet was used to get the 825fps .
asked Keith from USA
Will you ship to United Kingdom, 22cal kral puncher silent , synthetic
asked Andrew from UK
Does cheek rest flip to accept lefthand shooting.?
asked Alan from USA