The Puncher Breaker is a bullpup version of the popular Kral Puncher. This compact rifle is powerful and compact, making it a great choice for hunting or as a handy rifle to keep in your vehicle. With the same guts as the Puncher, the Puncher Breaker retains much of the same power and ergonomics as its full rifle brother. Set in a beautiful Turkish hardwood stock, the Breaker is as good looking as it is shooting. At its heart is a side charging action, a 280 cc air tube and a 2 stage adjustable trigger. Top that with a Weaver rail to mount your optic of choice and you have a compact and excellent shooting package It's hard to believe that a package like this comes in at such a great price point, the Kral Puncher Breaker really gives you a lot of bang for the buck!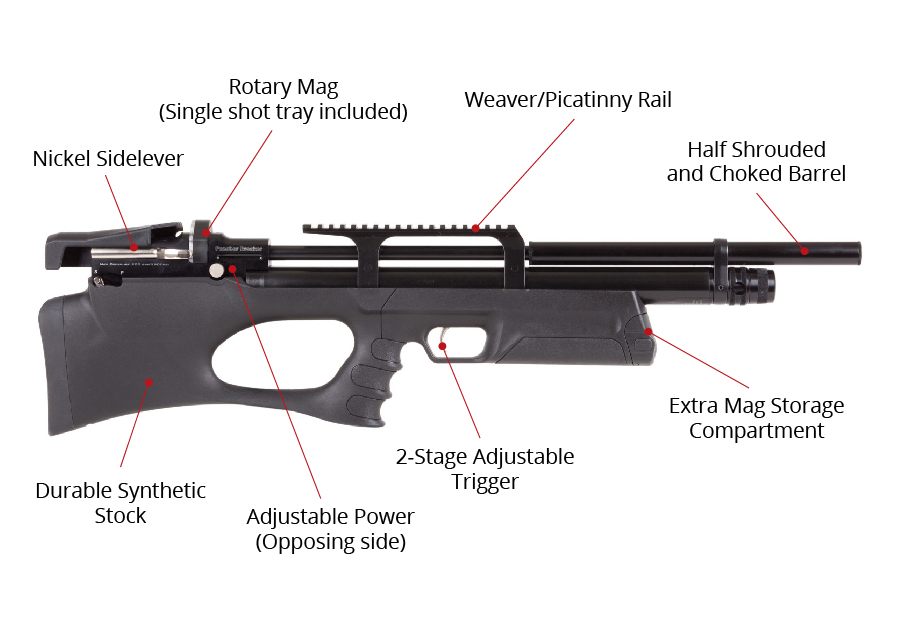 Kral Arms Puncher Breaker Silent Walnut sidelever air rifle
Precharged pneumatic
Snag-free nickel sidelever
Multi shot
.177 cal=14 rds, .22 cal=12 rds, .25 cal=10 rds
2-stage adjustable trigger
Adjustable power
Weaver/Picatinny scope rail(no open sights)
2900 psi fill pressure (200 BAR)
Built-in manometer (air pressure gauge)
280cc air tank
Kral-built choked, rifled barrel
Half Shrouded barrel for extra-quiet shooting
Walnut stock
Forearm mounted weaver/picatinny rail for accessories
1/8" BSPP fill probe
Includes
: 2 magazines, single shot tray (in the .177 and .22 only.), and fill probe.
Specs
Manufacturer

Kral Arms

Caliber

.22

Velocity

975 fps

Condition

New

Ammo Type

Pellets

Action

Sidelever

Barrel Style

Rifled

Fire Mode

Repeater

Gun Weight

8.25

Overall Length

29.00

Barrel Length

21.00

Loudness

3-Medium

Magazine Capacity

12

Mechanism

Pre-charged pneumatic

Rail

Weaver/Picatinny

Safety

Manual

Front Sights

none

Rear Sights

none

Shots per Fill

40

Trigger Adjustability

Two-stage adjustable

Trigger Action

0

Use

Small game hunting/target practice

Warranty

1-year limited warranty
Reviews
Average Customer Review
3.5
3.5
8 Reviews
4.0
By Mitchell
USA
November 21, 2018
Verified Purchase
I'm new to airgunning, and as such, didn't feel I could justify $1500.00 for an FX model, but like the Bullpup design. I'm just now getting it sighted in, and thanks to previous posters, I have not had any trouble with my gun. The wood is a great design, but is not of great quality. I have since applied linseed oil myself, and actually like looking at the gun now. It is MUCH heavier than the Gamo TC35 I purchased, but once mounted for shooting, the balance is actually quite good. I am careful when inserting and removing the fill-up nozzle, and haven't had any trouble with lost or damaged gaskets. I have not shot the gun enough to know which pellets it prefers, but since the JBS pellets seem to be so popular, that's what I've ordered. Can't wait to really start using this gun! Can't wait to shoot my TC35 either!
Pros
Cost, accuracy, adjustable power, good balance, short overall length, two magazines, easy to load....
Cons
Wood finish. Only thing I've found so far, that is remotely objectionable.
2.0
By Phillip
USA
November 15, 2018
At first I was over the moon with the accuracy and power I was getting from my kpb I had probably shot 4 tins of pellets through it before it completely broke. I gased it up load my mag and took a shot all was fine, but the next shot fell straight at my feet I thought some how the power adjustment might have somehow been turned all the way down, knowing in my mind that something bad had just happens but in my panicked state didn't want to admit what other people had said happened to them just happened to me, I turned the knob that was still on full power down to low and back again loaded a shot same thing. It's still under manufacturer warranty but I have yet to send it back. To say the least I was disappointed. Don't get me wrong when it functioned properly it was great I love the way it looks and feels.w hen it worked it was fun to shoot and powerful now it's useless
5.0
By Adan
USA
October 9, 2018
I ordered the Kral Puncher Breaker Silent Walnut in .25 ~3 months ago. While that may not be long I've already ran over 2000 JSB 25.39 grain, 33.95 grain King Heavy and some H&N Field sport 20.~ grain pellets. I'm sighted in at 50 yards on just a little over half power. I found that to be more than sufficient for pesting (starling, house sparrows) up to 75 yards. Very good shot count for the caliber (around 40) before POI needs adjusting. If you practice enough you can learn to just turn the power up a bit after that 40~ shot and still be deadly accurate. I live on 5 acres outside of town and have a plethora of firearms to shoot but nothing beats the fun and economy of this thing. I'm not the biggest fan of the rotary magazine as they made it deeper than I need it (to accommodate polymer tips) and as a result you can bobble a pellet which then becomes stuck and the magazine rotates to the next pellet. Once you get used to it you can minimize the chance of it happening. Also my .25 did not come with a single shot tray. Not a big deal but from what I've found they may not exist in that caliber. May 3D print one. All in all great PCP air rifle for the money and it prefers JSB King Diabolo .25 in 25.39 grain.
Pros
Low cost. Repeatable accuracy. Feels good in the hand although a bit heavy.
Cons
Magazine can cause jams/double feeds. A bit heavy to carry around but less felt weight when shoulder.
1.0
By Alex
USA
April 9, 2018
The gun took one fill and that was it. Was able to pump it up just once, shoot it a couple times to set the scope I put on it, then nothing more. The air probe that comes with the gun has 2 o-rings that are sheared off every time that I try to refill the gun. Never was able use this gun for tree rats like I had intended to do.
Pros
Never found any.
Cons
It won't take being filled with air.
5.0
By Brandon
September 8, 2017
I was very excited to receive the pcp Airgun for Airgun Depot today. Was really looking forward to shooting it, until I noticed something wrong. It came in a regular version .177 cal regular puncher breaker box!. Didn't even fit. I ordered a 22 cal version silent in Walnut. So basically Airgun Depot sent me a used or display item and stuffed it in the wrong box. Totally ripped me off as I paid for a new gun an got this. They could of at least called me to see if I would be ok with it. The guns pic accessory rail didn't even bolt up tight either. Just spun around after I screwed in the bolt.
Pros
The Walnut stock is nice. I like the gun but now i don't even want it because it's not what I ordered. I ordered a new gun. I feel totally ripped off. I was going to do a review of the gun on YouTube. Now i can't even do that as it's a used gun. But instead, this experience will be the topic of the review instead. I gave Airgun Depot five stars for taking me.
Cons
I ordered many items from Airgun Depot of a span of 20 years, never have I had this happen to me. What happened Airgun Depot? Ordered a 22 silent, got a 22 silent in a 177 regular box. Was it a used gun or display model? Why didn't it comes in it's original packaging? Got a used gun. Paid for a new gun. Got ripped off. The accessory rail don't even screw down tight.
1.0
By Daniel
August 6, 2017
Accurate fun to shoot gun. Cocking lever will loosen and pop out when firing, valve stem broke after a few months (warranty fixed) burp fires now when power is turned down, no finish on wood.
Cons
will have issues
5.0
By Gary
USA
April 7, 2017
I love my 25 caliber kral puncher breaker I put two coats of Minwax on it because it does not come with a finish to protect the stain and stock it turned out very nice
Pros
Very nice gun love the Woodstock very accurate for the price I always wanted a Bullpup but couldn't Fork out a thousand bucks in one wac wish it came with a nice finish on the stain work
Cons
I wish it came with a nice finish coat already on it but maybe that's what kept the cost down
5.0
By John
USA
March 20, 2017
I have no complaints, high shot count and accurate
Pros
Price
Q&A
Question?
Login to ask someone who bought this product.