The Kral Jumbo Equation: More Air = More Shots One look at this PCP's 425cc bottle and you'll see why Kral dubbed this airgun the Jumbo. This huge tank gives shooters up to 75 shots in .177/.22 and 65 shots in .25! One of Kral's most unique stocks to date, the Jumbo features a stained Turkish walnut thumbhole stock, with grooved handholds, raised cheekpiece, and a finely checkered grip. Packed with features the Jumbo is for airgunners who love choice! Choose your optics rail with Kral's hybrid Weaver/Picatinny or 11mm optics rail, set the 2-stage trigger for your preferred pull, and set the shot power with the twist of a dial. Built for the backyard or the trail, the Jumbo's fully-shrouded barrel keeps your dozens of shots quiet, and you can keep the rounds coming with the ergonomic sidelever. Each Jumbo includes 2 magazines to keep you in the action.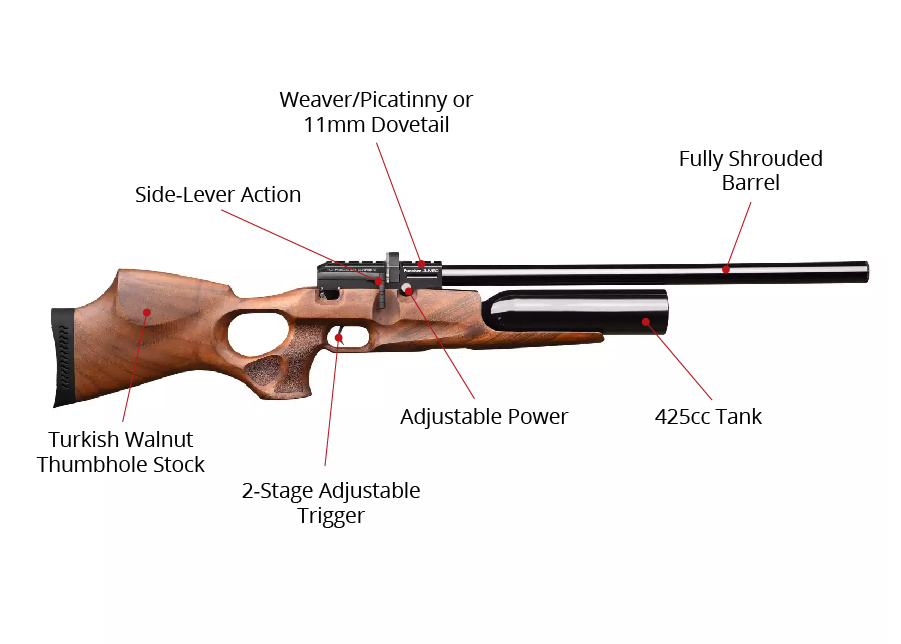 Kral Arms Puncher Jumbo Air Rifle Features
Precharged pneumatic
Sidelever action
.177 cal=14 rds, .22 cal=12 rds, .25 cal=10 rds
2-stage adjustable trigger
Adjustable buttplate
425cc cylinder size
Rifled barrel
High-quality Turkish walnut thumbhole stock
2 Magazines
Manual safety
1/8th BSPP fill probe
Includes: 2 magazines, o-rings, hard case and fill probe and 2.5" Picatinny accessory rail
Specs
Manufacturer

Kral Arms

Caliber

.177

Velocity

1070 fps

Condition

New

Ammo Type

Pellets

Action

Sidelever

Barrel Style

Rifled

Fire Mode

0

Gun Weight

8.03

Overall Length

40.55

Barrel Length

22.80

Loudness

4-Medium-High

Magazine Capacity

14

Mechanism

Pre-charged pneumatic

Rail

Weaver & 11mm dovetails

Safety

Manual

Front Sights

none

Rear Sights

none

Trigger Adjustability

Two-stage adjustable

Trigger Action

0

Use

Small game hunting/target practice

Warranty

1-year limited warranty
Reviews
Average Customer Review
4.3
4.5
3 Reviews
4.0
By Rob M.
October 9, 2017
So far, it seems like this has a lot more power that my gamo coyote (not as accurate with as many pellets as with the coyote) this gun is picky with pellets, ONLY use hevy pellets because it is powerful on MAX power. I have yet to find the right pellet for it but the MAX COUNT OF SHOTS PER FILL IS A TOTAL LIE!!!!! It will only give you 44 TOTAL SHOTS in max power setting...
Pros
Power, power, power
Cons
picky with pellets, not really good with count shot as they say
5.0
By Michael
USA
August 6, 2017
i dont have mine yet i hope it has the power it says 950 fps with 25 cal pellets
Pros
look nice
Cons
i dont have it yet
4.0
By eddie
USA
July 19, 2017
never had a problem with this gun
Q&A
Question?
Login to ask someone who bought this product.
The thing that everyone wants to know when they buy a PCP air rifle is that is it regulated That�€™s all we care about
asked Drake foster
Does it have 1/2 X 20 UNF threads
asked Ronald B. Corbet
Can I put a silencer on it.? Where can I get it .? Or how do I search for it.?
asked Chris
Donny FL has some nice silencers
Taiwan from USA
Hello They have caliber .22, and can you send me to Mexico?
asked gabriel
Is this available as a bolt action instead of side lever?
asked Aundrae
Will this gun in a .25 cal really do 950 fps with a lead pellet?
asked Richard
When will the .22 Guns be in? I have had one on order for a month.
asked John from USA
Are the bottle's removable ? And if so can we purchase extras?
asked Neftali Garcia