This tiny realistic replica manages to pack a full-sized, 12-gram CO2 cartridge, plus 12 rounds into its minuscule drop-free magazine. But don't let its diminutive size fool you: This replica mimics the size, weight, controls and even blowback-action slide of its 9mm inspiration so well, it makes for an ideal firearm trainer. Just load 12 BBs and a standard, 12-gram CO2 cartridge into the drop-free magazine, line the green, high-visibility 3-dot sights up with your target and send 12 rounds downrange at velocities up to 295 fps as fast as you can pull the trigger. And, just like the real-steel version, this CO2 pistol's slide locks back following the last shot, so you know, visibly, that it's time to reload.
Sig Sauer P365 BB Pistol Features
Full blowback metal slide
CO2 loading 12 round magazine
Green high visibility 3-dot fixed sights
Manual safety
Similar weight and feel of the P365 9mm firearm
Specs
Manufacturer

SIG Sauer

Caliber

.177

Velocity

295 fps

Condition

New

Ammo Type

BBs

Action

Semiautomatic

Barrel Style

0

Fire Mode

Repeater

Gun Weight

0.80

Overall Length

5.75

Barrel Length

3.20

Loudness

2-Low-Medium

Magazine Capacity

12

Mechanism

CO2

Rail

No

Safety

Manual

Front Sights

Blade

Rear Sights

Fixed

Shots per Fill

0

Trigger Adjustability

0

Trigger Action

0

Use

Plinking/Fun

Warranty

1-year limited warranty
Reviews
Average Customer Review
4.8
4.0
4 Reviews
5.0
By Rob
August 2, 2020
Verified Purchase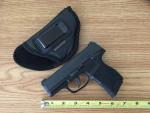 Pros
Snappy little BB pistol with nice sights. A lot smaller than I realized but it will fit in the average sized hand without issue. No lonely pinky finger here. Realistic blow back is only partial but still nice feature. With a fresh CO2 cartridge installed it's almost as loud as a nail gun.
Cons
Not Airsoft compatible. It takes 4.5mm plastic BB's which aren't as readily available as 6mm.
4.0
By C neiman
July 12, 2020
This little pistol is fun to shoot but had its quirks. Firing too fast will jam it and occasionally it fires full auto ...realism wins over quality fit and finish over function. The gun looks absolutely real. Astonishing
Pros
I like the way it looks realistic and has full size mag
Cons
The trigger reset is nil and the safety is vague
5.0
By Conner
May 14, 2020
Pros
Feels great in the hand. Louder than expected. Very realistic. Moderately accurate. Good weight.
Cons
Nothing that I can think of.
5.0
By Bill Leeds
March 28, 2020
Verified Purchase
Pros
Small and absolutely great feel in the hand. Powerful for a little guy and very accurate. Love to shoot it. This and the Beretta Model 84 FS are my favorites. While the Beretta is about 360 fps vs the Sig's 295 fps the Sig is just a fun little gun to shoot. Love 'em both
Cons
nothing - just remember rack the slide on both before you take the first shot to prevent bbs rolling out.
Q&A
Question?
Login to ask someone who bought this product.
is this available in .177? the description says bb . thanks ...jerry
asked jerry from USA
The Sig is a BB only gun. BB's are .177 cal.
Mark from USA
what magazine does this use.
asked Dennis from USA
Does shooting an entire 12 round mag load consume an entire fresh CO2 canister?
asked David from USA
No . You should get 3 magazines or so from a CO2 12gm cart.
Mark from USA
Are extra magazines available for the P365?
asked Timothy from USA