The Stoeger XM1 Suppressed Combo gives you a budget friendly option for a quiet air rifle that comes with a scope and a surprising amount of adaptability for an airgun at this price level. Reaching speeds up to 1000 fps with alloy pellets, it gives you plenty of power for target practice, small game hunting, and pest control.
Powered by a 2900 PSI air tank, this air rifle gives you up to 50 shots per fill, and it comes with both a magazine and a single shot tray, so you can pick the way you want to shoot. In addition to the single stage trigger, there's also a large bolt handle with Thridion checkering so it's easy to grip and cycle.
The buttpad lets you customize the pull length by adding and removing the spacers it comes with, and you won't have to worry about losing your grip in wet conditions because the stock features Pro Adaptive Checkering in multiple places for however you choose to hold it. And this combo edition of the rifle comes with an integrated suppressor for quieter shots than the regular version.
To give you options for sighting, the air rifle comes with an adjustable rear sight and an adjustable fiber optic front sight, and the combo comes with an unmounted 4x32 scope with rings that you can put on the Picatinny scope rail. Plus, you can add things like lasers and lights on the Picatinny accessory rails on the sides of the forearm. The rail on the left side is also a special extended rail with magnetic storage, so you can attach as many as three extra magazines (sold separately).
If you're looking for a stylish air rifle with a scope and rings, with features you'd expect to pay more for, get a Stoeger XM1 Suppressed Combo now at Airgun Depot.
Stoeger XM1 S4 Suppressor, Combo Features:
PCP
Bolt action with large Thridion checkered lever
Synthetic all weather thumbhole stock
Integrated S4 sound suppressor
Max velocity: up to 1000 fps (alloy pellets)
2900 psi/200 bar air cylinder
Up to 50 shots per fill
Single stage trigger
Interchangeable cheekpieces
Interchangeable grips
Buttpad spacers
Pro Adaptive Checkering on stock
Sling swivel studs on stock and forearm
Adjustable front fiber optic sight
Adjustable rear sight
Includes 4x32 scope and rings
Left and right forearm Picatinny accessory rails
Extended forearm Picatinny rail with magnetic magazine holder
Removable air gauge cover
Includes magazine and single shot tray
Specs
Manufacturer

Stoeger Arms

Caliber

.22

Velocity

1000 fps

Condition

New

Ammo Type

Pellets

Action

Bolt-action

Barrel Style

Rifled

Fire Mode

Repeater

Gun Weight

6.00

Overall Length

45.00

Barrel Length

22.00

Loudness

3-Medium

Magazine Capacity

7

Mechanism

Pre-charged pneumatic

Rail

11mm dovetail

Safety

Manual

Front Sights

Fiber Optic

Rear Sights

Adjustable for windage & elevation

Shots per Fill

50

Trigger Adjustability

Single-stage

Trigger Action

0

Use

Small game hunting/target practice

Warranty

5-year limited warranty
Reviews
Average Customer Review
5.0
5.0
11 Reviews
5.0
By Jay
September 21, 2023
Verified Purchase
this is my first PCP air rifle, coming from a Gamo break-barrel and this Stoeger is easily 10x the value and joy to shoot, for maybe 10% more cost.
Pros
Pros: consistent in shot placement, light, quiet, accurate. Great price for the value and an absolute joy to shoot.
Cons
Cons: more rails for attachments
5.0
By Brian
June 3, 2023
Verified Purchase
Pros
This is my first .22 pellet gun. Has been amazing at humanly removing varmints from the garden
Cons
Nothing
5.0
By Roger
April 30, 2023
Verified Purchase
My 11 yr old daughter was putting them in the same hole. Awesome gun you won't be disappointed.
Pros
This airgun is awesome. My father in law and me both got this gun and had the dialed in with in an hour. Started 10yrds 20 30 40 50 and done.
Cons
I changed the scope to a sniper scope mt4 4 by 12 by 50. My father in law put a hammers scope 4 by 16 by 50. And put a different scope mount and adjustable scope rings. This thing shoot hole in hole. We both have the same gun and same set up just different scopes.
5.0
By Jacob
March 29, 2023
Great for those just beginning to get into PCP Airguns!
Pros
Lightweight, dead accurate, and extremely reliable!
Cons
The scope
5.0
By Boxcars
February 25, 2023
Verified Purchase
Pros
Great entry option into PCP. Great airgun with lots of extras to make your gun personalized. I chose a different scope to use from what was sent even though the one that comes with the gun is good. Trying different weight pellets and this gun is super accurate! Shots don't seem to be badly effected by air pressure.
Cons
Better single shot loading. Kind of tough with big hands.
5.0
By Tony
January 20, 2023
Verified Purchase
I truly enjoy shooting this beautiful little gun. I'm out in the country and it's super quiet for popping pigs and coyotes... just sayin...
Pros
I love the fact that you can fill the tank from yellow to topped off with a hand pump in about 3-5 minutes.
Cons
Wish it came with an extra magazine
5.0
By Daniel
November 24, 2022
Verified Purchase
Wish it came with more than one mag but the cheapest extra mags I could find were from the manufacturer.
Pros
Very accurate, easy to fill and good for about 21 rounds before refill. Trigger is not the greatest but is consistent. Only real complaint is excessive barrel droop. Had to significantly shim my scope to get it on target. Also not a big fan of the dovetail mount but easily changed that over to a regular rail. Overall Very pleased with the rifle
Cons
Barrel droop and small dovetail mount
5.0
By Calvin
October 30, 2022
Verified Purchase
Pros
Easy to fill with a hand pump. Mags fit well. Cocking is pretty smooth. FPS and FPE and accuracy is great. Overall product quality is really good. Scope is a sufficient entry level scope. Pretty light weight. Really quiet (slightly louder than a Red Ryder BB Gun).
Cons
Needs a fill port plug to keep dirt out.
5.0
By Mike
September 21, 2022
Pros
Everything about this gun is Awesome. It's a tack driver and it loves Crossman Premier Hollow Point pellets. At 20 yards I can cover a 10 shot group with a dime.
Cons
The High rise check piece won't fit on my gun. Tried numerous times to put it on and can't get it to fit. Doesn't effect the accuracy so I ain't to worried about it.
Had to shim the rear scope mount to sight it in. It was a pain, but its solid as a rock now. Seriously, I dread dragging out the Marauder after shooting the Stoeger. It's so comfortable, easy to shoot, and light. My favorite gun. What a bargain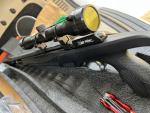 Pros
Unbeatable value for the price. This gun is essentially a Diana Stormrider with modern ergonomics. Compare the pics of the receiver, the sights, the magazine, etc. Same working parts as the Diana but the ergonomic design of the XM1 is excellent. There are some quirks, like the magazine being VERY picky about which pellets wont jam, but this gun is a blast to shoot. I've taken prairie dogs at over just shy of 100 yards. I enjoy shooting this hands down over my Marauder, and its my go-to for anything inside 75 yards. The action os super smooth, making follow up shots really quick. Much faster than my clunky Marauder, so I'm more successful with the Stoeger for varminting, despite the small air tank.
Cons
I bought the .22 cal in a kit with a scope and pump. Cheap pump died after a couple months of frequent use. The Diana Stormrider magazine is cheaply made and jams with anything but Gamo RedFire pellets. But with the Gamo pellets, Ive taken over 25 prairie dogs between 25-100 yards. Understand the limitations of your gun and it rewards you with very satisfying shooting and great hunting success.
Q&A
Question?
Login to ask someone who bought this product.
Can a rifle sling be added to this rifle ?
asked Elwyn from USA
Can a rifle sling be added to this rifle , and in what locations (front and rear) please?
asked Elwyn from USA
Does this gun come with an air pump?
asked William from USA
Where can I get more magazines for this?
asked Andrew from USA
It uses Diana Stormrider magazines, so try searching for those, you might have better luck
William from USA
How do you refill the air
asked Alex from USA
I tried to follow directions from this answer but did not find what he described. Does anyone have a link to the video hw is talking about?
Tim from USA
go to Stoeger arms website then below the xm1 s4 suppressed you will look to the right of the description and click on videos then scroll down and you will find a video that should help.
Nathan from USA